Khakassia
Khakassia
(
Russian
: Хака́сия
khuh-KAHS-ee-yuh
) is a region in
Western Siberia
, which borders
Altai Republic
to the southwest,
Kemerovo Oblast
to the west,
Krasnoyarsk Krai
to the north and east and
Tuva
to the southeast.
Cities
— Khakassia's only real "city" and the regional capital
— the most important town in southern Khakassia, near the Tuva border
— Second largest population center and location of former gulag
— an extraordinarily polluted alluminum smelting town
— a village near the salty Lake Shira, home to an old Soviet health spa
Other destinations
— stone markers atop ancient burial mounds abound in this steppe reserve
— chest-shaped sandstone formations
Understand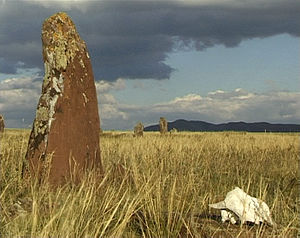 Khakassia is named for the Khakass people, close relatives of the
Kyrgyz
, who comprise only about 10% of the population. Khakassia is often called
Siberia
's Archaeological Mecca for its enormous quantity of important archaeological sites. Khakassia is full of monuments to the cultural history bestowed upon the region by the people who have inhabited and traversed its steppes for 30,000 years. Travelers may take interest in the many kurgans (burial mounds), sacred sites, rock drawings, stone obelisks, ruined cities, ruins of forts (as old as 3,000 years), and near ubiquitous menhirs.
Talk
Everyone understands
Russian
; while the Khakass minority speaks Khakas, a Turkic language, they are nearly all bilingual.
Get in
See
The Great Salbyk KurganA grandiose burial mound 7 stories high.
Do
Check out the Khakass national holiday "Tum-Payram" (7 days / 6 nights) on June, 28th-04 July, 2006
Go next