Kinnaur
Kinnaur
(Punjabi:ਜ਼ਿਲ੍ਲਾ ਕਿਨ੍ਨੌਰ) is a district in
Himachal Pradesh
,
India
. It is located in the southeastern part of the state, and borders
Tibet
on its eastern end. Most of the villages of Kinnaur lie at quite a high altitude, some close to 4000m. It's a dry and very cold area, and in the right season (July-August) its quietness, great visibility, wonderful views and somewhat mysterious atmosphere all make it a great area to explore.
Regions
Towns and villages
— the capital and headquarters of the Kinnaur District.


— arguably the most beautiful spot in Kinnaur


— a lovely village with stunning views of the Himalayas

— a little off the beaten track, but worth the effort


— a small town. The ancient Lotsaba-bai-lha-khang temple can be seen here


— a village in the Pooh tehsil and home to the Rarang Monastery


— the biggest village in the beautiful Sangla Valley

Other destinations
— this peak (5,048m) is sacred to Hindus and easy to climb in the summer; 4-day treks can be done from Gushaini (Tirthan Valley), Shamatan (Kurpan Gad) or Jyura (Sutlej Valley)

Get in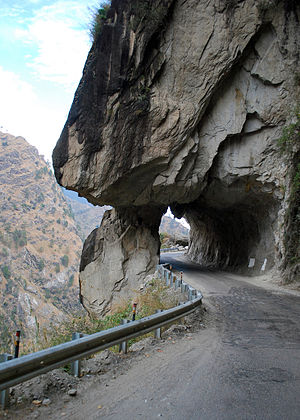 There are daily buses to Kinnaur from
Shimla
. It is also possible to enter
Kinnaur
from
Lahaul and Spiti
, but there is a major active landslide area at Malling Nullah near
Nako
on the road between
Tabo
and
Rekong Peo
. The road is frequently blocked by landslides. In such case the HRTC public buses operate by transshipment - a bus arrives to the landslide, and another one picks up passengers from the other side. The landslide area is crossed on foot - a walk of ca. 100 meters only but sometimes dangerous because of falling stones.
Get around
The major villages are connected by buses and 4WD shared taxis. 4WDs are also available for private hire.

Stay safe
Kinnaur is a very peaceful and hospitable place. If you are driving yourself, be very very careful, roads are very dangerous here made by cutting out mountains, they are also known as "free fall free way".

Go next
Lahaul and Spiti – if you're heading up into Lahaul and Spiti, make sure you pick up a mandatory Inner Line Permit in Reckong Peo (₹150, good for 14 days. Or can be obtained for free in Shimla) before setting out. Some place are restricted for foreigners. From Reckong Peo, a bus should take around 4-5 hours to reach the landslide at Malling Nullah (the road was washed out several years back, and is still not crossable by vehicle). Once there you'll hand over your bags to be shuttled across on the wire by basket (₹5/ea), while you'll spend 45 min or so exerting yourself as you hike up and around the rockfall. It's not too strenuous, but expect to break a sweat, at least a little. Once on the other side, you'll hopefully find a bus waiting to take you towards Tabo (2 hours).