Kirkenes
Kirkenes
is a town in the
Finnmark
region of
Norway
, far east near the
Russian
border, more or less in the end of mainland Norway. This is the last port for
Hurtigruten
and the end of
Norway's main road E6
, 2500 km from Oslo and 3120 km from
Trelleborg
(Sweden).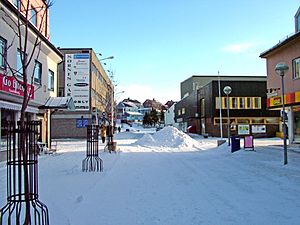 Understand
The region was Germany's staging ground for its northern front against the
Soviet Union
during
World War II
, and this has left marks in the area. The town of Kirkenes was totally destroyed by almost 350 Soviet air raids, and holds the record as the most bombed-out town in Europe during the war. Upon an imminent Soviet advance the population was forced by the Germans to relocate to Tromsø and further south. However, more than 3,000 residents and their livestock hid for around ten days in the mines and appeared when the town was liberated by the Red Army in October 1944, more than six months ahead of Norway as a whole. Norway's flag was raised on liberated territory for the first time at the Kirkenes mines. The buildings at the mines were the only ones remaining, and the first administration in free Norway was set up there.
Kirkenes is also known as a mining town, and mining for iron ore has been taken up again after a hiatus. Kirkenes has some 3,500 inhabitants.
Fun facts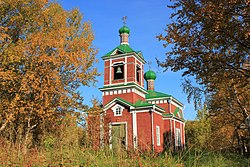 The mother of US actor René Zellweger was born and grew up in Kirkenes. Her parents met at the
Hurtigruten
ferry.
Tourist office
The municipal tourist information is at the public library downtown.
Get in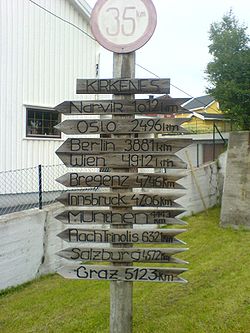 Note the time zone difference if coming from Finland (1 hour) or Russia (2 hours). Check what timezone is used in timetables for international services.
By car
Kirkenes is at the very end of the all-through-Norway 3,000 km long highway E6. Visitors can also enter by road from northern Finland (about 7 hours from Rovaniemi), and north-western Russia (about 4 hours from Murmansk, including border formalities).
From southern Norway or Germany by car, the shorter and faster route is through Sweden and Finland. The normal route would be over Rovaniemi, although from Sweden there is a shortcut over Pajala and Kittilä which is shorter but slower. Kirkenes is some 2,600 km from Hamburg through Sweden, through Norway well over 3,000 km from Hamburg (some 40–50 hours drive, meaning 6 days if driving 8 hours per day). It is advised to visit interesting places along the way, even if this takes time, not just drive as much as possible per day.
By bus
By sea
Kirkenes is the northern terminus port (
Bergen
being the southern) of the
Hurtigruten
, arguably the most beautiful sea voyage in the world, covering most of the Norwegian coast in 5–6 days.
By plane
Kirkenes Airport, HøybuktmoenDue to its remote location, most visitors arrive and depart by plane. Daily flights to Oslo, Tromsø and others by Norwegian, SAS and Wideroe. Also flights to Russia and Germany (summer only). Most flights have a bus to town waiting outside (timetables snelandia.no), kr 85, credit cards accepted. A taxi will set you back some kr 300.
On certain occasions it is considerably cheaper to fly into
Ivalo
in Finland, some 240 km away, mainly if you are a small group or a family and plan to rent a car anyway. Rental cars are not cheap in Northern Norway.
By train
There are no passenger trains to Kirkenes, but it is possible to go by public bus from cities with railway station.
Get around
Local buses
. Long distance buses leave outside the main shopping center in the middle of town. Some buses only take cash, however there is an ATM inside the shopping center.
See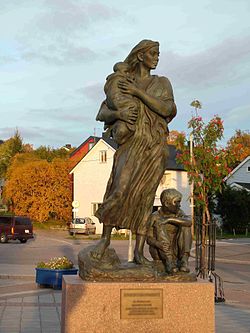 The midnight sun in summer
The Aurora Borealis in winter
The Russian border, including the , where also Finland joins in. Caution should be exercised; presume all movement is under surveillance near the border. It is allowed to go almost to the border on the Norwegian side, but not the Russian. Respect the border and border zone as if we still had the cold war (e.g. long lens use is restricted, talking over the border forbidden except in emergencies). The easiest place to reach the border is , signposted from road E105. The three-borders-mark is in the Pasvik–Inari Trilateral Park, see below.

phone: +47 78 994880

address: Førstevannslia

Showcases history and lifestyle of the far north of Norway including a section devoted to the devastating effects of Second World War on Kirkenes. Also has a fine exhibition of woodcuts by the Sami artist Jon Savio

address: Neiden

A museum about Eastern / Skolt Sámi people. First opened in June 2017.
Do
Fishing, both salt and fresh water, including salmon.
Hiking
.
Buy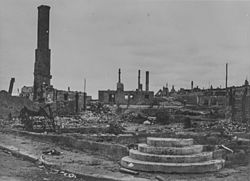 Russian visitors often buy clothes and home products, which tax-free are cheaper than similar non-Russian products in nearby Murmansk or Nikel. Spareland is a popular shop for this. Information about taxfree (only for non-EU/Norwegian residents) refunds are available at
globalblue.com
.
Local Norwegians can get a 5-year multitravel visa and they like to go to Russia to buy petrol (less than half the price) and some Russian products and services. They are not allowed to bring meat over the border, and alcohol only if they been in Russia for 24 hours (and then only a small quota), products which otherwise are the most bought by Norwegians in the border trade in Sweden and Finland. Visitors need a visa which is costly and tricky to get.
Eat
Being a small settlement dining opportunities are not abundant. There are however a few restaurants.
phone: +47 78 99 34 81

address: Dr. Wessels gate 17

Surf & Turf

phone: +47 464 45 245

address: Dr. Wessels gate 2
Drink
Try Ritz or Ofelas.

Sleep
Budget
phone: +47 78 99 80 28

Camping site. Also rents cabins. Summer only.
Mid-range
address: By the Russian border, some 10 km from town

Has a good restaurant.

phone: +47 78998600

address: Dr Wessels gate 3

Overnatting Liv Mikkelbrog

address: Kronprinsensgate 21, Kirkenes
Splurge
phone: +47 78995900

address: Kongens gate 1

phone: +47 78 971050

address: Johan Knudtzens gate 11

Opened in 2010 directly along the waterfront
Go next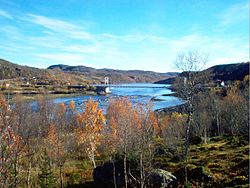 Go up the Pasvik valley for quite a change of flora. Here you find the last bit of the enormous Russian Taiga, a pine forest that stretches all the way to Siberia. At the southern end of the valley (105 km of paved road, 15 km of dirt, then 1h15m walking along the Russian border) is the Tri-Border Mark, where Norway, Russia and Finland meet. Heavy fines for trespassing into Russia! The Pasvik-Inari trilateral park, including areas with different protection status in the three countries, features much untamed wilderness, but also some services and cultural attractions.
At Grense Jakobselv (58 from Kirkenes), the open Barents Sea washes a beautiful sandy shore. Never gets above 8°C, though! You can also peek at the "King Oscar II" church.
The highest peak around is "Øretoppen", at 466 metres. It is a 2-hour hike along a marked path from Ropelv, where buses go. Magnificent views in a landscape of large stones spread upon the hills.
Further away
If you plan on crossing the border into Russia, you will probably need a visa. In theory, this should be obtainable at the Russian Consulate in Kirkenes, but you might find it worthwhile to pay any local travel agency a little extra for the job. You need quite a few documents, especially if you are using car, like paid a hotel booking and insurance forms. Start the process one month before leaving home.
If you are heading for Finland, and feel that you need some euros, there is an ATM at the DnB bank that will hand them over. The route by foot straight through the forest to the Finnish side is possible for experienced wilderness backpackers (Piilola trail, 35 km from Sortbryststjern to Kessintie, unless you want to find your own routes; clear with customs beforehand if needed); sleep in huts on the way and arrange somebody to fetch you with taxi or boat (over Lake Inari) from there or from Nellim, to Ivalo or Inari. Sortbryststjern is on the road towards the tripoint, some 25 km before the tripoint. There is no marked trail from the tripoint itself, and the shortest route from there is blocked by the border zone. The nearest border crossings for vehicles are at Neiden/Näätämö and Nuorgam.