Kirov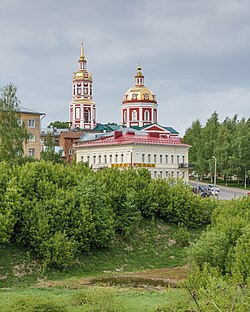 Kirov
(
Russian
: Ки́ров
KEE-ruhf
) is the capital city of
Kirov Oblast
,
Russia
.
Understand
The population of Kirov is approximately 500,000 people. The city dates back to at least 1374 and was formerly known as Vyatka and Khlynov. It is named after Soviet leader Sergey Kirov who was assassinated on December 1, 1934.

Get in
See
Russia#Get in
for details of getting to Russia.
By train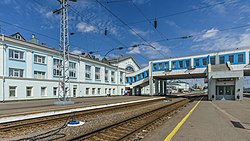 Kirov Rail StationThe main railway station. All Trans-Siberian trains stop at Kirov-I. Trains from this station connect the city to Moscow (12-14 hours), Saint Petersburg, Nizhny Novgorod, Kazan, Izhevsk, and the Russian Black Sea coast.

Kirov Kotlassky Rail StationA minor station serving trains on the non-electrified railway to points north (Kotlas, Komi Republic).
By plane
By bus
Kirov Bus Terminal serves routes to
Yoshkar-Ola
,
Kazan
,
Naberezhnye Chelny
,
Syktyvkar
,
Ufa
,
Cheboksary
,
Izhevsk
,
Ulyanovsk
, as well as many towns in
Kirov Oblast
.
Get around
Public transport
Public transport includes a network of buses, trolleys and marshrutkas. A ride on public transport costs . Route maps can be found
online
.
Taxi
Taxis are plentiful.
See
Museums
address: Spasskaya 15

address: Karla Marksa 70

address: Svobody 67

Kirov Regional Local Lore Museum

address: Spasskaya 6

Museum of Paleontology
Diorama Museum Exhibition Centre
Regional Museum of History of Public Education
The Aircraft and Astronautics Museum of K.E. Tsiolkovsky
Vyatka Kunstkammer Museum
Railroad Transportation Museum
Vyatka Paleontological Museum
Museum of Mikhail Saltykov-Shchedrin
Modern Art Center 'Gallery Of Progress'
Museum of Alexander S. Green
Religious buildings
Holy Uspensky Trifonov Monastery
The Church of Faith, Hope, Love and the Mother Sophia
The Saviour Cathedral
Church in Honor of the Mother of God of the Theodore
Church of Christ the Saviour
Kirov St. Seraphim Cathedral
St John the Baptist Orthodox Church
Parks
Alexander Garden
Dendrologic Park
Pond near Diorama
Botanical Garden
Dvorets Pionerov Memorial Park
Zarechny Park
Monuments
Monument of the Family
Marshal Konev Monument
Tank T-34: Monument to the Heroic Work of Residents of Kirov
Do
Theatre
A. Afanasyev Kirov Puppet Theater
The Kirov Regional Drama Theater
Festivals and events
Ice Climbing World CupAnnual competition.

Igloo Building competition - a team competition for the best snow sculpture in different nominations. It is held in the Fairy-Tale Preserve site in the "Zarechniy "park across the Vyatka River usually in March.
Greenlandia Festival - a 3-day russian bard music festival that takes place in July every year in Bosharovo not far from Kirov. Alcohol free, kids friendly festival with multiple concerts. Some people camp, some just come for selected concerts.
Buy
Local crafts are unique and beautiful:
Dymkovo toys - a famous local ceramic toy can be found in big shopping centers, in specialized crafts shops (e.g. Vorovskogo 52 or Upita 13) or in the special Dymkovo toy shop on Svobodi 67.
Matryoshka nesting doll - Kirov is one of the center of Matreshka production. Matreshka from this region (Vyatskaya Matreshka) is inlaid with straw and is exceptionally beautiful and unique.
Kukarka Lace (aka Vyatka Lace or Kirov Lace) is a type of traditional handmade bobbin weaving and one of the well-known folk Kirov arts. Together with other local crafts made out of straw, woodknobs (nodule), skein, or juniper keep they can be found in the multiple crafts shops around the city.
Eat
"Danar" ("Данар")- is a turkish doner concept. Fresh ingredients from the region, low prices. More than 20 locations around the city.

address: Surikova 19

McDonald's

address: Vorovskogo 100A

phone: +7 833 240-53-43

address: Krasina 10

Greek food.

phone: +7 833 240-53-43

address: Gertsena 78
Drink
address: Karla Marksa 101

address: Gertsena 88

Irish pub.
Sleep
Budget
Dostoevsky Hostel

phone: +7 (8332) 74-68-40

address: Karla Libknekhta St., 93-20

Modern hostel with all usual hostel amenities.

phone: +7 (8332) 64-00-17

address: Volodarskogo 209
Mid-range
phone: +7 (8332) 54-89-90

address: Krasin 10

32 rooms. Opened in 2012.
Splurge
phone: +7-8332-744-700

address: Oktyabrskiy 145/1