Ko Tao
Ko Tao (เกาะเต่า)
, literally "Turtle Island", is an island on the
Central Gulf Coast
of
Southern Thailand
.
Understand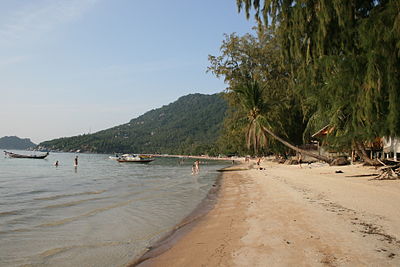 Ko Tao was once a detention place for political prisoners. Today it's a great place for divers or persons who want to get away from the hustle and bustle of
Ko Samui
or the chaos of the Full Moon Party on
Ko Pha Ngan
. The island is geared more towards relatively affluent divers than backpackers on a budget. Thus, you won't find cheap food stalls here. There are hardly any ocean currents and there is a wide selection of dive sites and dive shops, dive schools, and resorts. Activities other than diving are on the increase and the food and nightlife options are some of the best in the Gulf of Thailand.
Ko Tao is a small island of approximately 21 km 2 and receives over 100,000 visitors per year. This is a heavy tourist load for a small island with rudimentary sanitation infrastructure. Everything that can't be burned has to be taken away to the mainland. There is no sanitation department to clean the roads or other public areas, so don't dump your waste thoughtlessly. Avoid the unnecessary plastic bags that are given out mindlessly for virtually every purchase. Water is scarce and electricity expensive, so don't waste them.
Peak seasons in Ko Tao are from December-March and July-August. It is a quite popular destination among Thais also, so it can be nearly fully booked on Thai holidays.
Get in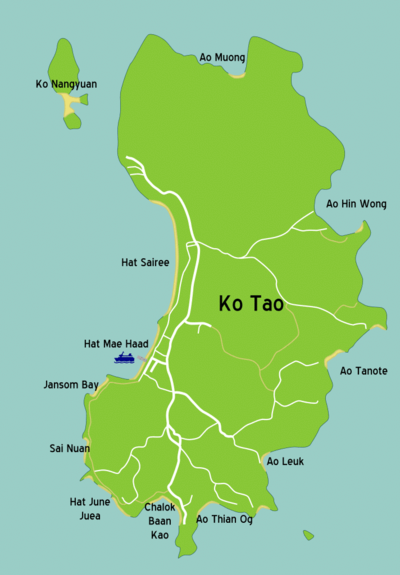 By plane
The nearest airports are in
Chumphon
,
Ko Samui
and
Surat Thani
. Ko Tao can then be reached by numerous ferry and high-speed catamaran services.
Combined flight and ferry ticket
Nok Air
sells a Bangkok to Ko Tao, air-sea combi ticket online. It includes a seat on one of their twice daily 86-seater turboprop services between Bangkok (
Don Muang, DMK
) and
Chumphon Airport
(
CJM
), followed by a transfer to the ferry pier and a Lomprayah catamaran to Ko Tao.
If you have purchased a separate flight ticket, then various ferry operators have booths in the airport arrivals area selling ferry tickets which include a bus to the pier.

Flight options from Bangkok
Via Chumphon Airport (CJM) - Nok Air fly from Don Muang Airport (DMK

) to Chumphon twice daily.

Via Surat Thani Airport (URT) - Thai AirAsia, Nok Air (DMK) and Thai Airways (BKK) fly from Bangkok to Surat Thani Airport.
Via Ko Samui Airport (USM) - Thai Airways and Bangkok Airways operate almost all flights from the private airport in Ko Samui and both charge artificially high rates. Bangkok Airways runs many more daily flights to and from Ko Samui than Thai Airways. International flights also operate directly to Ko Samui.
By boat
From Chumphon
The closest port to Bangkok for the island ferry service is Chumphon. Numerous agents sell tickets for a variety of boats of varying size and speed travelling in from the north. The fastest takes about 90 min, the slowest more than 5 hr.
There are two high-speed ferry operators from Chumphonː Lomprayah and Songserm. Their websites both have timetables and allow you to buy tickets online. They also both offer pickup services from the train and bus stations and from hotels.
Another option is the night boats, generally leaving at some point between ten and midnight, and offering bunks in large dormitories with fairly basic facilities. There are three operatorsː
Talay Sub - operates Tu, Th, Sa from Chumphon - 400 baht - +66 81 8945488 or +66 81 0861793
Ko Jaroen - operates M, W, F from Chumphon - 400 baht - +66 77 580030
Pontaweesin - operates Su from Chumphon - 450 baht
All of these can be booked through the Salsa Hostel in Chumphon (+66 77 505005 or +66 89 4880321), who also arrange pickups.
A good solution if coming from Bangkok is to book "Sleeper Train #85"; leaving Bangkok at 19:30 and arriving in Chumphon at 04ː13 and then have a ticket booked for the 07:00 ferry. Both ferry operators can pick you up from the station where you can while away the connection gap of several hours. You can also buy your ferry ticket at the station when you get off the train. Lomprayah have a ticket office at the station and a ticket on a waiting bus is included in the price.

From Surat Thani
If you're coming from the south, you can take a ferry from Surat Thani on the mainland with a travel time of around 3 hr. Catamarans are operated by Lomprayah and Seatran Discovery. If you're taking a boat from Surat Thani, one possibility might be an overnight ferry. These depart around 23:00 and arrive the following morning at about 06:00 (subject to changes). It's advisable to arrive early to grab a mattress. As most of the boats are formerly cargo boats the passenger facilities are basic.

From Ko Samui
Bangrak Pier (aka "Big Buddha Pier) is your best bet if you are arriving at Ko Samui Airport (~10 minutes via taxi). Or are staying in Chaweng Beach area. Seatran Ferry has several trips to and from Ko Tao's main pier (Mae Head). Seatran has large modern ferries, ~2 hours and 600 baht one way as of 2017.
Maenam Pier is about 45 minutes to an hour from Ko Samui Airport. To confuse things, it is also known Lomprayah Ferry Pier (for company operating two trips to Ko Tao).
Nathon Pier is much further away from Ko Samui Airport than the above.
You might make the trip on diving charters from Ko Samui. Many have high-speed boats that can make the trip to Ko Tao in about 1 hr.
Lomprayah High Speed Catamaran or Seatran are the fastest and most comfortable way to get to Ko Tao. They run twice a day from Ko Samui, Ko Pha Ngan, Surat Thani, and Chumphon. They also have online booking, useful for checking availability at peak times and all their boats have air conditioning and movies for passengers.

Get around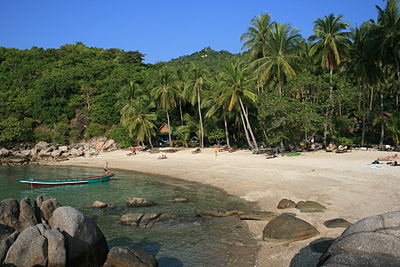 There is one main road running north to south on the island that connects Sairee, Mae Haad, and Chalok, with many smaller roads branching off from it. Some roads lead over the spine of small mountains that run along the middle of the island and are all dirt, can become impassable after rain, and can be challenging even to a skilled driver. If you are looking for an adventure, the dirt roads are a good place to find it. Also be aware that distances can be quite deceiving due to the quality and elevation changes of the trail. As of October 2016 many of the roads are actively being replaced with freshly poured concrete, though this has led to an increase in speeding compared to the older worn down/dirt roads. The other main thoroughfare is a pedestrian pathway known locally as the "Brick Road" (or "Yellow Brick Road" despite being gray) that runs along the majority of Sairee Beach from Mae Haad to the main intersection of Sairee. Despite being a pedestrian path there's still numerous scooters weaving and bobbing, so be sure to keep an eye out.
You can rent bicycles and motorcycles at many places around the island, though an increasing number of rental shops are running motorbike scams where they hold your passport hostage and insist on you paying large amounts of money for non-existent scratches upon their return — primarily shops on/near the "Up Road" from the Mae Haad pier or near the Sairee 7-Eleven. Make sure you note and photograph all scratches and dents when you take delivery of a rental bike, including the underside of the bike as it inevitably will take a few bumps once off the main road (if the shop is charging less than 200 baht/day for a 125 cc scooter, chances are they're making up the difference elsewhere). Taking passports as the deposit is standard even at reputable shops, though some will alternatively take a deposit of 8000-10,000 baht for a typical 125 cc scooter if you ask.
Reputable rental shops
Some of the hostels also have motorbikes for rent.
RPM Red Power MotorA well-known motorbike rental shop in Mae Haad. They almost always have 125 cc Honda Click's with dirt tires available, which are more than capable of getting you anywhere on the island with some patience. Proper dirt bikes are frequently available also, though these are overkill unless you're uncomfortable on a scooter or it's the rainy season.
ATVs have been recently banned from the island, though may still be seen roaming the island once or twice during your stay. There are usually plenty of taxis available in both Sairee Village and Mae Haad, however they tend to be expensive for Thailand with a minimum price of 300 baht or 100 baht per person when transporting larger crowds. Longtail boats offer rides to and from hard-to-get-to beaches on the island. They are a more comfortable way of getting to isolated beaches than attempting to ride over the mountains, however they are noisy. A round-island longtail can be as much as 2,000 baht, whereas some short trips will only be 100-200 baht.
See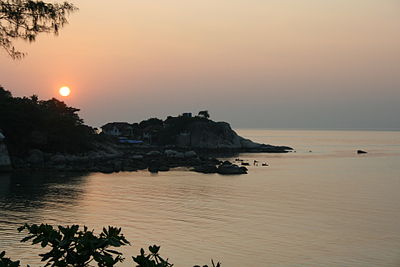 Take a bike around the island. Shark Bay is a good place to go snorkelling for the day (don't worry too much about sharks, they are only small black-tip reef sharks). Ko Nang Yuan, Freedom Beach, Laem Thian, Mango Bay, Hin Wong Bay, and Tanote Bay are good day excursions, accessible by road or boat. If you rent a scooter, be prepared to turn around or continue by foot since some roads (e.g., to Mango Bay) may be in such condition that you need a dirt bike or a car to travel them. While there are legally no private beaches in Thailand, some are relatively inaccessible by land making a paid longtail boat a necessity, and some are "owned" or only accessible via "private roads" that charge 100-200 baht entrance fees..
However, to see the best places, go by foot or longtail as some places are inaccessible to motorists. There are a number of good viewpoints around the island such as John Suwan mountain viewpoint in the south of the island, Two View in the centre, and Fraggle Rock in the north.
Do
Freediving
Freedive training and education
worldwide is generally done through
AIDA
,
SSI
, and
Apnea Academy
, though PADI recently began to offer freediving courses.
phone: +66 77 456457

Small family-run dive and freedive shop with new equipment, flexible boat schedules and friendly multilingual staff. Teach PADI & SSI diving and SSI freediving courses in small groups in a friendly and relaxed atmosphere.
Apnea TotalKo Tao's first and longest established freediving school. Apnea Total profits from experienced teachers and a private boat for a safe and successful learning experience.
Blue Immersion FreedivingFreedive off Sairee Beach by longtail boat with accomplished instructor Akim. AIDA and SSI courses available.
Coral Grand DiversNow offers the PADI Freediver course.
Scuba diving
Scuba diving
is the biggest attraction on Ko Tao. Diving in Ko Tao is easy, fun, and you can see turtles, stingrays, barracudas, lots of small fish, and reef sharks. There is a small chance you'll see a whale shark.
At Chumphon Pinnacle you are likely to see juvenile bull sharks which have, until recently, been misidentified as grey reef sharks. Be careful as the bulls are curious and very aggressive, though for many years thousands of people have dived this site without a single shark-related incident.
Nearly any time of the year except November is good diving weather in Ko Tao and visibility can exceed 40 m. Average visibility is around 15-20 m. In November, visibility is reduced to 5 m and the seas are choppy.
It is possible and perfectly comfortable to swim and dive without a wetsuit year-round. However, as with most diving, a wetsuit is recommended to help reduce the risk of cuts or injury. Avoid contact with coral reefs.
Various dive locations around Ko Tao are:
Chumphon Pinnacles
Southwest Pinnacles
Green Rock
White Rock
Red Rock
Japanese Gardens
Twin Pinnacles
HTMS Sattakut (wreck)
Hin Pee Wee
Mango Bay
Ao Leuk
Shark Island
Hin Wong
Lighthouse Bay
Laem Thien
There are a huge number of dive operators on the island, many offering budget accommodation (sometimes described as "free accommodation", but this is not really true as you will usually get a discount if you stay elsewhere). The price for PADI open water certification including the new PADI training manual, professional instruction, rental equipment, boat dives, and certification is around 9,800 baht. For SSI open water certification including professional instruction, rental equipment, boat dives, and certification is around 9,000 baht. Insurance and basic accommodation may also be included. Shop around as not all shops teach the course in the same way. Look for experienced dive instructors rather than a low price.
A common method for teaching new divers is to train in a pool first to be taught about 20 basic skills before being taken out into the open water. Others will instead take you to a secluded beach so you will see fish and coral from the start and you might be able to squeeze in a short extra dive in this way, depending on your group and instructor. Some shops have a private pier, some shops depart with a longtail from the beach, and some use the public pier, where you will have to climb across some other boats. Ask, if this matters to you. Most important: find out the maximum number of dive students in a group. Make sure you get an instructor who speaks your language if you are not absolutely sure about your English. These are the little things that will make the difference between an OK course and a great one.
For those interested in becoming divemasters or instructors, here is a link to a video guide about the island life
Koh Tao: Thailand's Divestyle Island
.
PADI dive centres and resorts
phone: +66 77 456457

Small family-run dive and freedive shop with new equipment, recently established, flexible boat schedules and friendly multilingual staff. Teach PADI & SSI diving and SSI freediving courses in small groups in a friendly and relaxed atmosphere.
Asia Divers Resort5 star Gold PADI Instructor Development Centre offers a full range of diving courses, including divemaster internships. Multiple languages. The resort's bar is always a nice place to chill out after diving.
Ban's Diving ResortPADI open water courses up to professional PADI Instructor courses. A full range of technical diving courses.
Big Blue Diving ResortPADI dive resort with beach side bar and restaurant, lodging with 50+ rooms. Offers all courses from beginner to instructor, all technical diving. Also offers eco-internships. Winner of PADI's Project Aware Environmental Achievement Award. One of the longest established dive centres on Ko Tao.
Big Bubble Dive ResortOne of the long-established dive centres on Ko Tao. Relaxed, fun diving. Scuba diving lessons from beginner to PADI divemaster training with a well trained, professional staff. Also in Chalok Baan Kao.
Buddha View IDC Dive ResortPADI 5 star IDC gold palm resort with friendly staff, good facilities and a BBQ and beach bar to relax in the evenings. Dive instructor courses and professional training programmes with a divemaster.
phone: +66 77 456745

Dive training (hands on, no video teaching) from beginner to pro following CMAS and PADI standards in small groups. Located in quiet and party-free bay with a house reef in front of the premises.
Crystal Dive ResortPADI scuba diving resort, Koh Tao, Thailand. All PADI dive courses, scuba internships and pro level Divemaster and Instructor courses. FREE accommodation!
Davy Jones LockerDivemaster internships and PADI Instructor Training, and MCA boat handling courses in their RIB. Accommodation and gear packages are available for all courses.
Dive PointPADI 5 star dive shop run by an Austrian. Offering diving classes in German, French, Italian, and English. Small groups and individual care for students special needs.
phone: +66 87 2650859

address: Sairee Beach

Concentrates on PADI Go Pro courses on Ko Tao. PADI divemaster course, IDC course, IDC staff instructor course and master instructor training with full dive internship programs are available.
Koh Tao Easy DiversPADI 5 star dive shop with friendly experienced instructors. Professional and fun with great accommodation, and the only dive centre on Ko Tao with all inclusive packages. With a private pier and a maximum class size of 6 students to 1 instructor.
Impian Divers 5 Star Dive CenterGroups limited to 4 divers per pro dive leader. Courses in 5 languages. European-owned/managed with strong safety record/procedures, but still easy going. Differ from most dive centres because of the daily different locations for the dive trips, long dive times. and non-early morning departures. 12 years of experience diving around Ko Tao.
Island Dive ClubDoes good deals on course and accommodation packages. The Thai staff can be annoying, so deal with the foreigners, they really make the effort. The dive shop is not that busy, meaning you might get an instructor for yourself or be taught in a small group.
Master DiversA small professional dive PADI 5 Star IDC. They guarantee small groups and offer private tuition and private guiding too. They have an experienced team and time their boat trips to go to dive sites when they are quietest too. They take their diving and environment seriously. They provide free water refills to minimise plastic bottle waste. They re-cycle and provide re-usable containers for take-away food to minimize polystyrene waste.
phone: +66 77423949

address: 3/40 Moo 1, Sairee Beach
phone: +66 77456527

address: 24/2 Moo 1

One of the oldest and most reputable dive shops. This small school has the first dive boat out in the morning. The truck leaves for the harbour at 06:00 to avoid crowds. Small groups, friendly and professional instructors. Basic accommodation is available.
phone: +66 82 4126240

Personal service in small groups. PADI dive courses + 12 scheduled yoga classes per week.
phone: +66 77 456107

address: Mae Haad Beach

PADI Instructor Courses, full scuba diving internships, gap year programs and lifestyle change.
phone: +66 77 456110

address: 9 Moo 2, Mae Haad

Over 25 years of experience, 5 star Instructor Development Centre, full range of PADI scuba diving courses for complete beginner all the way through to instructor.
phone: +66 77 456374

address: Middle Sairee Beach

PADI scuba diving school on Ko Tao. Very friendly and beautiful diving resort right in the middle of Sairee Beach. Sairee Cottage Diving offers PADI courses from beginner to Scuba Dive IDC Instructor courses including free accommodation.
Samui Diving ServicePADI 5 star diving and education in small groups of 4 students per instructor. All PADI courses and daily fun dives.
Seashell Dive CentreSmall locally-run shop with helpful multilingual staff, an OK boat and gear, but no free accommodation.
Simple Life DiversPopular medium sized Western-owned and managed PADI 5 star dive centre on Ko Tao's Sairee Beach.
Sunshine Divers ResortPADI 5 star Gold Palm Resort. DMT's, staff, instructors, students, resident dogs, and fun divers all contribute to the relaxed and friendly atmosphere.
SSI dive centres
phone: +66 77 456457

Small family-run dive and freedive shop with new equipment, recently established, flexible boat schedules and friendly multilingual staff. Teach PADI & SSI diving and SSI freediving courses in small groups in a friendly and relaxed atmosphere.
address: 17/16 Moo 1

All dives and training are offered in small groups with a maximum of 2 divers per 1 staff or private tuition. Specializing in diving for photographers and film makers or those wishing to have a private diving experience. Expeditions are offered on private luxury speedboat or custom-built dive boat and dive schedules change daily to avoid the crowds. Day trips to Ang Thong Marine Park are also available. HQ in Sairee Beach. Dive courses are offered from beginner to professional.
Carabao Diving Center & ResortA good diving centre on a quiet beach with some nice places to eat and drink. The staff is gracious and helpful. Good accommodation available.
Mojo Divers Koh Tao

phone: +66 77 456 710

address: 14/20 Moo 1 (Sairee Beach)

Friendly dive shop in the heart of Sairee Beach in small groups, fun & friendly atmosphere, from beginners to professional level. Bi-weekly trips to Sail Rock.
New Heaven Dive SchoolOver ten years of experience on Ko Tao. Has been involved with turtle conservation, reef restoration, the We love Ko Tao Festival, the Ko Tao Underwater Festival and other activities which help to create the eco-friendly environment crucial to Ko Tao's future.
Scuba JunctionRun by Natalie, who runs a very tight ship. The equipment is beautifully maintained and they dive and teach strictly by the rulebook. Good accommodations nearby are available at the Prik Thai Bungalows and SBC Cabana. Scuba Junction is an SSI Diamond Instructor training facility.
Liveaboard sailing and diving
ScubasailA 30 m sailing and diving yacht, the Naga. Accommodation, diving courses, visiting dive locations and a beautiful experience on board assisted by a helpful crew.
Marine conservation
Koh ExistA marine conservation school providing information on marine ecology, corals, fish and how to rescue corals by attaching them to artificial structures.
Other activities
Over the last couple of years more and more non-divers have discovered the beauty of this island with its secluded little bays and unspoiled mountain ridges. Due to this, and the increasing number of small upmarket resorts and villas nestled in the hillsides there are now a lot more activities available, including sailing,
rock climbing
(trad routes, sport routes, top rope routes, and bouldering), abseiling, cliff jumping, wake boarding, mini golf, or bowling in Mae Haad, massage and yoga courses, and cooking courses.
Bowling and mini golfThe bowling is "manual". There is a guy at the end of the alley that sets up your pins for you after each bowl and returns the ball down to you.
Dive Career InternshipsDivemaster and dive instructor internships, underwater videographer training, and resort management courses with experienced PADI course instructors.
Good Time Adventures, Diving, Beach Cafe and Bar

phone: +66 87 2753604

South Sairee Beach. Small group Scuba Diving courses with flexible schedules. The only shop on Ko Tao with a weekly trip to Sail Rock. A wide range of adventure activities including: rock climbing instruction up to lead climbing and a guiding service, abseiling/rappelling, cliff jumping, snorkelling, wake boarding, boat cruises. Beach Cafe and Bar serves a tasty variety of Western, Thai and Burmese dishes on the beach.
Hike to one of the secluded bays on the northern and eastern side of the island. On the 2 hr walk through the jungle to Mango Bay you will hardly meet any people. The snorkelling there is good.
Koh Tao PROvideoA videography company. Run by experienced underwater videographers and instructors who film and teach every day. Each course is tailor made.
Monsoon Gym and Muay Thai CampFor those looking for a serious workout. Muay Thai courses are provided and you can step in the ring for a real bout when you're ready.
Mountain Biking There is a shop renting mountain bikes next to the bowling and mini golf course. Mountain bikes are in reasonable condition. 100 baht/day with a 1,000 baht deposit.
Oceans Below-underwater Video Training3 and 5 day courses in underwater videography and offers professional-level training for those looking to make a career of it. All training done with HD video cameras.
phone: +66 82 4126240

Vinyasa, Yin, Meditation, Hatha and Restorative yoga classes offered daily. High quality equipment provided. All levels welcome.
Thailand Gap Internships1-7 month internships in Pro HD video training, muay Thai, free diving, PADI instructor, divemaster and technical dive courses.
phone: +66 84 3840834

address: 5/28 M. 2, Mae Haad

Thai massage, oil massage, foot massage, body scrub, reflexology massage. Also waxing hair removal treatments from the face and body – for women and men.
Eat
A huge selection of Thai food is available, including lots of seafood. Barbecued fish is one of the local favourites. As a large portion of the population are expats, you will find plenty of other cuisines too. 2011 prices ranging from 60 baht for stuff-on-rice (still possible in 2015, especially if you have a look around the gas station on the main road, about a kilometre south-east from the piers) through to 250 baht for a nice hunk of fresh barbecued fish at a decent restaurant. 30 baht would get you a fresh banana pancake, and 60 baht a bowl of porridge with honey at a budget resort's restaurant. 200-300 baht would get you a bowl of freshly made Italian pasta, and 160-200 baht for pizza. Fresh fruit juices are available at many stalls for 30-40 baht.
995 Roasted DuckSimple menu consisting of ten well executed dishes. Their spicy noodle soup with duck (or pork/fish balls) is a Thai local favourite.

Bang Bugers

phone: +66 81 1366576

Established by an Australian expatriate, Bang Burgers produces 6 varieties of homemade burgers and 6 varieties of homemade sauces. Open for breakfast with fresh ground espresso from north Thailand. Delivery option available.

Cafe del Sol

address: Mae Haad Square

Authentic French and Italian-style cuisine, home made pasta and pizza, smoked salmon and choice steaks, excellent wine collection and Erdinger weissbier.

Choppers Bar and GrillAustralian sports bar. Live music, live sports, pub grub, and a wide selection of beers.

Dolce Vita Italian RestaurantRun by 2 brothers from Apulia, this place offers traditional Italian cuisine in a cosy ambiance. Lavazza coffee, daily home made pasta and authentic pizza, meats from New Zealand, fresh seafood, home-made desserts, wine bar.

Farango PizzeriaItalian-style pizza and pasta, always busy with dine in or take away. Expect to pay 140 baht for pasta or 200 baht for a pizza from the wood-fired oven. Delivery available.

Greasy SpoonFull Monty English breakfast bar. Eat in or delivery.

Safety Stop Pub

phone: +66 77 456209

Comfy English pub with tropical beer garden. Draught beers, "wild" buckets. English pub grub. Weekend BBQ's, Sunday roasts, daily specials, live sports.

Shalimar Indian Cuisine

phone: +66 77 456740

Authentic Indian chefs, ingredients, and tandoor. Wide variety of tasty dishes in a beautiful garden setting. Relax in the lounge for cocktails and sheesha. Take away and delivery available.

The Snack Shack

phone: +66 85 4788753

Late-night burgers, chicken pita kebabs, hot dogs, falafel, chips (french fries to the non-Brits) available with curry sauce, chili con carne or just good old salt and vinegar. One of only a few places on the island open after 22:00 to get food other than 7-Eleven. Delivery between 22:00-02:00.

A Taste of HomeHomemade dishes, large portions, and friendly, relaxed atmosphere made this Trip Advisor's top listed restaurant on Ko Tao.

Thipwimarn RestaurantWonderful sunset views and a "higher class" feel, but the prices are not much different from the rest of the island. Great for dates.

Tony & Aoi Bar/Restaurant

phone: +66 80 7183191 (Tony - Italian), +66 80 1458245 (Aoi - Thai/English)

Italian/Thai/English place. Imported Italian pasta starting from 100 baht along with the usual English and Thai fare. New, clean and well-priced, especially for the pasta.

Tortoise Burger & BeerWith only five stools, senseless hours, and good music, this place feels like it's been ripped from an alley in Brooklyn. The menu has five options: beef burger, chicken burger, chicken BBQ burger, fish burger, and veggie burger. The veggie burger is homemade and delicious.

Tukta Thai FoodBest pad Thai on the Rock!

Zest CafeGreat for coffee, breakfast, and sandwiches. A favourite with the seasonal dive shop employees. Free Wi-Fi, TV always silently tuned to BBC. Friendly, helpful staff. A second location in Mae Haad.
Drink
When you get a break from diving, there are a few bars on the island. The bars on the island rotate nights, so the best bet is to ask someone working at dive shop which bar will be crowded that night or check the posters. Many start off the evening at the bars located at the northern end of Sairee, and after they close at 01:00, go onto whichever club is open for the rest of the evening at the south end of Sairee.
The CastleWeekly parties at this out-of-the-way club. Can prove to be a good night out with refreshing tunes and a mixed crowd.

Dirty Nelly'sFirst and only Irish pub on Ko Tao with Irish management, live music, extensive food options, and live sport.

DJL Bar, Pool & RestaurantBar with swimming pool. Friday night pool parties, with free BBQ & shots.

Fizz Beach LoungeComfy beanbags, awesome sunsets, fantastic cocktail, authentic Thai or Western food and deep, funky house beats.

In TouchLate night club that is open only a couple of times a week. House music.

KhiranaSwimming pool bar on the beach.

Lotus BarNightly fire show, sunset happy hour.

Maya BarVery similar to AC Bar. When one is open the other is closed. Same music, same crowd, right next door.

MOOVClub/restaurant in a garden overlooking the beach. Check for daytime events and monthly parties.

phone: +66 80 6905337

Enjoy drink promotions, prizes and join the crowd on a tour of the best bars in Ko Tao.

VibeAtmospheric beach bar with happy, funky vibes, fire shows & cocktails.
Sleep
You can usually find accommodation at the pier when you arrive. However, during peak times it is worth booking ahead unless you want to sleep on the beach or spend the night in one of the more expensive lodgings. If you are planning on taking a scuba diving course whilst on the island, most dive schools have an attached resort and will either discount the accommodation or throw it in for free when you book a course. During busy periods, most resorts with dive outfits will not want you to stay unless you are diving at least every second day with them. If you don't want to stay with your dive operator and use their free accommodation, you may want to ask for a discount.
The majority of the accommodation on Ko Tao are centred around three main areas: Sairee Beach, Mae Haad, and Chalok Ban Khao.
Sairee Beach
This is the largest beach on Ko Tao. On the west side of the island from the ferry terminal on the southwest corner of the island and running almost the length of the island. All along this beach you will find dive schools, resorts, restaurants and bars. The southern and central sections of the beach are well known for their nightlife, and the northern end has a large number of shops and restaurants which lends it to be a bit quieter at night (but with the bars only a short walk down the "Yellow Brick Road".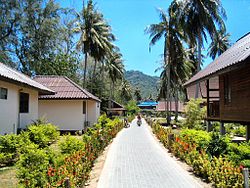 Mae Haad
All ferries arrive here making access to and from the island easy. Sairee Beach is to the north and Chalok Ban Kao is to the south. Banks and government offices as well as many dive centres, restaurants, and many guesthouses are here.
phone: +66 77 456478

address: 9/1 Moo 2
Baan Suan Ta

address: 10/9 Moo 2

Small hotel in a quiet area of Mae Haad.
phone: +66 93 7612398, +66 77 456925

Two dorms with 12 beds each.
phone: +66 77 457057-61

address: 1/51 Moo 2

Boutique spa resort with large swimming pools, Jacuzzi, international bar-restaurant, spa treatments, and in-house PADI dive centre.
phone: +66 77 456904, +66 93 0015748

address: 2/75 Moo 2, Mae Haad

Hostel wih two mixed AC-Dorms (16 and 18 Beds) and 3 AC-Double Rooms.
phone: +66 77 456959, +66 84 3840834

address: 5/29 Moo 2

Cozy clean apartments on the second floor of the Pumski Travel building. Also rents out Honda Click 125i automatic motorbikes for 250 baht.
phone: +66 77 456959, +66 84 3840834

address: 5/30 Moo 2

This cozy clean dormitory hostel with air conditioning run by the same company as the Pumpski Apartments. High speed Wi-Fi is available.
phone: +66 77 456168 or +66 96 3691346

address: 6/24 Moo 2

Cosy, clean and service minded 10 room hotel.
Chalok Baan Kao
Chalok Baan Kao is a much more chilled, relaxed environment than Sairee Beach, while still giving access to a great range of restaurants, beach bars and BBQs plus a wide range of accommodation from luxury resorts to budget rustic, beach side bungalows.
Alvaro Diving & Taraporn Bungalows

phone: +66 77 456457

address: Chalok Bay

PADI & SSI diving in small groups. Small family run dive and free dive shop with new equipment, flexible boat schedules and friendly multilingual staff and a relaxed atmosphere. Small quiet outer beach of Chalok Ban Kao south of Ko Tao with bungalows at the beach. You can play volleyball, go swimming or kayaking.
Buddha View Dive ResortA resort primarily for divers with a range of budget to deluxe accommodation. Beach side cafe, bar and nightly BBQs.
Freedom Beach Resort

phone: +66 77 456596

Beach front bungalows for every budget although many are in need of refurbishment. All the bungalows have air-con and hot water although lack fridges and TV. Two beaches in front and a quiet location 10 min walk to the Chalok Baan Kao Beach. Unfortunately there is quite a lot of old construction material dumped around the resort and nearby coastline. Inconsistent electric supply.
Sunshine Resort 2Bungalows with 24 hr electricity, windows have mosquito nets. Some bungalows have no wall electrical outlet. Friendly staff. Western toilets, but with a pail and water replacing the normal flush function.
phone: +66 844459672

18 villas, apartments and double rooms within 2 acres of private grounds, set within a natural valley of the jungle, surrounded by coconut palm trees, lawns, tropical gardens and a swimming pool. The closest beach is just minutes away called Chalok Bay.
Tanote Bay
More populated than other east coast beaches however this doesn't mean it's busy. There is no town or village here and only 4 resorts, each with an attached restaurant and one really tiny shop which is up the hill behind the resorts. There are no ATM machines. There are no really cheap places to eat as there are in Mae Haad.
The sand on the beach is coarse and there is an unbelievable amount of broken glass in it. Likely because of people drinking while sitting on the rocks. Careful where you step and do your bit to pick up some of the glass. The shore is rocky and there is plenty of corral right off the beach. You can rent snorkel equipment for 100 baht per day. There is a large rock just out to sea for those interested in cliff diving.
There are regular trucks that go back and forth 3-4 times per day at 100 baht per person. Ask at your resort for taxi times. Alternatively you can charter your own truck for 400 baht minimum or 100 baht per person.
Poseidon Restaurant & Bungalows

phone: +66 77 456735

Free Wi-Fi in the restaurant when it works. Thai food is 80-140 baht. The low-end huts are quite shabby, but are the cheapest no frills fan rooms in the bay.
Other
Stay safe
The number one way to stay safe on Ko Tao is to not drink and drive. Motorbike accidents are so common to the point that the term "Ko Tao Tattoo" is frequently used to jokingly describe the inevitable scrapes and bruises.
Be careful when renting bikes. You must give them the passport as a deposit, and even though you may take photos and return the bike in perfect condition, they may find small "scratches" and demand an exorbitant amount. If you do get in such trouble, at least in Ko Tao the police should be on your side. There's a friendly police officer named Chet who speaks very good English who might encourage you to file a report, saying that this happens several times a day on Ko Tao. Even if you don't file a report, the police can help you negotiate a lesser amount. If you do file a report, contact your embassy and eventually the company will have to release your passport, because it doesn't belong to you but your country's government.
Additionally, when renting bikes, insist on a receipt when you have paid the rental fee, or for every subsequent payment per rental day. Do not trust the shops to write accurate information in their own books. If you do not want to provide your passport as a deposit, some shops will ask for 2,000-8,000 baht as a one-off deposit instead. Again, take many detailed photos of the bike. Be careful about renting from CJ Guesthouse & Supermarket (13/1 Moo 1, Sairee Beach), on the same street as New Way Divers. They will not issue receipts if you do not ask, and later demand that you have not paid the cumulative rental fee when you return the bike. Without a receipt, it will be frustrating and difficult to argue your case. Do not trust CJ Guesthouse and be very careful on this matter even with other shops. Most bike shops on the island rent bikes for 200-250 baht per day.
Should you be unfortunate enough to need minor medical attention there are numerous clinics on the island. These are only clinics and the closest hospitals are in
Ko Samui
and
Chumphon
. Any medical condition not treatable locally will require a minimum of two hours ferry travel to reach a hospital. If the weather is bad the physical rigors of such a trip can complicate medical treatment significantly.
The island of Ko Tao has no sewage processing and water contamination far exceeds Western standards at nearly all times. This includes both ocean waters and tap waters. Sewer water drains across the beach and even the roads in several areas, and are easily encountered by unwitting tourists. Beware of wet spots on the roads that persist during dry weather and avoid the mist that arises from vehicles passing over them.
Small scratches or mosquito bites can become seriously infected if swimming, and ear/eye infections are extremely common among divers, more than many equivalent resort locations. Susceptible individuals and especially parents of young children should be aware of these dangers and exercise great caution.
Tap water quality supplied by shallow well pumps should be held suspect even during showering. Low-lying areas in Sairee and especially in Ban Chalok are the most polluted. The eastern areas far from the population centres are the cleanest.
Be also aware of the safety of your hotel room. There are many reports of stolen money, especially at the resorts on Sairee Beach. Normally the thieves, sometimes even hotel staff, sneak into the room while you are out diving and take your cash from your wallet or from your bags.
As always, watch out for the sun. It seems to be particularly strong on the island due to the bright sand and surroundings, especially when slightly clouded.
Watch out for the petrol stations, they like to let the meter start at more than zero: the red petrol station on the road that goes up to the turtle is particularly known for this.
Watch out for dive instructors teaching you the nitrox-course without telling you that they charge for it when you check out: Ban´s is known for this.
Go next