Konjic
Konjic
is a town between
Sarajevo
and
Mostar
on the Neretva river in the
Herzegovina
region of
Bosnia and Herzegovina
.
Understand
History
The early history of Konjic dates back 4 millennia, with remains of various settlements dating back 2000 years ago found along the Neretva river. Its existence was first recorded by the Republic of Ragusa in 1382. The city was later incorporated in the
Ottoman Empire
, which left it Islamic architecture and its Ottoman bridge. During Austro-Hungarian occupation, Konjic adopted a European architectural style which forms a blend with Ottoman architecture as seen in many cities and towns around
Herzegovina
.
After the
First World War
, which started in nearby
Sarajevo
with the assassination of
Austria
Archduke Franz Ferdinand, Konjic became part of Yugoslavia. During the
Cold War
, the city was selected by president Josip Broz Tito for his military command center, therefore known as
Tito's Bunker
, which is today its best known tourist attraction. The bunker openend in May 2011 for the first edition of the
Bijenale
, a bi-annual contemporary art exhibition in the bunker.
Orientation
Konjic developed near the eastern end of
Jablanica
Lake, along the Neretva river. Its location in the Neretva valley forced it to remain a thin strip of residential and industrial areas along the river shores. All travelers visiting
Herzegovina
from Bosnia must pass through Konjic, either by rail or road transport, giving the city a strategic role.
Get in
By train
The most comfortable way to reach Konjic is by train, which stop at the station. The journey from
Sarajevo
is recommendable, because the train meanders itself over the mountain pass between Herzegovina and Bosnia, and only cuts off the highest peak with a railway tunnel, rewarding travelers with many amazing views. The last stop in Herzegovina is .
Konjic can also be reached with a direct connection from
Croatia
, starting in
Ploce
and passing through
Mostar
and
Jablanica
. Most of the trajectory follows the Neretva river canyon, which by itself makes the journey more than worthwhile particularly if the weather is good.
As a general issue in
Bosnia and Herzegovina
, trains run infrequent, and if they do, the rolling stock is outdated. Expect overheated carriages in summer (bring lots of water) and near zero temperatures in winter.
By bus
A bus journey from
Sarajevo
to Konjic takes travelers over the at an elevation of 955 m, and costs ca. €4 for a one way ticket. The journey takes 80 - 90 minutes.
Get around
Konjic is small enough to explore by foot. Beware of traffic near the M-115 where some drivers are occasionally seen driving down the mountain pass rather recklessly. Instead of crossing the Neretva over the Novi Most, consider Stari Most to the south.

See
Konjic's museum & art gallery opened in 2011. It has a small ethnographic collection, and paintings by local artists.
The Mulić Record Museum holds a nationally-important collection of wooden furniture.
The Ottoman bridge (built 1682, restored 2007-2010) in the centre of the town.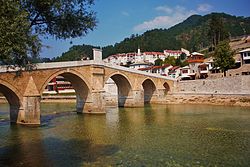 Lukomir VillageLukomir village is the highest and most isolated village in Bosnia and Herzegovina. Lukomir is a symbol of historical, cultural, architectural and ambient heritage of Bosnia and Herzegovina. The way of life has remained unchanged for centuries and traditional medieval way of life of Bosnian nomads is still practiced here. Approachable only on skies or on foot between December and April.

phone: +387 61 482 400

Officially designated "Armijska Ratna Komanda D-0" or simply "the ARK", this bunker built between 1953 and 1979 served as a Cold War atomic shelter to safeguard the military command and 350 members of president Tito's government in the event of a nuclear attack. The complex, excavated in the southern flank of the Bjelašnica mountain, consists of extensive underground facilities designed to sustain inhabitants for up to half a year. It includes residential areas, meeting rooms, dormitories, communication facilities, and energy supplies. Built in complete secrecy, the bunker remained one of Yugoslavia's best kept military secrets until its collapse in the 1990s, when it was revealed that 3 ordinary looking houses at the shore of the Neretva river concealed the entrance to the country's largest military command center. The bunker is still under command of the Bosnian military, and a platoon is permanently detached to guard it. It can be visited only on a guided tour, which must be booked in advance. It is well worth a visit because it serves as one of the best preserved remains of Cold War era Yugoslavia.
Do
Go rafting on the Neretva!
Sleep
Splurge
phone: +38761577000

address: Konjic

Džajića Buk Rooms is set next to Neretva River and features a private beach with sun loungers and parasols, a bar and barbecue facilities. The on-site restaurant and bar feature a terrace with views of the surrounding mountains. All rooms at Rooms Džajića Buk feature natural materials and wood-panelled walls and ceilings, as well as wooden furniture. Rooms feature a safe and a coffee maker. Guests have access to a shared bathroom with shower. The restaurant is decorated in rustic style and serves local specialties and a selection of local wines. Breakfast buffet is served each day. Football and basketball courts are located on site. Guests can park for free on site. The owners can arrange rafting excursions on Neretva River, hiking trips to Prenj Mountain, fishing and hunting trips. Excursions to Boračko Lake and Rakitnice Canyon can also be organised upon request. All guests are offered free pick up service from the bus and train station in Konjic.
Go next