Konya
Konya
is a city in
Central Anatolia
in
Turkey
, known as the city of
whirling dervishes
and for its outstanding
Seljuk
architecture.
Understand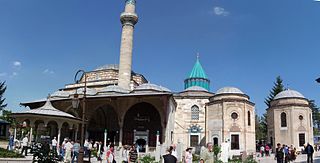 Konya was once the capital of
Sultanate of Rum
, known in Turkish as
Anadolu Selçukluları
, a situation which resulted in much of the architectural heritage visible today. The poet and Sufi thinker
Rumi
also settled in the city during this period.
Despite rapid growth and the arrival of many students from out of town in the Selçuk University (Selçuk Üniversitesi), founded in 1975, Konya retains the air of an Anatolian provincial town. Even though the influx of tourists from the west has increased considerably, visitors are left in peace, and do not have to suffer the hassles they get in Istanbul. On the downside perhaps is the fact that fewer people speak English (or any other foreign language), but the natural hospitality of the people of Konya usually makes up for that. Be careful with taxi drivers, who sometimes have no scruples about ripping off visitors to their city.
Konya is also one of the most conservative cities in Turkey, and more women cover their heads with headscarves than in other cities. Dress modestly if you want to fit in with the local population, although not many people will bat an eyelid if you choose not to.
The city lies on a totally flat ground, with the sole exception of a small hill called
Alaattin Tepesi
in the very centre of the city—which is actually a man-made hill, erected during the Seljuk period so noble residents could easily watch the city below from their palace. Almost nothing remains of the palace and the hill now serves as the central park, which is a quite pleasant and shady one.
Get in
"Come, come, whoever you are.
Wanderer, worshipper, lover of leaving — it doesn't matter,
Ours is not a caravan of despair.
Come, even if you have broken your vow a hundred times,
Come, come again, come." — Jalāl ad-Dīn Muhammad Rūmī
By plane
The easiest and cheapest way to get to the city centre from the airport is to take the shuttle buses provided by
Havaş
, which takes around 30 minutes and costs 10 TL pp . On the way to the centre, Havaş buses also stop at the bus station (
otogar
), which may be useful to hop on a tram to the hotels in the northwest of the city, around the university campus and the highway to Istanbul.
By train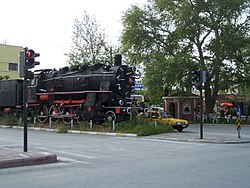 Konya is the southern terminus of Turkey's YHT high speed railway, with regular fast trains to
Istanbul
,
Eskişehir
and
Ankara
. There are three trains per day from Istanbul to Konya via Eskişehir, taking 4½ hours. From Ankara there are 8 trains per day, taking 90 minutes.
A daily train between Konya and
Adana
takes six hours. A mixture of trains and buses run to
Karaman
(90 min), from where buses run to
Silifke
for the Cyprus ferry. The Konya Mavi takes 12 hours overnight to
Izmir
Basmane station via
Afyon
and
Manisa
, departing at 19:00 and returning at 18:00. There are also connecting buses from Konya to
Antalya
.
Konya railway stationTake taxi, dolmuş, or town bus # 67 to the centre.
By bus
There are travel agencies on Mevlana Caddesi, Konya's main street, where you can buy bus tickets. The destinations they deal with are written outside.
Konya's bus station (
otogar
) has good connections to a wide range of destinations, including
Istanbul
(~10 hours, 40 TL),
İzmir
(~9 hours, 30 TL),
Ankara
(3¼ hours, 20 TL), and
Cappadocia
(~3 hours).
When you are issued a bus ticket you will be told which gate at the station your bus will leave from; you need to be vigilant, however, as the buses sometimes park at another gate close by.
The is 7 km away from Konya's main sites of interest, most of which are around Alaaddin Tepesi in the city centre. Some minibuses depart from outside the bus station, of which some stop in or near Alaaddin Tepesi: these take about 30 minutes and should cost less than 2 TL. Alternatively, Konya's tram line—which has a stop at
otogar
—terminates in a loop around Alaaddin Tepesi: this also takes about 30 minutes and costs 1 TL per person.
By car
Konya is a 3-hour drive from
Ankara
and 10 hours (660 km) from
Istanbul
. From
İzmir
you will get in 7 hours in Konya. Also it takes 3½ hours from
Antalya
by car.
Hitchhiking
If you intend to
head south by hitchhiking
, take public bus #26
heading WEST on Mevlana
(
Karaman Yolu
, fare: 1.10 TL/person) from the stops in front of the Governor's Office (
Valilik
/
Vilayet
) in the city centre, about 5–10 minutes walk away from Rumi tomb/Mevlana Museum (leaving at 06:00, 06:30, 07:10, 07:30, 07:50, 08:30, 09:45, 11:00, etc., the bus stop has a posted schedule if you plan to leave later). #26 takes you to the highway leading to south. You can stay on until it arrives at the steppes out of city, almost until the middle of nowhere. Don't get off the bus until it leaves the highway by turning left into a narrower road. If you plan to head toward
Antalya
, sit on the right side of the bus and get off when you see the large sign indicating the junction of highways D330, D715, and D696, about 15 min or so from the center. Go to the D696 to hitch to Antalya, a short walk from the intersection.
Get around

In the city of Konya you can travel with the dolmuş minibuses, public urban buses (belediye otobüsü), tram or taxi. Most sites of interest, though, with the notable exception of the suburb of Meram, are clustered in the city centre and are walking distance away from each other.

See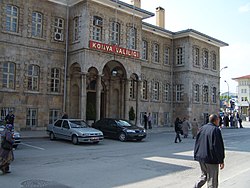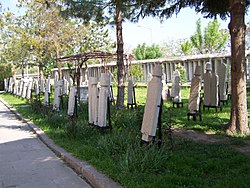 Mevlana Museum/Mausoleum of RumiThis must-see tourist destination of Konya, is the tomb of the famous mystic, sufi, and thinker Rumi (known as Mevlana in Turkish, or with the full name Mawlana Jalal ad-Din Muhammad Balkhi-Rumi in English literature). The neighboring museum displays relics of his life and his time. The items on display in the museum range from old manuscripts, hand written copies of the Koran, musical instruments used at Rumi's time, and many art works dating from the Seljuk era.

Also interesting for the curious traveller, esp. for those looking for interesting photographic opportunities or a short walk through an authentic neighborhood, are the parts of the city that surround the Mevlana Museum. This neighborhood maintains an authentic feel from older days with narrow streets and houses of old architecture, almost with historic significance.
5-6 city blocks away from the museum are other historic buildings and mosques dating from the 12th and 13th century Seljuks Turks (the most significant one of these is the "İplikçi Camii").

Iplikçi MosqueThis old mosque dating from the 13th century was restored in the 1960s and is open for prayer service. It is a nice example of the Seljuk architecture to be seen in Konya, between the city center and the Mevlana Museum.

phone: +90 332 351 32 04

address: Alaaddin Meydanı

İnce Minare is the remains of a 13th-century madrasah (school) built by the Anatolian Seljuks. Located close to the city center near the northern end of "Alaaddin Tepesi", this minaret and the surrounding small buildings today serve as a museum that displays various artefacts from the Seljuk and Ottoman eras. It is a popular tourist attraction, owing mostly to the noteworthy ornamental architecture which has been very well preserved over the centuries.

Alaaddin HillThis is an artificial hill that was built by the Seljuk Sultan Alaaddin Keykubat. Today it stands right in the middle of the city, and serves mostly as a park. Even though the small hill or the park on it may not be very interesting in themselves, the two places to stop by and see are 1) the Alaaddin Mosque, and 2) the remmants of an old palace with partly earthen construction on the north end of the hill - this old structure is protected from the elements with a concrete umbrella.

MeramThis is the district of Konya which lies somewhat away from the city center, with lighter construction and more greenery. The name "Meram" also refers to the popular picnic area in the farther corner of the Meram district. Near this picnic area there are a few historic buildings to see, some of which are the "Tavus Baba Türbesi" and the "Ateşbazı Türbesi".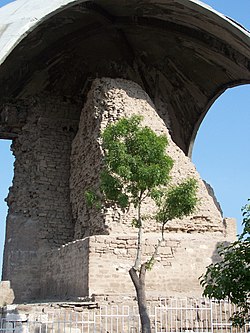 Seljuk Palace remainsJust one piece of the Seljuk Alaadin palace. Built by Seljuk Sultan Kilicarslan II, restored by Seljuk sultan Alaadin Kekubad
Do
Go shopping at Kulesite shopping center. You can also shop in the small streets of Konya where you can find a lot of clothes and presents for a low price.
Go chill at Alaattin Tepesi.
Have a cup of coffee at Meram (Aydincavus), with a sight of Konya from above.
Go to Fuar (the funfair).
Visit Kapu Mosque and Aziziye Mosque each with different styles of minarets (towers).
Take a walk at Zafer Street.

Sema (Whirling dervish ceremony)

address: Mevlana Cultural Centre

Highly recommended! A free sema (whirling dervish ceremony) is held at the Mevlana Cultural Centre every Saturday at 20:00, taking 1½ hours. You don't need to arrange tickets in advance, but you might want to ask at the Tourist Information centre right behind the Mevlana Museum in case there have been changes. The hall is very big so there will probably be free seats but it is recommended to arrive a bit earlier to allow time for luggage screening and a cup of tea. A lecturer from the local university gives an OK lecture about Mevlana in English at 19:00 just before the ceremony. The ceremony begins with a long introduction in Turkish before the actual music and ceremony start. People say this is the closest you can get to a real sema. No flash photography or applauding during the ceremony (so as not to disturb the dervishes).
Buy
Trinkets related to Rumi (and whirling dervishes).
Traditional Mevlana-candy (white with a mint taste).
Malls
phone: +90 332 234 32 72

address: Kule Cad. 8, Selçuklu

Modern shopping mall.

KipaA big mall including cinemas.

M1 Tepe

address: Dç. Dr. Halil Ürün Cad.

Modern shopping mall.
Eat
Traditional local cuisine mainly depends on wheat/bread and mutton - the major agricultural products of Central Anatolian steppe on which Konya is situated.
Local delicacies include:
Etliekmek — some sort of long and thin pizza (with meat or cheese) which can possibly exceed 1 mt in length! Available at a lot of restaurants in Konya.

phone: +90 332 353 07 68

Traditional Turkish/Central Anatolian cuisine served in traditionally decorated rooms. A nice view of Mevlana Museum and its garden.

Adanali Köfteci Osman"Adana"-style kebab, grilled meat.

Asya RestaurantTraditional cuisine.

phone: +90 332 352 85 47

address: Piri Esat Cad.

Traditional cuisine in a renovated historical mansion. No alcohol served. Has a carpark in front.

Restaurant Mahmut Keten

phone: +90 0332 322 22 03

address: İstasyon – Feritpaşa Caddesi, Mahmuriye Mah. Keten Apt

The place is not used to tourists: the menu is in Turkish only and the staff not fluent in English. But they are extremely helpful and friendly. They have tasty salads and meats. Try their thinly cut lamb in butter sauce. No alcohol.

Mithat TiritOne of the delicious and famous restaurants of Konya. It's famous for with the special kebap Tirit.
Fast food:
Burger King, McDonald's and some other American-style fast-food restaurants, as well as ever omnipresent döner, are also available around the city.
Drink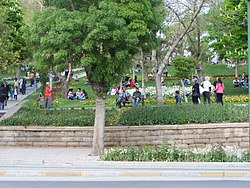 The open-air café at Alaaddin Tepesi is good for a relief and some shade while watching the city during a summer day.
Mevlevi sofrası is one of the best place that have panaramic view of Mevlana museum and Gulbahcesi. You can have a drink with traditional desserts.
Sleep
Budget
phone: +90 332 352-00-29

address: Just off Mevlana Cad., Istanbul Cad. Cengaver Sk. No: 2

A budget option in Konya. Wireless, air-con, free buffet breakfast, ideal location. The old building is very basic, a bit smelly, no heating, horrible bathrooms. The new building is fine. Reception is very friendly.

Hotel Ulusan

phone: +90 332 351 50 04

A reliable budget option in city center.

Hotel Çatal Aile Pension

phone: +90 332 351 49 81

address: Mevlana Cad. Naci Fikret Sk. 14/A

Dirty rooms (with a huge population of ants!), smells bad, but reception is nice. May want to avoid this place.
Mid-range
phone: +90 332 350-94-70

A 3½ star hotel. Nothing special about it except that it is across the street from the Mevlana Museum. Rooms with balcony, safebox wireless internet connection, satellite TV, air-con, en-suite bathrooms.

phone: +90 332 350-24-25

address: Mevlana Cad.

Clean rooms with wireless internet, bathroom, satellite TV, air-con.
Splurge
*)
*)
*)
Konya Hilton Garden Inn (4
*) (next to Mevlana Culture Centre, 500 m from Mevlana Museum)
Go next
Çatalhöyük — about an hour's drive away from Konya, the importance of this prehistoric archeological site lies in the fact of being one of the earliest and well preserved human settlement sites discovered.
Akşehir — a pretty little town in the northwest of Konya province, which was home of the Hoca, a Sufi sage famous for his folk wit. The city holds a Hoca festival every year from July 5–10.
Tuz Gölü (literally Salt Lake) — about an hour away on the road north to Ankara, is Turkey's second largest lake after Lake Van, although only about 2 (yes, two) meters deep at most. During summer months, it literally evaporates and leaves behind a flat and completely white landscape, just like a salt desert. It's also a good spot for birdwatching as it's an important stop-over for migratory birds on their route from Europe to Africa and vice versa during spring and autumn.
Cappadocia — about 3 hours to east, is the most logical next stop on your itinerary around Central Anatolia.
Silifke — about 250 km to south, can be a good point of entry into Mediterranean Turkey from Konya, as the town is at about the midway of two extremes of Turkish Mediterranean coast. Ferries run from nearby Taşucu to Girne in Cyprus.