Kota Bharu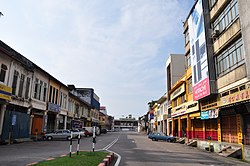 Kota Bharu
(also
Kota Bahru
or
Kota Baru
) is the state capital of
Kelantan
, on the
east coast
of
peninsular Malaysia
. Many travellers simply pass through on their way to the
Perhentian Islands
, but those who spend a few days in KB have the chance to go to some of the museums mentioned below, eat some delicious food, look at a unique style of traditional architecture and get a little bit of the feel of a city that has an interesting cultural identity all its own.
Understand
Kota Bharu is the vibrant capital of the state of Kelantan, whose unique culture and dialect are proudly promoted and sustained in all aspects that do not conflict with orthodox Islam. Visitors can experience local culture in the form of the Thai- and Indian-influenced cuisine, dress (the state is probably the most famous for batik in Malaysia), handicrafts, some traditional architecture, museums showing the state's cultural heritage, and the sound of the Kelantanese dialect. Speakers of standard Malay may not be able to understand the local dialect, although if you speak standard Malay, locals will understand you and reply in standard Malay. You can hear Bahasa Kelantan not only in the markets and on the streets but also on local radio stations, and most shop signs are written in both standard romanized Malay and the Arabic-based Jawi script (even the shops with English names still spell out the English words in Jawi letters!).
Kota Bharu is a very socially conservative city in a state ruled by the Islamic Party of Malaysia (PAS). Visitors will hear the azan (call for prayer) from many mosques 5 times a day, and the khutbah (sermon) may also be broadcast from some mosques with loudspeakers. Visitors should be prepared for breaks to be taken in many places including the Pasar Malam (Night Market) during Islamic prayer times.

Get in
By plane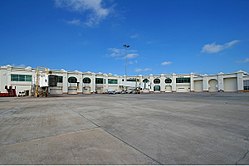 Sultan Ismail Petra AirportKota Bharu's small but efficient airport in Pengkalan Chepa receives flights from Kuala Lumpur provided by Malaysia Airlines and budget carrier AirAsia. Advance bookings especially for AirAsia can be very cheap (with best promotional fares you can end up flying cheaper than going by bus, if you have no check-in luggage).
Firefly
, offers seven direct flights between Kota Bharu and Kuala Lumpur via Subang Airport and daily flight to Penang. It's also the first airline to connect Kota Bharu to the southern city of
Johor Bahru
. Prior to this, most people would make the trip by car or a 10-hour bus journey.
Firefly
flies from Kota Bharu directly into
Singapore
.
Getting to/away:
The airport is 20 minutes from the city centre by taxi (fare was RM40 in January 2012). You can also catch a City-Liner bus No. 9 from the local bus station in the city centre (RM1.80, hourly, from 07:00 to 19:00, duration around 20 minutes).
By train
The nearest railway station to Kota Bharu is at
Wakaf Bharu
, some 6.5 kilometers away from the city center. You can catch public bus No 19, 27 or 43 (Fare RM 1.50, operates from 07:00 to 19:00) from Kota Bharu Central Bus Terminal to get there or just ask your hotel/guesthouse to arrange a taxi for you (RM35 in Feb 2011). The official taxis at the station have a rate sheet.
Trains run on the
Jungle Railway
to
Kuala Lumpur
and
Singapore
. One attraction is the
Jungle Train
with its shuttle train service that does stop at almost every station between Tumpat and
Gemas
, allowing you to enjoy close-up contact with local people as the train travels through the heart of Peninsular Malaysia. The name "Jungle Train" is really an obsolete name, nowadays: there is little if any jungle along the route. This is because the jungle has been replaced by palm trees - thousands of them, used to make the palm oil that ends up on the ingredients lists on junk food around the world. There are four day trains (Three shuttle trains and one express train) and two overnight trains (both express trains) making stops at Wakaf Bharu Station on their way southbound. For northbound direction, all the services terminate at Tumpat station, just a station beyond Wakaf Bharu. However, it is advisable to check the "KTM" (Malaysian Railways) timetable for any changes on this schedule.
Day train
From Wakaf Bharu station
: Two shuttle trains No 81 and 85 depart from Wakaf Bharu Station at 04:00 and 14:17 respectively take you on board down south to their terminus at
Kuala Lipis
while another Shuttle train No 83 departs at 08.04 only terminate at
Gua Musang
. The Express train No 15 (Sinaran Timur) however, will take you further south to
Johor Bahru
and
Singapore
via
Gua Musang
,
Kuala Lipis
,
Jerantut
and
Gemas
. This train departs from Wakaf Bharu Station at 07.16 and reaches Woodlands CIQ Station in
Singapore
at 21:20. If you want to go to
Taman Negara
, you may board this train and get off at
Jerantut
.
To Wakaf Bharu station
: The same train services with different train number may also get you into
Kota Bharu
through Wakaf Bharu station. Shuttle train No 82 and 86 that departs from
Kuala Lipis
, arrives at Wakaf Bharu station at 12.33 and 20:43 respectively. Another Shuttle train No 84 that departs from
Gua Musang
, arrives at Wakaf Bharu Station at 17:14. The Express train No 14 (Sinaran Timur) departs from Woodlands CIQ station in
Singapore
at 05.30, also arrives at Wakaf Bharu station at 18:52.
Overnight train
From Wakaf Bharu station
: One Express train No 29 (Senandung Wau) will take you to the capital city of
Malaysia
,
Kuala Lumpur
. This train departs from Wakaf Bharu Station at 19:02 and reaches Kuala Lumpur Sentral Station at 07:55 the next day. Another Express train No 27 (Senandung Timuran) will take you down south to
Johor Bahru
and
Singapore
. This train departs from Wakaf Bharu Station at 20:47 and reaches Woodlands CIQ Station at 10:15 the next day.
To Wakaf Bharu station
: The same train services with different train number may also get you into
Kota Bharu
through Wakaf Bharu station. The Express train No 28 (Senandung Wau) that departs from Kuala Lumpur Sentral station at 20:30, arrives at Wakaf Bharu station at 09.21 the next day. Another Express train No 26 (Senandung Timuran) that departs from Woodlands CIQ station in
Singapore
at 19:00, arrives at Wakaf Bharu station at 08.44 on the next day.
Other trains
Malayan Tiger: This service of "KTM" (Malaysian Railways) uses special coaches donated by the Japanese Government. In July 2012, this train operated thrice weekly between Tumpat and Johor Bahru. This train departs from Wakaf Bharu Station at 17:18 every Sunday, Tuesday and Thursday and reaches Johor Bahru Sentral station at 07:20 the next day. On the opposite direction, this train departs from Johor Bahru Sentral station at 22:39 every Monday, Wednesday and Friday and arrives at Wakaf Bharu station at 13:11 the next day.
To Thailand: There are no train services directly into Thailand. You will have to catch bus No 29 from Kota Bharu Central Bus Terminal to Rantau Panjang and cross the border into Sungai Kolok and proceed from there. The morning train up to Bangkok departs Sungai Golok at 11:20.
By bus
The state-run SKMK and Transnasional is the largest bus company, and operate all the city and regional buses, and most of the long-distance buses. It operates from the central bus station (city and regional buses) and the Langgar bus station (long-distance buses). All the other long-distance bus companies operate from Jalan Hamzah external bus station. On arrival in
Kota Bharu
some of the buses will drop you at the central bus station, but they don't depart from there. Transnasional is the easiest to deal with, as it has ticket offices at all the bus stations. Long-distance departures are from Langgar bus station but, just to make thing confusing, a few evening buses also go from central bus station. Ask which station your bus departs from when you buy your ticket, and book as far ahead as possible, especially for the
Butterworth
and
Penang
buses.
There are several buses to
Butterworth
(RM30, five or six hours) and buses to
Penang
(RM34.70, six hours and 15 minutes) with one long stop (60-75 minutes) at Gerik. Buses to Penang leave in the morning at 09:00 and in the evening. There are also regular buses to
Kuala Terengganu
(RM16, three hours) and
Kuantan
(RM33, six hours). Apart from that, there are also buses to
Kuala Lumpur
(RM40, nine hours),
Johor Bahru
(RM65, 12 hours),
Singapore
(13-14 hours),
Melaka
(RM55, 10-11 hours),
Seremban
(RM48, 10 hours) and
Ipoh
(RM35, seven hours). Other destinations are
Alor Setar
,
Jerantut
,
Jitra
,
Gerik
,
Temerloh
,
Dungun
,
Kemaman
,
Kangar
and
Kerteh
. The other bus companies cover many of the same routes and are worth trying.
From the Thai border town of
Sungai Kolok
, there is a red city liner bus 29 (departs from the central bus station) for RM5, which operates the 36 km stretch. Just wait along the Malaysian side of the border along the covered walkway and flag it.
See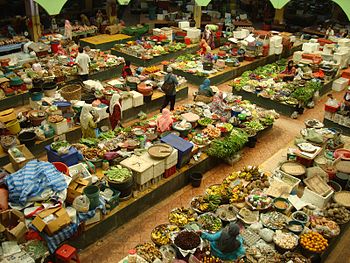 Kota Bharu itself offers many museums near Independence Square (
Padang Merdeka
). Several of the museums and the nearby Istana Balai Besar (the downtown Royal Palace) were built in a unique kind of elegant architecture that is well worth seeing. Arguably the most amazing building is the central market (
Pasar Besar
). It is an octagonal building in the centre of town and houses a very colourful and active market every day. Nearby is a plain square which turns into the local food market in the evenings (
Pasar Malam
= Night Market).
Some visitors (particularly those interested in the history and cultural heritage of Kelantan) may also find the
Muzium Negeri Kelantan
(Kelantan State Museum) on Jalan Hospital 15000 of interest.
The following museums in Kota Bharu are all open from 08:30-16:45 every day except Fridays, when they are closed:
Muzium KraftanganHandicrafts Museum, with attached gift shop selling handicrafts

Muzium NegeriState Museum, see above

Memorial Peperangan Dunia Ke II

phone: +60 9-747 6266

address: Jalan Hospital

This is not just a memorial but a small museum, housed in a former bank building that was used by the Japanese as a secret police station when they occupied Malaya. It's worth a quick visit for history buffs.

Muzium DirajaRoyal Museum, which contains photos of the current and previous Sultans and such-like

Muzium IslamMuseum of Islam

Muzium Adat Istiadat Diraja KelantanMuseum of Royal Kelantanese Traditions, which contains interesting artifacts and exhibits for those interested in cultural history
Great temples to visit in the nearby towns to Kota Bharu Town: near Tumpat there is
Wat Pothivihan
(huge reclining Buddha),
Wat Mai Suwan Khiri
(dragon Boat & standing Buddha),
Wat Chonprachumthat
at Kg. Dalam,
Wat Machimarran Varran
(sitting Buddha), and
Wat Serova Buddhist Temples
(Goddess of Mercy - Kuan Yin). At Bachok, there is a 30 m high standing Buddha at
Wat Phothikyan
and a Kuan Yin temple facing the South China Sea nearby.
Cultural Show at Culture Centre 3 times a week on Saturday 15:00-16:45 & 20:00-23:30, Monday 15:00-16:45, Wednesday 15:00-16:45 & 20:00-00:00.
River cruise along Sungai Galas down to Dabong (2 hours).
Explore the caves at Gua Ikan,Dabong.
Stong Waterfall, reputed to be the highest in Southeast Asia at about 990 metres.
Mount Stong State Park. One of the main attractions at the state park is Gunung Stong, Mt.Stong (1,422 metres), a dome-shaped granite complex more than 500 million years old.
Nenggiri Rafting Adventure - The selected leg of the journey covers approximately about 50 km, departing from Kuala Betis / Gua Cha and ends up at Kampung Star.
Do
Poly-Chlorinated Biphenyl Beach?
No, PCB Beach isn't named after a nasty industrial chemical: the original name was
Pantai Cinta Berahi
or the "Passionate Love Beach". Alas, this was a little too daring for State Government, and now the official name is
Pantai Cahaya Bulan
, "Moonlight Beach".
Go to the day and night markets. Have Nasi Kerabu for lunch at the day market and Ayam Percik at the night market.
Walk around the downtown area.
Bicycle around Pengkalan Chepa area (airport), see old WW2 British pillboxes near beach at Pantai Sabak. For history buffs only but no beach anymore due to erosion.
Go to the beach, either PCB Beach or Irama Beach (Beach of Melody). PCB Beach has batik shops, one of which is Citra Batik about 500 m from the beach. Also eat fried seafood at PCB Beach or Irama Beach with coconut water.
Beautiful beaches at Bachok - Pantai Perkasa, Pantai Sungai Dua, Pantai Kandis.

Sultan Muhammad IV Stadium
Buy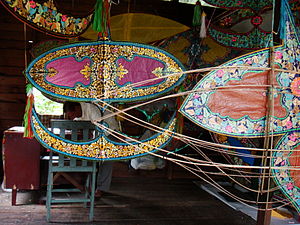 Hand-printed batik clothes. Kota Bharu Trade Centre (KBTC), which offers a variety of choices, is located just beside Pasar Siti Khadijah. Other places to buy hand-printed batik include Citra Batik at PCB Beach or at the KB Mall in town which has higher prices but is more convenient.
Silverware - at the touristy museum in Kota Bharu town.
Crystals and gemstones - you can find them at the local wet market or morning market or specialist shops. Emerald (locals call them zamrud), ruby, sapphire, topaz, tiger's eye, etc. can be found. But beware as there are many fakes sold.
Kites - Miniature wau bulan are a local handicraft, but they are expensive and don't fly, so don't get them except for souvenirs. It is better to buy the plastic types for children because those kites can fly.
Malls & supermarkets
phone: +60 9-743-3366

address: Lot 1828 seksyen 17

UK owned supermarket.

phone: +60 9-7413001

address: Trade Centre Jalan Padang Garong

Pacific Hypermarket

address: KB Mall Jalan Hamzan

phone: +60 9-7482864

address: Lot 69 Jalan Pintu Pong

address: 127 JL Parit Dalam Bandar

Supermarket & department store.
Eat
Kota Bharu is full of delicious Kelantanese food, a unique cuisine influenced by Thai and Indian styles, among others. Lots of goodies are to be found in the pasars and in coffee shops throughout the city. Chinese food is also available at various restaurants and food courts.
Among the local specialities are:
Ayam Percik, chicken which is roasted over a wood fire and combined with coconut/peanut sauce and delicious local herbs and greens. Yati Ayam Percik (847, Jalan Long Yunus) has got to be the best around (take a bicycle from your guesthouse to arrive there, it's about 2 km from the centre);
Nasi Ulam (locally called Nasi Kerabu), rice with fragrant, fresh-picked leaves and shoots, traditionally dipped into budu (fish sauce), sambal belacan (shrimp paste with hot pepper, et al.) or/and tempoyak (fermented durian sauce); You can find it in the morning at the Central Market first floor foodcourt.
Nasi Dagang Kelantan. The slightly glutinous-textured rice is cooked in coconut, and similar to Nasi Dagang Terengganu, except the Kelantanese rice grains have a tint of maroon. Served with either a fish or chicken gravy, it is a local favourite breakfast food.
Murtabak, savory or sweet crêpes. Murtabak Raja (Royal Murtabak) is the famous one on Jalan Bayam. They sell takeaway Murtabak and sweets, the staff is really nice and friendly.
If you visit around Hari Raya time, don't miss the chance to try Tapai, which is sweet fermented cassava or rice, wrapped in tapioca leaves. If you like tea, wash everything down with Teh O (tea with sugar) or Teh Susu (tea with sweetened condensed milk).
Keropok Lekor Losong (the local version is Keropok Gote), originally from Losong village and considered by Kelantanese to be the benchmark of all fish paste sausages. Comes fried or boiled. Kelantan Keropok Gote is not like Terengganu Kerepok Lekor Losong; it is thicker at about 4 cm.
Durian puffs (locally called Lepok Durian or Gelembung Buaya, they are in 3 colours: red, yellow and green), at Kubang Pasu wet market in the mornings - for durian lovers with strong stomachs only. These delicious pastries are sold at the wet market surrounded by fish. Buy from the lady at the corner, not in the middle of wet market.
Morning Satay, same lady, but not so delicious. Just for the experience. It also can be found in various restaurants in town. There are a few famous satay sellers like Satay Baung, Satay Suria, etc.
For Chinese food, go to:
Jalan Kebun Sultan - restaurants opposite Public Bank, and food court
Jalan Post Office Lama - restaurants.
For Thai food, try restaurants in Taman Cemerlang and in nearby Wakaf Bharu town.
Drink
Coconut water from the fruit, then scrape and eat the flesh
Beer - Chinese restaurants serve beer to non-Muslims.
There are a few watering holes in KB - one has a disco feel about it (called Restoran), a few have a few "Thai drinks promoters".
Soon Lee Agency

phone: +60 9-7446689

Selling wines, spirits and beers. Address: 5565-D Jalan Pengkalan Chepa (in city center, on the way to Thai Consulate). Operating: 10:30-18:30.
Sleep
Budget
Hotel HarmoniJalan Temenggong, beside Kota Bharu City Clock Tower. From RM65.

Hotel PolitanJalan Doktor, located at Kota Bharu City Centre. Near long distance bus station and taxi stand. Free WiFi & Astro TV inside rooms. Price from RM60.

Ideal Travellers House, +60 9 744 2246, 3954F&G Jalan Kebun Sultan, access also from Jalan Pintu Pong, clean, friendly, garden tables, quiet despite being in town, tour info, public transport info in each room, wifi, internet PCs, Rooms from RM15-40, dorm RM10
Pad.d. Guest House, 4340-Q2, Jalan Sri Cemerlang, nice and clean rooms with air-con. Friendly, English-speaking staff. Wi-Fi available. An Internet Cafe across the street. Free DVDs. Single & Double RM25, dorm RM 15
Zeck's Traveller's Inn, Jalan Sri Cemerlang, phone 019-9466655. quiet, clean, tiled floors, parking, outdoor seating, reasonably close to town,10 minutes walk to Thai Consulate, tour info. dorm beds & Single & double RM12-15-25-45-70.
Kota Timur, Jalan Dusun Raja, clean aircon doubles with own bathroom, furniture, clothes drying rack and TV, good value at RM30, balanced with looking drab and being a little further to walk into town

Lee Guesthouse263 Jalan KK1/9 (off Jalan Sultan Yahya Petra, old name Jalan Pasir Puteh),Bandar Baru Kubang Kerian, Kota Bharu +60 9-747-9663, Clean, friendly and comfortable guesthouse. 5 minutes walking distance to the Hospital University. Free internet facilities and satellite television in the living room, cooking facilities available. The hotel provides airport to the Wakaf Bharu Train Staton and Central Bus Station pickup services to the guesthouse. From RM75 to RM180. Can also arrange trip or boat ticket & transfer to Perhentian Island, Cameron Highlands and Taman Negara.

Minora Lodge is a 20 min walk from the night market. Clean, variety of rooms from dorm to doubles with air-con, RM20-60.
Royal Guest House, Jalan Hilir Kota +60 9-7430008. Formerly Safar Inn. Rates from RM110.

Hussin Palace Budget Inn and Guest House

phone: +60 19-9961960

Jln Bayam. Good place for large families. RM180 for 3 or 4 bedrooms house, no limit of occupancy. Additional bed and pillow provided with no additional charge

phone: +60 139225440

Jalan Kubang Kerian. Safe, peaceful and clean village environment for small group, up to family gathering. No limit of occupancy, free extra bed. RM70 for triple-room, RM120 for connected 2- triple room & RM170 for a big house.

My Place Guest House

phone: +60 10-9199505

address: 2984-F, 1st Floor (above Muzdalifa Fried Chicken), Blok C, Jalan Parit Dalam

14 clean, comfortable and affordable rooms, four of which has an en suite shower. All rooms have shared bathrooms. Fan rooms, free breakfast and friendly staff.

phone: +60 9 747 02 53

address: First Floor, 3952L, Jalan Padang Garong

Small, quiet guesthouse in the centre of Kota Bharu. Cheap rooms and friendly staff. Some rooms have a small ensuite bathroom and air-con. The staff can arrange transfer to the Perhentian islands by minivan + boat. Some dodgy wiring and maintenance work, but a nice place overall. Has a fan dorm.

De 999 Guest house.

address: 3188-G taman seri bayan

fan rooms without side bathrooms.

ParkView Hospitality

address: 3952-L T/1, Jalan Padang Garong

Simple but clean guest house with narrow room, small living room and terrace, free Wi-Fi, filter water, central quite location, single room for RM30; double RM40, double AC RM50, dormitory with 2 bench RM30 all with outside shared bathroom.

Denai Lodge

phone: +60 13-9922328

address: 3952-1 1st Floor Jalan Padang Garong.

Air conditioned 4-bed dorm, single and double rooms. Common room with cable TV.

Timur Guest House

address: 375 TKT jln Tengku Maharani

Fan 4-bed mixed dorm. Single/double rooms. Free wifi.

KB Backpackers Lodge

phone: +60 19-9445222

address: 1872-D Jln Padang Garong

Dorm beds and single/double rooms.
Mid-range
Splurge
Respect
Be respectful of the cultural and religious sensibilities of Kota Bharu's primarily Muslim inhabitants. There is no need for non-Muslim women to wear a tudung (scarf over the hair), but both men and women should consider wearing clothing which covers their torso completely.

Go next
Malaysia
Perhentian Islands (via Kuala Besut)
From the airport, train station (in Wakaf Bharu), and city you can take a taxi (45-60 min; RM60-80) to
Kuala Besut
for regular boat connections to the
Perhentian Islands
. There is also a direct bus service to Kuala Besut Jetty - take bus 639 from the central station (6RM), the trip takes 1:30-2:00 hours and services by
Cityliner Kelantan Bhd.
leaves at 06:15, 07:30, 09:00, 10:00, 11:00, 12:39, 14:00, 15:00, 16:00, 17:30, 18:30. The bus has no AC and is quite dirty and with doors open to get some fresh air gets very dusty. The same company also offers slightly discounted fast boat tickets at their Kota Bharu bus station ticket counter.
Thailand