Kotor
Kotor
is a coastal town in
Montenegro
with a population of 23,500. It is known for its beautiful architecture and natural setting in the deepest part of a breathtaking
bay
.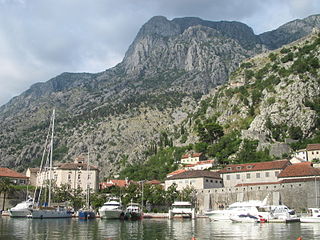 Understand
Kotor is situated in the secluded
Boka Kotorska
bay, on
Montenegro
's northern coast. It has developed around
Stari Grad
(local language for "old town"), the city's old town and best known landmark, which is listed with
UNESCO World heritage sites
, and the city walls are even separately listed together with five other Venetian city walls along the Adriatic and in Italy. The bay is the deepest natural fjord in the Mediterranean Sea, and the scenery around it (including the steep mountains which come almost to the waterfront) is spectacular.
The
Stari Grad
is fully walled (the mountain functions as a rear wall). Four gates offer access to the town: The Main Gate, along the Bay, the North Gate, the South Gate, and a smaller New Gate. There are no cars allowed in the
Stari Grad
, nor are there standard road names in the
Stari Grad
. Although all buildings are numbered, it is best to use landmarks for directions. Generally, the squares are named for the church in their center, and directions either relate to the closest square or the closest gate. The most obvious landmark is the clock tower, just inside the main gate, in the main square.
There are abundant banks and ATMs throughout the
Stari Grad
. ATMs often dispense as few bills as possible. For example, a withdrawal of €150 will probably produce 3 €50 bills. Many people refuse to make change from large bills, so it is advised to withdraw an even amount, to avoid €50 bills, or small amounts at a time. Banks are closed on Sunday or Holidays. Travellers cheques are generally not accepted, not even by banks. Note that not all restaurants or shops accept credit cards, either.
Kotor and the entire Kotor Bay have long been a vacation and second-home destination for many Europeans and British. After Serbian, English is the common language, and most waitstaff and hotel staff speak English.
Get in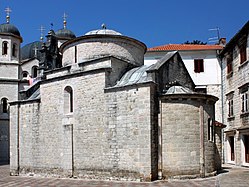 By plane
Tivat Airport
is 8km away. The following airlines operate to/from Tivat Airport: Air
Moldova
(
Chiṣinǎu
, seasonal),
Montenegro
Airlines (
Belgrade
,
Copenhagen
,
London
-Gatwick,
Moscow
-Domodedovo,
Paris Charles de Gaulle
, Pristina,
Rome
-Fiumicino,
Skopje
,
St Petersburg
), Moskovia Airlines (
Moscow
-Domodedovo), Rossiya (
St Petersburg
) and S7 Airlines (Moscow-Domodedovo). There are charter flights to
Moscow
,
Helsinki
and elsewhere, but many of these are not available for booking on online consolidation sites, so it is best the check the individual airline's websites.
Podgorica airport is 90km away, and has flights throughout the year to
Belgrade
,
Budapest
,
Zurich
,
Frankfurt
,
Ljubljana
,
Paris
,
Rome
,
Vienna
and,
London
-Gatwick. Buses run from
Podgorica
to Kotor year round.
Dubrovnik airport
in
Croatia
is 73km away from Kotor, and maintains flights to many European destinations throughout the year, providing an alternative to the Montenegrin airports. A taxi to Kotor costs €80..
By bus
Kotor is fairly well connected with neighboring countries by bus.
phone: +382 32 325 809

Bus times and frequency varies greatly seasonally. Check the schedule online.
From
Budva
buses run to
Herceg Novi
, stopping in Kotor, almost every 30 minutes from 7:00 to 23:00 (2€50). Buses also run between Kotor and the following cities:
Podgorica
(hourly, €7 (August 2014),
Bar
and
Ulcinj
(6-8 daily, approximately €5),
Dubrovnik
and
Mostar
(3 daily, 3 hours, about 20€),
Split
(3 times a week, 7 hours),
Sarajevo
(1x daily),
Belgrade
(10 hours),
Skopje
(night bus, 12 hours, twice a week on Friday and Saturday at 7PM). During the week you can go to
Skopje
via
Nis
,
Serbia
(bus from Kotor to
Tivat
at 3:50PM, from
Tivat
to
Nis
5:30PM). The 11AM bus to
Mostar
costs €26 plus a euro per bag and takes 9 hours, as it visits almost every major town in Montenegro and southern Respublika Srpska before finally arriving in Mostar.
There are also small public buses (colored in white with blue sign "Blue line") that run through the city connecting nearby villages and towns. You can stop them at any bus stop inside Kotor. They also go to
Tivat
along the coast line passing
Muo
,
Prcanj
, and they also reach the beautiful
Perast
. Fixed price: 1€ (2017).
By car
All roads in Montenegro are two-lanes only, and mostly are curvy mountainous roads, so speeds over 70 km/h (43 mph) are rarely legal or safe.
The Vrmac tunnel has recently been completed, which significantly shortens the journey from Budva to Kotor. Road traffic was formerly diverted to alternative road over Trojica hill above Kotor. It is still possible to travel via this winding mountain road. From this hill you can enjoy beautiful views not only of the tiny countryside villages, but also of Podgorica (when approaching from Cetinje), and Kotor Bay.
When driving in Montenegro, be aware that the locals drive aggressively and think nothing of overtaking across white lines on steep bends. Be careful. There is also a great deal of road building underway and the safety considerations are a less onerous than those in more-developed countries. Don't panic.
As in many places, taxis may or may not have a meter. Be warned that un-metered taxi fares can range widely, especially for English speakers. Taxi drivers often try to cheat tourists. The real taxi price within Kotor and Muo should be below €3. You should discuss the price before entering the taxi.
phone: +382 69949197

address: Kralja Nikole 122 Podgorica

minivan transfers, airport transfers comfort sedan vehicles
By boat
There aren't any scheduled ferries travelling to Kotor but there are services between Bar and Bari, Italy except during winter.
Get around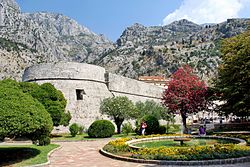 Kotor is small, so everything is within walking distance. Enter the old town via any of the three gates, then explore the maze of narrow lanes between the stone houses.
Parking space in the city center is hard to find, so use your car only when you have to. Be careful where you park, sketchy tow operators target tourists around the old city. Find a free parking space away from the old city and then walk.
There are no sandy beaches in Kotor, and water is not of premium quality for swimming. Consider driving to the beautiful Jaz or Trsteno beaches on the Budva Riviera, some 20km from Kotor.
See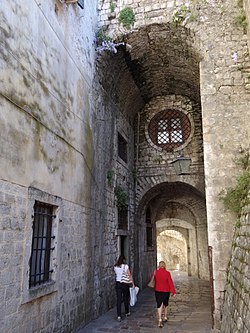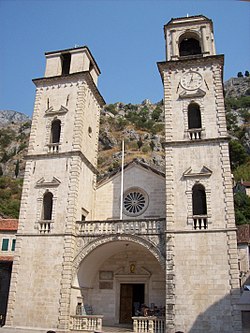 St Tryphon's CathedralFirst built in the 11th century, reconstructed after earthquakes. Romanesque-Gothic architecture. Chapel holds the remains of St. Tryphon, the patron saint of Kotor. €2

St Nicolas ChurchThe biggest Orthodox church in the Old Town.

Maritime Museum

phone: +382 32 304720

3 floors of photographs, uniforms, weapons, paintings, and model ships.
Do
Climb up to the FortificationsStretching some 4.5 km directly above the city, on almost vertical cliffs. Climbing up the 1350 steps will be rewarded by a view of Kotor and the bay from St John's fortress. Only advisable for relatively physically fit people. Some of the steps are broken but the path is in relatively good shape. The 1200ft ascent may take 30mn to 1h depending on your condition.

Boat TripsIn the middle of the bay there are two islands, Sveti Djordje and Gospa od Skrpijela, which are worth seeing and accessible by tourist boats (15€) which leave from outside the old town main gate. It is however much cheaper to first go by bus to Perast (1€) and then use a water taxi (5€) to get to the islands.
Buy

Old town has many boutiques. There is an open market just outside the old town; there you can buy fresh vegetables, sunglasses and many other things.

Eat
At the market, try to sample local smoked ham (
njeguški pršut
) and cheese (
njeguški sir
) from the nearby village of Njeguši, which are two of the Montenegrin cuisine's most famous products.
Kotor offers a variety ranging from classy restaurants offering fresh seafood and national cuisine to fast food offering pizzas, barbecue, etc. There is a large produce market outside the city walls. Hamburgers there cost €1. Cafes and restaurants line the bay-side promenade, which stretches north through
Dobrota
.
Budget
ForzaThe most popular pastry shop in Kotor

La PasteriaGreat sandwiches and fine pizzas with original prosciutto from the nearby village of Njeguši. Probably the best Italian food in Kotor!
Mid-range
TanjgaFamily-run butcher/restaurant, massive amounts of grilled meats and great service

Bastion Restaurant

phone: +382 32 322116

Busy lunchtime venue. Great fish.

CesaricaServes excellent and cheap Dalmatian food. Try the cuttlefish risotto.

Forza Mare

address: Dobrota

Seaside restaurant and hotel, outside of Kotor

Babilon restaurant and hotel

address: Dobrota

Affordable prices, good location and a first-class seafood menu
Drink

Again, old town is the hotspot for relaxed drinking espresso in the shade of the medieval walls. There are many cafes in the old town, but still it's hard to find a place to sit in the sunny day. Tipping is not necessary although you may leave your change by simply rounding up. Befriending the waitstaff can get you quite far.
Espresso costs €1+. Soft drinks and juice cost €1-2.
Sample the Montenegrin wines, "Vranac", "Pro Corde", "Krstac", "Cabernet", "Chardonnay" and "Nikšićko" beer. Montenegrin brandy, called "rakija" is good choice to "warm up" before going out in the evening, especially grape brandy "Montenegrin loza", "Prvijenac" or "Kruna". Litre bottles of wine are available in the supermarkets outside of the Stari Grad for under €5.

Nightlife

A night out in Kotor usually begins in the open bars in the old town. Pubs in the old town are only open until 1AM.
The best club is Maximus, which is located in the old town, and closes at 5AM.

Sleep
Accommodation during low season is cheap and plentiful in Kotor.
Private Rooms
Many of the homes in the
Stari Grad
have been turned into for-rent apartments. For groups of two or more, these are often the most affordable options. Their quality (and prices) range from luxurious to modest. Most can be reserved online, although wire-transfer down payments are expected. Most are either owned or managed by English-speaking expats foreign visitors.
During summer, expect to pay about €10 per person for accommodation at a private residences in the old town, and €7-15 outside the old town and closer to beaches.
Hostels
phone: +382 32 325 317

address: Stari Grad 284

Once owned by a local noble family, Bisanti, the Old Town Hostel Kotor's careful restoration and design offer historic Kotor's rustic atmosphere.

Youth Hostel Spasic-Masera

address: Dobrota bb

Suranj HostelPrivately owned hostel near the bus station. Own room with small kitchen, TV and shower.
Hotels
phone: +382 32 305 857

Hotel has 4 Stars, with a private beach, sauna and fish restaurant. Open 24 hours and all 365 days a year. The hotel is located directly at the beach in Orahovac. Quiet rooms with seaview overlooking the bay

Cattaro Hotel4 star hotel.

Forza MareA small 5-star hotel in Dobrota.

Hotel Marija

phone: +382 32 325062

Boutique hotel.

Hotel VardarOld Yugoslavian design. Recently upgraded and expensive.
Connect
Wifi is available in the town center, and at many cafes. Cafe wifi often requires pass codes given only to paying customers.

Nearby
Prčanj - a hamlet 4km away.
Budva - a popular tourist destination
Bar - a city and biggest port of Montenegro
Tivat - home to a marina for the elite's yachts
Cetinje, interior old capital of Montenegro
Visit beaches a half hour's drive from Kotor (Jaz, Trsteno, Plavi hori).