Krems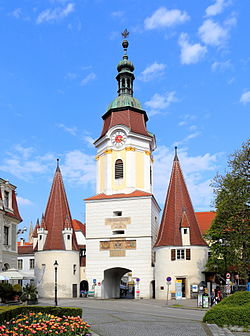 Krems an der Donau
is a riverside town in the
Danube
's
Wachau
Valley tourist region of
Lower Austria
.
Understand
Krems, along with neighboring cities Stein, Egelsee, Dürnstein and Spitz an der Donau are known for their world class wine production as well as their proximity to the Danube.
phone: +43 2732 82676

address: Utzstraße 1

Offers information on accommodation and sights.
Get in
By train
From the west take the regional train (
Regionalzug
, denoted by big
R
) from St. Pölten (usually every 30-50 min. every hour) to Krems.
All other directions regional (express) (
Regionalexpress
, denoted by a big
REX
) train from Vienna's Franz-Josefs-Bahnhof, Spittalau (U4/U6) or Heiligenstadt (U4) station which takes about one hour and leaves every hour.
phone: +43 2732-82536-345

address: Bahnhofplatz 1

Use ÖBB's SCOTTY to look up train information online.
By car
From west: Highway A1 (Westautobahn) to Melk, B3 through Wachau.
From South/East: Highway S33 from St. Pölten or A22/S5 from Vienna
From North: B37 via Zwettl or through the Kamptal/Horn
By boat
From mid-April through October Dürnstein can be reached by river boats which ply the route between Krems/Stein,
Dürnstein
, Spitz, Emmersdorf, and
Melk
.
DDSG Blue Danube Schiffahrt GmbH

phone: +43 1 588 80

address: Welterbe Platz 1

Operates several times daily; timetables and fares (listed at the bottom of the page) can be found here. Tickets can be purchased at any of the docking points, in Vienna, or online. Bicycles (€2) and dogs (free) permitted on board.
Get around
The city and its neighbours are all very accessible by foot and it's no more than a two hour walk from one extremity to the other.
By bicycle
phone: +43 2732 82876

address: Hohensteinstraße 22a

Offers road and mountainbikes for rent. Rental during Sundays and holidays can be arranged beforehand; if you are overnighting in Krems you can return your bicycle at your hotel.

ÖAMTC Donaupark Camping - Krems

phone: +43 2732 84455

address: Yachthafenstrasse 19

Rents out bicycles.

phone: +43 2742 22 99 01 (hotline)

After registration (online or by mobile), pick up a bicycle at any Nextbike location, and drop it off at the same or any other Nextbike spot. A map of pickup and drop-off points can be found here (click 'Wachau' for Krems); a brochure for the Wachau region is available for download.
Taxi
Gabi's Taxi

phone: +43 2732-77661

Taxi Simhandl

phone: +43 2732-72121

Funktaxi Krems

phone: +43 2732-1718
See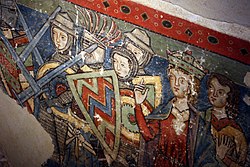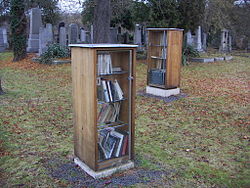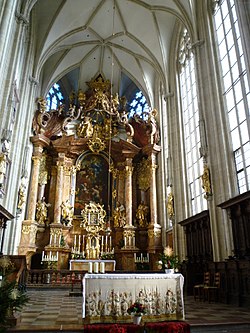 The historic town centres of Krems and Stein are well-worth exploring.
Steiner Tor

address: Obere Landstraße

One of the old city gates, dating from the 15th century.

Kunstmeile KremsVarious art and culture sites, among them:
phone: +43 2732-90 80 10

address: Franz-Zeller-Platz 3

Hosts exhibits of art by regional as well as international artists.

phone: +43 2732 908020

address: Steiner Landstraße 3

A good knowledge of German is helpful in understanding some of the humor presented here.
phone: +43 2732 801-567

address: Körnermarkt 14

Has well-curated permanent exhibits illustrating the history of Krems and the wider region, and hosts temporary exhibits of contemporary art.
address: Hoher Markt 11

Built in the 13th century, this is one of the most significant medieval city buildings in Austria, and is now used for special exhibits. In 2006 and 2007 restoration work uncovered a remarkable set of 13th-century frescoes; along with the Iwein frescoes in Thüringen, Germany, these are the only surviving indoor 13th-century murals north of the Alps. The murals can be viewed only with a guided tour, arranged through the Museumkrems. Note: From January until September 2017 the Gozzoburg cannot be visited due to ongoing restoration and renovation work.
Jewish Cemetery Krems

address: Wiener Straße

Established in 1880 for the Jewish community of Krems, the cemetery was abandoned in 1936 and now is a memorial under the auspices of Vienna Israelite Community. Located on the grounds is a 42m-long metal memorial by Hans Kupelwieser, engraved with the names of the Krems Jews who died during the Holocaust. In 2004 the Irish/Israeli artist duo of Clegg & Guttmann installed three public bookshelves as another memorial.
Piaristenkirche

phone: +43 2732 82092

address: Piaristengasse 1

The oldest church in Krems. The earliest foundations date to the 13th century, while the current structure is from the late Gothic period of the early 16th century. The interior was remodeled during the Baroque era.
phone: +43 2732 801571

address: Plankstraße 4

Established in the 12th century, the castle changed hands many times over the centuries before it was finally abandoned in the early 19th century.
Burgruine Senftenberg

address: Kirchenberg 12, 3541 Senftenberg

The castle is located few kilometers north of Krems. Built in the 12th century, the fortress was abandoned after the Thirty Years' War. Easily accessible by foot and offers a great view of the surrounding vineyards.
Do
There are a number of bike trails along the Danube, as well as hiking paths through the mountains and vineyards – the tourist office can offer maps and advice. It is also possible to tour the many wineries in the area, as well as the nearby monastery.
phone: +43 2732 90 80 00

address: Dr Karl Dorrekstraße 30

Movie museum and independent cinema. An onsite café, Filmbar in Kesselhaus, offers regional specialties in a relaxed atmosphere.

Badearena Krems

phone: +43 2732 801600

address: Strandbad Straße 5

phone: +43 676 6378133

address: Flughafenstrasse

Offers training and tandem diving.

Kunsteisbahn Krems

phone: +43 2732 801 639

address: Heinemannstraße 14
Buy
The area is known for its wine which is available at reduced tariffs.

Eat
There are a number of restaurants in town serving the typical Austrian fare. Consider the local traditional eateries called
Heuriger
, which offer inexpensive dinner and nice wines in a relaxed atmosphere.
phone: +43 676 920 6677

address: Dr Karl-Dorrek-Str 30

The student restaurant-bar is located by the cinema, and serves some vegetarian dishes along with regional classics. Reservations can be made by telephone or by email.

phone: +43 2732 83128

address: Untere Landstr 8

Serves traditional regional cuisine, including some vegetarian dishes.
Drink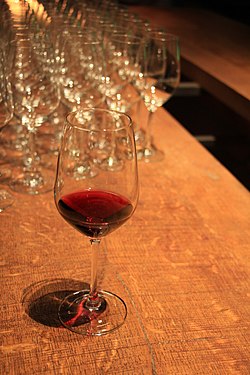 As with the entire region there are a number of wonderful Heurigen (wine bars) in the area.
phone: +43 2732-20330

address: Steiner Landstraße 21

Offers beer from Austria, Germany and Czech Republic with a focus on beer from the nearby Waldviertel.

phone: +43 2732 85511

address: Sandgrube 13

Tour the winery, wine tasting.
Sleep
There's a number of guest houses in the area.

Camping
Budget
Mid-range
Splurge
Go next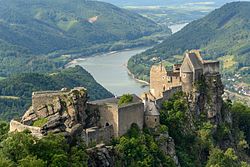 Visit the Wachau Valley, situated between Krems and Melk (40 km upstream), which is listed by UNESCO as a World Heritage Site.
Notable places include:
Göttweig and Melk monastery
Dürnstein, a medieval castle/ruins which served as a prison for Richard Lionheart (Richard I of England), city walls, monastery
Wine towns Spitz and Weissenkirchen and the nearby
Ruins of Hinterhaus, a 1000 year old ruins
Aggstein Castle
Most of the Wachau (except Aggstein) can be reached by the local train Krems-Spitz or by bike on the Danube cycle track (
Donauradweg
). Göttweig is at the train station Krems-St.Pölten line and Melk at the Westbahn.
In summer many tourist boats operate in the Wachau. The biggest and most visible boat companies are DDSG (
Donaudampschifffahrtsgesellschaft
) and Brandner, but they are not necessarily the cheapest. MS Stadt Wien is a popular alternative among locals (weekends only).