Kryvyi Rih
Kryvyi Rih
(
Ukrainian
: Кривий Ріг) is an industrial city of 660,000 people in
Dnipropetrovsk Oblast
,
Ukraine
. Its principal industry is steel manufacturing.
Understand

According to official website, the city extends for 126 km from north to south.

Get in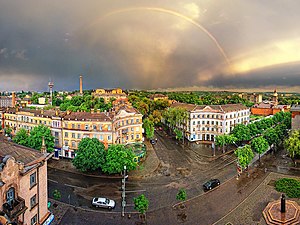 By plane
Kryvyi Rih (Lozovatka) International AirportNo regular flights.
By train
By car
By bus
By boat
Get around
Maps
Google maps can help avoid getting lost in the city. People commonly speak English very badly and all signs and tabulations are in Russian and Ukrainian. Translate apps and vocabularies are also very useful.

By foot
You can walk to most locations in central Kryvyi Rih and there are plenty of attractive walking routes along the quay sides and in the pedestrianised central streets. The central city (Karl Marx Street) is separated from the 95th Block area, but buses and trolleybuses can help to access it. The main rail station is further away but still accessible by bus.

By bicycle
KRC has few bike paths and routes.

By car
Driving is probably the best way of seeing the surrounding region. A couple of the routes during peak hours operate a car pool lane for cars with more than one occupant.
The centre of KRC follows a one-way city system, which can be frustrating and confusing for those not used to it. However with patience and practice and a lot of circling around the same areas numerous times, it does become easier.

Parking
There are no parking garages and no designated or marked car parking bays in the streets. Drivers park wherever they find it convenient.

See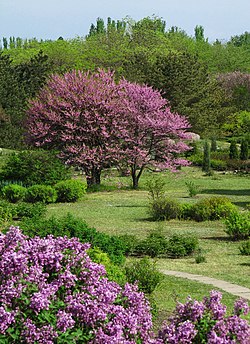 Do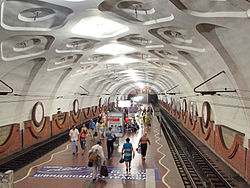 Buy
address: 1, 40 Let Pobedty square

Aushan, Sushi, Cafe, Bar, Big Burger, Souvenirs, Sportmaster, Comfy, NewYorker, Punma, Zara, Camel Active, Chester, Colins

Liberty City

address: 35 Karl Marx St

Victory Plaza

address: 24 Lermontov St

Plaza

address: 4 Gagarina St

Good city view from the 6th floor.
Eat
Budget
address: пл. Горького Кривий Ріг Дніпропетровська область Украина

address: 37 Lermontov St

address: 54 Karla Marksa St

address: 24 Meleshkina St

address: 30 Dimitrova street

Retail market with own cheep dishes: salads, meat, bread, donuts. Also, probably, the bast place to go shopping.

Celentano Pizza

address: 30 Gagarina St

Celentano Pizza

address: Metalurhiv Ave, 22Б
Mid-range
Splurge
Prado

phone: +380 564 92-41-08

address: pr. Karl Marx 19
Drink
Adams

address: 49 Dimitrova st

Good cozy Gothic beer bar.

phone: +380 98 080-10-90

address: 34 Metalurhov Ave

phone: +380 56 409-81-82

address: 24 Metalurhiv Ave

One of the best British beer pubs of the city with regular parties and musical performances.

Madisan

address: 12 metalurhiv Ave

Rock club with noisy parties, live music and fun people.
Sleep
Budget
Mid-range
address: 50086, Украина, Днепропетровская обл., г. Кривой Рог, ул. Телевизионная, 12

3
***
phone: +380 67 560-18-83

address: 11 Dyshynskoho Street

4
****
phone: +380 56 404 08 08

address: 40 Metalurgiv Ave

3
***
Splurge
Connect

Kryvyi Rih's landline area code is 56. Dial 056 from within Ukraine or +380 56 from outside Ukraine.
Kryvyi Rih has easy internet access like most cities, and as a city, has the advantage of broadband being easily accessible both to install and use. Kryvyi Rih also has an abundance of internet cafes available for all to use. The council has also recently installed the internet in most of the main libraries in Kryvyi Rih. Providing you are a member of Kryvyi Rih Libraries you can book internet use although be prepared to wait if visiting the library during school term-times as students from the nearby school and college frequently use the facilities. A network of free Wi-Fi hotspots is being deploying in Central City. It is available around the 95th Block and in some metro stations. An up to date map of pubs, bars and cafe's in Kryvyi Rih with free Wi-Fi is available here.
Stay safe
Like many other big cities in the Ukraine, Kryvyi Rih has its rough areas. Use common sense while getting around.
The usual "don't be stupid" advice suffices. Avoid drinking the water from the tap; bottled water is cheap and available everywhere.
If you are female, and especially if you are traveling alone, try to take a taxi instead of public transit after 21:00. These are prime drinking hours and the metro and marshrutky may be crowded with drunken men. This is particularly true on the weekends. Ask a local English-speaker to call the taxi for you and get the amount of the fare in advance; drivers may greatly inflate the fare once hearing your accent. Isolated drunken brawls can occur in the centre of town on Friday and Saturday nights as pubs and clubs close, especially near the waterfront area, the Centre, taxi queues and fast food joints. This has been reduced somewhat by a heavy police presence and security guards monitoring the taxi queues.
Also, some outlying suburbs such as Yubileinaia, Artem (from Artem to Vecherny, including Svyatoshyn), Smychka and Druzhba have a bad reputation, but it is unlikely that a visitor to the city would travel to these parts. Be careful at the railway station. If you are leaving your baggage in the station, it is better to leave it with the guys in person rather than use a locker. Stories circulate of people 'assisting' with the locker, observing the code and then walking off with the bag afterwards
The main problem is beggars as many will approach you on the street to ask for money, bread, cigarettes or few cents for a tram ticket (don't be stupid).
Also, you may find people offering you drugs in return for cash. Those people have no drugs and will instead give you a bogus parcel (such as balls of cellophane or matches wrapped in newspaper) and run off with your money. They often have knives so avoid the people in the first place.
There is still corruption in Ukraine; some services might openly ask you to bribe them to process your request, and denying it might make them refuse to help you.
Common people are very tolerant and it is only reasonable to assume that they expect the same in return.

Go next
Dnipro, modern financial and entertaining centre.