Kuala Lumpur/Central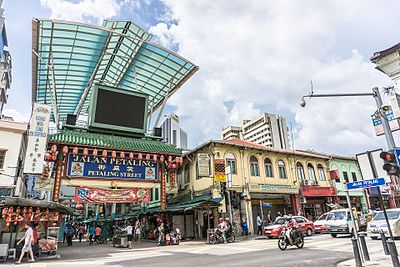 Kuala Lumpur
's
City Centre
is the traditional heart of
Malaysia
's capital city in terms of administration as well as trade and commerce. The City Centre comprises the former
colonial administrative district
just west of the confluence of the Klang and Gombak River, where Kuala Lumpur was founded. At the heart of the colonial district is Merdeka Square, where Malaysia's independence was declared. Surrounding the square are many other colonial-era buildings. To the west of the square lies the pretty Lake Gardens while to the south you'll find the National Mosque, the Moorish-style Kuala Lumpur railway station, and several museums including the Islamic Arts Museum and the National Museum.
To the east of the Klang river lies the
old commercial district
of Kuala Lumpur. You will find the iconic Central Markets, or Pasar Seni, of Kuala Lumpur and the narrow streets of Chinatown, with traditional Chinese shops, markets, eateries and budget accommodation galore. Although the old pre-World War II shophouses are quickly disappearing and being replaced with modern buildings, the area is still fascinating enough for a wonder.
Get in
By train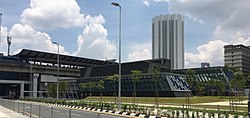 The City Centre is easily accessible by rail, with two LRT lines, one MRT line and a KTM Komuter station serving the district. The LRT stations serving the City Centre include
Pasar Seni
and
Masjid Jamek
of the Kelana Jaya LRT line or
Plaza Rakyat
and
Masjid Jamek
for the Ampang LRT line. The newest
MRT Sungai Buloh-Kajang
Line serving the
Merdeka
(interchangable with Plaza Rakyat) and
Pasar Seni
. If you're coming from KL Sentral, the main transportation hub of Kuala Lumpur in
Brickfields
, then take the Kelana Jaya LRT line. For easy access to Chinatown and the Central Market take the LRT or MRT to Plaza Rakyat/Merdeka and Pasar Seni stations whilst for easy access to Merdeka Square and the surrounding area use Masjid Jamek.
If heading towards the City Centre from the suburbs, your best option is to catch the KTM Komuter, alighting at
Kuala Lumpur
Station (not to be confused with KL Sentral). Kuala Lumpur Station is a bit more south of the LRT stations. Don't let this discourage you as the old colonial Kuala Lumpur Station is an attraction in itself and is a good option to access attractions like the National Mosque or Lake Gardens.
By bus
Almost all bus routes start and end in the City Centre. The main bus terminals are
Pasaraman Kota
(or the Klang Bus Station),
Terminal Sultan Mohamed
or
Pasar Seni
(opposite Pasarama Kota),
Kotaraya
(Jalan Tun Tan Cheng Lock),
Bangkok Bank
(Jalan Tun H.S. Lee),
Sinar Kota
(Jalan Tun Tan Siew Sin, formerly Jalan Silang) and
Puduraya
.
Some routes, especially those by
RapidKL
, may end at the outskirts of the City, such as at
KL Sentral
or
Titiwangsa
. You'll be able to catch connecting
City Shuttles
from this terminal into the City Centre. See Kuala Lumpur's
Get Around
section for route details.
See
Colonial district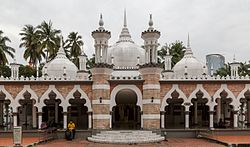 Masjid JamekIt's at the convergence of the Klang and Gombak rivers. The stately Masjid Jamek, constructed in 1909, is one of the oldest mosques in the city. Inspired by Mogul mosques in North India, this building's notable features are three elegant domes which used to dominate the KL skyline long before skyscrapers were built there. Its location between two rivers makes it appear as an island of tranquility in the busy city. Major construction work is ongoing due to the River of Life program, which is going to turn this area including the river into a prime recreational hotspot of the city.

Merdeka SquareThis square has a special place in the hearts of all Malaysians as it was here that the Union Jack was lowered for last time in 1957 and Malaysia gained her independence. Standing tall here is also one of the tallest flag poles in the world, measuring in at 100 m. Surrounding the area are host of historical structures like Sultan Abdul Samad building (see below) and the Old City Hall. The Royal Selangor Club and St. Mary's Cathedral are two famous landmarks nearby.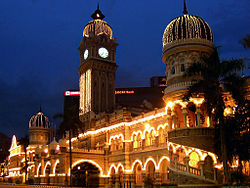 Sultan Abdul Samad BuildingBuilt as the offices of the Colonial Secretariat, they later served as the first administrative centre of the Malayan government. Built in 1897 by British architects, A C Norman and A B Hubback, this historical landmark is famed for its Islamic-inspired architecture. Today, it houses the Courts of Law. The 40-m-high clock tower is a popular gathering-point for New Year and National Day countdown celebrations and parades.

Kuala Lumpur Railway StationA Moorish-style masterpiece designed by Arthur Benison Hubback, a British Architectural Assistant to the Director of Public Works. As well as suburban trains and express trains to Ipoh, it houses a mini-museum of Malaysian railway history. It is one of three grand British-built railway stations on the Malayan railway network; the other two being Ipoh and the now-disused Tanjong Pagar Railway Station in Singapore. Fun fact: The construction was delayed as its rooftop design did not meet British railway specifications. It had to be able to support snow a metre deep.
Chinatown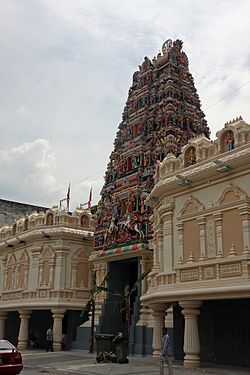 Sri Maha Mariamman Temple

address: Jalan Tun HS Lee

An elaborate Hindu temple known as the starting point of the yearly Thaipusam pilgrimage to the Batu Caves, where Hindu devotees haul portable altars pierced to their skin with 108 lances. Check out the elaborate gopuram above the entrance.

Chan She Shu Yuen Temple

address: Jalan Petaling

The clan house (kongsi) of the Yuen family, this is the largest and oldest in KL, with the present version completed in 1906.

Sin Sze Si Ya Temple

address: Lebuh Pudu

The oldest Chinese temple in Kuala Lumpur built in 1882. The temple is dedicated to Shen Kong, worshipped as the guardian deity for the local Chinese miners and houses several other deities, including the deified Yap Ah Loy, third Kapitan Cina of KL. The ornate interior and elaborate roof ridges are typical of religious Chinese architecture and visitors can still see patrons conducting worship to the gods and the ancestors.

phone: +60 3-9221 0554

address: 1, Jalan Hang Tuah

Beautiful mosque well worth a visit.

PNB 118If you like massive skyscrapers check out the construction site of the future highest building in Malaysia.
Buy
Petaling StreetA relatively tame area during the day that comes alive in the evenings with stalls selling fake handbags, shoes, watches, sunglasses, DVDs and other various items. Be sure to haggle furiously as many stalls will inflate the price significantly. Along with sellers hawking their goods are restaurants and food stalls lining the street who will attempt to entice you in, sometimes a little aggressively. It can get particularly busy in the evenings so be sure to keep hold of your valuables.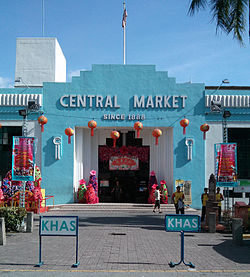 phone: +60 3 2031-0399

address: Cnr Jl Hang Kasturi & Jl Tun Tan Cheng Lock

Kuala Lumpur's grand old market which opened in 1888 as a wet market, but has since been refurbished and has arguably lost some of its old charm, complete with air-con. The market is now aimed squarely at tourists and selling crafts, fabrics, jewelry and other trinkets, both local and foreign. A market street that runs parallel to the markets, called Kasturi Walk, also operates as part of the market.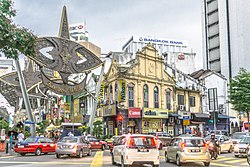 Supermarkets
phone: +60 3-20727378

address: Bangunan Sinar Kota Jalan Tun Perak

Has a supermarket on the 3rd floor.

phone: +60 3-30842845

address: 34 G Jalan Hang Kasturi City Center

There are many 99 Speed Marts around KL.
Eat
You will be able to find some of the most interesting places to eat at reasonable prices in this district. Chinatown is the place to head to for Chinese food while Lebuh Ampang just north of Chinatown is the place for Indian food. There are also the usual fastfood outlets like McDonald's and KFC.
Budget
Lai Foong

phone: +60 3 2072 8123

address: 138 Jalan Tun HS Lee

A classic Chinese coffeeshop with stalls offering a range of items. The beef noodles here is renowned throughout KL. Other items available include chicken and roast pork rice, prawn noodles and wantan mee.
Soong Kee, 3 Jalan Tun Siew Sin (at the intersection with Jalan Tun Tan Siew Sin (formerly Jalan Silang) and Jalan Tun H.S. Lee) - This is a well-known KL beef noodle shop, it is said to have started operating since 1945. It serves the noodles "dry" with beef mince while the beef balls are given separately in a bowl of soup.
Kam Lin Kee (金莲記), (corner of Jalan Petaling and Jalan Hang Lekir, opp Hong Leong Bank) No English sign, no menu in any language, and a kitchen you really don't want to look into - but it packs the crowds for its famous hokkien mee (fried noodles in dark sauce, RM5). Wash it down with a RM1 mug of cooling liang teh and soak in the busy market ambience.
Lebuh Ampang banana leaf rice - The street is lined with banana leaf rice shops, just make your pick. One of them is Lakshmi Villas. For purely vegetarian food, you can try Bakti Woodlands.

Restoran Vinni Jeyaa

address: Jalan Sultan Mohammed

typical Indian restaurant (as for Malaysia) but with exceptionaly wide choice of Indian delicacies (both veg and non-veg). Very friendly staff and budget prices - full meal with drinks for two = around RM13.
Indian Restaurant in the Kuala Lumpur Old Train Station next to Jalan Sultan Hishamuddin. Prices and service similar as in Restoran Vinni Jeyaa.
Mid-range
phone: +60 3 2031 6888

address: Lot 243, Jalan Sultan (Chinatown)

Pizzas, pasta dishes are on the menu. Spacious, contemporary with open-concept kitchen. Open for breakfast, lunch and dinner or for snacks.
Splurge
Drink
There is little nightlife in this part of Kuala Lumpur, as most of the bars and clubs are in the
Golden Triangle
.
San Francisco Coffee Express

phone: +60 3 2284 7732

address: LG-022 Lower Ground Floor, City Square Mall

Hot and cold coffee beverages and delicious cakes of all kinds.

phone: +60 3 2026 7690

address: 158, Ground Floor, Jalan Tun H.S. Lee

Popular drinking hole for backpackers. They also serve Asian and Western food.
Sleep
Some of the cheapest accommodation within Kuala Lumpur is found in Chinatown and the surrounding area, but keep in mind that you tend to get what you pay for. The cheapest guesthouses are mostly rented by the hour and are rife with health and safety hazards, so are best avoided. For more upscale accommodation, see
Golden Triangle
instead; and if you're looking for hotels around the KL Sentral station, see
Brickfields
.
Budget
phone: +60 123902339

address: 15-1 Jalan Balai Polis

Run by a friendly Sri Lankan family. Full A/C and breakfast included with free Wi-Fi and no curfews. Clean, very safe and basic.

phone: +60 20789870

address: 121-123 Jalan Petaling

Clean and cheap hostel along Petaling Street run by Malaysian-Chinese owners. Good online ratings.

The Original Backpacker's Travellers Inn

phone: +60 3 2078 2473

address: 60 B, Jalan Sultan

No-frills, budget accommodation close to Bukit Bintang and Chinatown. 5 min walk from the Pasar Seni train station. 8 bed Dorms. A/C is on 9PM-9AM only. Private rooms are small. Rooftop restaurant/bar for breakfast. Has fast free wifi. Has cable tv in the rooftop restaurant/bar. Average online ratings.

phone: +60 3 2032 2676

address: 76A Jalan Sultan

Unassuming with its small, easy-to-miss entrance. Large rooms, attached bathrooms with hot water shower, clean. Wifi is available in all the rooms. Average online ratings.

Heritage Hotel

phone: +60 3 2273 5588

address: Bangunan Stesen Keretapi, Jalan Sultan Hishamuddin

This place might have shut down! Please check and update. Housed in KL's beautiful old railway station, one stop from KL Sentral. With breakfast. Varying standard of condition and cleanliness throughout, Wi-Fi in the lobby. Bad online ratings.

phone: +60 3 2072 3388

address: 34 Jalan Hang Lekir

Some rooms are smaller than others and some have bigger windows, so you may want to check first. Windows are all quite thick and sound proof so noise from Jalan Sultan is not a problem. 24-hr CCTV, and (slow) Wi-Fi in the rooms. No breakfast is included. Average to good online ratings.

Le Village

phone: +60 3-2022 0811

address: 47, Jalan Petaling

Hostel in the middle of Petaling Street street market. Good online ratings.

Matahari Lodge

phone: +60 16-980 7001

address: 58-1 Jalan Hang Kasturi

Clean hostel/guesthouse, with private A/C single, double rooms and mixed dormitory with shared showers. 24/7 reception with security system. Single and double rooms are windowless but quiet. Helpful staff, TV lounge, free breakfast (toast, PB&J, tea & coffee) and internet (Wi-Fi & desktops @ TV lounge). Good online ratings.
Oasis Guest House, Upper Floor 125 Jl Petaling. (Across the street from the Petaling Street Market). Rooftop terrace, TV/chill area. RM15 for dorm, RM25 for single w/fan, RM50 for single with A/C.

phone: +60 3 2072 4229

address: 48 Jalan Sultan

phone: +60 3 2026 6288

address: 118-120A, Jl Petaling

5-min walk from the Pasar Seni train station, and a short train ride from the Kuala Lumpur City Centre (KLCC).

Travellers Home Moon Lodge

phone: +60 320316873, +60 320313556

address: No. 23 & 25 Jalan Tun Tan Siew Sin (formerly Jalan Silang)

Cheap, simple, central, no bed bugs, no hot water. Ideal for budget travellers.
Mid-range
Splurge
phone: +60 3 2273 9999

8, Jl. Kampung Attap. 10-min walk to China Town.
Cope
phone: +60-3-26123500

address: 1 Jalan Raja

Newspapers and books to read. Free wifi
Connect
Heritage Internet & IT

phone: +60 3-2022 0770

address: Kota Raya Complex, Jalan Tun Tan Cheng Lock

GTN Internet Cafe

address: 119 Jalan Sultan