Kuala Lumpur/North
Kuala Lumpur
's
Northern Suburbs
is the huge area running north of the
City Center
and
Tuanku Abdul Rahman
's Chow Kit area. It is largely residential and industrial and will not be of particular interest to the visitor, except for the famous limestone cave temples of
Batu Caves
.
Other attractions which may draw visitors are the
Forest Research Institute of Malaysia (FRIM)
which has a huge green reserve with a canopy walk, and the National Zoo (
Zoo Negara
). For something more unusual, there is also the
Orang Asli Museum
in Gombak which showcases the culture and lifestyle of Peninsular Malaysia's Orang Asli or indigenous groups.
See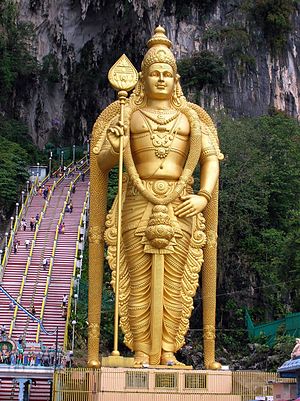 address: Jalan Batu Caves, Gombak

Hindu priests have used these caves as temples since their discovery in 1878 by William Hornaday. Crowds of Hindus visit the caves in January/February for the spectacular Thaipusam festival, when devout Hindus skewer portable shrines to their bodies and carry them all the way from central KL. They contain a large number of beautiful and fascinating statues of the Hindu Gods. Beware of the thieving monkeys (long-tailed macaques), discarded rubbish on the steps, and bat droppings in the cave. 272 stairs lead up to the cave.

Dark CavesJust off to the side of the entrance to the Batu Caves is the Dark Caves. The Dark Caves is a conservation site showcasing the endemic animals and insects that live in the cave ecosystem. The Dark Caves are closed until further notice since 27 January 2019.

Muzium Orang Asli

address: KM24, Gombak

A quaint museum situated on Orang Asli land that showcases the culture of the different indigenous peoples from Peninsular Malaysia. With over 3,000 artifacts that tell the history, practices and lifestyle of the many indigenous tribes who occupied Malaysia before the advent of urban society. Definitely worth the journey, especially for those interested in indigenous cultures.

Forest Research Institute of Malaysia (FRIM)

phone: +60 3 62797000

address: Jalan Foxworthy, 52109 Kepong

Guided tours through the rainforest. Includes a canopy walk and a little museum.

address: 52100 Kepong, Kuala Lumpur

Located at the northern side of Kepong and only 6 km from Sri Hartamas, this place features a lake and is ideal for flying kites. Jogging/cycling tracks, remote control car track, football field and observation tower are among the facilities provided.
Do
Sport
Rock climbing at Batu Caves - This limestone outcrop 13km from the city center offers a great variety of climbing on steep limestone routes. Over one hundred bolted lines contain features similar in nature to those found in Rai Leh, Thailand. Easy access from downtown and a simple street-level approach makes for a convenient and challenging day of climbing.

phone: +60 16-3320122

address: Batu Caves

Day trip outdoor rock climbing at Batu Caves suitable for every fitness, age and gender.
Cultural
The Kuala Lumpur Performing Arts Centre (KLPac)Sentul West - KLPac, set up by YTL, one of Malaysia's biggest companies, is a noted centre for performing arts, notably theatre and music (it can also host film screening). It has housed many local productions and has been a supporter of local and regional independent performance artists.
Buy
address: No. 6, Jalan Taman Setiawangsa (Jalan 37/56), AU2, Taman Keramat, 54200 Kuala Lumpur.

address: No.2, Jalan Metro Perdana, Taman Usahawan Kepong

Huge supermarket, that has everything you possibly need.
Eat
Yu Ai Segambut Seafood Noodle, 42, Jalan Segambut Utara. Location: 3°11'5.41"N ; 101°40'33.54"E. Opening hours: 8am-5pm - Truly a local's recommendation. Noodles come with three soup options: their famous curry laksa, tom yam or qingtang (clear soup). Air-cond seating upstairs.
Sleep
Budget
Mid-range
address: No. D23A Putra Majestic, Jalan Kasipillay, Batu 2 1/2
A conveniently located and quiet hotel. Standard rooms. Helpful and friendly staff. Unreliable internet connections.
Splurge