Kumbakonam
Kumbakonam
is a town in
Thanjavur
District of
Tamil Nadu
. The town is popular for the Betal Leaf Combination (
Vettrilai Cheeval
) and for the thick-strong coffee.
Understand
The town is bounded by two rivers - " River Cauvery" on the north and "River Arasalar" on the south.
Kumbakonam gets its name from the deity Lord Aadhi Kumbeshwarar. A traditional representation of South Indian Culture, the town is known for its temples, intricately carved panchaloha idols, exquisite brass wares especially lamps and silks(kancheepuram and kumbakonam are the very well known silk producers). The place, like many other sacred places has a unique festival known as the Mahamaham festival. The festival celebrated once in twelve years coincides with the entry of Sun and Jupiter into constellation of Aquarius and Leo respectively. People from all walks of life have a dip in the Mahamaham tank along with the presiding deities of the town.
Kumbakonam is full of temples. Every street, road, locality has a prominent temple. Better read some litereture on them before your visit them. The Sankara Matam and associated institutions preserve and represent all that is great about the Hindu ancient scholarly tradition.
Some of India's world renowned scholars and intellectuals hail from Kumbakonam including the genius mathematician Srinivasa Ramanujam. The Town High School and the Kumbakonam Arts College are the grand old centres of education with the latter built on the banks of River Cauvery (kaveri) sometimes referred to as the Cambridge of South India.
It has an excellent road link to all the navagraha temples (gods representing nine planets).
The town which was originally a religious town become an industrial center during last quarter of the 19th Century and early period of 20th century. Predominance was gained for Silk Industries and Metal manufacturing.
The major supplier of silk sarees to the Indian market is the Kumbakonam silk industry.
All the South Indian Brass Pooja articles and utensils are manufactured in Kumbakonam and these articles are manufactured nowhere in South India other than Kumbakonam. KuthuVilakku and Statues are the famous articles. Stainless Steel utensils are manufactured.
Betelnuts, Suparis are manufactured in Kumbakonam.
Brass ornamental Lamps (Kuthuvilakku) are also manufactured in Naachiyar Kovil. It is near by Kmbakonam just 8 km towards Tiruvarur.

Get in/around
By plane
The nearest airport is Tirchy Airport . Kumbakonam can be reached from Airport by Bus which will take 3 hours travel.
By bus
Kumbakonam is well connected to all the major towns and cities.
Tamil Nadu
and
Karnataka
State Transport Corporations
operate buses to Kumbakonam. A highlight in Kumbakonam is its central bus stand, which is served with AC waiting halls and waiting shades. This is the first full AC bus stand in India.
From Chennai 6-8 hrs of travel by bus.There are excellent bus services provided by both government and private travel services. For more comfortable travel its better to choose a private travel service. From Tirchy it's about 90 km and about 40 km from Thanjavur.
By train
Kumbakonam is connected through the "Main Line" from Chennai Egmore to Tiruchirapalli , bifurcating at Villupuram and is one of the important stations on the section. Regular dailies are available to
Chennai
,
Bangalore
,
Mysore
,
Madurai
,
Tirunelveli
,
Tiruchendur
,
Rameshwaram
and
Coimbatore
. There are also direct tri-weekly trains from
Tirpati
and weekly trains from
Bhubaneswar
,
Ayodhya
and
Varanasi
.
By auto rickshaw
The cheapest mode of hired transport. Autos ply to small towns in and around Kumbakonam (less than 10 km). As with any other town in Tamil Nadu, negotiate the price before making the trip.
You can negotiate an auto for half-day or full day rates for the nearby places and temples within Kumbakonam. Charges range from 500/- to 750/- approximately for half-day, depending on the places you need to visit. For a 1.5 days I paid ~₹900/- in total.
By taxi
There are two prominent taxi stands in the town. One near the bus stand and the other near town hall. As with any tourist place, the prices are hiked up once they know you are from out of town. For the Navagraha trip, one can base the trip from Kumbakonam. It takes 1.5 days to cover the 9 temples. Taxis charge approximately ₹10 per km. For covering 250 km, one can pay ₹2,500, including driver charges
It's a good idea to check with locals on the average fare for autos and taxis.
See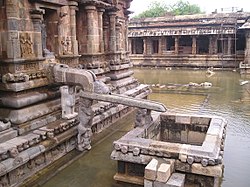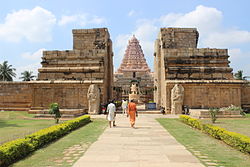 There are several prominent temples in the town:
Adi Kumbeshwarar Temple
Airavatesvara Temple Darasuram (listed as a UNESCO World Heritage Site)
Ayyavadi Pratyankara Devi temple
Chakrapani Temple
Ganapathi Agraharam Vinayaka temple
Kabistalam Gajendra Varada Vishu temple
Kasi Viswanatha Temple
Koothanur Saraswathy temple
The Mahamaha Kulam intricately carved temple tank where the Mahamaham is held once in twelve years
Nachiyar Koil Vishnu temple (one of the 108 Divyadesams of Srivaishnavites)
Nageswara Temple
ThiruNageswaram Shiva temple
Oppilliappan Vishnu temple (one of the 108 Divyadesams of Srivaishnavites)
Papanasam 108 Shiva linga temple
Patteswaram Durga Temple
Ragavendra Mutt at Kumbakonam city
Ramaswamy Temple
The Sarangapani Temple (one of the 108 Divyadesams of Srivaishnavites)
Someswara Temple
Srinivasa Ramanujan House/Museum
Swamimalai Murugan Temple (ARU PADAI VEEDU)
ThirudevanKudi Shiva temple
Thiruvidaimarudhur Shiva temple
Thirukarugavoor Shri Mullaivananathar Kovil (Garbharakshambikai Temple)
Thiruvaiyaaru
Tirubhvanam Kambahareshwarar Temple
Tirucherai SaranathaSwamy Vishnu temple (one of the 108 Divyadesams of Srivaishnavites)
Tirumangalakudi Shiva temple
Tirupambupuram Shiva temple ( Dakshina Kalahasti)
Tiruvalanchuzhi Swetha vinayagar Temple
Uthukaadu Krishnar Temple (Kalinga Narthanam temple) (Famous for major Carnatic songs)
Valangaimaan Mariamman Temple
Surrounding Kumbakonam are the popular Navagraha temples. Although the presiding deity in all these temples are various forms of Shiva, the Navagraha Sannidhis are quite popular.
::
| Navagraha | Town | Presiding Deity | Phone Number |
| --- | --- | --- | --- |
| Budhan (Mercury) | Tiruvenkadu | Swatharanyeswarar | 04364 256 424 |
| Chandran (Moon) | Thingaloor | Kailasanathar | 04362 236 0936 |
| Chevvai (Mars) | Vaitheeswaran Kovil | Vaitheeswarar | 04364 279 423 |
| Guru (Jupiter) | Alangudi | Aabhatsakayeswarar | 04374 269 407 |
| Kethu (South Lunar Node) | Keezhaperumpallam | Naganathar | 04364 275 222 |
| Rahu (North Lunar Node) | Tirunageswaram | Naganathar | 0435 246 3354 |
| Sani (Saturn) | Thirunallaru | Tharparaaneswarar | 04368 236 530 |
| Sukkran (Venus) | Kanchanoor | Agneeswarar | 04435 247 3737 |
| Surya (Sun) | Suryanarkovil | Kasi Viswanathar | 0435 247 2349 |
The Mullaivananathan Temple at Thirukarukkavur is quite famous for the goddess Garbharakshambika who is the God's consort there.
Eat
There are lots of budget restaurants in Kumbakonam. Although food in general will be tastier all around the city, it might not be hygienic. Check out the hotels around as some also have good restaurants. Hotel Raayas is better for Non Vegetarian and if you are after some quality Parottas and tasty Non-Veg, Hotel SHANMUGA seems to be the place as it is the LOCAL'S Favourite. Hotel Meenatchi Bhavan, Archanas and Venkatramana are all good for a veggie.
Sterling Resorts provide excellent food for the rich. But if a simple home style food of the local cuisine is what you want, try out one of the 'mess'.
address: Hotel Habib Towers

a veg n non-veg restaurant in kumbakonam

Gowrishankar Hotels

phone: +91 435-2401220

address: Upstairs to New Bus Stand

A Vegetarian Restaurant in the premises of Kumbakonam New Bus Stand

address: Thimmakudi

Multi cuisine vegetarian food.

Murali

phone: +91 4172-645261

address: No 40 Narasojee Rao st

Kavitha Hotel - Thirumanjana Veethi Near Kumbeswarar temple

Meenatchi RestaurantGood veggie food.

Paradise ResortTry it for over the top stuff.
Drink
Coffee
. You'll be missing the essence of the trip if you didn't taste the coffee here. Kumbakonam filter coffee is one of the best in India.
Kannan Cafe

address: Near SRVS

Mangalambiga Coffee & Tiffin Center

phone: +91 4352400228

address: 99.kumbeswarar north st

good vegetarian hotel

Taj Samudra Hotel & Restaurant

phone: +91 435-2401332-2332

address: No:80 Nageswaran south st

Lunch Meal ₹60/-
Sleep
There are quite few good hotels that one can stay in. It is better make an advanced reservation to save time from running around to find a good place, especially when you have the family with you.
Adithya Hote

phone: +91 435 2421794

Hotel Kasi International

phone: +91 435-2001712

phone: +91 98412 88000

address: Mantra Veppathur, No.1 Bagavathapuram Main Road Extension, 536 / 537 A Sri Sailapathipuram Village, Veppathur - 612 103 Kumbakonam. Thanjavur District. South India , E-mail: subbu@mantraveppathur.com

An Eco-friendly, high end traditional, pure vegetarian resort. Mantra Veppathur invites you to experience their blend of traditional values, faith & spirituality of Veppathur – a very vibrant and fertile destination with the ideals of relaxation & a healthy well being. The resort is spread over several acres on the banks of river Veera Chozha on one side and river Cauverey on the other side.

Murugan CafeVery comfortable stay. Has A/C rooms as well.Rooms are neat and clean. Well maintained. Also has a vegetarian restaurant.

phone: +91 4353291354

address: 3/1216 tanjore main road,Darasuram (Near Swamimalai )

Eco Friendly Traditional River side Resort,very clean & neat room,Swimming pool,known for the food,easy access,centrally located to visit all the navagraha temple,authentic ayurveda,yoga.on the bank of the river arasalar(branch of cauvery) Mobile or handphone +919943311354,9943311353

phone: +91 4352403181

address: 122, Kamaraj Rd

A star class business hotel. A competitive and luxurious hotel having all rooms with A/C, spacious lobby, 5,000 Sqt car parking area, free internet wifi, Curry Leaf Multi Cuisine Reasturant.

Rama Cafe

phone: +91 435-2402940

address: mahamaham tank west

Good vegetarian hotel

phone: +91 435-2425276, +91 435-2426276

address: 60 feet main Rd

Hotel with a vegetarian restaurant.

Sterling ResortThis is on the outskirts of the town, but easily commutable if you take an auto or hire a taxi
Go next
The Brihadisvara Temple of Gangaikondacholapuram (an UNESCO World Heritage site)
Konerirajapuram - an ancient Chola temple about 1/2 hour drive off the Kumbakonam Karaikal road. The world's tallest bronze Nataraja is housed in this temple, the statue is bigger than that at Chidambaram. There are also ancient inscriptions and frescoes from various periods in Tamil history. Well worth a visit.