Kuranda
Kuranda
is a small town in
Far North Queensland
adjoining the
Barron Gorge National Park
. It's only around half an hour to drive from
Cairns
, and the scenic trip by train or SkyRail makes an extremely popular day trip. The village and markets are overflowing with visitors during the middle of each day.
Get in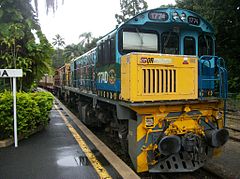 Many people combine the Kuranda Scenic railway and the skyrail, travelling to Kuranda on one and returning on the other. From the scenery point of view, take the railway first in the morning and after that make the Skyrail trip - take your time to stop and look around in the
Rainforestation
on the way back to the coast. After arriving at the coast side (great views), you have the opportunity to visit the Tjapukai village to learn something about the Aboriginal culture. You can book both directions through either service, but if you are booking late, you may have to book separately as they allocate each other a limited number of seats.
Combining the two is more expensive, both in terms of time and money. They both offer significant discounts for taking their service both ways, and only small discounts for combining the two. In addition getting from the Skyrail base station back to Cairns station is another logistical hassle, or additional cost if you pay for the transfers.
If you want to do the round trip with the Skyrail and the train and don't feel like coordinating with local buses, there are a number of tour companies that package that journey for you, including tickets and transfers.
If you are travelling up to Kuranda with luggage, bear in mind that neither the Skyrail nor the railway cater for large amounts of luggage. The Skyrail will not carry any luggage at all, and the amount is strictly limited to what will fit in the luggage space in the passenger compartment on the train. There is no problem with prams and daypacks, but neither of these methods of transport may be suitable if you are doing more than a day trip to Kuranda.
Get around

Kuranda is a small village, although somewhat hilly. Walking about 1km will take you from one end of town to the other. Don't count on being able to walk quickly, as the streets tend to be packed with people.
A one-way courtesy bus between the Skyrail and scenic railway stations at the south end of town and the wildlife attractions at the north of town. The bus departs every twenty minutes, but most people walk the distance.

See
phone: +61 7 4093 9188

Heritage Markets, Rob Vievers Drive. Birdworld is a large mesh canopy, open to natural light in which you can wander among free flying birds armed with an identification sheet to pick them out. The birds are divided evenly between colourful parrots and drab quails and doves with the addition of some cassowaries fenced away from people wandering around the circuit. Entry is $14 for adults, $5 children and $29 for families with two adults and 2 children. A combined pass with the butterfly sanctuary and the Koala Gardens is $33 adults and $16 children.

Kuranda Koala GardensHeritage Markets, Rob Vievers Drive. The Koala Gardens is a small wildlife zoo housing Australian native animals. In addition to koalas there are kangaroos, crocodiles, snakes and lizards. Visitors can hold a koala and have their picture taken. Entry is $14 for adults, $7 for children. Photo holding a koala will be an extra $15. The kangaroos and wallabies are tame and friendly and you can grab a free handful or two of feed at the entrance to their lawn.

Australian Butterfly Sanctuary

address: 8 Rob Vievers Drive

The butterfly sanctuary is an aviary containing rainforest butterflies - Birdwings Ulysees and more, its great for Kids. Open 9:45AM to 4:30PM, with guided tours from 10:00 to 3:15PM. Wear bright colored clothing to get the butterflies to land on you.

phone: +61 7 4085 5008

address: Kennedy Highway

This award-winning attraction is situated five minutes from Kuranda Village. Experience the tropical rainforest on both land and water aboard an amphibious World War II Army Duck. Learn about aboriginal culture with the Pamagirri Aboriginal Experience, including a traditional dance performance and boomerang throwing, spear throwing and didgeridoo playing. See native Australian animals including kangaroos, koalas, crocodiles, wombats, dingoes and the cassowary.

address: 7 Therwine Street

Established in 1959, Honey House Kuranda continues to offer tourists the chance to see live bees working hard to make honey and to sample over 20 North Qld premium raw honey varieties. There is also fresh honeycomb, medicinal honeys and beauty products all made with the highest quality honey.
Skeleton Creek
Do
Much of what there is to do in Kuranda, is part of getting in - that is the SkyRail or the Train.
Barron Gorge walksAmazing waterfall-carved gorge 3 km from town. The waterfall is a trickle in the dry season jumping to a torrent in the floods. The road makes a good bushwalk for those with time. Oddly missing from many guidebooks, or understated.
Buy
Kuranda is famous for its markets. They run everyday and have a wide range of crafts and locally made products. It's just a short walk from the Skyrail or the Kuranda Scenic Railway station to the village. The shops and markets open from 9.00AM and many close when the last train leaves at 3.30PM. The Original Rainforest Markets are located in Therwine Street behind the famous Honey House.(see listing above)

Eat
There is no shortage of cafe style places in Kuranda. Wander around and choose one that takes your fancy. Take-away food is also plentiful, in many different styles.
The markets have a range of stalls selling food, or even some eat-in style shacks with a view.
address: 11 Coondoo Street

One of the original buildings in the village centre built 1923 Frogs has been operating since 1980. A great laid back spot with lots of atmosphere
Drink
Try the "Bottom Pub" just near Skyrail for a bit of local atmosphere - not bad

Go next
Cairns Wildlife Safari Reserve is located 10 mins drive west of Kuranda. Here you can view lions, tigers, bears, hippos, babboons.