Kusatsu
Kusatsu
(草津) is a famous hot-spring resort in
Gunma
,
Japan
. It is one of the
Three Famous Springs
(三名泉) in the 17th century ranking of Hayashi Razan, and remains highly rated and popular.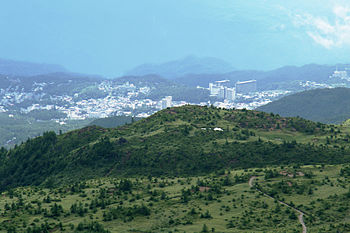 Get in
Unusually enough for Japan, Kusatsu does not have a train station of its own. The nearest station is (長野原草津口駅) on the JR Agatsuma Line. The limited express
Kusatsu
runs twice in the morning (10:00 and 12:12) from Ueno Station in
Tokyo
, taking 2 hr 20 min and costing ¥5,070, from which you can take a connecting bus (25 min, ¥670) to Kusatsu. At any other time, you'll have to take the Shinkansen to
Takasaki
and transfer to local services (3 hours, ¥5,810), or the Hokuriku Shinkansen to
Karuizawa
(about 70-80 minutes, ¥5,710) and arrange further transport, or take local trains with 2 or 3 transfers (3½ hours, ¥3,020).
JR also operates the
Jōshu Yūmeguri
(上州ゆめぐり) direct bus several times a day from
Shinjuku
(Tokyo), which takes around 4 hours and charges between ¥3,000 (in advance) and ¥3,600 (on board).
Get around
Kusatsu is not very big and major transportation is going to be bus or car. There is a shuttle bus in winter time. One coin bus is useful for tourist because it is going to provide a tour of most of major tour sites of Kusatsu and it costs ¥100.

See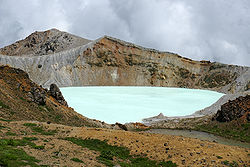 YubatakeLiterally "Hot Water Field", this hot spring in the center of town gushes out 5,000 liters of 70°C water per minute, making it Japan's largest. There is an elaborate cooling system of wooden conduits and a number of baths directly around it.

Joshinetu kogen national parkThe second biggest national park in Japan. There are several mountains, lake, and hills includes shirane mountain.
Kusatsu shirane mountainShirane mountain is an active volcano and the crater lake is famous as a tour site. color of the water of crater lake is emerald green.
Asama Volcano Museum

phone: +81 279-86-3000

Good for from kids to adults to experience power of volcano and a global beat of the earth.
Kusatsu visitor center

phone: +81 279-88-5705

address: Kusatsu 521

To learn the relationship between Kusatsu hot spring and volcano and nature and plants of Kusatsu.
phone: +81 279-88-1011

address: Kusatsu 479

An art museum of Japanese artist Tsurutarō Kataoka. The concept is to be a place which people can stop by with yukata(浴衣) that is Japanese traditional clothes. There is a shop for souvenir.
Tropical zoo Kusatsu Nettaiken

phone: +81 279-88-3271

address: Ooaza-kusatsu 286

A tropical area which people can see different types of animals. In the jungle dome, they create subtropical area by using the hot spring heat and keep in the dome warm, so animals are able to survive.
Kusatsu Berutsu memorial hallSmall exhibit in memory of Erwin von Bälz, who discovered the good effects of Kusatsu hot spring.
Sainokawara ParkA small valley with a river and natural hot springs.
Do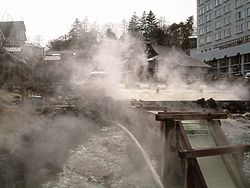 The water in the Kusatsu hot springs is strongly sulphuric, and is famous for making the skin beautiful. (The flip side is that it smells like rotten eggs.) In addition, it is said that Kusatsu hot spring had effect on poor blood circulation, muscular pain, and so on.
Hot spring
Kusatsu hot spring is very famous for the tourists to visit.
Sainogawara outdoor bathThis is the biggest outdoor bath in Kusatsu.

Otaki hot springThere are different kinds of hot springs and it's known as department store of hot spring. There is a restaurant to eat and also people are able to use massage service by appointment in front office.

Berutu hot spring centerThere is a view bath which is covered by a big sunroof, so people are able to feel open and this view bath is big enough for thirty to forty people.

Terume TerumeThis Terume Terume is in the Nakazawa village(中沢ヴィレッジ) which also has hotel, cottage, golf course and ski area. The concept of this facility is German hot spring plus Japanese traditional taste of hot spring. There are warm swimming pool and water sliders and two kinds of area which are hot spring area and swimming suit area.

Kusatsu big bathKusatsu big bath is part facilities of Now resort hotel.

Kusatsu hot spring hallThis hall is one of the facilities in kusatsu highland hotel(草津ハイランドホテル).

Craft and folk craft

phone: +81 279-88-8383

address: Kusatsu city, 872-1

In the city, one of the activities is to experience making Kusatsu craft.

Kusatsu international ski areaIn the winter time, Kusatsu is famous for its skiing area and this place is good to visit. It also is a nice hiking area in the warmer months.
Events
There are several events in Kusatsu throughout year.
Flower festival (花祭り). is on May.
Shirane shrine festival (白根神社祭り). is on July.
Kusatsu hot spring thanksgiving festival (草津温泉感謝祭). is on August.
Summer Insect-collecting (夏休み昆虫採集大会). is on August for family.
Yubatake special light up (湯畑特別ライトアップ). is on March.
Buy
phone: +81 279 88-8146

address: Kusatsu city, 116-2

Souvenir shop.

Honda souvenir shop

Yamagataya souvenir shopThis shop is famous for beckoning cat(招き猫) and there are thousands of beckoning cats in this shop.

center yutakaDifferent kind of unique souvenir items.
Eat
address: Kusatsu city, 497-1

Hand-made buckwheat noodles restaurant which is located on Sainogawara Street. There are varieties of hot soba, cool soba, and rice.

Chikyu-ya

address: Kusatsu city,157

is a good place to eat creation dish. Beef stew is a key item in this restaurant which is made of Joshu beef by boiling for five hours. there is also sweet fish risotto set which price is 1050 yen that os good for lunch. They have some unique named dessert such as "A whisper of an evil " which is a chocolate cake.

cafe・shinkichi

address: Kusatsu city, 524-104

Daily original special bagel will be sold. daily lunch and side menu are served and serve few kinds of alcohol drink.

Taketomo dining

address: Kusatsu city, 486-5

is a dining which is located on center of the Kusatsu city and famous menu is "Maitake-mushrooms pork cutlet", price is 1580 yen. They serve hot and cool soba, and different types of bowls and law meal which will be served main dish with few side dishes.

Donguri

address: kusatsu city, 562-16

is a famous European restaurant. they have been taken up with television and magazine. a famous item is acorn hamburg for ¥1050.

Tuki-ya

address: kusatsu city, 470-30

is a famous Shabu-shabu restaurant which was opened in 2006. It's taken up with TV and key item in this restaurant is "pork shabu-shabu set' for 1700 yen.

ma Sushi

address: kusatsu city, 340

is located in center of Kusatsu and local people often go this place. They provide variety kinds of sushi and each season, they have special menu. This place is often used as party place.

Kusatsu Plateau Beer

address: Kusatsu city,454-13

Beer which is good for health is the feature and a target. Water is from Czech republic.

Ramen ichiban

address: kusatsu city,116-2

It serves eight types of ramen.

Ryu en

address: Kusatsu city,116-2

Ryu en is a Chinese restaurant just in front of yubatake(湯畑.
Sleep
Hotels with outdoor bath
Kusatsu hot spring hotel resort

phone: +81 279-88-2109

address: kusatsu city, 15-8

Daito kan

address: kusatsu city,126

address: kusatsu city,360

Nara ya

phone: +81 279 88 2311

address: Kusatsu city,396

Hotel village

address: Kusatsu city,618

Hotel Takamatsu

address: Kusatsu city,312

phone: +81 279-88-2272

address: Kusatsu 280-4

Medium-sized ryokan with outdoor hot spring.
Go next