Kyaiktiyo
Kyaiktiyo
, also sometimes written
Kyaikhteeyoe
, is a small pilgrim town in the mountains almost 200 km from
Yangon
in
Southeastern Myanmar
, famous for its golden boulder and pagoda balancing precariously over a cliff.
Understand
There is a lot of confusion about the actual name of the location of the Golden Rock and the related cities. In the following all three are explained:
KyaiktoThis is the town on the highway, 14 km from Kinpun and 28 km from Kyaiktiyo.

KinpunThis is the town at the foot of the mountain, sometimes called "base camp", where most people will spend the night.
KyaiktiyoThis is where the Golden Rock can be found. Temples and this town have built up around the Golden Rock on top of the mountain to serve the thousands of pilgrims every day in high season.
In addition, there is always a big discussion whether it is worth to come here or whether this is just a touristic scam. However, remember that this is a major pilgrim side in Myanmar and not just made to rip-off western tourist. Yes, the latter have to pay a steep surplus, but is $10 really worth this discussion? There are probably more worthy discussion, like the city fee in
Bago
or the Shwedagon pagoda fee in
Yangon
. So best to switch off this unease by simply planning in an additional 10-15,000 kyat for this busy sight that even includes a crazy truck rollercoaster ride through the mountains.
Get in
Most people come to visit the Golden Rock, and there is no real reason to stay in Kyaikto. Instead, most people stay in Kinpun or on top of the mountain itself (Kyaiktiyo). Due to the popularity there are direct buses from all over Myanmar to Kinpun.
Bus
If you have to get out at the (for buses going further to Mawlamyine, Hpa-An, Bago or Yangon), do not take the motorbike-taxis to
Kinpun
, they will approach you in a mob-fashion and try to scam you. They will try to make you believe that there is no pick-up going to Kinpun and you have to take a motorbike taxi for 1,000 kyat or more. Do not trust them and do not let them follow you, if you try to get some information from other locals, the motorbike-drivers will speak with them first and these locals will then tell you the same story. There is a regular pick-up going from Kyaikto to Kinpun running all day for 500 kyat. Just get rid of the annoying motorbike-drivers and ask all the pick-ups until you find the right one. Alternatively walk north towards and cross the to reach the road behind it, which is the one leading north to Kinpun. It should also be easy to catch a ride there by hailing the passing vehicles. If you have bought a bus ticket for all the way to Kinpun, the pick up should be included in the price.
Train
Kyaikto
has up to three (bumpy) trains a day coming in from Yangon and Bago, departing in Yangon at 07:15, 18:25 and 21:00 and arriving at 11:55, 23:17 and 01:27, respectively. Likewise, there are three trains from Mawlamyine, departing at o8:00, 19:30 and 20:55, respectively. The prices for upper class are about 2,500 kyat from Yangon or Mawlamyine. Ordinary class from Bago to Kyakto is 650 kyat.
Get around
Hitchhiking the 14 km between
Kyaikto
and
Kinpun
is possible due to the numerous pilgrim transports in both directions. When going with locals, hide yourself when passing by the police station, which is less than 1 km from Kinpun.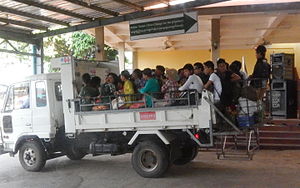 From
Kinpun
uncomfortable (but nonetheless interesting and exiting) trucks with up to 45 wooden/metal plank seats head rollercoaster-like up the mountain to
Kyaiktiyo
. They start at the when fully packed with pilgrims and tourists, which can take a long time in low season. The one-way price is 1,500 kyat (half-way) or 2,000 kyat (to the top). If you decide to get out half-way, you have to walk up stairs for about 45 min. However, finding a truck that gets filled with pilgrims and tourists that only go half-way is harder. Contrary to this, there is another rumour that sometimes tourists are only taken half-way to benefit the human carriers. Either way, you will have to adapt. Check when the last buses are going down the mountain again to avoid getting stranded. Mostly this will be around sunset time.
There is a new chairlift in construction, you may see the ongoing work on the other side of the hill from the pagoda.
Walking up the mountain from Kinpun is also possible and takes about 4-5 h. In rain season, you can still walk up all the way but a rain cover is essential. You will most likely be the only one then. It's still a great experience as people might invite you for a tea to wait for the shower to stop.
In the other season walking up is a great experience and you might do some new friends walking up. There are a lot of shops selling water and souvenirs (and crafting them) and you might have a lot of points where you might rest. There is also is school where you might pass by, and you will have an insight of how theese poor inhabitants live. Do remember still to bring some water (but you may buy it on the way) and to put on a lot of suncream, as it will be very hot. Try the cold homemade beveradge wich is sold.
It is possible to be carried up the mountain on a litter or sedan chair for around $US8. Not advisable for overweight tourists with some self-respect.
See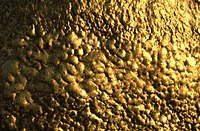 The Golden RockThe colour of the rock and the surrounding area filled with thousands of pilgrims on top of a mountain is already very impressive. The legend is that the rock is held in balance by two hairs of Buddha. Near the rock you can buy gold leaves to put onto the Golden Rock, but not allowed for women, 5 leaves cost 1,800 kyat. No camera allowed. Recommended to arrive early for viewing at sunrise, athought this is not possible from Kinpun. In rain season be prepared to only see the rock as a dark shape in the mist.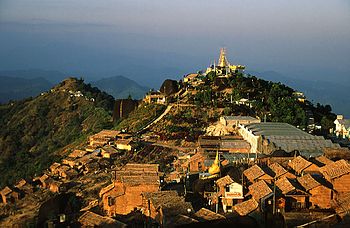 Kyaiktiyo village(s)The village(s) behind the Golden Rock are interesting and allow for some relaxing but also steep walks up and down along the ridge. You can buy little things, have a coffee, a sweet coconut drink or a Burmese meal, or get frightened by the dead animal shrines put up in the stalls every 50 m or so. Since this is on the opposite side of the pagoda area, don't leave your shoes in the lockers at the beginning if you want to do some walking. Ask for the way to waterfall if you are not busy enough yet.
Do
Beer RiverBeer River is a small swimming area with several restaurants and bars. You can sit on some tables that are in knee-deep water, others that are in the shade. The water is relatively clean and it is a great place to cool off on hot days.
Buy
There are numerous shops and street stalls in, before and behind the pagoda area in Kyaiktiyo selling everything a pilgrim needs or not.
In Kinpun many malls and shopping centres cater for the pilgrims and tourists.

Eat
The selection of restaurants in the surrounding areas of Kinpun and Kyaiktiyo range from basic and practically identical to luxurious and delicious. Most restaurants in Kyaiktiyo are on the other side of the pagoda area, so do not leave your shoes at the lockers.
Kinpun has a somewhat better selection of restaurants close to the truck stop.

Drink
Try one of the busy restaurants in Kinpun. In Kyaiktiyo the Mountain Top Hotel is recommended.

Sleep
You can stay in the temple containing the Golden Rock up on the mountain in Kyaiktiyo with hundreds if not thousands of other pilgrims. But remember to bring a mattress and good sleeping bag, because it can get cold, and maybe a mosquito net. Also prepare in case of rain. In high season, finding a place to sleep, where people are not constantly walking across you, can be a challenge. If weather permits, you can also sleep outside on the pagoda floor, having a nice view on the rock or on the sourroundings. You will be able to be in a close contact with some friendly burmese and it is very safe.
Kyaikto
Golden Bliss Hotel

phone: +95 9 8723172, +95 9 8723272

New, relaxing and quiet guesthouse to avoid the crowds in Kinpun. It has about 20 spacious rooms and bungalows, comfortable and well maintained. Simple breakfast, WiFi, hot shower and TV, and mini-bar in the bungalows. It also contains a large pomelo garden. The staff is friendly and helpful. Try the pickled tea leaf salad for a meal.
Kinpun
Budget
Pann Myo Thu InnFriendly and helpful English-speaking staff, as well as cheap prices. A basic toast, egg and coffee breakfast is add an additional 1 USD per person. During the rainy season, you will most likely be the only guest and prices are negotiable. Rooms inside the main building are dark, with super thin and smelly mattress, short beds (walls in the way), share a rather dirty bathroom and you will be able to hear every word from neighbouring rooms. However, rooms in the second building are cleaner, bigger (for 4 persons) and more modern with comfortable mattresses and private bathroom. Has WiFi.

Sea Sar GuesthouseHas a variety of rooms, from dark and doggy rooms to nice and clean bungalows. They have something for everyone's budget, ask for a discount. Can be loud due to the swarms of pilgrims in the nearby Truck Station. Price includes breakfast and Internet. The staff are helpful and friendly.

Diamond Golden Land Guest House

5Star Guest House
Mid-range
Bawga Theiddhi Hotel

phone: +95 9 492 99899

address: Golden Rock Mountain Road, Kinpun

High rating on booking and cheaper than the other mid-range options. Can be loud though due to its location next to the junction.

phone: +95 9 8723301, +95 9 500351, +95 9 701027, +95 9 2305559

Mid-range bungalows in a pleasant setting just outside town (but easily walkable). 12 spacious rooms in a lush garden, AC, large bathrooms hot and cold showers or bath, satellite TV, minibar, laundry service. Restaurant & bar with Asian & Western dishes, and snacks & drinks.

Lotus Da Dar

address: Golden Rock Mountain Road, Kinpun

Lotus Da Dar is a quaint bungalow complex with excellent food, decent WiFi (stellar by Burmese standards), and a convenient location right at the base of the mountain. The rooms are clean and cheap, and it's next to "beer river".
Kyaiktiyo
Yoe Yoe Lay Guest House

phone: +95 9 8625177, +95 9 425316888, +95 9 32559394

A little cheaper than its hotel sibling but probably not more worth it.

phone: +95 9 8723082, +95 9 8625144, +95 9 49576444, +95 9 261531238

Certainly the best and cheapest option on top of the mountain (even better than its guesthouse sibling) and right next to the Golden Rock. They have 4 bedrooms for larger groups. Includes WiFi & breakfast. The hotel overthrones the village beyond the religious grounds.

Mountain Top Hotel

phone: +95 1 502 479

The rooms are nice including hot shower and breakfast, although the hotel and restaurant are quite expensive. The staff are helpful and friendly.

Kyaik Hto Hotel

phone: +95 1 536 003

Rooms are wet and mouldy. The price is not really justified, and no sign of superior and deluxe as proclaimed in the price information. Rating of 5.9 points on Booking.
Go next
The train from Kyaikto to Bago (7 h) and Yangon (9 h) leaves at 12:33, 23:55 and 01:30. The 5 h train to Mawlamyine leaves 11:57, 23:20 and 01:30. Both directions are about 2,500 kyat for upper class. For more details see
Seat61.com
, or ask directly at the train station where you also will have to buy the ticket upfront.