Lake Erie Islands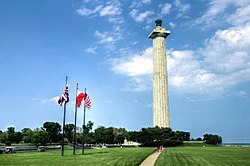 The
Lake Erie Islands
are in Lake Erie, one of the five
Great Lakes
in
North America
and serve as a major tourist, resort or summer home destination. Comprising islands which belong to either
Ohio
on the southern
US
side or
Ontario
on the northern
Canada
side, the islands are accessible via ferry boat from a number of locations. Lake Erie was named after the Erie Native American tribe who lived along its southern shore prior to exploration by Europeans.
Significant Islands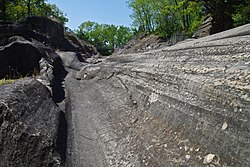 — The most significant tourist destination containing the village of .
An island known for its nature.
A large but sparsely populated island on the Canadian side with many birds.
Minor Islands
A government nature preserve. No entry allowed without special permission.
An Island owned by the Ohio State University. Open to tours.
Get in
By boat
Four different ferry boat lines provide service from the mainland to Ohio's Lake Erie Islands which include The Jet Express, a high speed passenger ferry, Miller Ferry Lines, and Kelleys Island Ferry, and the Goodtime which does a daily island hopping cruise.

By plane
Most islands have small airstrips capable of handling small propeller planes. Travelers traveling by air will either need to be pilots, or hire one, as there are not regularly scheduled flights to the islands.

Get around
By boat
It is sometimes possible to take a ferry directly between islands.
Private boats may travel anywhere so long as they respect the border, and the firing zone of Camp Perry (Keep tuned to Channel 16 VHF while near the camp).

By bike
Cycling is much more practical on the islands compared to the mainland, as distances are only a few miles at most, road speeds are low, and the fee to take a bike on a ferry is generally much lower then to take a car. It may also be possible to rent a bike on the larger islands.

By car
To take your car to an island, you will need to pay for a more expensive ticket on a car ferry, and for more popular islands you may need to reserve a spot your car on the ferry in advance. On islands, Golf Carts are a popular form of transportation, and you may see them along the coast as well. If paying the car fare is undesirable, you can park your car on the mainland, board on foot for a cheaper fare, and then rent a golf cart on the island.
There are few to no auto repair places on each island. Don't bring a lemon, a tow back to the mainland is expensive.
Gas stations are typically near the Marinas. There are not dedicated electric car chargers on the islands, however there is electricity for slow charging.

See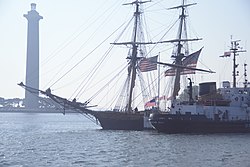 South Bass Island is home to Put-in-Bay and Crystal cave. Kelleys Island offers is more sparsely populated and offers the opportunity to enjoy nature at Kelleys Island State Park and Glacial Grooves State Park.
Do
Swimming, Boating and fishing are obvious but enjoyable lake activities.
Lake Erie hosts a large number of shipwrecks, making it a great place to go
diving
Eat
Restaurants are plentiful on larger islands, but options are limited on small islands. Fish such as perch and walleye are staples.
If you plan on making your own meals from groceries, bring as much as possible with you from the mainland. Food has to be shipped by boat to island groceries, which makes it more expensive then the same stuff mainland. There are no supermarkets on the islands, so the variety is also limited to basics.

Drink
Most island restaurants double as pubs, it's rare to find a dry restaurant. Some islands have wineries.

Sleep
Most of the larger islands offer hotels or campgrounds. Rental Cabins and Bed and Breakfasts are common.

Stay safe
The lake can be temperamental, and the waves can be choppy. Like the ocean, riptides can occur, however it is harder to stay afloat due to the lack of salt.
Boaters should be cautions near Camp Perry. Tune to Channel 16 VHF for information regarding firing times. The Ohio Naval Militia sometimes patrols the firing area during drills, but is not be able to help at all times.
In the winter, the parts of the lake may ice over. For more information, see
Ice safety
.
Go next