Lake Placid
Lake Placid
is a village of 2,638 in the
Adirondack
Mountains in Essex County,
New York
, near the center of the town of North Elba and named after an adjacent lake.
While the village is a year-round resort, it is most known as the site of the 1932 and 1980 Winter Olympics. In a 1980 USA-USSR hockey game, the "Miracle on Ice," a group of American college students and amateurs upset the heavily-favored Soviet national ice hockey team 4-3. Two days later, they won the gold medal.
Lake Placid hosts a Winter Olympics summer training facility where one can watch sports like ski jumping, aerial jumping and figure skating. The town is charming and fun for the outdoorsy and/or adventure-spirited.
Get in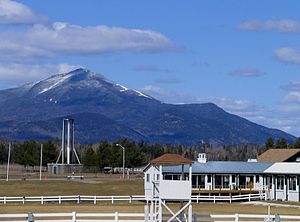 By car
Lake Placid is about 5 hours from
New York City
and 2 1/2 hours from
Montreal
. From Interstate 87 take Route 9N and follow the signs.
By bus
address: 2634 Main Street

Highway coach between New York City, Albany, and Lake Placid with stops along the way.
By train
AmtrakClosest station is Westport, 40 miles east of Lake Placid. Amtrak runs a shuttle bus service to the village.

address: 242 Station St, Lake Placid

Scenic tourist railroad line from Utica's Union Station to Saranac Lake.
By plane
The Lake Placid Airport serves only charter and scenic planes. The closest domestic airport is Adirondack Airport (
SLK
) in Saranac Lake. Plattsburgh is international in name only (no scheduled international flights); the nearest international airports are Albany, Burlington, and Montreal.

Get around
While it is easy to get around downtown on foot (arguably preferable, in fact, given the frequent traffic snarls on Main Street), and there is a free trolley service along the lake, you'll need a car to see any of the nearby area.
To get out onto the lake, short-term (one hour) boat rental is available.
phone: +1 518 524-7890

address: 1 Main Street
See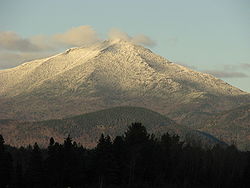 Lake Placid is in the Adirondack Park, the largest state park east of the Mississippi River. It is home to 46 High Peaks, all of which rise above 4000 feet, and many of which can be viewed simultaneously from the summit of many of the neighboring mountains. On a clear day it is possible to see Vermont, New York, and Canada from the summit of Whiteface Mountain, which is located adjacent to Lake Placid.
Lake Placid Center for the Arts

address: 17 Algonquin Dr.

Gallery and live theater

John Brown Farm State Historic Site

phone: +1 518 523-3900

address: 115 John Brown Road

The home and grave of abolitionist John Brown, hanged by the state of Virginia for a 1859 raid on the federal arsenal at Harpers Ferry (now West Virginia), a key milestone on the path to a deadly Civil War which led ultimately to the liberation of enslaved African Americans. Historic house with picnic area, guided tours and re-enactments, hiking and cross-country ski area.
Do
Winter
;Ice climbing: Adirondack ice forms reliably from November to March. Keene Valley boasts some of the best ice climbing in the northeast.
Rock and River Adirondack Guide Service

phone: +1 518 576-2041

address: Keene, NY

In early December, creates a forty foot high ice wall complete with viewing benches and spotlights for those looking to extend their experiences beyond the daylight hours.

phone: +1 978-808-6932

address: Bartlett, NH

Photos, information, ice conditions.
;Speed Skating: The famed Speed Skating Oval in Lake Placid, home to some of the greatest legends in Winter Olympic history, is open to the public for speed skating and public skating sessions during the winter.
phone: +1 518-523-1655

address: 2634 Main St.

Public skating 7-9pm daily (except Tu,We) plus 1-3pm weekends. Speed Skating 4-6pm daily (except Tu,We) plus 10am-12pm weekends. Gold Medal Café open 8:30am-3:30pm Mon-Sat between the 1932 and 1980 Rinks.
;Cross Country Skiing: Miles of groomed Nordic ski trails on the famous Jackrabbit trail system, extending from Saranac Lake to Lake Placid, include amazing views of the High Peaks... or try your skills on Olympic trails.
phone: +1 518 523-9605

address: 4833 Cascade Rd.
;Maple Syrup: Each year, the sugary scent of maple sap being boiled down to syrup fills the mountain air in time for the spring thaw.
South Meadow Farm Maple Sugarworks

phone: +1 518 523-9369

address: Cascade Road, Route 73

Full line of maple products, sugar house open year-round during day light hours.

Uihlein Sugar Maple Field Station

phone: +1 518 523-9337

address: Bear Cub Road

Research facility with exhibits of maple syrup production, open to the general public.
;World Cup Events: From snowboarding, bobsled, luge, skeleton to freestyle skiing, see some of the greatest talent each sport has to offer and enjoy the feats and skills of athletes who train year-round for the chance to compete against the best.
Summer
;Mountain and road biking
Lake Placid is home to some of the best mountain biking in the northeast. The trails are technical and range widely in levels of difficulty. Two local bike shops offer group rides during the summer. Mt. Van Hovenburg and Whiteface Mountain are popular for cross country and downhill riding. For road biking, some of the best views can be seen between Lake Placid and Keene, as well as around Essex County.
phone: +1 518 523-3764
address: 2733 Main Street
phone: +1 518 523-4128

address: 2242 Saranac Ave

Bike rental, sales, service, ski and snowboards.
;Whiteface Mountain:The 8-passenger Cloudsplitter Gondola takes visitors from the base of Whiteface to the summit of Little Whiteface in about fifteen minutes with views of the trails, the Ausable River, and the Intervale Ski Jumping Complex. The Veterans Memorial Highway from
Wilmington
rises to the summit of Whiteface Mountain with a parking area at the top.
;Biathlon: With the help of a range attendant, test your marksmanship with .22 caliber biathlete rifles at the Olympic shooting complex at Mt. Van Hovenburg. The shooting distance is 50 meters.
;Hiking: All 46 High Peaks of the Adirondacks can be reached from the vicinity of Lake Placid by car. Some are more strenuous than others, and while many have well-beaten paths leading to their summits, many require significant bushwhacking to ascend. Local guides are available. Be sure to set out with a group of people with plenty of water, food, rain gear and safety equipment.
The
Northville Placid Trail
(NPT) is a 133-mile footpath that crosses the heart of the Adirondack Park in New York State from Northville, NY to Lake Placid, NY. It is considered a lowland trail in that it doesn't cross mountain peaks or follow mountain ridges. The trail passes through what many consider the wildest and most remote parts of the Adirondack Park, notably the high plateau that encompasses the Spruce, West Canada, and Cedar lakes area, along with that of the Cold River. The highest point the N-P Trail reaches (3008 ft) is at the crest of the ridge to the E of Blue Mt. and Tirrell Pond.
Buy
Eat
Most visitor-targeted restaurants can be found on Main St. along the lake front. More local options are on Highway 86 and 73 on either ends of town.
Budget
phone: +1 518 523-4897

address: 2126 Saranac Ave

Selection of deli sandwiches and homemade breads baked daily, country breakfasts.

Soulshine Bagel

phone: +1 518-523-9772

address: 2526 Main St

Breakfast, lunch. Bakery with fresh bagels, made-to-order fruit smoothies and many sandwich options. Cash only.

Cuppa Joe

phone: +1 518 523-3479

address: 2241 Saranac Ave

Sweet, friendly service and excellent paninis, sandwiches, all-day breakfast and lunch.
Mid-range
Black Bear Restaurant

phone: +1 518-837-5166

address: 2409 Main St

phone: +1 518 523-4539

address: 2436 Main St.

Great for croissants and scones with coffee in the morning

Great Adirondack Steak and Seafood Company

phone: +1 518 523-1629

address: 2442 Main Street

Upscale pub grub including meat, fish, and (a few) veggie options in a dark wood and leather decorated room across the street from the lake. Brunch served on weekends. Children's menu.

phone: +1 518-523-2093

address: 6125 Sentinel Road

Burgers, wings, bar, patio, relaxed atmosphere and lots of fun

Mykonos

phone: +1 518 523-1164

address: 2279 Saranac Ave

A taste of Greece in the Adirondacks. Outdoor seating.

phone: +1 518 523-5853

address: 211 Main St.

Italian. Mid-range to upscale Mediterranean dining.

address: 2567 Main St

Bakery, specialty desserts.

phone: +1 518 891-0777

address: 1152 NY Route 86, Ray Brook

Outdoor BBQ and fish fries, live music, full bar. Cabin rentals.

phone: +1 518 523-9789

address: 2250 Saranac Ave

Homemade sauce, pasta, and pizza

phone: +1 518 837-5052

address: 2543 Main Street Lake Placid, NY 12946

Open for breakfast, lunch and dinner. The goal is to keep it as local and fresh as possible, showcasing many wonderful farms and products that are grown, raised and cultivated in New York's Adirondack region. You can enjoy a meal looking out over Mirror Lake. Outdoor seating is available as well.
Splurge
Drink
There are several bars right along the main strip of the town.
phone: +1 518-523-3813

address: 813 Mirror Lake Drive

Restaurant with pub fare and desserts. Microbrewery has several in-house mixtures, an Espresso Beer which tastes mostly like coffee, an Oatmeal Beer and their award-wining Ubu Ale. Brewery tours 4:30pm Sat or by appointment.

Zigzags

phone: +1 518 523-8221

address: 134 Main, Saranac Lake

Billiards and live music, bobsled out front.
Sleep
There are numerous resort hotels located in town as well as bed and breakfasts in the surrounding area. If a longer stay is desired, various condominiums and timeshare plans are available as well.
Go next
Keene Valley is less than twenty miles away and offers great hiking, camping, and climbing.
Wilmington is less that twelve miles away and offers great hiking, downhill skiing, ice climbing, mountain biking, and fly fishing. It is the home of Whiteface Mountain which hosted the downhill skiing events for the 1980 Winter Olympics. It is also home to the West Branch of the Ausable River which is considered one of the best trout streams in the East. Near Wilmington is North Pole (New York), an early Christmas theme park.