Laos
Laos
(ສປປ ລາວ) is a nation in
Southeast Asia
, known for its mountainous terrain, French colonial architecture, hill tribe settlements, and Buddhist monasteries.
Regions
Hilltribe villages, mountains, and the remarkably charming former capital
Southeast Asia's sleepiest capital city and rural countryside
The Mekong flatlands, more mountains, and the area least-visited by tourists
Cities
— the still sleepy capital on the banks of the Mekong River
— in the north, on the Mekong and the border with Thailand
— capital of the north, known for its trekking
— a UNESCO World Heritage City known for its numerous temples, colonial era architecture, and vibrant night market
— also known as Oudomxay, the capital of the multi-ethnic province of Oudomxay
— halfway point on the overnight slow boat between Huay Xai and Luang Prabang
— gateway to the Wat Phu ruins and the "four thousand islands" (Si Phan Don)
— in the south on the Mekong, connected by bridge to Mukdahan in Thailand
— a popular base for exploring Phou Hin Boun National Park including the famous Konglor Cave
Other destinations
— a two-day ecotourism trek in the north of Laos
— highland with waterfalls, jungles and farmland
— Wat Phu is a UNESCO World Heritage Site with Angkor-style Khmer temples
— beautiful karst cliffs where you can discover hilltribe villages, kayak, bike ride or just hang out
— Iron Age cemetery sites near Phonsavan; also one of the main locations to learn about the "Secret War".
— the "four thousand islands" are nestled within the Mekong near the Cambodian border
— backpacker hangout for exploring limestone caves and tubing on the Nam Song river
— remote cultural oasis and symbolic cradle of Marxism; see the caves where the Pathet Lao leaders ran their operations in defiance of the West
Understand
Lao or Laos?
The people call themselves Lao and the language is Lao, so where did that "s" come from? The answer seems to be a mistranslation from French: somebody read
royaume des Laos
("kingdom of the Lao people") as
royaume de Laos
("kingdom of Laos"), and the name stuck. The official name, however, is
Lao PDR
and, should you have any incoming mail, using it will increase the odds of it passing the censors.
Laos, officially known as the
Lao People's Democratic Republic
(ສາທາລະນະລັດ ປະຊາທິປະໄຕ ປະຊາຊົນລາວ) (
Lao PDR
), is the only landlocked country in Southeasia Asia and the most sparsely populated. Unlike most countries an Asia, the country has not undergone a major industrialisation and modernisation period; as result, lifestyle remains mostly rural and true large cities are absent. An adjective often applied to Laos is "forgotten", but contrary to what advertised by travel agencies, it is hard to say this applies to tourism as well: Laos gets a number of international visitors only 20% lesser than the
Philippines
, which has a population 15 times bigger than Laos.
Therefore, travellers lured by the prospect of visiting an untouched "Shangri-la" are likely to be disappointed; in fact, cities like
Luang Prabang
,
Nong Khiaw
and
Vang Vieng
are heavily tourist-oriented. On the other hand, Laos can be extremely rewarding for those who are instead drawn by the laid-back lifestyle and the opportunity to knock back a few cold Beerlao while watching the sunsets on the Mekong. Perhaps one of the biggest attractions of Laos is the famous "Lao PDR" -
Lao-Please Don't Rush
.
History
Laos is squeezed between vastly larger neighbours. First created as an entity in 1353, when warlord Fa Ngum declared himself the king of
Lane Xang
("Million Elephants"), the kingdom was initially a
Khmer
vassal state. After a succession dispute, the kingdom split in three in 1694 and was eventually devoured piece by piece by the Siamese, the last fragments agreeing to Siamese protection in 1885.
The area east of the Mekong, however, was soon wrenched back from Siam by the French, who wanted a buffer state to protect Vietnam, and set up Laos as a unified territory in 1907. Briefly occupied by Japan in 1945, a three-decade-long conflict was triggered when France wanted to retake its colony. Granted full independence in 1953, the war continued between a bewildering variety of factions, with the Communist and North Vietnam-allied
Pathet Lao
struggling to overthrow the French-leaning monarchy. During the Vietnam War (1964-1973), this alliance led the United States to dump 1.9 million tonnes of bombs on Laos, mostly in the northeast stronghold of the Pathet Lao: as a comparison 2.2 million tonnes were dropped on Europe by all sides during World War II.
In 1975, after the fall of Saigon, the Communist Pathet Lao took control of Vientiane and ended a six-century-old monarchy. Initial closer ties to Vietnam and socialization were replaced with a gradual return to private enterprise, an easing of foreign investment laws and admission into ASEAN in 1997.
Despite being just one hour by air from the hustle and bustle of
Bangkok
, life in Laos has continued in much the same way it has for hundreds of years, although things are now slowly beginning to change. In the mid-1990s the government reversed its stance on tourism, and then declared 1998 "Visit Laos Year". Since then, tourists in Laos have been rising every year.
In 2017, Laos and
China
started the construction of a high speed rail linking
Kunming
to
Vientiane
. When (and if) complete, the rail connection is expected to have a dramatical impact on the country; Kunming itself has a population 8 times bigger than Vientiane, and in fact, comparable to the entire population of Laos, while only the province of
Yunnan
has a population about 7 times bigger than the population of Laos. It is likely that the face of tourism in the country will drastically change, and the word "forgotten" used to describe Laos will become a forgotten memory itself
Culture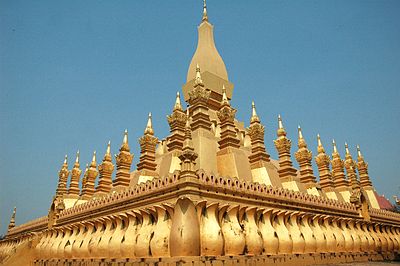 Despite its small population, Laos has 49 ethnic groups, or tribes, from which Lao, Khmou and Hmong constitute approximately three-quarters of the population. Most tribes are small, with some having just a few hundred members. The ethnic groups are divided into four linguistic branches: Lao-Tai language represented by 8 tribes, Mone-Khmer language with 32 tribes, Hmoung-Loumien language with 2 tribes, and Tibeto-Chinese language represented by 7 tribes.
Laos is officially Buddhist, and the national symbol, the gilded stupa of
Pha That Luang
, has replaced the hammer and sickle even on the state seal. Still, there is a good deal of animism mixed in, particularly in the
baci
(also
baasi
) ceremony conducted to bind the 32 guardian spirits to the participant's body before a long journey, after serious illness, the birth of a baby, or other significant events.
Lao custom dictates that women must wear the distinctive
phaa sin
, a long sarong available in many regional patterns; however, many ethnic minorities have their own clothing styles. The conical Vietnamese-style hat is also a common sight. These days men dress Western-style and only don the
phaa biang
sash on ceremonial occasions. Nowadays women often wear Western-style clothing, though the "phaa sin" is still the mandatory attire in government offices, not only for those who work there but also for Lao women who are visiting.
Climate
Laos has three distinct seasons. The
hot season
is from Mar-May, when temperatures can soar as high as 40°C and the humidity makes it feel like 50°C. The slightly cooler
wet season
is from May-Oct, when temperatures are around 30°C, tropical downpours are frequent (especially Jul-Aug), and some years the Mekong floods.
The
dry season
from Nov-Mar, which has low rainfall and temperatures as low as 15°C (or even to zero in the mountains at night), is "high season". However, towards the end of the dry season, the northern parts of Laos — basically everything north of Luang Prabang — can become very
hazy
due to farmers burning fields and fires in the forests.
Get in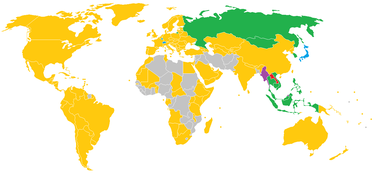 Visas
Visas are not required by citizens of:
Brunei
and
Myanmar
(14 days),
Japan
,
Luxembourg
and
Switzerland
(15 days),
Cambodia
,
Indonesia
,
Malaysia
,
Mongolia
,
Philippines
,
Russia
,
Singapore
,
South Korea
,
Thailand
and
Vietnam
(30 days).
The
website of the foreign ministry
does not prove too helpful in obtaining up-to-date visa information. But the
website of Tourism Laos
provides more useful information on this topic.
Visa on arrival
A visa on arrival is available to most nationalities entering at the airports in
Vientiane
,
Luang Prabang
,
Pakse
and
Savannakhet
. These land border crossings offer visa on arrival: Boten (China), Houay Xay / Nam Ngeun / Kenthao / Vientiane / Thakhet / Savannakhet / Vangtao (Thailand) which includes all friendship bridges, Ban Leui / Nam Kan / Nam Phao / Dan Savanh (Vietnam) as well as Veun Kham (Cambodia). One passport photo is required although you may be able to pay a US$1 fee for your passport photo to be scanned upon arrival.
As of 2019, the price is US$30 for all except the following nationalities (the list excludes countries not eligible for visa on arrival and those with a visa exemption for at least 30 days):
China: US$20
Sweden: US$31
Austria, Belgium, Cyprus, Denmark, Finland, Greece, Iceland, Ireland, Italy, Liechtenstein, Luxembourg, Moldova, Netherlands, Norway, Portugal, Spain, Switzerland, Turkey, United Kingdom, United States: US$35
India, Nepal, Sri Lanka: US$40
Canada: US$42
Paying in Thai baht (1500 baht ~ US$47 in Jan 2019) is possible too, but the mark-up means that travellers should try to bring US dollars. While Lao kip are usually not accepted for the visa fee, border staff does make exceptions sometimes, however at a bad rate. A US$1 "out of office hours/overtime" surcharge at the Friendship Bridge in
Vientiane
, and a small possibly 10 baht to US$1 entry stamp fee might also be charged.
Visa from the embassy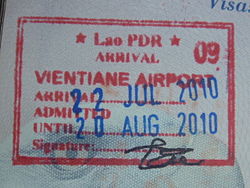 Visas can be obtained in advance from
Lao embassies/consulates
. The fee varies by nationality/embassy; US$40 is common, although can be as high as US$63 (in Kuala Lumpur). Processing times also vary; 2-3 days is typical, though you may be able to pay an extra small amount (around US$5) to receive the visa in as little as one hour. In
Phnom Penh
the travel agencies can arrange the visa the same day (but may charge as much as US$58) while getting it from the embassy takes a few days. Getting a visa from the embassy in Bangkok costs around 1,400 baht for most nationalities, plus 200 baht more for "same day" processing.
It's cheaper and quicker to get a visa at the border
.
Visa extension
Entry permit extensions (sometimes referred to as "visa extensions") are available from the Immigration Department in
Vientiane
,
Luang Prabang
or
Tha Khaek
, the Police Station in
Pakse
, and possibly other cities. Extensions are not possible in Laos' second city,
Savannakhet
, although you can do a border run from there to Thailand to get a new 30-day visa. The cost is US$2.50 per day plus a small "form fee" ranging between 5,000 Kip (Pakse) to 30,000 Kip (Vientiane). The process is very easy; turn up in the early morning with your passport and one photo; fill in a form (in Luang Prabang they do this for you) and come back in the afternoon to collect your passport with an extension stamp in it. If you do this in the late morning or later in the day, your passport will be ready the following day.
If you want to extend for longer than two weeks and are near the Thai border, it can be more cost effective to nip over the border (entry to Thailand is free for most Western nationalities) and return immediately to get a new 30-day Lao visa since
a 30-day visa extension costs US$75
.
By plane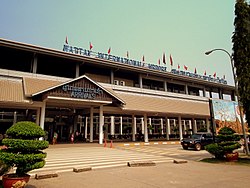 Vientiane International Airport

Luang Prabang International Airport
Those two international airports are served by national carrier
Lao Airlines
,
Lao Central Airlines
, and a few others, including
Thai Airways
,
Bangkok Airways
(Luang Prabang only) and
Vietnam Airlines
. Some seats on flights of Vietnam Airlines are reserved for Lao Airlines (codesharing / better price).
Pakse International AirportThe third international airport, with flights to/from Siem Reap (Vientiane–Pakse–Siem Reap by Lao Airlines) and from/to Ho Chi Minh City. SilkAir has regular service from Singapore to Vientiane and Luang Prabang. There are also regular round trip flights from Vientiane to Kunming, PDR and Incheon, South Korea on Lao Airlines and other carriers.
Laos used to be off-limits to low-cost carriers. However,
AirAsia
now flies to Vientiane from
Kuala Lumpur
three times a week, and offers daily flights from Bangkok to Luang Prabang. Another cheap option for getting to Vientiane is to fly to
Udon Thani
in
Thailand
with discount airlines Nok Air or Air Asia and connect to
Nong Khai
and the Friendship Bridge via shuttle service directly from the airport (40 minutes); from here, Vientiane is away.
By train
There is a bridge across the Mekong from the Thai town of
Nong Khai
to Tha Naleng near
Vientiane
. There are two shuttle services per direction per day, with one timed to connect to the night trains to/from
Bangkok
. Visa on arrival is available when crossing the border by train. The train is
not
a very attractive option because the railway station is in the middle of nowhere, however, there are shuttle buses to take you the rest of the way. Plans are underway to extend the line further into Laos, making it useful for domestic traffic, too.
By land
Most
border crossings open for foreigners
, with an indication where visas on arrival can be issued, are listed on the web site of the
National Tourism Administration
. This list is unfortunately incomplete.
Scam alert
Operators for buses going from Cambodia to Southern Laos will ask passengers for (at least) an additional US$5 on top of the visa-on-arrival fee to facilitate the border crossing. Not agreeing to the extra charge and attempting to obtain the visa independently may result in being abandoned at the border; all bus companies are involved since non-cooperation would likely see them being denied to cross and thus hurt their business. See further below for more information.
Visa on arrival for Laos is available when entering from Cambodia overland, with an official "Visa on Arrival" office incorporated into the checkpoint. The nearest Cambodian town is
Stung Treng
, and the border is a 60 to 90-minute bus ride away. The border is lightly used, with almost no onward public transport available once you passed through immigration, therefore it may be wise to book transport all the way to
Ban Nakasang
or
Pakse
depending on your destination.
If you're buying a ticket from a destination in Cambodia to one in Laos (the most common being Siem Reap/Phnom Penh to Don Det) and you want the border crossing to be as trouble-free as possible, accept that you will have to pay an additional fee that usually isn't lower than US$5 on top of the visa-on-arrival fee applicable to your nationality, current as of 2019. Not including possible mark-ups for the visa, the charge consists of:
$2 Stamp fee on the Lao side
$2 Stamp fee on the Cambodian side
$1 Assistance fee for the facilitator as he gets the Lao visa and entry stamp for you
Note that this is the best case scenario; the "assistance fee" may also be $2 depending on the bus company used, and/or the facilitator will demand a higher total to account for the inflated visa price. While you can decline to use a facilitator, you will nevertheless be asked for the unofficial fees by the immigration officials, as the facilitator merely collects them on their behalf to "speed up the process".
It is possible to at least circumvent the unofficial fees on the Cambodian side
– several reports on the net suggest that the Cambodian officials are quick to give in if you refuse to pay the fee; it seems easiest if you can convince them that you simply don't have any dollars left.
Little public information exists for the Lao side. The officials may or may not try to overcharge you for the visa on arrival. For Canadians, this can oddly result in paying
less
than the official price of US$42. One traveller reported that officials, at least on one occasion, seemed to use US$30 (the official price for most eligible nationalities) as the baseline for passports from Western countries, but then asked a Canadian citizen for US$35 instead. Whatever your nationality, do make sure you know what visa price applies to your passport before you hop on the bus to this border.
Furthermore it is unknown whether one can refuse to pay the inflated visa fee (if applicable), the unofficial stamp fee, be successful
and
be still able to find onward transport to Ban Nakasang,
although this definitely works the other way round
(coming from Laos, going to Cambodia). Getting held up by not paying will likely see your bus leave without you.
For those who want to stand their ground and don't mind possibly having to wait for a few hours in order to beat corruption, there is an option worth trying: Book your transport with any operator to the border only, ideally from Stung Treng with a departure in the morning to have time on your side. Enquire with travel agencies or online to book your
separate
onward transport from the border going North, and make sure it only leaves two to three hours after your arrival at the border. Alternatively, if you're feeling the stars are aligned in your favour, you may be able to catch a minivan or tuk-tuk that some travellers use to get independently to the border from the Lao side; it's unlikely to happen after lunchtime though.
Another pitfall of the journey to the border is that you will often have four changes of bus (number depending on your origin – some vehicles are small minibuses where passengers have to sit on each other's laps), and hours spent driving to remote guesthouses to pick up backpackers.
Asia Van Transfer
(AVT) was set up by a foreign expat and has built a good reputation for not letting passengers wait unnecessarily, not letting them change vehicles and also not overbooking seats, but this means they're also a bit pricier; also, they cannot drive into Laos.
If your luggage has been sent in a bus you are not on, because of "lack of space", it will sometimes disappear. The "King of Bus Company" is known to do this.
The land crossing between
Mengla
(Yunnan) and
Boten
(Laos) is open to foreigners and visa on arrival is possible or you can get in advance at the Lao consulate in
Kunming
. Daily bus service operates from
Mengla
to
Luang Namtha
and
Udomxai
. Buses from
Mengla
to
Luang Namtha
leave from the North bus station. The first bus leaves around 08:00 and costs about ¥40.
Generally speaking, it is not possible for independent travellers to cross from China to Laos via the Mekong River, not least because there's a chunk of Myanmar in the middle and the Lao checkpoint at
Xieng Kok
does not issue visas on arrival. Travel agents in China, including
Panda Travel
, run irregular cruises from
Jinghong
(China) via
Chiang Saen
(Thailand) to
Huay Xai
(Laos), but schedules are erratic and prices expensive.
The Myanmar-Lao friendship bridge connects
Shan State
in Myanmar with
Luang Namtha Province
in Laos.
There are eight border crossings open to all between Thailand and Laos. From north to south: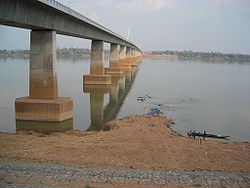 There are at least six border crossings that can be used by foreigners. These include:
Donsavanh - Lao Bao - to/from Savannakhet
Keo Nua Pass
Lak Sao - to/from Khammouan Province
Nam Can - to/from Plain of Jars
Na Meo - to/from Sam Neua
Tay Trang - to/from Muang Khua and Nong Khiaw
Bo Y (nearest town on Vietnamese side being Ngoc Hoi and on Lao side Attapeu)
By motorbike from Vietnam
The border crossing on a Vietnamese motorbike at Tay Trang is very easy and straightforward. You arrive after going over some hills at the Vietnamese border where very friendly guys handle your case easily and with no hassle. You fill out the form for "temporary export of a vehicle", show them the Vietnamese registration card for the bike (which is usually in the owners name) and pay US$10. Then you proceed to the police, show the papers to them and get the exit stamp.
You then have to drive for 6 km over the mountains to get to the Lao checkpoint. There some not so friendly border guards there who expect you to pay 5,000 kip for general fees and 25,000 kip for importing a vehicle. They fill out the form themselves.
Get around
Being in transit by air, road or river in Laos can be as rewarding as the destination itself - but allow plenty of leeway in your schedule for the near-inevitable delays, cancellations and breakdowns.
By plane
State carrier
Lao Airlines
has a near-monopoly on domestic flights. Until 2000, their safety record was terrible, but they've improved considerably and managed a 13-year accident-free streak until an October 2013 crash near Pakse resulted in 49 victims, the country's deadliest air disaster. Nevertheless, the fairly comprehensive network is by far the fastest and, relatively speaking, the safest way of reaching many parts of the country.
As of 2013, the popular
Vientiane
-
Luang Prabang
route costs about US$101 (one-way full fare for foreigners), but covers in 40 minutes what would take you at least ten to twelve hours by bus. Several planes a day. Tickets can be bought on-line or at any travel agency.
Flights to more remote destinations are flown on the Xian MA60, a Chinese copy of the Soviet An-24, and are frequently cancelled without warning if the weather is bad or not enough passengers show up.
Lao Airlines also flies 14-passenger Cessnas from Vientiane to
Phongsali
,
Sam Neua
and
Sainyabuli
(
Xayabouly
) several times a week. These airfields are all rudimentary and flights are cancelled at the drop of a hat if weather is less than perfect.
By road
VIP, minibus or car?
Minibuses are quicker and more expensive, however that doesn't mean they are necessarily better. A typical
VIP Bus
is just an old bus by Western standards (generally retired Chinese tour buses), and may be more prone to breakdowns, but they usually have more leg room which can make a long journey much more comfortable. VIP buses also include a bottle of water, a snack, and a stop for lunch/dinner. Both types are usually air conditioned (though it doesn't always work).
Even more expensive, but certainly the most convenient, is a rented car with driver. A car with a driver will cost around US$95 per day. Some can even drive over the border to Thailand, China, Cambodia, and Vietnam. The cars can be arranged at tour agencies, tourist hotels and car rental companies. The cars are new, so they're reliable. They have the bonus of your being able to stop the car at any time for photos, nosing around a village or just stretching your legs.
The highways in Laos have improved in the past ten years, but the fact that 80% remain unpaved is a telling statistic. Still, the main routes connecting
Vientiane
,
Vang Vieng
,
Luang Prabang
and
Savannakhet
are now sealed, and the transport options on these roads include bus, minibus, and converted truck.
A good source of bus timetables, some basic town maps etc. can be found at
hobomaps.com
Some common routes through Laos include: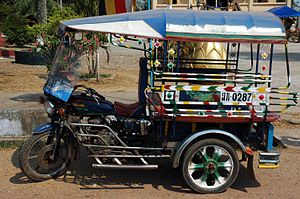 Local transport (less than 20 km) in Laos consists of tuk-tuks, jumbos, and sky labs, motorised three or four wheelers. A jumbo should cost no more than 20,000 kip for short journeys of 1-5 km.
You can now also travel the entire length of the country using a fully guided "hop on hop off" bus service provided by
Stray Travel
. This is the only guided hop on hop off bus in Southeast Asia.
Women
should be aware that often during lengthy bus or minibus trips there is no opportunity to go to the toilet during breaks, so it may be advisable to wear a wide skirt.
By songthaew
A
songthaew
(ສອງແຖວ) is a truck-based vehicle with a pair of bench seats in the back, one on either side — hence the name, which means "two rows" in Thai. In English tourist literature, they're occasionally called "minibuses". By far the most common type is based on a pick-up truck and has a roof and open sides. Larger types start life as small lorries, and may have windows, and an additional central bench; smaller types are converted micro-vans, with a front bench facing backwards and a rear bench facing forwards.
Songthaews are operated extensively as local buses, and generally are the most economical way to travel shorter distances. There also as taxis; sometimes the same vehicle will be used for both. Be careful if asking a songthaew to take you to someplace if there is nobody in the back, the driver might charge you the taxi price. In this case, check the price before embarking.
By tuk-tuk
The name
tuk-tuk
is used to describe a wide variety of small/lightweight vehicles. The vast majority have three wheels; some are entirely purpose-built, others are partially based on motorcycle components. A tuk-tuk organisation in Vientiane controls the prices that tourists are expected to pay for point to point destinations. The rates negotiable, and well you should clearly bargain rates prior to getting on the tuk tuk. The current rates can be found here:
Tuk Tuk Prices in Vientiane
By motorcycle
Motorbike travel in Laos is not without risks but the rewards of truly independent travel are great. There are several rental shops in Vientiane,
Luang Prabang
,
Pakse
and
Tha Khaek
, but bike rentals in other parts of the country may be scarce. The quality of machines varies from shop to shop so you need to fully inspect it before you head out on the road. There are many good roads and many paved ones and touring Laos is done easily.
There are a variety of bikes available in Laos, depending on which town and rental shop you go to. Some available include the Honda Baja or XR 250 dual-purpose bikes, Ko Lao 110 cc and the usual Honda Win/Dream 110 ccs. Helmets are not only mandatory in the country but a valuable item in a place where traffic rules are made up by the minute. Police have been cracking down on people who do not have a motorcycle licence, so expect to pay a fine if caught without one.
By bicycle
Cycling is a great option with quiet roads. Laos offers wonderful remote areas to discover, little traveled roads, friendly people and even some companies providing cycling tours with the help of professional guides all over the country. The more time people seem to spend in Laos the more they seem to like the quiet travel mood and the opportunity to actually be in contact with the people along the way. Good maps are available about the roads in Laos and all major routes are with good roads. In normal distances you find simple guest houses and in all major towns better choices and restaurant. Food is not a problem as long as you remember to carry some stuff with you. Tropical fruits and noodle soup are the standards.
There are a number of local operators running a wide selection of guided mountain biking tours through Laos.
If you travel on your own, there are very few proper bike shops outside of Vientiane. but also for bikes with 28-inch wheels you might have a hard time. Bring your equipment with you and make sure you get contact details from a supplier, perhaps in Thailand.
By boat
Boats along the Mekong and its tributaries are useful shortcuts for the horrible roads, although as the road network improves river services are slowly drying up, and many of the remaining services only run in the wet season, when the Mekong floods and becomes more navigable.
Huay Xai
on the border with
Thailand
to
Luang Prabang
and travel south of
Pakse
are the main routes still in use.
There are so-called
slow boats
and
speedboats
- the latter being tiny lightweight craft equipped with powerful motors that literally skid across the water at high speeds.
By slow boat
Many people go from Chiang Khong in
Thailand
via the border town of Houai Xai down the Mekong to the marvelous city of
Luang Prabang
. The ride takes two days and is very scenic. Apart from that, it is a floating backpacker ghetto with no (good) food sold, cramped, and hot. By the second day, the novelty has worn off. Recommended to bring a good (long) read, something soft for the wooden benches and patience.
Slow boats generally stop in the village of
Pakbeng
for the night. Some boat packages will include accommodation, although this is usually at an inflated rate. By arranging a hotel in the town itself, it is easy to get a lower price. Most shops in Pakbeng shut down at about 22:00, so expect to get a good sleep before the second day's boat ride. This is also a good place to stock up on supplies.
The boats have considerably improved. They now have soft used car seats, and serve pre-fab food, which is not great, but certainly sufficient.
By speedboat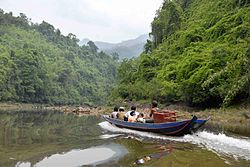 An attractive choice for some, with a 6-hour ride from
Huay Xai
to
Luang Prabang
, as compared to the two-day trip on the slow boat, but not for the faint of heart. Expect to be crammed into a modified canoe made for 4, with 10 other people, along with all the luggage somehow packed in. Expect to sit on the floor of the canoe, as there are no seats, with your knees against your chin for the full 6 hours. Expect an incredibly loud engine inches behind your head. Expect the engine to break a few times, and stops for delays to fix it. That being said, when this ride finally ends, if you make it with no trouble, you will never be happier to get to Luang Prabang. Stories of small, overloaded speedboats sinking or hitting driftwood are common, but if you are a good swimmer, take comfort in the fact that you can see both shores throughout the entire trip. So, as you see, choosing between the slow boat and the speedboat is a hard call, based mostly upon your comfort level; would you prefer a slow unpleasant trip, or a much faster, but more dangerous unpleasant trip. Either way, the scenery along the way is gorgeous and unexploited, and Luang Prabang is an incredible city, worth a thousand of these journeys.
Though helpful in saving time, speedboats are not without danger: built to carry 8 passengers, they are often overloaded; the engine noise is well above a healthy level, which could be a serious hazard to your ears, especially if you are on the boat for a long time. It also causes considerable noise pollution, scaring wildlife and spoiling the peaceful river life. Fatalities resulting from capsize due to incautious maneuvering, or hitting floating logs or hidden rocks, have been reported but some claim and are exaggerated by competing slow boat owners. However, the vast majority of speedboat users have no serious problems. If you are taller than the average Laotian are a bit claustrophobic and/or have inflexible leg muscles you are guaranteed an extremely uncomfortable experience for several endless hours.
Suggestions for those who decide to take the risk:
get one of the front seats as they allow you to stretch your legs and are far from the noisy motor
wear helmets and life jackets; reconsider your journey if these are not provided
bring a coat in the cold season, the strong wind can make you feel cold even at temperatures of 25 °C.
bring earplugs
protect water-sensitive equipment as you might get wet.
Talk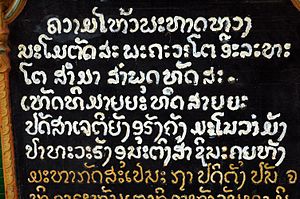 The official language of Laos is
Lao
, a tonal language closely related to
Thai
. Thanks to ubiquitous Thai broadcast media most Lao understand Thai fairly well, and some have adopted certain Thai words for tourist use, including
farang
("Westerner". Does not apply to foreign Asians).
But it's worth learning a few basic expressions in Lao. The Lao people obviously appreciate that you make an effort even if it is quite limited.
French
, a legacy of the colonial days, still features on a few signs and is spoken by most well-educated seniors. However, the presence of French has diminished in favor of English, with many younger people learning it. As a result, youth will generally know some basic English, though proficiency is generally poor.
Tourist areas will sometimes have school children who will practice their English with you as part of their curricular requirements. They may, after a conversation, ask you to sign a form or pose for a photo with you as proof that this conversation took place. These conversations can be a great time to gain some local ideas for your next sightseeing trip.
There are two main ways to turn the Lao script into the Latin alphabet: either
French-style
spellings like
Houeisay
, or
English-style
spellings like
Huay Xai
. While government documents seem to prefer the French style, the English spellings are becoming more common. The latter is used on Wikivoyage. Two quick pronunciation tips:
Vientiane
is actually pronounced "Wieng Chan", and the letter
x
is
always
read as an "s".
See
Unlike other Indochinese countries such as
Thailand
or
Vietnam
, Laos never underwent a massive economic development, neither during colonisation nor even after the liberalisation of the Communist economy. As result, one key attraction of Laos is that most of the country, including the capital
Vientiane
, retains a relaxed, laid back feel with minimal presence of modern architecture or international brands and food chains. How much longer this will last is open to much speculation, but meanwhile, it makes it a truly special and unique country to visit.
Natural attractions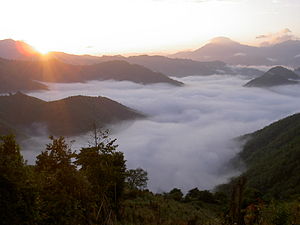 The term wilderness is much misused, but it can truly be applied to much of Laos. The mighty Mekong river and its tributaries together create perhaps the single most important geographic feature of the country. Its meandering path in
the North
has created some of the most stunning limestone karsts anywhere on earth. The backpacker-central town of
Vang Vieng
is a commonly used base for exploring the karsts. Further north, the terrain becomes more hilly, and the jungle less explored.
Luang Namtha
is the far-northern town which makes the best base for those visitors who really want to see the truly remote Lao wilderness, and directly experience the lifestyles of the various hill tribes in this region.
In direct contrast to Northern Laos, the Mekong delta lowlands in
the South
are perfectly flat.
Si Phan Don
(
four thousand islands
) is a great base for experiencing what is surely the most chilled and relaxed region anywhere in Asia. Experiencing local village life, taking it all in and doing absolutely nothing should be the aim here. There are though some wonderful river-based sights, including the largest falls anywhere in Southeast Asia. If you are lucky you might get a close-up view of a Mekong pink dolphin.
Cultural attractions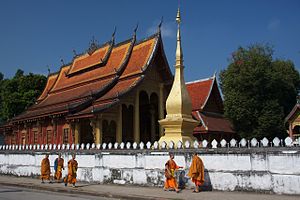 In this most Buddhist of nations, it is no surprise that temples are a key attraction. In the capital city of
Vientiane
, the three-layered gilded stupa of Pha That Luang is the national symbol and most important religious monument in the country, dating from the 16th century. There are numerous other beautiful temples which on their own make a stay in the capital city vital for any visitor to Laos.
The
whole
of the ancient capital of
Luang Prabang
is a
UNESCO World Heritage Site
. Befitting that status, it is a unique city. Beautifully preserved gilded temples with their attendant orange-robed monks mold almost seamlessly with traditional wooden Lao houses and grand properties from the French colonial era. Spotlessly clean streets with a thriving café culture on the banks of the Mekong and the Nam Khan, complete the picture of a city which is almost too pleasant to be true.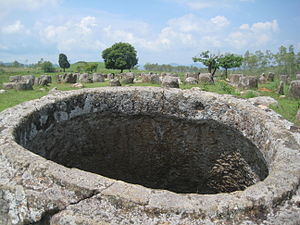 The
Plain of Jars
is a megalithic archaeological landscape dating from the Iron Age. Thousands of stone jars are scattered over a large area of the low foothills near
Phonsavan
. The main archaeological theory is that the jars formed part of Iron Age burial rituals in the area, but this is by no means proven, and a great deal of mystery remains. The area suffered tragic damage from American bombing during the Secret War of the 1960s, and much UXO remains uncleared. When that process is complete it is very likely this will be declared a UNESCO World Heritage site.
Wat Phu is a ruined Hindu Khmer temple complex in
Champasak
province. It dates from the 12th century and visitors who have been to
Angkor Wat
will notice the similarities.
Recent history
The town of
Vieng Xai
provides a striking insight in the recent history of not only Laos, but the whole of Indochina. In 1964, the US began intensive bombing of the Lao communist movement – Pathet Lao – bases in Xieng Khouang. Under much bombardment, the Pathet Lao moved east to Vieng Xai and established their headquarters in the limestone karst cave networks around the town. A whole 'Hidden City' was established which supported around 20,000 people. During nine years of almost constant American bombing, the Pathet Lao sheltered in these caves, and lived in a largely subterranean environment. Schools, hospitals and markets as well as government ministries, a radio station, a theatre and military barracks were all hidden in the caves. After the 1973 ceasefire, Vieng Xai briefly became the capital of Laos, before that function was moved to Vientiane in 1975. There are formal daily tours of the caves, as well as other evidence of that era in the town.
Do
Buy
Money
The Lao currency is the
kip
, demoted by the symbol"
₭
" (ISO code:
LAK
). Wikivoyage articles will use
kip
to denote the currency.
Kip has been newly convertible at banks in neighbouring countries since the establishment of the Lao stock market in 2011. It is possible to exchange to and from kip at Vientiane airport (opens at 09:00) and there is a Lao bank that exchanges at the Nong Khai-Vientiane land border (straight and right of the Visa on Arrival desk).
The largest note is 100,000 kip and rather uncommon (although you may get some from the ATM). Notes in common circulation are 500, 1,000, 2,000, 5,000, 10,000, 20,000 and 50,000 kip. Withdrawing the maximum of 1,000,000 kip from an ATM could result in 20 50,000 kip notes. This makes carrying large quantities of kip quite inconvenient. Although less common than in the past, US$ will sometimes be accepted, although usually at about 5-10% less than the official rate. Thai baht may be accepted in many areas near the border, notably Vientiane. In remote places, only kip is accepted and no ATMs will be available, so plan ahead.
More touristy places and banks are also accept the euro. So if you're from one of the euro countries, just bring some just in case. This could be cheaper than changing your euros into baht or US$ and then into kip.
There are many
ATM
s in Vientiane, and they have also appeared in other major cities including Luang Prabang, Vang Vieng, Savannakhet, Tha Khaek, Pakse and Luang Namtha.
BCEL
, the largest bank, accepts Visa/Cirrus and MasterCard/Maestro, but surcharges of US$1-2 often apply.
Many banks, travel agents and guest houses will allow you to take out cash from a credit card as a cash advance. This usually occurs by withdrawing the money in US$ from the card as a cash advance; the card issuer will usually charge a fee (about 3%), the Lao bank involved will charge about 3%, and then the agent providing the cash advance might or might not charge another 3%, and then the amount is converted from US$ to kip at an unfavourable rate, costing another 5% or so. Thus, these transactions are much more expensive than the typical charge for withdrawing cash from ATMs in other countries. Euros get pretty bad rates compared to US$ when exchanged in Laos, getting a cash advance in US$ and changing it to kips might actually save money compared to bringing euros with you to Laos. Expats living in Vientiane routinely get cash from ATMs in Nong Khai or Udon Thani in Thailand, where the maximum per transaction is mostly 20,000 baht, or ten times what you'll get in Laos.
The use of ATMs and credit cards in banks is subject to computer operation, staff computer skills, power cuts, telephone network breakdowns, holidays, etc. A few visitors have been forced out of the country prematurely as they couldn't withdraw funds to continue their travels. Always bring some cash. Changing money can be next to impossible outside major towns.
Banks give good rates, and private exchange booths are common in the major tourist areas.
Shopping hours
Many shops start an hour's lunch break at noon, and some maintain the (now abolished) official French two-hour break. Nearly everything is closed on Sundays, except restaurants and many shops.
Costs
The basic Lao approach towards tourists is the "milking cow" approach. They will take whatever tourists are willing to pay. Lately, prices have exceeded those of neighbouring
Thailand
and
Vietnam
, though the standards are lower. Hotels are of lower quality, and priced higher compared to Thailand or Cambodia, the dishes in restaurants are smaller, and the tuk-tuks more of a rip-off. It's worse in the tourist centres of
Luang Prabang
and
Vang Vieng
than in the smaller towns and villages.
A budget of US$40 a day is a good rule of thumb, though it's possible to get by on less. A basic room with shared bath can be as little as US$6 in
Vang Vieng
or as much as US$10-15 in
Vientiane
or
Luang Prabang
. Meals are usually under US$5 for even the most elaborate Lao, Thai or Vietnamese dishes (Western food is more expensive), and plain local dishes cost US$2-3. A local bus from Vientiane to Vang Vieng costs US$5; a VIP bus from Vientiane to Luang Prabang costs 160,000 kip; the slow boat from
Luang Prabang
to
Huay Xai
costs US$25.
Unlike in Thailand, access to temples in Luang Prabang is not free, but typically costs 10,000 kip.
Laos is more expensive than Thailand and Cambodia as most goods, petrol, and food is imported from Thailand and Vietnam, and because most people have the bad habit (especially tuk-tuk drivers) of considering US$1 as 10,000 kip, where in fact it's about 8,200 kip for US$1. Remember this in bargaining with tuk-tuk drivers and when shopping in markets.
Outside of tourist centres, rooms can be found for US$2.50, and even at Si Phan Don for US$5/night. Large noodle soups are around US$2, and a typical price for large bottles of Beerlao is 10,000 kip.
Excluding transport costs, living on US$15/day isn't difficult.
What to buy
Typical Lao dresses in cheap machine-made fabric can be made to order. Expect to pay around US$5 for the fabric and US$2 for labour. Handmade Lao silk is one of the most attractive things to buy. The talat sao (Morning Market) in Vientiane has dozens of small shops selling 100% handmade silk scarves or wall hangings from US$5 upwards depending on quality, intricacy of design and size. Beware cheap synthetic fabrics sold as silk imported from China and Vietnam. Be careful also of "antique silk" as there is very little available, but new fabric can be made to look old and worn. Still attractive, but don't pay more than US$30-50. In markets, always bargain: it is expected, but keep smiling.
Eat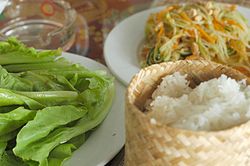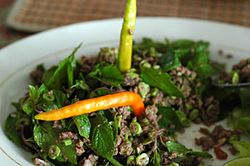 Lao food is very similar to that eaten in the northeastern
Isaan
region of Thailand: very spicy, more often bitter than sweet, and using lots of fresh herbs and vegetables served raw. Some of the raw vegetables can be used to cool your mouth when the chilis are overwhelming.
Rice is the staple carbohydrate. The standard kind is
sticky rice
(ເຂົ້າໜຽວ
khao niaow
), eaten by hand from small baskets called
tip khao
. Using your right hand, never your left, pinch off a bit, roll into a ball, dip and munch away.
The national dish is
laap
(ລາບ, also
larb
), a "salad" of minced meat mixed with herbs, spices, lime juice and, more often than not, blistering amounts of chili. Unlike Thai
larb
, the Lao version can use raw meat (
dip
) instead of cooked meat (
suk
), and if prepared with seafood makes a tasty, if spicy, carpaccio.
Another Lao invention is
tam maak hung
(ຕໍາຫມາກຫຸ່ງ), the spicy green papaya salad known as
som tam
in Thailand, but which the Lao like to dress with fermented crab (ປູດອງ
pudem
) and a chunky, intense fish sauce called
pa daek
(ປາແດກ), resulting in a stronger flavour than the milder, sweeter Thai style. Other popular dishes include
ping kai
, spicy grilled chicken, and
mok pa
, fish steamed in a banana leaf.
Laos also boasts a range of local desserts.
Kanom kok
is a small, spherical pudding made from coconut milk, tapioca and ground rice.
Sang kaya mayru
is a pumpkin filled with a sweet custard and then steamed. The pumpkin itself is also sweet, and the resulting mixture can be quite delicious. Sticky rice with mango or durian is also a popular snack.
In addition to purely Lao food, culinary imports from other countries are common.
Khao jii pat-te
, French baguettes stuffed with pâté, and
foe
(pho) noodles from China are both ubiquitous snacks particularly popular at breakfast.
Foe
can refer to thin rice noodles (Vietnamese pho), and to the wide flat noodles that would be called
guay tiow
in Thailand.
Drink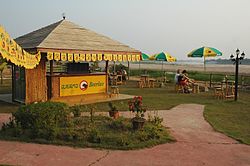 The national drink of Laos is the ubiquitous and tasty
Beerlao
, made with Laotian jasmine rice and one of the few Lao exports. It maintains an almost mythical status among travellers and beer aficionados. The yellow logo with its tiger-head silhouette can be seen everywhere, and a large 640 ml bottle shouldn't cost more than 10,000 to 15,000 kip in restaurants. It's available in three versions: original (5%), dark (6.5%) and light (2.9%). The brewery claims they have 99% market share.
Rice spirit, known as
lao-lao
, is everywhere and at less than US$0.30 per 750 ml bottle is the cheapest way to get drunk. Beware, as quality and distilling standards vary wildly.
Lao
coffee
(
kaafeh
) is recognised to be of very high quality. It's grown on the Bolaven Plateau in the south; the best brand is
Lao Mountain Coffee
. Unlike Thai coffees, Lao coffee is not flavoured with ground tamarind seed. To make sure you aren't fed overpriced Nescafé instead, be sure to ask for
kaafeh thung
. By default in lower end establishments,
kaafeh lao
comes with sugar and condensed milk; black coffee is
kaafeh dam
, coffee with milk (but often non-dairy creamer) is
kaafeh nom
.
There is not much nightlife outside of Vientiane and Vang Vieng. To have a beer in some places, simply visit a restaurant. However, some areas may be so laid-back that they will expect you to keep track of what you have drunk, with the odd guest house asking how much you have drunk during your stay upon check out.
Sleep
Accommodation options outside the Mekong Valley's main tourist spots are limited to basic hotels and guesthouses, but there are many budget and mid-priced hotels and guesthouses and quite a few fancy hotels in Vientiane and Luang Prabang. Pakse has the Champasak Palace.

Work
Lao work permits are difficult to obtain, unless you can secure employment with one of the numerous NGOs. English teaching is possible but poorly paid (US$5-8/hour).
One of the most interesting ways to get to know a country, and which has become increasingly popular, is to
volunteer
.
phone: +66 88 1423556

address: 184 Moo 5, Ban San Aum, Cheung Doi, Doi Saket, Chiang Mai, Thailand

An international volunteer organization that links volunteers from all over the world with grass-roots community projects in Southeast Asia and Central America.
Stay safe
Identification When traveling in Laos, it is important to travel with a copy of your passport at all times. You may be asked to show ID at any time, and a fine (100,000 kip) will be imposed if you do not produce documentation on request.
Crime levels are low in Laos, though petty theft (bag snatching) is not unknown and keeps rising with the inability of authorities to prevent it. Reports of robbery at gunpoint surface in the big cities. Though unlikely to affect most tourists, Laos is one of the world's most corrupt countries and the corruption is a big factor in many citizens' lives.
Judicial process remains arbitrary and, while you are unlikely to be hassled, your legal rights can be slim or non-existent if you are accused.
Sexual relations between a Lao national and a foreigner are illegal unless they are married, and marriage requires special permits. Lao hotels are not permitted to allow a foreigner and Lao national in the same hotel room together. "Number One" condoms are available for 1,000-5,000 kip for a pack of three. These are probably the cheapest condoms in the world, and their quality seems reasonable.
Homosexuality is legal in Laos when it is non-commercial and practiced between consenting adults in private. Public displays of affection between same-sex couples may be tolerated in larger cities like Luang Prabang and Vientiane, but in smaller towns homosexuality remains taboo, especially among the Hmong people.
Drugs are a large problem in Laos and should be avoided at all costs. Lao law makes little distinction between personal use and trafficking and any conviction will result in heavy fines and expulsion at best and imprisonment or even execution at worst. Methamphetamine is widespread and often offered in "special" or "happy" shakes along the backpacker trail. Be extremely cautious of tuk-tuk drivers offering to sell you drugs, as they often collaborate with the police or a police impersonator to "shake down" (US$500 is the common "fine") unsuspecting tourists. Keep in mind that oftentimes Lao police dress as civilians.
The Lao PDR criminal code penalties for producing, trafficking, distributing, possessing, importing or exporting are:
:*Heroin: up to life imprisonment and 10 million kip (US$1,316) fine; death penalty for possession of over 500 g.
:*Chemical substance: up to 20 years imprisonment 50 million kip (US$6,578) fine
:*Amphetamines: up to 5 years imprisonment and 7 million kip (US$921) fine
:*Opium: up to 15 years imprisonment and 30 million kip (US$3,947) fine; death penalty for possession of quantities over 3 kg
:*Marijuana: up to 10 years imprisonment and 20 million kip (US$2,631) fine; death penalty for quantities over 10 kg
Criticism of the Lao government or the Communist Party in any way, shape or form is unwise; you never know who might be listening.
Landmines or unexploded ordnance left over from the Vietnam War maims or kills hundreds of people every year as Laos is the most bombed country in history. Almost all of these occur in the eastern and northern parts of the country, especially near the border with Vietnam. Never enter areas marked as minefields and travel only on paved roads and well-worn paths. If you are unsure of which areas are safe, ask the locals.
Fake products are very common. Laos is one place where Chinese or Thai companies dump sub-standard products. Similar to Myanmar, there are few if any laws preventing such trade.
Stay healthy
Parts of Laos have a good deal of
malaria
so anti-malarials are recommended if visiting those areas for an extended period, but check with health professionals: there are many high incidence of drug-resistant parasites around Laos. Other mosquito-born diseases, such as
dengue
, can be life-threatening, so make sure you bring at least 25% DEET insect repellent and ensure that you sleep with mosquito protection like nets or at least a fan. Vientiane seems to be malaria-free but not dengue fever-free. The mosquitoes that are active during the day carry dengue and those that are active in the evening carry malaria. 25% DEET insect repellents are almost impossible to find in Laos, so be sure to bring some from your country.
The usual precautions regarding food and water are needed.
Tap water
is not drinkable, but bottled water is cheap and widely available but almost all of them are less-filtered.
Vientiane has several medical clinics are associated with European embassies. Otherwise, you probably have to go to Thailand for better treatment of serious injuries and illnesses. Udon Thani and Chiang Mai are generally recommended; they're only a few hours away, depending on your location in Laos. Ubon Ratchathani and Chiang Rai might have suitable clinics, as well, and there's Bangkok, of course. Expatriates in Laos probably have the best information; the more upscale hotels can be good resources, as well.
Medical travel insurance is strongly recommended. According to local newspapers, Laos government is eager to launch improvement plans of water and foods quality.
HIV
Laos had a HIV rate of 0.3% of population in 2014.
Respect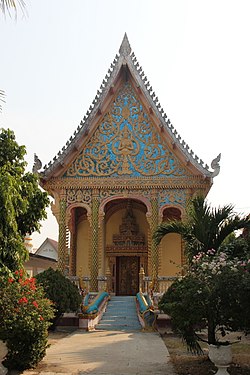 Dress respectfully (long trousers, sleeved shirts) when visiting temples and take your shoes off before entering temple buildings and private houses.
As with other Buddhist countries, showing the soles of your feet is very poor manners. Never touch any person on the head. Despite prevalent cheap alcohol, being drunk is considered disrespectful and a loss of face.
Things in Laos happen slowly and rarely as scheduled. Keep your cool, as the natives will find humour in any tourist showing anger. They will remain calm, and venting your anger will make everybody involved lose face and is certainly not going to expedite things, particularly if dealing with government bureaucracy.
Buddhist monks
As in neighbouring Thailand and Cambodia, Theravada Buddhism is the dominant religion in Laos, meaning that respect for monks is part of Lao life and that monks take their duties seriously. Monks are forbidden to touch or be touched by women. Therefore, women should place any offerings on a piece of cloth on the ground in front of a monk so he can pick it up. Monks are also forbidden from accepting or touching money, and offering money to a monk is considered to be disrespectful in the local culture. Should you wish to donate, you should only offer food to the monk. "Monks" who hang out at tourist spots soliciting donations, or those that accept money, are imposters. Monks are also not allowed to eat solid foods after noon, and will stop alms gathering before then. Some undertake a vow of silence, and will not answer you even if they can understand and speak English. It is best not to compel them to stand next to you for a photograph, or try to start a conversation if they seem reluctant.
Connect
Laos phone numbers have the format where "856" is the country code for Laos. Numbers starting with 20 are mobile numbers, while all others are landlines.
Laos Country Code is "+856".
International Call Prefix is "00".
Laos Call Prefix is "0".
Laos articles here use the convention "+856 xx xxxxxx" except for emergency numbers which use local format with leading zero, "0xx xxxxxx"
Internet cafés
can be found in larger towns, however access speeds are usually painfully slow and cafe staffs have less knowledge. The most reliable connections are in
Vientiane
, and usually cost around 100 kip/minute, with the cheapest offering 4,000 kip/hour. However, Internet security is not guaranteed and computer viruses are abundant.
In most cases,
Wi-Fi
is the best option. Most Western-style cafés offer free Wi-Fi-access for customers. Most accommodations, even budget places in
Vientiane
, offer free Wi-Fi.
GPRS
via mobile phone is also an option, especially if you have a local or Thai SIM, for those who intend to stay longer term and require mobile Internet.
Mobile phone
usage in Laos has mushroomed, with four competing GSM operators. Two of these offer roaming services. Calling people on the same network is always cheaper than calling another network, but there is no clear market leader. Tourist and expats tend to prefer Tigo or M-phone (Laotel), while locals use any of the four networks.
Lao Telecom has agreements with some 30 international networks. See roaming with Lao Telecom.
Beeline (formerly known as Tigo) has agreements with over 100 International phone networks. See roaming with Tigo. Another popular choice, they also have low-cost international rate of 2000 kip/minute to many countries, if you buy their SIM card and dial "177" instead of "+".
ETL Mobile is known to have better coverage in rural and remote parts of Laos. However, in Laos "better" certainly does not mean "everywhere".
Unitel or starphone (the old name of this network) is also available.
Local prepaid SIM cards can be purchased in various shops and stores without any paperwork.
As another options, there is Thai GSM coverage close to the Thai border (including a significant part of Vientiane), and Thai SIM cards and top-up cards can be bought in Laos; in addition, DeeDial International Call Cards are available. Thus, if you already have a Thai number, you can use the generally cheaper Thai network and/or avoid buying one more SIM. However, beware - if you have a Thai SIM which has International Roaming activated it will connect to a Lao network when the Thai network is not available, and the roaming charges will be significantly higher.
Postal service
in Laos is slow, but generally reliable. Other paid options such as Fed Express, DHL, and EMS exist in various locations. Though these services are much more expensive, they are more reliable.