Las Vegas/Henderson and East
Henderson
is the second largest city in
Nevada
. The border between Henderson and
Las Vegas
has become virtually nonexistent - one city butts up against the other. This article indeed doesn't only cover Henderson but also Las Vegas east of
the Strip
.
Understand
One area of Henderson, Green Valley, was the first master planned community in the state.

Get in
By car
From Arizona, Boulder City, Lake Mead or Lake Las Vegas
If you are coming from
Boulder City
or
Arizona
, you can either take US 93 or Route 166, Route 166 is Lakeshore Drive and is going to change into State Route 564 once, you are not overlapping with Route 147 anymore. Or in US 93, it will change into a freeway as soon as you pass the Railroad Pass Hotel & Casino. If you came from
Lake Mead
or Lake Las Vegas, get on SR 564 and still continue until you enter Henderson. If took U.S 93, you will have to pass through Boulder City, and never take the exit after crossing over Veterans Memorial Dr intersection. It will head to
Searchlight
and
Needles
. And, then, once you get, it will change into an overlapping I-515, and, take any exit you want, this includes Wagonwheel Dr/Nevada State Dr, Boulder Hwy, Horizon Dr, College Dr, or any exit, as long is not on I-215.
From Central Las Vegas
Get on I-515, or I-215, or whatever road you take to get to Henderson Drive. And to enter Central Henderson via I-515, take exit 61 to Lake Mead. And on I-215, none, Continue till end of freeway.
From N. Las Vegas
Get on I-15, and then get on I-515 or I-215, do the same as Central Las Vegas.
By plane
Henderson Executive Airport
(
HSH
) is the town's main airport, acting primarily as a reliever airport for the much busier (LAS).

See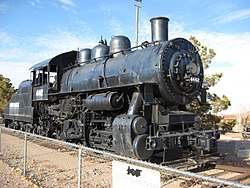 There are several sites to see in the Henderson area. They include:
phone: +1 702-435-2608

address: 2 Cactus Garden Dr

Offers a free tour and has a large cactus garden.

phone: +1 702 455-7955

address: 1830 S. Boulder Hwy

Historical exhibits include restored houses from various decades of Henderson's history.

Henderson Bird Viewing Preserve

phone: +1 702 267-4180

address: 350 E. Galleria Dr

Located within the Water Treatment Facility, this 140 acre preserve has nine ponds which attract migratory waterfowl and resident birds.

phone: +1 702 595-6666

address: 382 Bruner Ave.

National Atomic Testing Museum

phone: +1 702 794-5151

address: 755 E Flamingo Rd

Artifacts, pictures, maps and video footage presenting nuclear weapons testing and development in the southwestern US. If you're interested in science and history it's definitely worth visiting, and it's also a great break if you've become tired of the Strip. Videography requires special permission.

U.S. Route 95 at nightThis route climbs gradually northwest of Las Vegas so that the Strip's neon lights remain visible for a remarkably long distance, appearing as a luminous cloud from the furthest point.

phone: +1 702 455-7522

address: 7050 E. Wetlands Park Ln.

Marjorie Barrick Museum of Art

phone: +1 702 895-3381

address: 4505 S. Maryland Pkwy.

The Simpsons HouseFull-size replica created to closely mimic the design of the cartoon house from The Simpsons.
Do
Gambling
If you win...
Chances are that, if you win it big in Henderson and you are not a U.S. citizen your winnings will be subject to a
30% withholding tax
from the Internal Revenue Service. That $10,000 slot winning can dwindle quite quickly if that is taken off the top. Not to worry though you can reclaim your gambling winnings tax through a 1042-S form. You should get this from the casino so don't lose it: it is your starting ticket to getting your gambling winnings back.
There are many casinos of varying sizes throughout the Henderson Area and gambling is a popular pastime. The casinos range from the upscale Green Valley Ranch to smaller, more intimate "locals" establishments.
address: 2300 Paseo Verde Pkwy

phone: +1 702-564-8100

address: 920 N. Boulder Hwy.

phone: +1 702 826-3866

address: 444 W Sunset Rd
Buy
Two weekly farmers markets are held in Henderson, weather and wind permitting. They are at 240 Water St. in front of City Hall (Thursdays from 9AM to 4PM), and 200 S. Green Valley Pkwy (Fridays from 10AM to 4PM).
Eat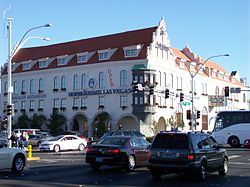 Drink
phone: +1 702 791-5775

address: 4640 Paradise Rd

Perhaps the finest dive bar in Vegas. A bit out of the way, but plenty of atmosphere.

phone: +1 702 597-9702

address: 4700 S Maryland Pkwy

Nice bar off the Strip with a very large beer selection and live music on weekends.

address: Hard Rock Hotel, 4455 Paradise Rd

14,000 square feet, 64 VIP booths, terrace overlooking Hard Rock Beach Club.
Sleep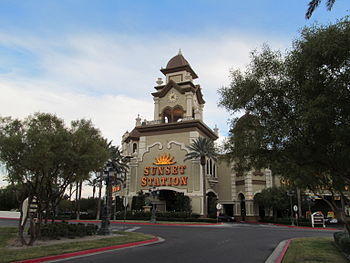 phone: +1-702-797-1000

address: 12300 Las Vegas Blvd S
Budget
phone: +1 702 731-2020

address: 3500 Paradise Rd

Free complimentary shuttle service to the Strip.

address: 4250 Koval Ln

The world's largest Super 8 is 1 block away from the Strip.
Mid-range
Splurge
phone: +1 702 693-5000

address: 4455 Paradise Rd

An entertainment resort located on 16.7 acres on the corner of Harmon and Paradise Road, inside the Paradise Corridor.