Las Vegas/North Las Vegas
North Las Vegas
is a city in
Nevada
.
Understand
North Las Vegas is primarily a residential and a somewhat industrialized city in the
Las Vegas
metropolitan area, lying in the
Mojave Desert
.
Get in
By plane
Air travel to the city of North Las Vegas is handled by
McCarran International Airport
(
LAS
), which sits just south of the Las Vegas Strip, and about 15 miles south of North Las Vegas.

By car
Interstate 15 can be traveled northbound from the Los Angeles metro area, and southbound from Salt Lake City to the Las Vegas metro area.

By train
Although the Union Pacific Railroad (UPR) provides freight train service to the Las Vegas metropolitan area, that doesn't help those in need of passenger train service. Until 1997, Amtrak's Desert Wind train used to provide service into Las Vegas using UPR tracks. Amtrak trains will provide motorcoach bus service into Las Vegas; generally after a train ride getting you somewhat close, such as to Kingman, Arizona, or Bakersfield, California. From there, and as part of your Amtrak ticket, a motorcoach will then provide bus service into Las Vegas. For a rapidly growing metro area like Las Vegas, this isn't sustainable. There are studies and plans in the works to provide rail service once again on (UPR) tracks, and high-speed rail to Southern California.

Get around
By car
A car will provide the best option for getting around North Las Vegas, as well as the Las Vegas metro area itself. Cars also tend to be relatively inexpensive to rent in the metro area. Although you may hit the occasional traffic jam, freeways are usually not severely clogged. Because the region is laid out on a grid pattern, navigating is not too difficult in the area.
By bus
If you must get around by bus, it's not totally horrific in the Las Vegas area as it could be in many western U.S. cities. Bus service in North Las Vegas, as well as Las Vegas and
Henderson
, is provided by the Regional Transportation Commission (RTC). Fares are $2 per bus ride. However, it may be more useful to purchase a 24-hour pass for $5 when boarding the bus. If you plan to be in the area for a while, RTC also sells a 5-day pass for $20 at many supermarkets and check cashing institutions, but this pass is not available on the bus itself.
By taxi
Taxi service in North Las Vegas is handled by calling for a taxi and then waiting for it to come and pick you up. Do not expect to hail a cab off the street as though you were in
New York City
or
Chicago
. Taxis are only plentiful and easily accessible at McCarran Airport, hotels on the Las Vegas Strip, or Downtown Las Vegas where they are queued up waiting for passengers. Outside of these areas, expect to call a cab and generally wait 20-40 minutes for it to come to you.
See
West Wind Las Vegas 6 Drive-In

phone: +1 702 646-3565

address: 4150 W Carey Ave

If time permits, and you don't mind watching a movie on your vacation, consider a visit to West Wind Drive-in; especially if visiting from out of the country where drive-ins are infrequent. And for an added bonus; it's normally a double-feature, so you get two movies for the price of one.

Nellis Air Force BaseHome base of the air demonstration squadron United States Air Force Thunderbirds among others, the base is open to the public during airshows. Other than that, you can see military aircraft taking off and landing from a distance.
Do

Community College of Southern Nevada's Planetarium and Observatory

phone: +1 702-651-4138

address: 3200 E Cheyenne Ave

It's not on par with L.A.'s Griffith Observatory or Chicago's Adler Planetarium, but this planetarium and observatory can still help give an understanding to the skies and open space beyond. There's also an adjacent astronomy store that's open during the show times. Be aware, however, that chairs do not lean back, so there is a lot of looking up on your part.

phone: +1 702 631-7000

address: 2400 N Rancho Dr

Vegas' only ice rink integrated into a casino/hotel complex.

phone: +1 702 455-2000 ext 4

address: 11357 North Decatur Blvd
Golf
If golf is your thing, there is plenty of that to do in North Las Vegas.
Driving
Although they are not in North Las Vegas, these attractions are recommended to all automobile enthusiasts.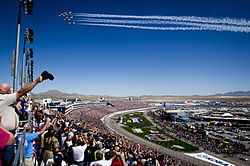 address: 7000 Las Vegas Boulevard North

A 1200-acre complex of multiple tracks for automobile racing. The speedway also consists of a fan zone called The Neon Garage which has live entertainment, areas for fans to watch their favorite driver's car get worked on, and is home to the Winner's Circle.
address: Las Vegas Motor Speedway

Las Vegas hosts NASCAR for a weekend every year, usually in March. The race draws about 150,000 race fans to the city. Many cheer for Kurt and Kyle Busch, natives of Las Vegas. Aside from NASCAR, the speedway hosts many other racing events throughout the year.
phone: +1 702 802-5662

address: 6925 Speedway Blvd

After a training session, get behind the wheel of a Ferrari F430 F1 or other race car and go up to 130 mph with an instructor in the passenger seat.
phone: +1 702 644-2855

address: 6825 Speedway Blvd Bldg B Ste 101

Dune buggy rentals and off-roading experiences at the Las Vegas dunes.
Eat
North Las Vegas has numerous restaurants and fast food places to choose from. It does not have as many high-end establishments as Las Vegas does, but still has a large variety of options and many of them are open 24 hours a day.
phone: +1 702 692-7777

address: Aliante Hotel, 7300 Aliante Parkway

Fine dining that features premium beef and poultry selections as well as seafood such as king crab, lobster, and scallops. MRKT also has one of North Las Vegas' most extensive wine lists.
Sleep
Go next