Las Vegas/The Strip
The
Las Vegas Strip
is the main street of
Las Vegas
, with much of what the destination has to offer.
Get in
McCarran Airport is right southeast of the Strip, though the terminal is at the other side of the runway, so walking isn't really an option. You can instead take a taxi or bus, or rent a car.
If you opt for the bus, the WAX (Westcliff Airport Express) service takes you from the airport to the intersection of Tropicana and the Strip, and the CX (Centennial Express) to the Fashion Show Mall. If you need to go north or south from there, take the Deuce or SDX (Strip & Downtown Express) service. These two are also your options if you're coming in from
Downtown Las Vegas
. See the
RTC website
for exact routes and schedules.
Expect traffic jam on the Strip, especially on weekends. If you're driving to a casino hotel at the Strip, take the I-15 or one of the north-south parallel streets to get as close to your destination as possible. The parking lots of casino hotels are usually accessible from the side streets, so you won't need to spend time sitting on the Strip at all.
See
Bellagio FountainsThe Fountains of the Bellagio perform a magnificent display, set to music. If you have the time, it's worth staying for two or three shows, as it is not at all the same show every time.

Bellagio Gallery of Fine ArtA fine-art gallery. See website for current exhibition.

address: Paris Las Vegas, 3655 S Las Vegas Blvd

You can take an elevator to the top of the Eiffel Tower on the Strip, a half-sized replica of the one in Paris. This is a popular attraction, especially at night, for its excellent views of the Strip.

address: 3555 S Las Vegas Blvd

A 15-acre garden with flamingos and other exotic birds, as well as koi and turtles.

Shark Reef Aquarium at Mandalay Bay

address: Mandalay Bay Resort

The highlight is walking through a transparent tunnel with sharks, sea turtle, fish on all sides.

phone: +1 702-862-7800

address: 3377 S Las Vegas Blvd #2001

The only celebrity wax attraction on the Strip, featuring wax recreations of 100+ celebrities and famous figures.

phone: +1 702 322-0593

address: 3545 S Las Vegas Blvd, The LINQ

Opened in April 2014, this is the world's tallest Ferris wheel at 550 feet. One revolution lasts between 30 and 45 minutes in an enclosed cabin with excellent views of the Strip.

Welcome to Fabulous Las Vegas signPossibly the most famous of Las Vegas' many signs, this landmark welcomes visitors getting in from the south along the Strip. And even if one has arrived into Las Vegas some other way, it's still very popular to go there and take photos and selfies of the sign.

In addition to the above, there are various characters you are likely to see while you visit the Strip, including Elvis impersonators.
Do
phone: +1 702 260-7200

address: V Theater, 3663 Las Vegas Strip

Pole dancing classes. For ladies aged 18 and over only. Advanced scheduling required.

The Twilight Zone by Monster Mini GolfGlow-in-the-dark Twilight Zone–themed miniature golf, on an indoor course illuminated by black (ultraviolet) lights. Good for kids.

address: 200 Convention Center Dr

Fly your body in a vertical wind tunnel. No experience necessary, all training and equipment provided. Safe for all ages.
Rides
phone: +1 702 794-3939

address: 2880 South Las Vegas Blvd

America's 2nd largest indoor theme park with 25 rides and attractions for all ages.

phone: +1 702 740-6616

address: New York New York Hotel

A roller coaster that lifts riders up 203 feet, then drops down 144 feet, reaching speeds of 67 mph. Simulates a jet fighter's barrel roll, with a 180° turn, a section that leaving riders hanging in the air, then twists and dives.

Gondola rides

phone: +1 702 607-3982

address: 3355 S. Las Vegas Blvd
Shows
There are places on the Strip where you can buy half-price show tickets, but generally not for the really popular shows on the same day of the performance. Cash or credit card accepted.
Circus shows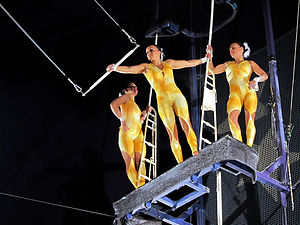 phone: +1 702 734-0410

address: 2880 S Las Vegas Blvd

Aerialists, jugglers, acrobats and trapeze artists take the stage at the world's largest permanent circus daily.
Las Vegas hosts 8 popular
Cirque du Soleil
shows. To secure the best seats, reservations well in advance is recommended. In order of opening date, the shows are:
Production shows
Reserve your tickets well in advance for the best available seating. The most popular shows are sold out on the weekends. Make sure to always book your seats directly from the official hotel website.
Headliner shows
phone: +1 702 733-3333

address: Flamingo, 3555 S Las Vegas Blvd
Comedy shows
There are always different comedians coming to Las Vegas. Always a great way to get a laugh and end the night.
phone: +1 702 260-7200

address: Sin City Theater, Planet Hollywood

phone: +1 702-822-6262

address: Luxor
Impressionist/impersonation shows
phone: +1 702 792-7777

address: Mirage
Tribute shows
address: V Theater, Planet Hollywood, 3663 S Las Vegas Blvd

A popular Beatles tribute band.

address: The Venetian, The Sands Showroom

A celebration of Motown showcasing the distinctive, dynamic harmonies of members Toby Allen, Phil Burton, Andrew Tierney and Michael Tierney. This quartet is known for outstanding concert and stage performances and has toured with Céline Dion and Michael Jackson.

phone: +1 702 260-7200

address: V Theater, Planet Hollywood, 3663 Las Vegas Blvd S, Ste. 360

Includes the Motown hits of Gladys Knight & The Pips, The Temptations, Tina Turner, The Four Tops and Motown diva Diana Ross & The Supremes as they rock the stage.
Magic shows
Hypnotists
Adult shows
Topless female dancers
address: Luxor

Vocalist Lorena Peril takes center stage. Steamy choreography and striking vocals fused with a touch of comedy. The high-energy production show features a variety of performances including salsa, belly dancing routine and celebrity impersonations by comedian Sean E. Cooper.

address: Bally's

Spectacular sets & elaborate costumes. 25 years running. See the Titanic sink right on stage.

address: Flamingo

Showcases a variety of performances by six gorgeous dancers set to contemporary music. Combines high-energy performance with the use of props such as bathtubs, guitars, lollipops and feather boas.
Topless male dancers
address: DB's, Miracle Mile Shops, Planet Hollywood

address: Excalibur
Spectator sports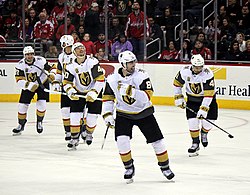 phone: +1 702 645-4259

address: T-Mobile Arena, 3780 S Las Vegas Blvd

NHL (ice hockey) team that made it all the way to the Stanley Cup Final in its first season in 2017–18 (though losing). The city's first team in one of the "big four" professional sports of the US and Canada, although they'll soon be joined by the relocated Oakland Raiders of the NFL.

address: Mandalay Bay Events Center, 3950 S Las Vegas Blvd

WNBA (women's basketball) team that began play in Vegas in 2018, after having relocated from San Antonio.

Professional Bull Riders World Finals

address: T-Mobile Arena

The finals of the Professional Bull Riders series, a rodeo circuit devoted exclusively to bull riding. This isn't the only contrast with the city's other major rodeo event, the National Finals Rodeo held at UNLV's Thomas & Mack Center. Unlike the NFR, which is exclusive to the US and Canada, the PBR finals, held in late October/early November at the T-Mobile Arena since 2015, have more of an international flavor. PBR runs national series in Brazil, Canada, Mexico, and Australia, and all of these countries, especially Brazil, are represented on the U.S. circuit.
Las Vegas is also a major regional center for college basketball tournaments every March. As of the current 2019–20 season, four NCAA Division I conferences hold their annual men's and women's tournaments in the area; each of these tournaments sees the winner receive automatic entry to the NCAA tournament. However, only the Pac-12 Conference, one of the so-called "Power Five conferences" of Division I football, plays its tournaments on the Strip. The Pac-12 men's tournament is at T-Mobile Arena; the 2020 women's tournament will be at Mandalay Bay Events Center.
By 2020, the
NFL
will arrive with the
Las Vegas Raiders
, following their move from
Oakland
. The UNLV Rebels football team will join the Raiders at the new Allegiant Stadium just to the
west of I-15
.
Finally, Las Vegas is one of the world's main centers for
combat sports
. For decades, many of the biggest championship events in
boxing
have been held at venues on or near the Strip. The Strip has also become an epicenter for
mixed martial arts
; the world's biggest promoter of MMA events,
UFC
, is based in Las Vegas.
Escape rooms
Lockdown Escape Rooms - Highland

phone: +1 702 997-5107

address: 3271 S Highland Dr, Ste 715

Three themed rooms for 2-8 players: Hostage Rescue, Mob Boss, and Crazy Professor rated from easy to medium difficulty.

phone: +1 702 931-2727

address: 105 E Reno Ave

Six escape rooms for 2-10 in five flavors can be found here: Casino's Dark 11, Code 13, Bugsy's Nightmare, Curse of Mapuche, and two identical versions of The Great Escape to allow teams to compete against each other.
Buy
Shopping malls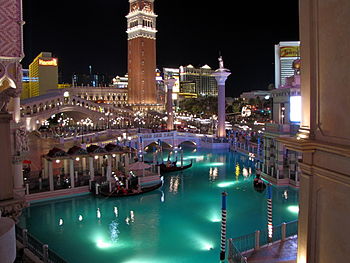 There are a handful of shopping malls that are not affiliated with casinos:
Eat
Buffets
Buffet restaurants can be found in pretty much every casino hotel; some of them are listed below.
Restaurants
Drink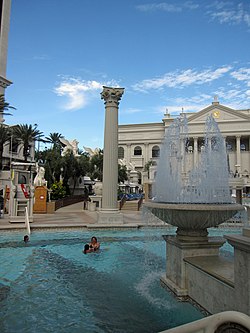 Bars
Nightclubs/dancing
Sleep
Budget
Howard Johnson on East Tropicana

phone: +1 702-476-6500

address: 165 E Tropicana Ave

Has a pool, free wifi, lots of parking and nearby to several bus stops.

phone: +1 702 739-9000

address: 115 E Tropicana Ave

Located behind the Tropicana and a quick walk to the Strip or monorail. Guests can expect to see the Hooters Girls throughout the property.
Mid-range
Splurge