Las Vegas (New Mexico)
Las Vegas
is a lovely town in
New Mexico
in the
United States of America
. It is an under appreciated gem and a far cry from the Southwestern chic of nearby
Santa Fe
, with a large collection of historic Victorian homes and other remnants from when Las Vegas was a roaring railroad town. Other attractions include the Montezuma Castle, Storrie Lake, and the
New Mexico Highlands University
.
Understand
Las Vegas, NM is not to be confused with the far larger and better known major city of the
same name
in
Nevada
. Within the confines of the northern New Mexico references to Las Vegas or Vegas are understood to refer to the local community. To avoid being considered rude, refer to the other Las Vegas as Las Vegas, Nevada. As the population is 83% Hispanic, expect to overhear Spanish frequently as many people are bilingual.
Get in
Las Vegas is about 60 miles east of better-known
Santa Fe
, along Interstate highway 25. The nearest major commercial airport is in
Albuquerque
, about 125 miles away. There are public airports in both Santa Fe and
Las Vegas
that handle non-commercial aircraft. There is
Amtrak
rail service via the
Southwest Chief
, the main Amtrak line across the southwestern United States. This stop has no ticket office and no passenger assistance provided by station personnel, though on-board employees will assist passengers between trainside on the platform and the train itself. There is a waiting room open at train time, within which is a Quik-Trak self-serve ticketing kiosk (credit card required to activate kiosk), so tickets may be obtained at the station before boarding the train. The New Mexico Department of Transportation also offers limited
public bus service
between Las Vegas and Santa Fe on a commuter schedule.
Get around
Drive, walk, bike, do what comes easily. The town is fairly small.

See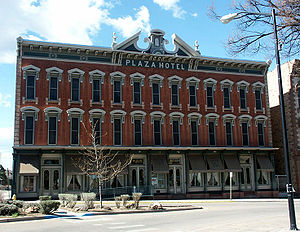 Las Vegas was an important waypoint on the Santa Fe Trail, and later on the railroad across the Southwest. There are over 900 structures listed on the National Register of Historic Places. In the central area of town, it seems almost every single building you see is significant in some way. Walking tour guides are available. Here are some of the highlights:
The , where Las Vegas was founded in 1835. Today it is a shady park with a gazebo, surrounded by historic structures. On the north side of the plaza is the Plaza Hotel, a railroad-era hotel which remains a fine place to spend the night in Las Vegas. Across the street from the southeast corner of the plaza is the old First National Bank.
Railroad District, where the Las Vegas train station is and so much of the city's growth centered around it. The Mission Revival , an old Harvey House hotel, is definitely worth a look.
, a local park surrounded by lots of beautiful old homes.
Douglas/6th Street District, once the central business area of Las Vegas, today there's plenty of interesting buildings here like the , the Old City Hall, and the .
, an area of town centered around Carnegie Park, which has a Carnegie Library that was modeled after Thomas Jefferson's home, the Monticello. The surrounding blocks are filled with old Victorian homes.
City of Las Vegas Museum & Rough Rider Memorial

address: 727 Grand Avenue

Tu-Sa 10AM-4PM (10AM-4PM Sundays May-September). Exhibits on local history, the Santa Fe Trail, and Theodore Roosevelt's Rough Riders, who held reunions in Las Vegas. Free.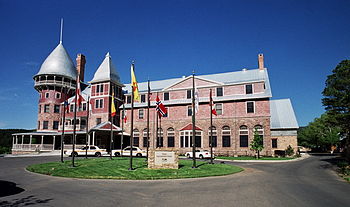 North of Las Vegas on SR-65 (Hot Springs Blvd) is the town of Montezuma and the Armand Hammer United World College of the American West. On the campus is the gorgeous , which was built as a railroad hotel and served a number of purposes before becoming part of the United World College campus. It is open for free tours, which start at 1PM on certain Saturdays and are led by students of the college. But even if you don't get inside the building, it's worth the drive up to at least see it.
Do
Las Vegas National Wildlife RefugeJust south of town and adjoins a larger state wildlife preserve. There are viewing platforms and a few short trails. Best visited in late fall and early spring, when migratory birds are passing through; winter can be bleak and summer hot, and the resident population of wildlife isn't as great as the number of seasonal transients. Entry to the Refuge as well as McAllister Lake are free.

Lake McAllisterA state preserve nestled in the middle of the Las Vegas Wildlife Refuge. Seasonal fishing is available as well as limited dispersed camping during fishing season. Inquire locally for fishing conditions.

Fort Union Drive-In Movie Theatre

phone: +1 505 425-9934

address: 3300 7th St (NM 518)

A classic drive-in theater from the 1950s that has managed to survive and still shows double features on summer weekends. There's only one screen, the buildings are old, and the parking lot is rutted, but the nostalgia factor makes it all worth it.

address: located four miles north of town on NM 518 (7th Street)

This 80 acre park is full-service with showers, RV dump station, marina, and overnight camping. It is well known regionally for its windsurfing and windsurfers are a common sight on the lake during spring, summer, and fall. There is an entry fee to the park as well as a charge for overnight camping.

Montezuma Hot Springs

address: located five miles north of Las Vegas on NM 65 (Hot Spring Blvd)

Located on the property of the Armand Hammer United World College of the American West, these hot springs are open to the public. Do not enter the college proper but look for the pull offs along NM 65. Bathing suits required.
Buy
Experience the quaint and charming shops within the Plaza, Douglas/6th Street, and Railroad Historic Districts. These areas provides many small home-town shops, antiques, book stores, and coffee shops.

Eat
address: 1106 Grand Avenue

A 50s diner with great food.
Drink
phone: +1 505 425-1455

address: 230 Plaza Street

A saloon located inside the historic Plaza Hotel.
Sleep
phone: +1 505 425-3591

address: 230 Plaza Street

Of all the historic buildings in town, the Plaza Hotel is the crown jewel of them all. It was lovingly restored in 1982, and has become Las Vegas' premiere place to stay, and is a very popular locale for meetings, parties, conventions and other events. Enjoy the Victorian atmosphere with elegant antiques and exquisite architecture. The amenities offered include the Landmark Grill, an in-house restaurant, the old west Byron T's Saloon, spa massage treatment, guest computer and wireless high-speed internet access, pet friendly rooms, room service, and free parking.
Go next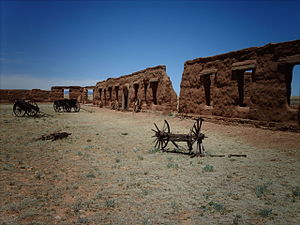 Fort Union National Monument, about 30 miles east of Las Vegas via I-25, preserves the ruins of a major military installation along the Santa Fe Trail. There are interpretive exhibits and a 1.6-mile trail among the ruins. Day use, 7 days a week (closed Thanksgiving, Christmas, New Years); $3 fee, Park Pass applies. There are no services near the monument.
Santa Fe National Forest popular destinations near Las Vegas include Gallinas Canyon and Pecos Wilderness. The Pecos/Las Vegas Ranger District has full details.
Pecos is a small town just off I-25 between Las Vegas and Santa Fe, and is the home of the Pecos National Historic Park, a small NPS site that preserves the ruins of an abandoned Indian pueblo and Spanish mission from the 17th century, as well as the Glorieta Pass Battlefield, site of a major Civil War battle in the West.
Historic Route 66 (the "original" version) passed just southwest of town. Check its itinerary page for ideas on things to do as you move on from Las Vegas to your next destination east or south.
Villanueva State Park is located 38 miles southwest of town. Take I-25 to the Villanueva exit and drive south 15 miles. Well-regarded for its picturesque setting, the park has overnight camping for a fee. The drive on SR 3 south from I-25 is especially appealing for those with a taste for rural Spanish settings.