Legazpi
Legazpi
is the provincial capital of
Albay
, and the regional center of
Bicol Region
. It is a economic center, and a transportation and tourism hub for the province and the region.
The nearby town of
Daraga
, though an independent municipality since 1922, is historically tied with the city, and it hosts the picturesque ruins of Cagsawa Church, and the future airport as well.
Understand
History
Legazpi's history trace back to prehistoric times, with Neolithic discoveries dated back to 500-100 BCE. Spanish explorers who first arrived also speak of an ancient pre-Hispanic civilization in the area, practicing rice farming, producing gold jewelry, and trading silk.
Miguel López de Legazpi led the Spanish expedition that colonized the Philippines in the 1560s, after
Magellan
's expedition had "discovered" it in the 1520s. Legazpi himself did not visit this region, but one of his officers named the town after him. Before the Spaniards, it was the village of Sawangan, and the first Spanish structures were in a Roman Catholic mission, named
Misión San Gregorio Magno de Sawangan
. The mission was repeatedly ravaged by raids from pirates, mostly Muslims from
Mindanao
, during its first years, but the Spaniards kept rebuilding it; it officially became a town in 1616.
Climate
The climate is tropical, with plenty of rainfall throughout the year. For most days, there would be sunshine, with the daytime high between , and rainfall coming in the afternoon, with overcast skies caused by moisture moving inland from the Pacific Ocean.
The rainiest months are from late October to January, while the hottest months are from April to early October. The peak season for tourism is practically from February to October, though the best time to visit is from February to March, when the temperatures are tolerable and there are few rainy days.
Get in
By plane
A new airport,
Bicol International Airport
is under construction southwest of the present airport. It is expected to open by 2020. The new airport will have a runway long enough to support wide-body aircraft, and to accommodate international flights.
Tricycles will take 10-15 minutes to get to downtown, and the driver will quote for a single-person trip. Walk straight out of the airport, across the parking lot, and out of the gate where the cars are exiting. Taxis are also available in the airport.
To return to the airport, tricycles waiting at Peñaranda Park and F. Aquende Dr will charge .
By train
As of Oct 2019, there is no through train service between Manila and Legazpi. It may be restored in 2022 at the earliest.
PNR operate local train service between Naga and Legazpi only.
By bus
Legazpi Grand Central Terminal
Legazpi has a good central bus terminal. Several food stalls serve local food for departing and arriving passengers, there are signs for bays serving buses headed for a certain destination, e.g. to Manila, to Naga, and there is also a handicrafts store and a Savemore supermarket.
Tickets are sold on booths, and you can also buy a ticket in advance. Look for the name of the bus line the booth are selling tickets for.
The following bus line companies have trips from Manila:
PhiltrancoThree daily buses leave Pasay every 6:30PM, 7PM, and 8PM. They also have buses going south as far as Davao and Cagayan de Oro via Tacloban and Butuan, which stop at Daraga.
AmihanPhiltranco's sister bus line, with a similar schedule, but with departures from Cubao.
Raymond Transportation
RMB Express
SuperlinesThree departures from Cubao every 6:30PM, 10:30PM, and 5:30AM.
The journey from
Manila
to Legazpi via
Naga
takes about 8-10 hours. Most of them arrive and depart from company-owned terminals at
Pasay
.
There are also buses and vans from Tabaco City. The fare is from .
By ferry
To get to Cebu City or Masbate from Legazpi you first have to take a van from the van Terminus to the ferry port of Pilar the van fare is . then from Pilar port Montenegro Shipping lines has a fast ferry three times a day from Pilar port to Masbate city the ferry departs Pilar port at 8AM, noon and 3:30PM. The fare is + port fee. From Masbate city you can take a Cokaliong shipping lines night ferry every Saturday at 7PM down to Cebu city. Fan air-con . Or every day there is an a/c RORO bus/ferry/bus from the Montenegro shipping lines ticket office in Mabate port to Cebu city for .
To get to Virac city in Catanduanes island you must take a bus or van the 25 km from the Legazpi van terminus to Tabaco City. two ferries depart the ferry Port of Tabaco at noon fast and 1PM slow. the fast M/V Silangan Express ferry takes 1½ hours and costs . And the slow Regina Shipping lines ferry takes 3½ hours and cost . From Tacaco you can also get a van to Naga city .
Get around

Jeepneys are frequent. The largest sign on the windshield will be the jeepney's final destination, so you must ask the driver if they serve your intended deatination.
Tricycles are useful for short trips. You may share one with other passengers to the same destination. Hail one at the terminal or on the street.

See
Natural attractions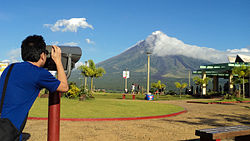 Ligñon HillA peak with a nature park at its summit offering panoramic views of the city and Mayon Volcano, and adventure activities like ziplining.

Kapuntukan HillProvides a view of the Embarcadero, the Legazpi Port District, Albay Gulf, and Mayon Volcano.
Historical landmarks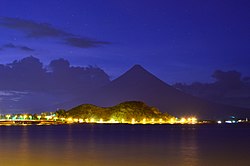 Albay Gulf Landing Monument

address: Rawis

Built in 1995 to commemorate the 50th anniversary of the Landing of the Allied American Forces in Legazpi City.

Japanese Tunnel

address: EM's Barrio South, Albay District

An L-shaped tunnel used as an arsenal by the Japanese Imperial Army during the World War II. It measures long and around deep below the ground.

Legazpi City MuseumIt showcases the heritage and culture of the city and of Albay

Liberty BellA bronze bell installed in 1945 by the American liberation forces. It is enclosed within a dome-shaped concrete structure with the inscription, "Whenever oppression knocks at your door, feel free to ring this bell".
Churches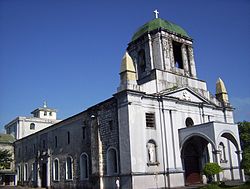 Cathedral of St. Gregory the Great

address: Albay District

The episcopal seat of the Diocese of Legazpi, it was first built by Spanish missionaries as a wooden chapel in 1581. The present church, designed by then governor Don Jose Ma. de Peñaranda, was built in 1839 using volcanic rocks.

St. Raphael the Archangel Church

address: Port District

The original church was built in 1834 under the auspices of Pedro Romero, but was destroyed during the liberation of Legazpi by Allied forces in 1945. A more modern church was rebuilt in its place. Notable features include an altar table made of a single block of hardened lava rock.

Our Lady of Guadalupe Shrine

address: Buraguis

It features life-sized depictions of Stations of the Cross and a huge statue of the Virgin of Guadalupe at the summit.

Our Lady of Fatima Church

address: Imelda Roces Avenue

A modern church with a semi-circular nave built in 1999.

Our Lady of Perpetual Help Parish ChurchThe mission house of the Redemptorist congregation.

St. Jude Thaddeus Parish Church

address: Lapu-Lapu Street

Built in 1965 to serve the Filipino-Chinese community.
Parks
Peñaranda Park

address: Albay District

Has a statue of Jose Maria Peñaranda, the first governor of Albay. Around the park is Legazpi City Hall, Albay Capitol and St. Gregory the Great Cathedral.

Robinsons Supermarkets.Has one outlet in Legazpi.

LCC Mall Legazpi

address: Brgy 37 (Bitano) Capantawan

A 140,000-m² mall, which also hosts the central bus station.
Eat
Budget
Mid-range
LCC Mal nearby Lapu-Lapu Street has several vendors that sells some Filipino menu, just like fried bangus with rice, fried chicken with silog.

Splurge

Find out in the cafes within Embrocadero and having dinner towards the sea.

Drink
Blue Lights

address: Vicotry Village Legazpi City

Great ambiance and good crew!
Sleep
Budget
Magayon Hotel

phone: +63 52-4807770, +63 9107881144 (Cell phone)

address: Penaranda Street

Fan single room with cable TV. Outside bathroom.

Catalinas Lodging House

phone: +63 52 4807841

address: 96 Penaranda Street.

Single fan rooms with shared bathrooms. Old but clean.

phone: +63 52-4800365, +63 9055186076

address: 040 brgy 11 Maoyod

Fan dorm beds in a room with 4 beds per room. A/C dorm beds in a room with 6 beds.

Great Pacific Inn

phone: +63 52-82006348

address: Rizal Street

Single fan rooms have their own bathroom. The single rooms have no windows and are very small.

Anvil Bed & Breafast

phone: +63 52-4808886, +63 9159585180

address: 241 Oro Street

Fan double room. No window.

Bicol Traveller Inn

phone: +63 52-4801380

address: Bariada Road Bitano

Single fan room outside bathroom. Rooms are very small, with no windows.

J Y Tourist Inn

phone: +63 52-4811777

address: Rizal Street & Vinzons Street.

Fan rooms only.

Rex Hotel

phone: +63 52-4805489

address: Penaranda Street

Single fan rooms. You must pay an additional for cable TV.

R M J Apartelle

phone: +63 52-4801145, +63 9175589100 (cell)

address: Imperial Court. Rose Street

A/C double room with bathroom and cable TV.

Salvador Manor De Legazpi

phone: +63 52-4802330

address: 153 Washington Dive

A/C double room with bathroom.

Siville Inn

phone: +63 52-4812883

address: 667 Vibal Street

Fan double rooms with bathroom.
Mid-range
Splurge
phone: +63 52-742-8888

address: Taysan Hill, Sto. Niño Village

A/C suites equipped with TV with cable channels, executive work desk, IDD/NDD telephone and high-speed broadband Internet access. Airport transfer, wireless Internet access, infinity pool, spa, fitness room/gym, business center, car rental, and city transfer.
Stay healthy
Bicol Regional Training and Teaching Hospital. Rizal Street. Phone +63 52-4830636. (DOH Hospital).
Cope
Bureau Of Immigration Legazpi Office. Door 3 Blst Building Rizal Street.
Go next