Legazpi City
Legazpi City
is a city in the
Bicol Region
.
Get in
By plane
Legazpi City Domestic Airport:
Philippine Airlines and Cebu Pacific fly daily from Manila to Legazpi and vice versa. Cebu Pacific departs from NAIA Terminal 3 in Manila,
Cebu Pacific also fly from Cebu to Legaspi and vice versa.
Tricycle will take 10-15 minutes to get to downtown, and the driver will quote PHP50 (private ride, May 2018). Walk straight out of the airport, across the parking lot, and out of the gate where the cars are exiting. Taxis are also available in the airport.
To return to the airport, tricycles at Penaranda Park and F Aquende Dr will charge 30 pesos.
By train
As of June 2017,
through train service between Manila and Legazpi is suspended
, with no confirmed resumption date.
PNR operate local train service between Naga and Legazpi only.
By bus
Philtranco.
Amihan Buslines.
Raymond Buslines.
Superlines.
RMB Express.
travel from Legazpi to/from Metro Manila
the journey from Legazpi to Manila takes 8-10 hours and goes via Naga. Asked to be align at Pasay City or nearby EDSA for more convenient travel to downtown Manila.
Philtranco also has buses going south as far as Davao and Cagayan de Oro via Tacloban and Butuan.
Legazpi has a good bus terminus. Several canteen served local food and passengers will be departed from the main gate and follow the sign that mentioned its direction, e.g. to Manila, to Naga. Make sure your bags are properly kept in the baggage compartment and bring your hand-carry into the bus.
Tickets sales daily and can be booked in advance, just go to the counters and choose based on budget: economy (non-A/C) to executive (A/C with seating lay out 2 - 2 or 1 - 2 are available).
There are also buses and vans going to/from Tabaco City. The fare is from ₱25.
By ferry
To get to Cebu City or Masbate from Legazpi you first have to take a van from the van Terminus to the ferry port of Pilar the van fare is ₱100. then from Pilar port Montenegro Shipping lines has a fast ferry three times a day from Pilar port to Masbate city the ferry departs Pilar port at 8AM, noon and 3:30PM. The fare is ₱396 + ₱15 port fee. From Masbate city you can take a Cokaliong shipping lines night ferry every Saturday at 7PM down to Cebu city. Fan ₱750 air-con ₱890. Or every day there is a a/c RORO bus/ferry/bus from the Montenegro shipping lines ticket office in Mabate port to Cebu city for ₱800.
To get to Virac city in Catanduanes island you must take a bus or van the 25 km from the Legazpi van terminus to Tabaco City. two ferries depart the ferry Port of Tabaco at noon fast and 1PM slow. the fast M/V Silangan Express ferry takes (1½ hours) costs ₱330. And the slow Regina Shipping lines ferry takes (3½ hours) and cost ₱240. From Tacaco you can also get a van to Naga city ₱180.
Get around
By jeepney with duration minutes to hours. The direction that mentioned on the sign is the last stop, so it will be necessary to be asked first: is your direction passed by within the entire of the journey.
By tricycle for close destination. It's doable that driver might be add some passenger to the same direction or at least passed by with direction you had mentioned before.
See
Natural attractions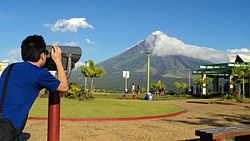 Mayon Volcano is an active stratovolcano 15 km northwest of Legazpi renowned for its symmetric conical shape.
Ligñon Hill is a 156-m peak with a nature park in its summit offering panoramic views of the city and Mt. Mayon and adventure activities like zip-line.
Kapuntukan Hill (also known as the Sleeping Lion Hill) is located at the point south of the Port of Legazpi. The Embarcadero, the Legazpi Port District, and Albay Gulf with Mayon Volcano can be viewed from the top of the hill.
Karangahan Falls, in Brgy. Banquerohan, has a deep catch basin ideal for swimming.
Legazpi Dive Sites are a collection of sixteen coral reefs off the coast of Legazpi and around the Albay Gulf ideal for scuba diving.
The city has a long coastline along the Albay Gulf with black sand beaches ideal for skimboarding.
Whale sharks, locally known as butanding, occasionally visit the waters off the city's coast.
Historical landmarks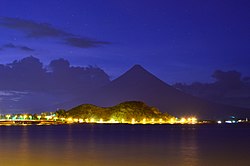 The Albay Gulf Landing Monument on the shores of Brgy. Rawis was built in 1995 to commemorate the 50th anniversary of the Landing of the Allied American Forces in Legazpi City.
The Japanese Tunnel is an L-shaped tunnel used as an arsenal by the Japanese Imperial Army during the World War II. It measures long and around deep below the ground. The tunnel is located in Brgy. EM's Barrio South in the Albay District.
The Legazpi City Museum showcases the heritage and culture of the city and province.
Liberty Bell is a bronze bell installed in 1945 by the American liberation forces at the Peñaranda Park. It is enclosed within a dome-shaped concrete structure with the inscription, "Whenever oppression knocks at your door, feel free to ring this bell".
Churches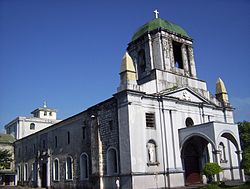 The Cathedral of St. Gregory the Great, located in the Albay District, is the Episcopal Seat of the Diocese of Legazpi. It was first built by Spanish missionaries as a wooden chapel in 1581. The present church, designed by then governor Don Jose Ma. de Peñaranda, was built in 1839 using volcanic rocks.
St. Raphael the Archangel Church is located in the Port District. The original church was built in 1834 under the auspices of Pedro Romero, but was destroyed during the liberation of Legazpi by Allied forces in 1945. A more modern church was rebuilt in its place. Notable features include an altar table made of a single block of hardened lava rock.
Our Lady of Guadalupe Shrine is built on a hillside in Brgy. Buraguis overlooking the port district. It features life-sized depictions of Stations of the Cross and a huge statue of the Virgin of Guadalupe at the summit.
Our Lady of Fatima Church, located along Imelda Roces Avenue, is a modern church with a semi-circular nave built in 1999.
Our Lady of Perpetual Help (Redemptorist) Church is the mission house of the Redemptorist congregation.
St. Jude Thaddeus Parish Church along Lapu-Lapu Street was built in 1965 to serve the Filipino-Chinese community.
St. Joseph Quasi-Parish Church is located in Brgy. Rawis. A new church is under construction.
Parks
Peñaranda Park is a plaza dedicated to Jose Ma. Peñaranda, the first governor of Albay. It is located in the Albay District surrounded by the Legazpi City Hall, Albay Capitol and St. Gregory the Great Cathedral.
Rizal Park is located in front of Saint Raphael Church on Peñaranda Street. It has a fountain and a monument to José Rizal, the country's national hero, sculpted by National Artist Napoleon Abueva in 1966.
The Albay Park and Wildlife, located along Diversion Road - Bogtong, is a picnic grove and a zoological park combined.
Kalayaan Park in Barriada, Gogon features pavilions, walkways, benches, children's playground, and a basketball court.
Bicol Heritage Park is located inside Camp Simeon A. Ola, headquarters of the Police Regional Office 5 in Bicol.
Entertaiment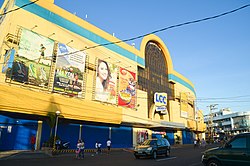 A. Bichara Silverscreens and Entertainment Center is a premier cinema and entertainment center that opened in 1998.
Embarcadero de Legazpi is a marina-inspired waterfront lifestyle hub, commercial and entertainment center located in the city's port area that opened in 2007. It is part of the Embarcadero IT Park. It also hosts the first Duty Free Philippines store in Bicol.

Ayala Mall Legazpi
Streets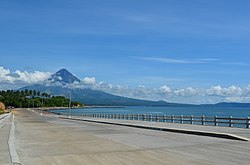 The Legazpi Boulevard is a picturesque seaside road along the city's southern coastline with wide promenades, bike lanes, monuments such as the statue of Miguel Lopez de Legazpi, JCI Legazpi Tourism Marker and the Freemason Obelisk, restaurants, cafés and pubs.
Monuments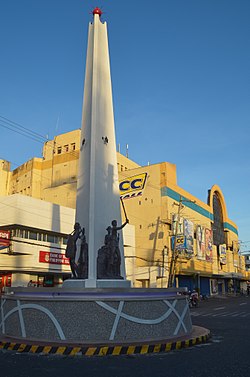 The Battle of Legazpi Pylon at the intersection of Quezon and Rizal Streets is a high monument built to commemorate the defeat of Filipino fighters by American forces in 1900. The pylon marks the site of a bloody battle during the Philippine-American War and World War II.
The General Simeon Ola Statue is located at Bicol Heritage Park inside the police camp named in his honor, Camp Simeon A. Ola.
The Jose Maria Peñaranda Monument was built as a tribute to the late Governor of Albay who served from 1834 to 1843. It is located at the Peñaranda Park.
General Jose Ignacio Paua Statue is dedicated to Gen. Paua, the only pure-blooded Chinese who supported the Katipunan during the Philippine Revolution. It is in a pocket park in Brgy. Bañadero.
The Headless Monument is dedicated to the unknown heroes who died in the Japanese occupation of Legazpi City during World War II. The memorial is in the city's Post Office Compound in Barangay Lapu-Lapu.
Ibalong Heroes Monument, located on the junction of Rizal and Lapu-Lapu Streets, honors the mythical heroes of the Ibalong epic-fragment: Baltog, Handyong and Bantong.
Mag-Ilusyon or Magsing-irog (Lovers) is a metal sculpture by award-winning artist Eduardo Castrillo, commissioned in 1976 for Kalayaan Park in Barriada, Gogon.
Padang Memorial Cross in Brgy. Padang is dedicated to the victims of Typhoon Reming in 2006.
The Obelisk is a landmark monument located along Legazpi Boulevard in Brgy. Puro; it is a joint project between the city government and Mayon Lodge No. 61.
Buy
Malls & supermarkets
Pacific MallHas a Metro Gaisano supermarket and a cinema.

Ayala Mall LegazpiHas a LCC supermarket.

Puregold Supermarkets.

S M Savemore SupermarketsHave two outlets in Legazpi.

Robinsons Supermarkets.Has one outlet in Legazpi.

7-Eleven Convenience storesHas many outlets all over Legazpi.

LCC mall and SupermarketsLCC have many outlets in Legazpi.

address: Brgy 37 (Bitano) Capantawan

140,000 m² mall with a savemore supermarket.
Eat
Local culinary is known as Bicolano food. Coconut milk is the most important ingredient to be added during the cooking. Mains can be pork, seafood or poultry. Flavor will be hot from chili, sweet and sour to savoury enriched by coconut milk base. Most famous amongst the Bicolanos' menu is Bicol Express, which consists of pork and intestine slow-cooked in coconut milk, vinegar and some spices. Common Filipino menus also can be found quite easily. They include dishes like pork adobo, silog (fried rice in garlic), milkfish (bangus) and longganisa (pork sausages). The taste of the longganisa is sweet, quite similar to Ilocano's longganisa.
Budget
JollibeeBreakfast 7AM-11AM.
Mid-range
LCC Mal nearby Lapu-Lapu Street has several vendors that sells some Filipino menu, just like fried bangus with rice, fried chicken with silog.
Splurge
Find out in the cafes within Embrocadero and having dinner towards the sea.
Drink
Blue Lights

address: Vicotry Village Legazpi City

Great ambiance and good crew!
Sleep
Budget
Mid-range
Splurge
Stay healthy
Bicol Regional Training and Teaching Hospital. Rizal Street. Phone +63 52-4830636. (DOH Hospital).
Cope
Bureau Of Immigration Legazpi Office. Door 3 Blst Building Rizal Street.
Go next