Leukerbad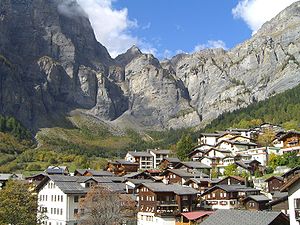 Leukerbad
(elevation 1411 m) is a mountain spa and ski resort in the canton of
Valais
in
Switzerland
. It is best known for its thermal springs (up to 51° C) and unique mountains scenery.
Get in
By bus
The closest train station is in Leuk. Trains arrive hourly from
Geneva
and at least twice hourly from
Visp
. From
Leuk
, buses leave hourly for the town of
Leukerbad
. The bus ride goes up a winding mountain road.
By car
The main road leads from Leuk to Leukerbad. Follow the signs, not your GPS as there are some other, more difficult and narrow roads. Alternative and very scenic (but narrow and exposed) roads to Leukerbad pass through
Albinen
and Varen.
On foot
The adventurous can hike into Leukerbad over the
Gemmi Pass
from
Kandersteg
. There are also trails coming from
Adelboden
via Gemmi Pass,
Lötschental
via Resti Pass and
Crans-Montana
.
Get around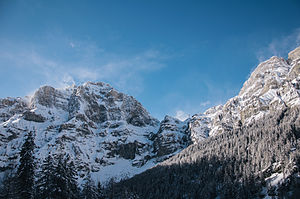 The Ring-Jet bus does a circuit around the village. Time tables vary between seasons.
Cable cars connect Leukerbad to Gemmipass and Rinderhütte (Torrent ski area).
See
The village is mostly walkable and offers very nice scenery as it is surrounded by near-vertical cliffs. One interesting feature are the public fountains around the town, some of which have hot water from the thermal springs.
Thermal Springs Walkway ("Thermalquellensteg"). Free. Open during summers, this trail leads through a narrow gorge and culminates at a very loud waterfall. Some small brownish outlets of thermal water are visible next to the Dala river.
Steep walls of alpine chalk are surrounding the village entirely

address: Kirchstrasse

The foundation of this church lie in the 15th century, but most of what is seen today comes from a major renovation in 1856. A special feature is the Stations of the Cross painted on linen displayed around the church.
Do
Leukerbad is known for the combination of mountains and thermal baths. There is a good number of hikes in the area with varying difficulty levels. In winter the Torrent ski area is popular, with one piste leading all the way to the village of Leukerbad.
Thermal Baths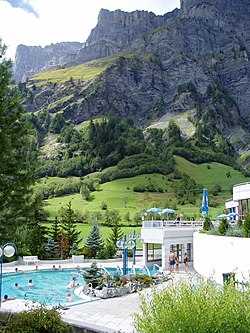 There are several thermal baths, ranging from the public Burgerbad to private spas in the big hotels.
phone: +41 27 472 20 20

address: Rathausstrasse 32

Probably the biggest and best value for money spa in the village. It has a lot of different pools in all shapes. Mostly for relaxation, however there is an indoor pool for kids as well as a sports pool and two water slides on the rooftop. More than half of the pools are outdoors, which can be quite interesting in winter, when snow lies next to the pools. Most of the pools are at 35°C, however there are some hotter Kneipp pools and a steam bath.

phone: +41 27 472 10 10

address: Dorfplatz

This option is more for people looking for relaxation rather than excitement. It is smaller than the Leukerbad Therme but pools are spacier and there's less kids running around as there are no water slides. Downstairs there is a lovely sauna village with little chalets and a quiet room available for a surcharge.

phone: +41 27 470 10 37

This is a sport centre which offers sports such as curling, ice skating, tennis, badminton, squash, snookers, table tennis, bouldering, weight lifting, indoor football and miniature golf. Prices vary by activity.
Skiing
The
Torrent
ski area (elevation 1411 m to 2610 m, reached via cableway from the village) offers some of the most magnificent views over the Swiss Alps and the main valley of Valais. 55 km of pistes, including one leading all the way to the village of Leukerbad.
Hiking
A good number of hikes start in Leukerbad and the surrounding mountains, including hikes to both Gemmi Pass and Torrent.
Climbing
A difficult Via Ferrata ("
Klettersteig Daubenhorn
), the longest in Switzerland, leads up to the peak of Daubenhorn (2941 m). A second, far easier, Via Ferrata for adventurers is located right by the mountain station of the Gemmi cableway.
Buy
There is a good number of sports and clothing shops. Most shops are around the centre in the church street, around the village square and the area between church street and the bus station. Between the bus station and the Leukerbad Therme there is a large Migros, which is open 7 days a week during high season.

Eat
There are plenty of restaurants in the town, all of which are fairly expensive. There is only one fast food outlet and it's not exactly cheap, so the best way to eat on a budget is to buy from the local Migros.

Sleep
Haus Cristal, Tuftstrasse 30, haus.cristal@gmail.com; +41 27 470 16 84. Modern apartments available for 3 nights and longer. Located 5 minutes uphill from the village square, right next to the skiing piste descending from Torrent to Obere Maressen and close to a number of trailheads. Reduced tickets to the Walliser Alpentherme available for guests.

address: Lichtenstrasse 43

Apartments with bathroom and kitchenette.
Out of town
Go next