Lincoln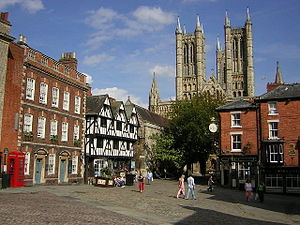 The
English
county town of
Lincoln
,
Lincolnshire
is a cathedral city nestled between two portions of the Lincoln Edge - a steep escarpment that dominates the mostly flat county. Most famous for its cathedral and castle, housed within a Roman–medieval street plan.
The oldest section of the city, in which the cathedral and castle reside, sit at the top of Steep Hill. From the bottom of the hill a pedestrianised shopping street leads to the more modern (and trendy) portions of the city - Brayford Pool and the university.
Understand
Get in
By road
Lincoln sits on the A46 between
Newark
,
Nottinghamshire
, and
Grimsby
,
Lincolnshire
, and at the southern end of the A15. Lincoln is surrounded by minor roads and Lincolnshire itself has no motorways. The central area of Lincoln consists of narrow one-way roads and pedestrianised areas so driving is not recommended. The St. Marks shopping centre has ample parking, and there is a multi-storey car park in the centre of town, near the University and Brayford Pool.
A seasonal Christmas Market Park and Ride service is available and the easiest way to get to the Market.National Park and Ride Directory
By rail
Lincoln Central station
is served by direct trains from
Leicester
,
Nottingham
,
Newark
,
Peterborough
,
Sheffield
and
Grimsby
. There is also an infrequent direct service to
Doncaster
.
Links to
London
are mainly by connection at Newark North Gate station which is on the East Coast Main Line and has regular, fast trains to
London King's Cross
. There is one direct train a day to London King's Cross and one to
London St Pancras
(via Nottingham and Leicester). There is only a limited rail service to & from Lincoln on Sundays.
Trains are mostly operated by East Midlands Trains, with the Sheffield route operated by Northern Rail and the direct London King's Cross train operated by East Coast.
Generally, rail journeys are fairly punctual, if sometimes a bit uncomfortable. Services from
Peterborough
and
Grimsby
, and some services from
Nottingham
and
Sheffield
, to Lincoln may be only a single carriage and may be very crowded for at least part of the journey.
By air
Lincoln is located close to three airports.
Get around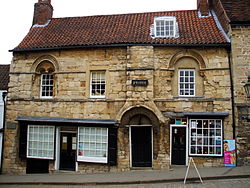 The easiest way to get around central Lincoln is on foot. The city is small and compact with services and attractions within a few minutes walk of each other. One can walk from the easternmost end of Lincoln to the western end at a very leisurely pace in around one hour.
Cars can be hired from two locations - Enterprise, located on the Outer Circle Road, and Hertz, found behind the Holiday Inn hotel (on Brayford Wharf). However, driving around the city itself is in-advised. Lincoln employs a complex one-way system that will quickly confuse tourists (and even some locals).
The main High Street is only a minute's walk away from the railway and bus stations.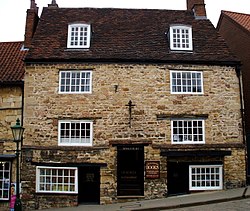 Public transport is as expected in a reasonable sized city. There are regular bus services; however, these are generally for journeys from the south of Lincoln and North Hykeham to the North of Lincoln rather than for short hops within the centre.
Minicabs are widely available. Prices are charged on a zone system and all of the firms are regulated by Lincoln City Council; you are well advised to avoid unlicensed companies - soliciting passengers for these cabs is illegal, and in the event of an accident they often have no insurance.
See
phone: +44 1522 561600

address: Minster Yard

One of the finest and best situated Gothic buildings in Europe, now also famous as the location used to double as Westminster Abbey in The Da Vinci Code movie. For over 200 years it was the tallest building in the world, before its wooden spire collapsed following a storm in 1549. The roof tours are recommended. Architecturally, the cathedral has some of the earliest flying buttresses, and a gargoyle named the Lincoln Imp, with which several legends are associated.

BailgateRoman remains are scattered around the cathedral quarter, for example behind the cathedral are the excavated remains of the Roman east gate, and on the north side of the castle at the junction of Westgate and Bailgate are the excavated remains of a Roman well amid the walls. Walking along Bailgate, notice the circles of old stones in the modern road surface - these are the original foundations of Roman pillars which lined this route, Ermine Street which stretches from London to York.

address: Castle Square

First established in the Norman period, when the city of Lincoln ranked 3rd in the realm for prosperity and importance. Building started by William the Conqueror in 1068 on a site occupied since Roman times. Contains an original copy of The Magna Carta. It is home to families of ducks during the breeding season, despite having no lake or pond. Also a working Crown Court and a Victorian Prison museum. Has fabulous views from the walls and observatory tower over the city and beyond. Visitors can stand on the tower where the city's hangings took place, or descend by a ladder into the dungeon where prisoners waited, and see the manacles still on the walls. Gruesome.

Steep Hillis the medieval lane which connects the modern town centre with the cathedral quarter atop the hill. This cobbled street is a delight of old buildings, many of which contain the more interesting shops in the city, and including the Jew's House, a twelfth-century building associated with Lincoln's thriving Jewish community in medieval times. The street's name is accurate and after a handrail-assisted ascent you reach the Magna Carta pub which stands between the castle and the cathedral. Continue for a few yards if you can be tempted by an interesting ice-cream parlour - their downstairs cafe has you sitting by a tenth-century arch under a vaulted stone ceiling.

phone: +44 1522 782040

address: Burton Road

A rural history museum situated in a Victorian military barracks building.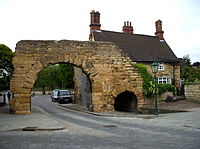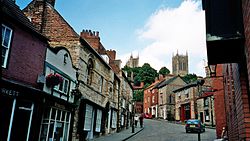 address: Mill Road

A preserved windmill built in 1798, the last remaining example of the nine mills along the Lincoln Edge which milled flour for the city. It is now surrounded by houses, but still operates on a volunteer basis and visitors are welcomed and given tours.

The Lawna former psychiatric hospital, is now a visitor attraction which (as well as housing a conference centre) will be mainly of interest for the Sir Joseph Banks Conservatory, a free-to-enter hothouse with exhibits that Banks brought back from his travels with Captain Cook.

phone: +44 1522 527468

address: Minster Yard, LN2 1PU

The Brayford MereThe oldest harbour in England.

RAF Scampton MuseumNorth Lincoln is famously the home of the 617 Squadron who went on to be known as the 'Dambusters' as a result of their exploits during the Second World War. It is also the present home of the famous RAF display team - the Red Arrows. There are over 400 aviation artefacts located in an original WWII hangar as well as a wartime photo gallery. Entry to the museum is free, though due to its location on an operational RAF base, visits must be pre-arranged with the Museum Curator which can be done via the website or by phone

address: Scampton

address: Navenby

Is a well preserved example of a simple brick built Victorian Lincolnshire Cottage located in the village of Navenby near Lincoln. It was owned by Mrs Smith who lived there until she was 102 and is special for the fact that she never allowed modern innovations except water and electricity to come into the cottage, instead using period washing and cleaning methods, whilst also maintaining traditional furniture. The cottage offers visitors a unique insight into how life was in a bygone area. Open mostly Friday-Sunday from March to September, Wednesday-Sunday in August and only Sunday in October and November.
Do
Lincoln Boat TripsEvery day from Easter to end of Sep. Sailing times 11AM, 12:15PM, 1:30PM, 2:45PM, 3:45PM. Canal trips for 50-60 minutes on the River Witham and Fossdyke Navigation, a Roman-built canal which links the Witham with the River Trent. The vessel Brayford Belle operates from Brayford Pool opposite the Odeon cinema. Adults £6. Alternatively, you may hire a small, slow motor boat for £20 an hour.

Cathedral City Cruises also offers boat trips from near the same location.
Lincoln Christmas Market. Styled on German Christmas Markets, the event takes place around the first weekend in December and lasts about 4 days. Market stalls occupy all the roads around the castle and cathedral areas. There are also funfair rides. A real Christmas extravaganza and definitely worth a visit, but can be very busy. Arrive early if travelling by car.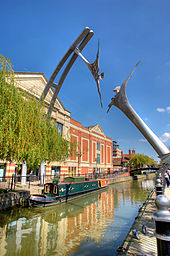 Theatre Royal Lincoln is just off the high street, on Clasketgate.
Watch football (ie soccer) at Lincoln City FC. They were promoted in 2019 and now play in League One, the third tier of English football. The stadium is at Sincil Bank, half a mile south of the railway station.
Skydive: the Target Skysports centre near here is one of the biggest and best equipped in the UK. It lies 25 km north at Hibaldstow DN20 9NN, just off the A15. The usual approach for a beginner is a "tandem" – strapped to an instructor, so minimum training and fitness are needed, but you do need decent weather. Email info@skydive.co.uk or call 0113 250 5600. There's another big centre further south, at Langar: see Newark entry.
Buy
There are plenty of standard chain shops on the high street, just about everything one could want. These range from bigger chains such as HMV, to smaller chains such as Lush cosmetics, and even more local shops. Various streets run off the high street, containing more shops. There is also the Waterside shopping centre on the high street. If you venture further up to Steep Hill and the Bailgate area beyond, you will find more local and traditional shops, such as sweet shops and knick knack shops. All of the major banks are also in the town centre.

Eat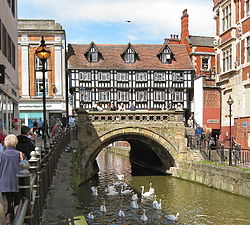 address: 1 St Martins Lane

A highly individual established cafe & cheese shop specialising in cheesy dishes, such as double baked souffles and baked Camembert. Also has non-cheese options. Uses many local producers. The food is freshly cooked and presented to a high standard. Light and airy, bistro style, with pretty slick service. Can get busy, as it seats 24, but well worth waiting for a table. Food is served until 4PM. Not suitable for under 10s. Licensed.
Some Chinese restaurants are Yo Yo's located opposite Debenhams and The Laughing Budda located in the town centre. For an Italian experience, try Pomodoro located just off the high street (near Subway) or Romans located close to the Lincoln Castle.
Chimichanga's, Brayford Waterfront. This is a new restaurant, which has received great reviews of its food. Service is considered to be mediocre, but due to its staff being new to the business, it can be expected that service will improve. Chimichanga's specialises in Mexican style food and is relatively expensive, but food is considered to be of very high quality.
Nando's, Brayford Waterfront. A chain restaurant specialising in Portuguese peri-peri chicken dishes, all of which are offered in a variety of spice strengths (lemon & herb, mango & lime, medium, hot, extra hot). Its service is very good and very prompt. Beware of the Extra hot serving! Prices are fairly cheap considering the size of portions you receive. There is no service charge and babies and children are very welcome.
The Nosey Parker, Tritton Road (at the junction with Dixon Street). This is a pub that serves a pub lunch. Portions are fairly generous and you can expect to pay about £5-£10 for a meal although there are a number of special offers where you can receive 2 meals for £10. Their steak is fantastic and quite generous. Be prepared for a very long wait for food, though.
Pizza Express, High Street (at the corner with Grantham Street, in the upper half of the pedestrianised High Street). Don't let the name fool you! It doesn't serve pizza fast. It serves, what some would say, the best pizza in all of Lincoln, but expect to pay somewhat higher prices!
Planet Masala, Wigford Way, (5 minutes from the High Street). Indian restaurant. The general standard of food is fairly good, but service is very slow. Expect to wait up to a half hour for a meal! This will be the same even if you are the only customers in the restaurant. Various reasons have been offered to answer this, one of which included that "meals were cooked to order" though this is unlikely! Drinks come in a very small glass but are refillable, though don't be surprised if you had to refill your drinks half a dozen times during the course of a meal. Prices are fairly low, but a full meal could be expensive. Dishes generally cost about £5-£8 each.
Pyewipe Inn - Out along the canal. Good food.
Most major fast food chains are available in and around the town centre.
McDonalds - was stuck in 1986, but recent refit brings it up to about 1999.
Burger King (x2) - usually not very busy
Starbucks - full always
Subway (x2)
KFC - A huge distance down the high street
Pizza Hut
City Snax/Double M - Near Market Area.
Most bars also have food menus.
address: Branston Hall Hotel, Branston, Lincoln England LN4 1PD, UK

Booking essential. Use of mobile phones not permitted. Children under 12 not permitted in the evening.

phone: +44 1780 489269

address: 17 St. Mary's Street

The Stamford Cheese Cellar are artisan cheese suppliers, selling a diversity of cheeses from blue cheeses to Cheddar cheeses and even cheeses suitable for vegetarian. It's like a cheese world showcase with cheeses from all over the UK and Europe!
Drink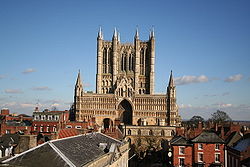 The Vine Inn, Newland Street West. A traditional local pub in the heart of the West End used by both local and students.
The Victoria, near the castle within Lincoln hosts some of the finest ales in the city and is well worth a visit.... throw back to what a real pub should be with real people. Now having a mixture and varied clientèle but with excellent service and atmosphere, a superb place to go.
The Tower (part of a hotel) Great place to meet with friends up hill, more trendy that other bars in the area and serves mainly the aspirational and upcoming crowd.
There are plenty of bars in Lincoln, most of which are on the high street or the waterfront. The main nightclub in Lincoln is the
Engine Shed
which was finished in September 2006. It is the biggest music venue in the area, and so far has played host to bands such as The Zutons, Stereophonics, Kasabian & Feeder. It is open to both students and locals, although it is students only on Wednesday and Saturday.
Other clubs are:
Ritzy's - Featuring three floors playing different music. Very expensive on weekends. Student only night on Wednesday.
Sugarcubes - The only rock club in Lincoln (after the closure of Martha's and Po Na Na), cheap drinks and equally cheap decor.
Scy - Good variety of music, with rock and R'n'B nights. Two floors, although very small and not particularly cheap.
Sleep
Go next
North of Lincoln the A15 (aka the Roman road Ermine Street) leads to the Humber Bridge and to East Yorkshire.
West of Lincoln beyond the vale of the River Trent lies Sherwood Forest.