Ljubljana
Ljubljana
("lyoo-blah-nah"), the capital of
Slovenia
, is a charming old city full of artists, museums, and galleries. In Roman times, it was called
Colonia Iulia Aemona
and was part of Province X "Venetia et Histria" of Italia proper. With a population of 300,000, it is one of the smallest capital cities in
Europe
. Ljubljana is pronounced similar to 'ljubljena' ('beloved') in Slovenian, but the words are not related.
Understand
Ljubljana has no world-famous attractions, which is just great: there's no need to hop from one place to another, taking photos and crossing off the items on your checklist. You have all the time to stroll around and enjoy the city itself. Ljubljana is noted as one of the greenest capitals in Europe; a pair of green hills, one of them sporting the city's major attraction (Ljubljana Castle) approach the centre like two opposing wedges, so forest with an extensive network of footpaths is literally across the street from the old town.
In the summer, its centre hosts a number of city sponsored events, from children's workshops and public playgrounds on the streets that get closed for traffic for the occasion, to Trnfest's off-beat street performances and musical events of all genres. In autumn it shows its academic face as it fills again with students of the state's largest university to whom the city owes much of its youthful character. Cold December days are warmed by thousands of lights, the New Year's decorations conceived by local artists, and by food and drinks sold from street stands on the banks of the Ljubljanica river. After surviving the boring grey remaining of winter, the city erupts again with spring flowers planted on its streets and crossroads.
Orientation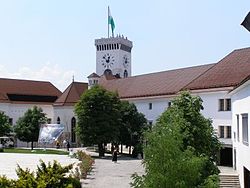 The Ljubljanica river flows through the centre of town, past Baroque buildings and under the ramparts of the ancient castle on the hill. The new city and modern-day commercial core lies to the west of the river, while the old city and the castle are located on the east side of the river. Many bridges cross the river, the most famous of which is the
Tromostovje
(triple) bridge, designed by architect Jože Plečnik.
Ljubljana Tourist Information Centre

phone: +386 1 306-4583

address: Stritarjeva

Also offers three sightseeing tours in the summer at 10:00, 14:00, and 17:00 for €10. Take free map from here, also there are nice souvenirs too.
Get in
By plane
Jože Pučnik AirportAirport facilities include parking, a bank, money exchange, ATMs, a post office, an information desk, free Wi-Fi in the terminal, a general store, duty-free stores, a self-serve restaurant, bars, and cafes. Adria Airways, the former flag carrier of Slovenia, ceased all operations on 30 September 2019. The following airlines operate service to/from Ljubljana:
Aeroflot (
Moscow-Sheremetyevo
), Air France (
Paris-Charles de Gaulle
), Air Serbia (
Belgrade
,
Niš
), British Airways (
London-Heathrow
), Brussels Airlines (
Brussels
), EasyJet (
Berlin-Schönefeld
,
London-Gatwick
,
London-Stansted
), Finnair (
Helsinki
), LOT (
Warsaw
), Lufthansa (
Frankfurt
,
Munich
), Montenegro Airlines (
Podgorica
), Swiss (
Zurich
), Transavia (
Amsterdam
), Turkish Airlines (
Istanbul
) and Wizzair (
London
-
Luton
and
Charleroi
).
There are public buses (€4.10, 30-50 min) connecting to Ljubljana leaving every c. 30 minutes with the station located right outside the terminal. The fare is paid to the driver. While all buses to Ljubljana all terminate at the central bus station, you can exit them at any scheduled station (check with the bus schedule) by pressing the "stop" button in the bus. You can also book shuttles or taxis to drop drop you off at the hotel (Prices start at around €9 for a shuttle and €20 for a metered taxi - note that there is not a unified fare for taxis from the airport).
Alternatively, there are several airports around Slovenia with more budget flights that are now well connected to Slovenia by one of many shuttle companies, though you can also use public transport. Look especially for flights to northern Italy:
Trieste
,
Venice
(Marco Polo or
Treviso
),
Bologna
,
Bergamo
,
Milano
-Linate/Malpensa, but also to
Munich
,
Vienna
,
Bratislava
,
Budapest
,
Rijeka
,
Pula
,
Zagreb
.
By shuttle bus
They are primarily designed for airport transfer, but most can also to drop you off at a central railway/bus station or even provide door-to-door service, sometimes for a small additional fee, sometimes free. The biggest and best organized is
GoOpti
; however, it can be relatively cheap only if you book enough in advance. On short notice better check some others, here's a nice
list
.
By train
The Ljubljana bus and train stations are next to each other at Trg Osvobodilne Fronte ("Trg" means square in Slovenian). The two stations are located just north of the city centre and a short walk from most hotels and attractions. The train station has a tourist information centre, currency exchange, and left-luggage service.
Ljubljana is the hub of Slovenia's rail system. Local trains run throughout the country - no point in Slovenia is more than 3 hours away.
Direct international connections include
Zagreb
(2 hours),
Rijeka
(3 hours),
Graz
(3 hours),
Salzburg
(4 hours),
Pula
(4 hours),
Vienna
(6 hours),
Munich
(6 hours),
Belgrade
(9 hours),
Frankfurt
(10 hours),
Zürich
(11 hours). To
Trieste
there are 3 trains per day between Ljubljana and Villa Opicina (an Italian town just above Trieste). From Villa Opicina you can take the bus or taxi into Trieste and from there onwards to anywhere else in Italy. Alternatively there are many services a day to Sezana (the last Slovenian town before the border) and again taxis or buses to Trieste are possible. Expect to pay about €10 and it is strongly advised to book the taxi, as none will be waiting.
There are direct links to
Budapest
, but there are no direct trains to Venice as of January 2015.
By bus
Ljubljana bus station (
avtobusna postaja
) is next to the train station and has services throughout Slovenia, as well as to foreign countries. The station has several useful schedule search engines (also in English) for working out connections. Generally speaking, a bus can take you almost anywhere in Slovenia within a few hours.
Direct international connections:
Trieste
(2 hours),
Venice
(4 hours with
DRD
),
Banja Luka
(5 hours),
Bihać
(6 hours),
Bologna
(6 hours),
Budapest
(6 hours on
Eurobusways
),
Munich
(7 hours),
Florence
(8 hours),
Tuzla
(8 hours),
Zenica
(8 hours),
Belgrade
(8 hours),
Ulm
(9 hours),
Stuttgart
(10 hours),
Sarajevo
(10 hours),
Niš
(12 hours),
Karlsruhe
(12 hours),
Mannheim
(13 hours),
Frankfurt
(14 hours),
Skopje
(15 hours),
Tetovo
(16 hours),
Sofia
(16 hours),
Pristina
(18 hours),
Copenhagen
(19 hours),
Malmö
(20 hours),
Gothenburg
(24 hours),
Linköping
(28 hours),
Örebro
(34 hours),
Stockholm
(36 hours).
phone: +38640802525

Turanus offers transportation to every destination in Slovenia and several European airports.

Left luggage
By car
Ljubljana is at the centre of the Slovenian road network, which means that if you're not driving towards the border, you're approaching Ljubljana. Traffic can be frustrating at rush hours, but is generally lighter than in larger European capitals. Huge jams can occur if there's an accident or road works, though, so consult the
Traffic-information centre
or listen to
Radio Si
which offers regular traffic information in several European languages.
There are several car parks throughout the city centre, and cheaper ones at the outskirts. Those offer day-long parking with return city bus ticket included in the price. Most car parks are operated by the
Municipal company
. Short-term street parking in blue zones is payable at parking meters scattered around (€0.7/hr in the city centre, 2 hours max; €0.4/hr further out, 3 hours max; Saturday afternoon and Sunday parking is free). Parking meters don't return change, but they also accept the Urbana card (see below).
Renting a car is also an option, especially if you are visiting remote destinations outside of Ljubljana.
By carpooling
The main website is
Prevoz.org, (click on "mednarodni prevozi" for international rides)
. The website is only in Slovene, but simple enough to navigate. The columns are "from", "to", "time" (of departure) and "cost", you can sort them by clicking on top row, or use the search engine on top. You have to register to see the phone number, you can use an existing account. Most drivers would speak enough English to arrange the ride. Note however that there is no rating system in place, nor any payment system – you pay cash to the driver. Generally the price is around €5/100-120km within Slovenia, usually a bit more abroad. If you're arriving in your own car and want to pick some passengers, you can of course also post it on the site.
Get around
By foot
The centre of Ljubljana is small enough to cover by foot. You can pick up a free city map at a tourist information centre or in the train station. Navigating or finding a street is easy as streets are clearly marked.
By bicycle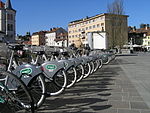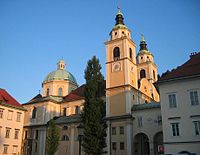 Bicycles are available for rent
at the
Slovenian Tourist Information Centre
(beside the Central Market) as well as some of the hotels in the area (€2 for 2 hours, €8 for the whole day ending 7~9PM depending on season).
There is also a system called "
BicikeLJ
" where you can rent bikes (first hour free, second hour €1, third hour €2, each additional hour €4). It is designed for short-term hire. It has 300 bikes on 30 stations around the inner city part and you can subscribe with a credit card online. You can take another bicycle after one hour has elapsed, without any cost.
By city bus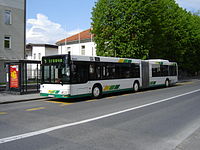 The city's transportation authority
LPP
operates 22 bus lines, which are clean and run frequently (every 5–10 minutes, 15–30 minutes during the weekend and summer). Most bus routes operate 05:00-22:30 (Sundays from 6AM). Night routes are: N1 (22:30-05:00), 2, 5 and 6 (03:15 - 00:00), N3 (21:00-05:00) and N11 (03:15-05:00). Saturdays and Sundays no service on routes 22, 24, 28 and 29. Sundays no service on routes 7L, 8, 18, 20, 21, 27.
To ride the buses, you must first purchase an Urbana card (similar to an Oyster Card in
London
). These can be bought at self-service stations ("Urbanomat") found at the larger bus stops across the city, LPP sales sites, Tourist Information Centres and newspaper agents for €2 and need to be loaded with an amount ranging from €1 to €50. Upon entering the bus by the front door, you need to position the card next to the reader to pay for the route. The confirmation is a quiet beep and an illuminated green light, while a negative response is a louder beep and a red light. After that, you proceed to take your seat / stand.
The cost per journey is €1.20 and includes an unlimited number of free transfers within 90 minutes from the first entry to the bus.
Most lines operate at least once every 15 minutes.
Timetables
have departure times.
By taxi
The cheapest taxi companies:
Taxi Laguna

Taxi Metro'

Intertours Taxi

phone: +386 80 311311
These are free numbers (all numbers starting with 080 are free in Slovenia), so you can use a phone booth to make a free call. Not all taxis charge the same fare.
While taxis ordered by phone are cheap, those waiting on the street will usually charge through the roof, and you can end up paying €25 for a short ride! Unless you're in a hurry, always order a taxi by phone!
By boat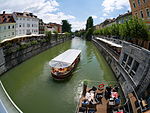 You can see centre of Ljubljana also with frequent boat tour, they last around 1-2 hours.
Talk
The main language of the city is unsurprisingly
Slovenian
. Bosnian/Croatian/Serbian is also understood by most and usually spoken fluently by people over 30. Many inhabitants of Ljubljana speak English as well, especially people under the age of 30. Some of them also speak German, Italian, French, Spanish and/or Russian. It's worth trying any major European language you speak.
See
The easiest and most pleasant way to reach all spots described below is by foot, except for the Zoo and the Architecture Museum.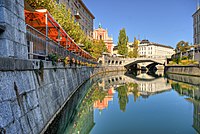 Triple Bridge (Tromostovje)Tromostovje consists of three separate picturesque bridges located next to one another. According to design by known Slovenian architect Jože Plečnik, the two bridges on the sides were built in the 1930s; the middle bridge is originally from 1842 and has been only redesigned at that time. The neighbouring Prešeren square with the statue of Slovenian greatest poet France Prešeren is the central location of downtown Ljubljana and a common meeting point. From here, cross Ljubljanica and turn left for Open Market and the Dragon Bridge, or go straight and then right for the old town.

Old TownSqueezed between the castle hill and Ljubljanica river is the old town with two squares, Mestni trg (City square) with the Robba fountain and the city hall behind it, and, farther on, Gornji trg (Upper square). Well preserved medieval buildings now house local designer shops, and several popular cafes and restaurants. Although they may look creepy, the perfectly safe narrow lanes lead to charming little squares and buildings.
Zmajski Most (Dragon Bridge)Completed in 1901, designed by Croatian Jurij Zainovich. It is guarded by four detailed dragon statues from the city's coat-of-arms. Look out for the dragon motif throughout the city. Be careful around the Dragon Bridge area, as it is on a major busy road just outside the pedestrian zone and near misses (and worse) between inattentive tourists and traffic are common. The dragon bridge is located at the end of the Ljubljana Open Market, just a block or two down the river (north-east direction) from the Triple bridge.
Ljubljana CastleThe tower has magnificent views all over the city. You can also see the Sava River and Kamnik Alps in the distance. Included is a 3D Movie of the history of Ljubljana from a pre-historic settlement to Roman Empire to modern times (€6.50 for adults, €3.00 for students, seniors).
Square of the RepublicWhere crowds gathered as Slovenia announced its independence from the Yugoslav Federation in 1991. The square has significant importance for Slovene history, as it was a place of important public gatherings (and demonstrations) in the past. Across the road is the Slovene Parliament. Its façade is decorated with artistic nude statues of Slovenes at work and leisure. The square also houses the International Business Centre.
Roman RuinsA short walk west of the centre of town are the remains of the Roman City Walls, including a number of pillars from an entrance gate.
KrakovoA village-like part of the city connecting the centre to the Trnovo suburb.
Metelkova CityA self-declared autonomous culture place to gather for alternative artists, many subcultures and youth. What used to be a military barracks is now full of underground artists, bars and nightclubs. Metelkova can get crowded on Fridays and Saturdays. It is within 5 minute of walk from main Train Station, and it is home to a renowned hostel Celica.
Tivoli ParkThe main city park. You can sit down on a park bench and enjoy the sun. Rožnik (the hill overlooking Ljubljana from the west) is a short hike away through the woods. This is a popular weekend destination for the locals.
University Botanic gardens Ljubljana

phone: +386 1 427-1280

address: Ižanska cesta 15

Ljubljana Botanic Garden is the oldest Slovene cultural, scientific and educational institution. It was founded in 1810, the time of the Illyrian Provinces, as a garden of native flora and a section of the Central School (École Centrale). In the garden is also tropical glasshouse.
Museums
Architecture Museum of Ljubljana: Plečnik Collection

phone: +386 1 280-1600

address: Karunova 4

An annex of the Architecture Museum devoted to great Slovenian architect Jože Plečnik, who lived in this building from 1921 to 1957. The house contains rooms with the artist's valuable original furniture and personal objects, an archive of his sketches and plans and a collection of clay, plaster and wooden models, a library, Plečnik's correspondence, a photo archive, thesis projects of Plečnik's students and an archive of the Academy of Architecture Collection. Access only by guided tour of not more than 7 people, booked at least five days in advance.
address: Cankarjeva cesta 15

For those who prefer contemporary art, MG+ houses the national collection of 20th-century Slovene art (paintings, sculptures, prints, drawings, photography, video and electronic media collections), a collection of works from the former Yugoslavia, and the Eastern European collection "Arteast 2000+."
address: Prešernova 24

Definitely worth visiting if you care about art. It exhibits two important permanent collections that include works of some of the best and most renowned Slovenian (impressionist) painters (Jama, Grohar, Jakopic, Azbe). You can also see there a restored original of the Robba Fountain, a monument of national cultural heritage.
National Museum of Slovenia - Prešernova

phone: +386 1 241-4400

address: Muzejska ulica 1

The oldest and the largest Slovene museum. It was founded in 1821. Existent museum building on the Museum street, was built in 1888 and was the first, building, assigned solely to culture in Slovenia. Today its stores a rich collections of valuable objects. The oldest spring back to the Stone Age, but there are also the newer ones, which are still used in our everyday life. Important columns of museum activity are also rich museum library and unit for preservation and restoring.
National Museum of Slovenia - Metelkova

phone: +386 1 230-7030

address: Maistrova 1

In the new building of the National museum of Slovenia on the Metelkova Street, are exhibited collections of the applied art heritage of Slovenia. The permanent exhibition brings together objects of applied arts from the 14th century to the present day.
National Museum of Contemporary History

phone: +386 1 300-9610

address: Celovška 23

Slovenia's 20th-century history museum gives you a real sense of the country's roller-coaster ride through regime after regime. Its immersive exhibits include a walk-through World War I trench. The last exhibit shows the events around the Declaration of Independence from Yugoslavia and the Ten Day War with the Yugoslav Federal Army. All exhibits are translated to English and some to German too.
Slovenian Museum of Natural History

phone: +386 1 241 09 70

address: Muzejska 1

Features an almost complete skeleton of a 20,000 year old mammoth found near Kamnik in 1938, a 200-million-year old fossil fish skeleton found in Triglav National Park, and a new, 13-m skeleton of a fin whale. Also has a large mineral collection.
Do
Water parks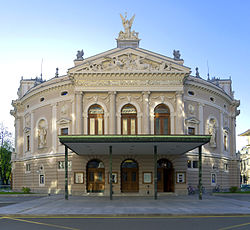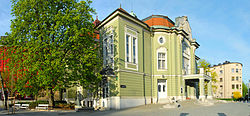 Opera & theatre
Shows are performed regularly throughout the year. The opera house is located just behind the Slovene Parliament. There are several theatres scattered all over the city centre.
Cinema
Learn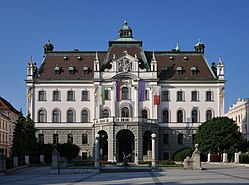 Student life in Ljubljana is very active and you will notice many young people on the streets when classes are in session from October to May.
University of LjubljanaThe largest university in Slovenia, with 64,000 students. The different departments (faculties) are scattered all over the city.

Language CoursesOffered year-round by the Philosophy Faculty at the university, including two-week (€530) or four-week (€900) long summer schools:
Work
Quite a lot of internationals work in Ljubljana, and it continously hosts a significant number of freelancers who like to spend some months here due to the good ratio of quality towards cost of living. Coworking options are available, one gravity center is the former tobacco factory, for example hosting
Poligon
, Slovenia's biggest coworking space (it is located in the building Tobačna 5, which also hosts the public administration body, "Upravna enota" and a tech startup space called
Hekovnik
).
Buy
Ljubljana's main shopping areas are the BTC City Shopping District (
take bus 27
), located at the north-eastern edge, and the Rudnik Shopping District (
take bus 27
) in the south-eastern edge of the city. However, several department stores such as Maximarket, H&M, Müller, Nama, are located in the city centre. Additionally, Čopova street and the Old town have a dense collection of small shops.
Sunday flea market

address: Gallusovo nabrezje

Two dozen or so stalls selling overpriced knick-knacks. Postcards, €10. Tito and Disney memorabilia, broken Chinese-made curios, rusty military paraphernalia.

Central Market

address: Vodnikov trg

The central, open-air market features a wide array of local produce (exact items vary depending on the season), as well as local cheeses, breads and meats in the adjacent building. If you're lucky, you may still find sellers who have wheeled in their vegetables from south of the city centre (Krakovo) by foot - although they are a dying breed. Open every morning and early afternoon except Sunday; most lively on Saturday mornings. On Fridays you can also visit the 'Open Kitchen' from 08:00 until 21:00, from March until October.
Eat
Downtown Ljubljana is full of trendy cafes (outdoor seating in the summer!) and high-quality restaurants. You can find local Slovenian food, and restaurants with ethnic food from many places around the world. Pizza in Ljubljana is of very good quality. Try a burger Slovene style with a horse burger at the Hot Horse! Cheap and good for returning from a night out.
Budget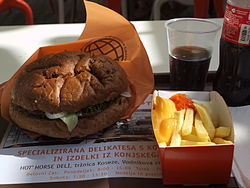 address: BTC City, Šmartinska 152; Tivoli Park, Celovška 25

Huge burgers and other dishes, focused around horse meat. Made to your liking. Don't be fooled by the pictures on the official website, the burgers are huge, larger than at McDonald's or Burger King. Note that you must use an automatic order machine to place your order and pay for it before picking it up from the counter.

Falafel

address: Trubarjeva 40

This Middle-Eastern dish, together with other meat and vegetables dishes is served in the small fast-food restaurant next to the Dragon bridge.

Nobel Burek

address: Miklošičeva 30

The place where young people go to get food late in the evening or at night. Different kinds of burek (a leafy dough pie, traditionally with mince meat or cheese filling) available. Arguably the best burek in town.

Odprta Kuhna (Open Kitchen) food market

address: Pogačarjev trg

On Fridays, during the summer part of the year, the market is buzzing, even in the evening, as locals and tourists alike try the varieties of dishes at the various food stalls of the so called "odprta kuhna" (open kitchen).

phone: +386 51 605 017

address: Ciril-Metodov trg 15

Hole-in-the-wall fast food restaurant serving seasonal Slovenian soups with traditional sausages and bread.
Mid-range
address: Zaloška cesta 110

Located in Eastern town. Bad&Breakfast known mostly as good reastaurant for grilled Serbian food (Balkan food) is likeable for all who love meat. Meat like cevapcici and pleskavice are very popular here (€6-7). They also make perfect pizzas (€5.3-7.2).

Cafe Romeo

address: Stari trg 6

Fusion between cocktail bar and Mexican restaurant. Besides tourists, this place is also popular among the locals.
phone: +386 1 426-9325

address: Wolfova 4

Mexican restaurant set in a small yard together with another restaurant and a pub.
address: Šubičeva 1a

Thai food and cocktail bar, great atmosphere.
Emonska Klet

address: Plecnikov Trg 1

Former Ursuline convent. Cellar restaurant serving pizza, salads, and Slovenian food. Live music every night.
Figovec

address: Gosposvetska 1

Serves pony steaks, horse goulash, and traditional Slovenian food.
Foculus

address: Gregorciceva 3

Flamboyantly decorated pizzeria and salad restaurant.
address: Cesta na Roznik 18

Specialises in grilled dishes from southeastern Europe.
phone: +386 1 439-6855

address: Ciril Metodov trg 18

This restaurant deals up authentic Slovenian cuisine, complete with all waiters and waitresses dressed up in traditional costume. The food is hearty and served in generous gut-busting portions and very good value for money. The fish cooked in a paper bag with vegetables is highly recommended. There is plenty of meat, fish and vegetarian dishes to choose from. The only downside was the house red, which is very sharp and quite cold, but this is a minor quibble.
Joe Pena's

address: Cankarjeva 6

Popular Mexican restaurant.
Julija

address: Stari trg 9

Fare of Italian pasta and risotto dishes. Not quite a nice as Luka's but still a good filling meal, and at a reasonable price.
Jurman

address: Zaloška 151

Affordable prices and very diverse choices. They have themed rooms, such as castle room and fishing room. Children can play in a designated indoor and outdoor playgrounds. The staff is friendly and the service is fast; it usually never takes longer than 10 minutes for 2 or 3 people. You are advised to make a reservation in advance.
Ljubljanski Dvor

address: Dvorni trg 1

Offers 100 different kinds of pizza. Beautiful patio overlooking the river.
Pri Škofu

address: Rečna cesta 5

This restaurant is heavily promoted by tourist guides, but delivers an inconsistent experience (i.e. can be very good or simple adequate). Their biggest shortcoming is the lack of wine choice. House specialties are gnocchi, black risotto, tenderloin medallions, or grilled aubergines.
Šestica

address: Slovenska 40

Serves hearty meat dishes such as sausages, horse fillets, and steak as well as pasta and risotto.
Špajza

phone: +386 1 425-3094

address: Gornji trg 28

This restaurant is much larger than you first expect when you initially enter. You walk through several candlelit rooms before you reach the outside terrace. The waiters are initially quite attentive, serving you a nice little aperitif to get you started. The food is a mixture of Slovenian and European, and the menu is kept to a handful of choices for each course. Because of the service, surroundings and food this felt like an expensive restaurant, although by Western standards, it was quite reasonable.
Zhong Hua

phone: +386 1 230-1665

address: Trubarjeva 50

Decent Chinese restaurant near the Dragon bridge. The family-run place even has Beijing duck on their menu.
Zlata Ribica

address: Cankarjevo Nabrezje 5

Great fish restaurant with outdoor seating facing the river.

phone: +386 1 280-8892, +386 41 712 806

address: Ziherlova Ulika 36

Local restaurant serving a huge range of Slovenian food - appetisers, starters, main courses, sweets, salads, meat, fish, etc. Friendly staff speak Slovenian, English and Italian, and the menus are indeed in Slovenian, English and Italian.
Splurge
address: Copova Ulica 5A

Considered by many as Ljubljana's fanciest and most expensive, focusing on seafood and an extensive wine choice
address: Meteorology 55

Modern international fare.
phone: +386 1 433 13 58, +386 1 474 72 19

address: Miklošičeva 17

Modern International fare, can get expensive by Slovenian standards.
Krpan

address: 24 Ob Ljubljanici

Specializing mainly in seafood with an amazing grill experience. Unfortunately there have been some reports of inflated bills.
phone: +386 1 283 52 94

address: Eipprova 1A

Excellent traditional dishes. It advertises "Slow food", but in effect the service is both helpful and fast. The restaurant has friendly and artistic atmosphere.
Pri Vitezu

address: Breg 18-20

High-end restaurant serving swordfish, scallops, snails, duck, and horse fillets.

phone: +386 83 84 31 42

address: Grajska planota 1

A good restaurant in the castle's tower with a teracce overlooking the city
Vegetarian
phone: +386 590 58381

address: Žibertova 23, Ljubljana - Šiška

Vegetarian restaurant with Indian cuisine and vegan options
Drink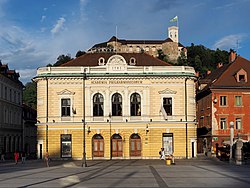 Most of Ljubljana's bars tend to cluster on the streets running parallel to the river, radiating from Prešernov trg, which is the main square in Ljubljana. The more interesting bars tend to be on the backstreets, rather than directly facing the river. Part of the joy of this city is stumbling across these places, but these are few to start you off.
Free tap water locations
The application
Tap Water Ljubljana
is intended for all who wish to quench their thirst and refresh themselves during the spring and summer months with freely available water from fountains found in 17 locations throughout Ljubljana, mostly they are in city center. Application is available on App Store.
Cafes
Cafe Antico

address: Stari Trg 17

Great ambiance - bare wooden floors, high tables and stools, and vaulted ceiling.
Cafe Gaudi

address: Nazorjeva 10

Nice interior and wide selection of coffees.
Čajna Hiša

address: Stari trg 3

This is a quirky little coffee and tea room, offering many variations on those warm beverages as well as basic breakfasts and lunches. The background music is impeccably cool, and the atmosphere is ideal for some elegant loafing. Linked to the café is a teashop selling drinking paraphernalia and loads of different fruity flavoured teas by the 100g.
Geonavtik

address: Kongresni trg 1

Nautically themed cafe/bar with travel map and bookshop. Mellow atmosphere.
Juice Bar Babo

address: Krojaška 4

A juice and smoothie bar in the old city center with over 50 combinations of freshly prepared beverages to choose from. Laid-back atmosphere, interesting combination of urban and health freak culture. Good place to meet tourists and interesting locals of all ages.
Le Petite Cafe

address: Trg Francoske Revolucije 4

Very popular corner cafe.
Maček

address: Krojaška 5

The most popular cafe along the river.
Samsara

address: Presernov Trg

Summer-only outdoor cafe offers large selection of ice cream & gelato.
Sax Pub

address: Eipprova 7

Really cool colorful spray-painted cafe/bar along the canal.
Zvezda

address: Wolfova 14

Cafe with great ices and pastries.
Bars
BI-KO-FE

address: Židovska steza 2.

A lively artsy little bar that plays excellent jazz music (CD, not live). There is outside seating, but inside is where it seems to be happening. It looks like the place the youngish locals hangout to drink the night away. Coffee, teas, and alcoholic beverages.
Breg

address: Breg 2

Classy wine bar along the river.
Cutty Sark

address: Knafljev Prehod 1

Lively pub with raucous atmosphere. Usually has live music.
Lepa Žoga

address: Celovška 43

Main sports cafe/bar with sports regalia along the wall and a good, mixed crowd on most nights. Shows international rugby, all sorts of football games (European, English, Italian and other leagues) and other live sports. Has the best TV coverage in the city, ranging from Sky Sports to local TV stations.
Od Žmavca sosed pa ud brata prjatu

phone: +386 1 251 0324

address: Rimska cesta 21

Markets to the "creative urban type."
address: Prečna 6

The ubiquitous Irish pub with Guinness and local beers on tap, with a typical menu of hearty meals available. Also typical is the welcoming atmosphere that seems common to all Irish pubs. Big screen TVs show sporting events, (mainly traditionally Irish Gaelic Games and occasionally soccer) but bar staff are happy to change a television to show other sports (Rugby Union, Rugby League, Cricket, AFL, NFL, etc.) on request. Watch out for expat and tour groups at popular sporting events from their 'home' country.
address: Ključavničarska 5

Skeleton-themed basement bar in a side alley. Famous for an extensive variety of cocktails, and you get two for price of one, prices vary from €6 to 13.
Pod Skalco

address: Gosposka 19

Popular student pub with an almost 150-year-long tradition, frequented almost exclusively by locals. Loud music.
Ragamuffin

address: Krojaska 4

Intimate, reggae cafe-bar with good tunes.
Vinoteka Movia

address: Mestni trg 2

Anyone with any interest in wine should visit here. The cosy, candlelit wine bar comes with knowledgeable barmen who can recommend a wine based on your tastes. The wine glasses are huge, so it's hard to tell if they were being stingy or if it has simply spread out. Be careful about asking for 'samples', as they will charge you full price. The prices can vary from modest to a remortgage.

phone: +386-599-44-825

address: Tavčarjeva ulica 8a

Located in the Art Nouveau part of Ljubljana city centre, offers more than 120 beer varieties and a large choice of teas and wines. It is vibrant in the evenings, particularly when it hosts themed events and beer tastings, while during the day it has a more coffee house-like atmosphere, offering its guests an opportunity to browse through a newspaper or read a book in peace. The staff speak several languages. Free wireless internet access is available.
Clubs
Ljubljana has several good nightclubs (discothèques). The clubs hold special events, they will play a certain syle of music on certain nights, etc. Some will also impose a strict dress code and age limits.
address: Metelkova 8

It's a squat with 6 clubs, each with its own style of music and program. Gala Hala is the biggest and the music is very diverse - from funk nights to hip-hop and indie to rap and strange fun music. It has also concerts and an outside garden where they also grill in the summer. Gromka is a smaller one usually admission free and the music also differs from night to night. Usually it's rock/alternative hits or rockabilly or fun 90s music. It has also concerts. Menza pri Koritu is the most alternative and it has mainly alternative, metal, punk concerts and after parties. Channel Zero is more about electronics (also concerts) - d'n'b, dub, electro, house. Jalla Jalla is the smallest one with sometimes obscure, experimental music. Tiffany is a gay club with usually electronic parties. In Metelkova everybody can find a place for himself (usually the most is happening on weekends) and you can just walk from one to another club and see what is going on (if there is no admission).
address: Kersnikova 4

National and international DJs play electronic music.
address: Tomšičeva 2

On the top floor/roof of a downtown department store, this trendy nightclub offers fantastic views of downtown Ljubljana. Music varies depending on the day of the week.
Sleep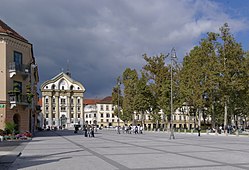 Budget
Ljubljana offers several hostels and student homes that function as hostels in the summer.
phone: +386 41 666 477

address: Tugomerjeva 56

Small-scale hostel, social environment, friendly owner. Also offers long-term accommodation to Erasmus students.
address: Metelkova 8

A redecorated military prison within the former Austro-Hungarian and Yugoslav army base of Metelkova. Each cell of this former prison was individually designed by a Slovenian artist, with a different theme in mind. Free wi-fi and internet access, Coin laundry, small art gallery and library, pleasant cafe-restaurant. Credit cards accepted.
Dijaški dom (Youth Hostel) Tabor

phone: +386 1 234 8840

address: Vidovdanska 7

Open only from the end of June to the end of August. Clean and modern student dorm. Free internet for 15 min and a kitchen with dishes is available for cooking.
address: Tomšičeva 4

In the small 3-room apartment of a dentist who was killed in World War II. The hostel is small, but the rooms are spacious and a good place to meet people.
Most Hostel

phone: +386 31 282816

address: Petkovškovo nabrežje 41

Cute, small, friendly and recently renovated hostel with a perfect location. There's also one PC with Internet connection for free.
Vila Veselova

phone: +386 59 926 721

address: Veselova 14

In a 100-year-old Victorian villa on the western side of town near Tivoli park and the American Embassy. VV is a 5 minute walk to the city center. They have free breakfast (cereal and coffee). Self-serve kitchen and laundry. Free Wi-Fi is available down stairs in the common area (but has good reception in the rooms downstairs too). Rooms are large and draughty, located near a main road and train tracks. Rooms aren't numbered, but have colours! (Yellow room, Green room, Lime room, etc.) Most bathrooms aren't en suite, but are locked and you have a key (so if you're in the Turquoise room...every one in that room uses the Turquoise bathroom). 8,6 and 4 bedroom dorms and one private room with en suite facility (Violet room). Prices are €20 and up a night with the private Turquoise room going for about €40 a night. Front desk is staffed in the morning and early evening and you need the code to get in. Contact the hostel if you're going to be late, because no one will be around to let you in or unlock your room (unless you have a cell phone that will work in Slovenia. Phone numbers are posted outside). Reception staff are very friendly and extremely helpful. A nice efficient place to stay, with a good vibe, if you don't mind bare-bones comfort.
Guest House Martin

phone: +38641791401

address: Ziherlova Ulika 22

Guest house with friendly English-speaking owner. All rooms are double or twin with spotless shared bathroom (clean, hot shower). There is a shared kitchen. Set in a quite, residential zone with all facilities nearby.
Mid-range
phone: +386 1 42 13 560

address: Gornji trg 3

Beautiful but very affordable antique-styled hotel; good breakfast, free Wi-Fi on all rooms, very nice staff.
address: Litijska 57

Lively sports hotel/hostel. Clean, no-frills rooms. Squash, badminton facilities and fitness center. Use of pool in summer.
address: Dalmatinova 15

Features nice refurbished rooms, but a bit pricey.
address: Dolenjska 336

Shiny ultramodern facilities.
phone: +386 1 300 2500

This 145-room 3-star hotel is also an HI hostel and its accommodation is split between hotel and "hostel" rooms. Hostel rooms are cheaper but are grim and bare and have shared shower/bath and no TV. Staff may request to keep your passport at check in, so it might be useful to have a copy to hand in.
address: Rožna dolina, c.I/26,

#-star hotel/restaurant with only five rooms.
phone: +386 1 568 3913

address: Dunajska 270

Pleasant location near river Sava. You can pitch a tent or hire a bungalow. Swimming pool, sauna, fitness centre, badminton, volleyball, bowling, children's playground, restaurant, snack bar.
address: Derceva 4

Modern, neat, spacious rooms. Triples and apartments are available.
address: Rimska 4

Colorful rooms, nice restaurant.
Splurge
address: Dunajska cesta 154,

214 modern and spacious guest rooms in four different categories. All rooms are equipped with air-con, safe, minibar, hair dryer, flat screen, satellite TV and radio.
Best Western Premier Hotel Slon (Elephant)

phone: +386 1 470 11 00

address: Slovenska 34

Named after Archduke Maximilian who stayed at an inn on the location of the hotel with an elephant in 1552. Rooms are bright, parquet-floored, include desks and chairs. Good restaurant on site.
phone: +386 1 308 12 70

address: Miklosiceva 1

Splendid art nouveau building. Ljubljana's most refined hotel. Rooms are huge and some have views of the castle. Fitness center, sauna, and rooftop pool. Nice à la carte restaurant.
phone: +386 1 433 21 55

address: Vošnjakova 1

5-star hotel. The most expensive hotel in Ljubljana. A gleaming glass high rise building. Popular among business travelers. Lavish rooms have smark oak chairs and desks.
Hotel Mons4-star hotel. Hotel facilities include a gymnasium, a sauna, billiard room, Zen meditation, a smaller library with local and international literature, an outlet of the Kompas travel agency, footpaths in the nearby forest, bicycle hire, free-of-charge transfers to the centre of Ljubljana, transfers to and from Ljubljana Airport, excursions and the organisation of wedding receptions.
phone: +386 1 308 43 00

address: Miklosiceva 9

4-star hotel popular among business travelers. Rooms are decorated in bright yellow and green colors. Rooms are well furnished with comfortable beds, a sofa, minibar, and safe.
Around Ljubljana
phone: +386 1 7810 200

address: Ljubljanska 65, 1290 Grosuplje

4-star hotel popular among business travelers, families travellers and other travellers. Rooms are well furnished with comfortable beds, bathroom, minibar, flat LCD TV, free Wi-Fi and safe box. Casino is open 24/7 and offer different sorts of fun. Restaurant offer each morning hot buffet breakfast. You can use public transport city bus line nr. 3G to reach this accommodation.
Stay safe

Ljubljana is possibly one of the safest capitals you'll ever visit. Remarkably safe during the day and night, as a tourist you should have no problems, provided you are not desperately looking for trouble.
Even the rougher parts of Ljubljana, located far from the city centre, are relatively safe, if you don't flash your valuables. These areas, not commonly frequented by tourists, include Fužine, Rakova Jelša, Štepanjsko naselje and parts of Šiška, Moste and Šentvid.
Tivoli Park is generally safe and a very popular destination for picnics or taking an afternoon stroll for an average Ljubljanian, but just as anywhere in the world it is recommended that you don't put your guard down and avoid larger groups of teenagers hanging around in the park late at night, as thefts and sexual assaults have been reported.

Connect
Internet
City center is covered with a Wi-fi network named
WiFreeLjubljana
that offers free access for 60 minutes a day. Service has just been launched, so coverage is not yet perfect, but is being actively improved.
Free internet access is also available at:
KiberpipaOne of the oldest and locally most important hackerspaces. It is searching for a new location.
Simobil

address: Čopova (up towards the McDonald's from the Triple Bridge) - a Slovenian cell phone providers store, but the laptops upstairs have free internet access
Check
map of wireless internet
(Wi-Fi) spots in Ljubljana (and nearby).
Almost free internet access is available at:
Slovenian Tourist Information Center

address: Krekov trg 10
Internet cafes:
Cope
Embassies
phone: +386 1-3002120

address: Ajdovščina 4/8, SI-1000

phone: +386 1 4201400, +386 1 4101410, +386 51 449956 (Emergencies)

address: Trnovski pristan 14, Ljubljana 1000

phone: +386 1 200 3910

address: 4th floor Trg Republike 3, Ljubljana 1000
Go next
Hills around the city
Šmarna gora (662 m), is a popular (and overcrowded, on weekends) hill on the northern outskirts of the city. For 30–60 minutes of easy climbing you will be rewarded by a nice view over the entire city. Bus number 8 will take you to the foothill; get off at Tacenski most.
Off the beaten track, Krim mountain (1107 m), used to station a military and civilian communication center due to its strategic position overlooking most of Slovenia. With only the civilian part remaining, the top is open for public and offers a great 360 degrees panoramic view on clear days, especially after rain. The climb takes 2–3 hours (beware of bears!), yet the most convenient access is by car. The last 4 km of the road are unpaved and narrow, so even by car the journey will take about 30 minutes each way.
Hiking around Ljubljana
offers even more ideas.
Farther out
Skiing
As one would expect for Slovenia's national sport, there are several ski resorts all across the country and at least one is likely to be an easy addition to any travel itinerary to the area.
Krvavec ski resort is in the Kamnik Alps and consistently reported to be one of the best. It is about 35 km north of Ljubljana.
Hitchhiking out of Ljubljana
Hitchhiking in or out of Ljubljana is possible and widely practiced, but take the usual precautions.
North towards Maribor, Austria - from the main street, West of the Train station (Dunajska Cesta) take buses 6, 8 or 11 in direction of North. Get off in the station "Smelt", 15 minutes later, when you see the "World Trade Center" building. Ahead of you, you will see the highway. On the first turn to the right, go into the highway entry and stand on the side with your sign.
South towards Koper, Rijeka, Italy - from the city center (Dunajska cesta, Kongresni trg) take bus number 6 in direction south, till the last station (Dolgi most). Get out, and on your left side you will side the entry lane into the highway. There will also be an entry to a parking of a small house, stand on the side there with your sign (you will see where everybody else stands).
East towards Novo mesto, Zagreb, Croatia - from the city center (Dunajska cesta) take bus number 3 in direction south, till the last station (Rudnik). Get out, and walk 200 m more along Dolenjska cesta until you get to the crossroad and the entry point to the highway (left turn, opposite to the railroad crossing). Stand on the side there with your sign (there are some hitchhikers but not all the time).