London/South Bank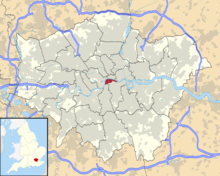 The
South Bank
is on a sharp 90° bend of the Thames in central
London
and one the city's cultural centres. It is a small area but it contains many artistic and creative sites, as well as an eclectic range of other attractions, boutique shopping and trendy food and drink places. The size of the district, as well as the pedestrianised area along the bank of the River Thames called "The Queen's Walk" (part of the Thames Path and the Jubilee Walkway) – casually, the
London South Bank Walk
– make it ideal for exploring by strolling around.
Understand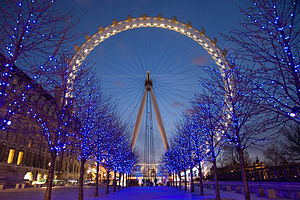 The
South Bank
has long been associated with the arts. In the Middle Ages, its position just south of the
City of London
, but outside the reach of its laws, made it an entertainment hub for the citizens, featuring everything from theatres to prostitution (both illegal in the medieval City). This waned for a time as customs changed but waxed again in modern times. In 1951 the "Festival of Britain" was held on this site, intended to give the nation a sense of recovery after the war, and the area was redeveloped to accommodate it. Much of the Southbank Centre dates from this event, as can be inferred from its brutalist concrete architecture.
Further around the curve of the Thames, almost directly opposite the City, is the area known as
Bankside
. This straightforward name is derived from the equally uncomplicated Middle English
Banke syde
. The same factors that shaped the South Bank were at work here and many mediaeval theatres stood here, including William Shakespeare's
Globe
(now marked by a replica working theatre). The rowdier neighbourhood also helped justify the Clink, one of the oldest prisons in England. Close by is
Borough Market
, which has been here in some form since at least the thirteenth century (and may even be Anglo-Saxon). Due to its position near the principal docks of the city, it became one of London's most important food markets in the nineteenth century and was known as "London's Larder". It retains a similar position now, although rather more fashionable and popular with "foodies" than would have been the case for its previous incarnations.
Shad Thames
(also known by the names
Butler's Wharf
and
London Bridge City
) is the part of this district furthest to the east. In juxtaposition to the rest of the area, the history of this part is industrial. For example, it held the largest warehouse complex in Victorian London. Now, however, its proximity to The City, just across Tower Bridge, makes its population are largely city workers and its property prices are appropriately high. For the traveller, the restaurants and similar destination here are also frequented by wealthy city workers and consequently somewhat expensive and upmarket. One of the area's more iconic industrial buildings, Bankside Power Station, was refurbished during the 1990s and reopened in the new millennium as the
Tate Modern
, which many believe outshines its older sister gallery further upstream, the Tate Britain.
The whole district is within easy walking distance of
Covent Garden
,
Soho
,
Westminster
and the City of London. It is the perfect location for a relaxing stroll and a spot of people watching. You can take in beautiful views across to the Houses of Parliament and St Paul's, especially in the early morning and at dusk, and the packed programme of theatre, exhibitions, music, film and free events means there are plenty of inspiring things to see and do for all ages.
Get in
By tube
The district is serviced by the following tube stations, all in Zone 1:
On the north bank, with easy access to this district, all in Zone 1:
By rail
South Bank
Charing Cross is north of the river, head south and cross at Hungerford Bridge.
Bankside
By bus
The
Riverside Bus service (RV1)
is a great way to get around. It links over thirty of London's attractions on its route from the South Bank to Bankside, London Bridge, Tower Gateway and Covent Garden.
By boat
The district is serviced by the following piers:
The Tate Boat runs every 40 minutes between Tate Modern and
Tate Britain
(Millbank Pier), also stopping at the London Eye. It takes 20 minutes.
By foot
This district borders on several others and is easily accessible by walking, or similar, from these. (The southern districts,
Lambeth
and
London/Southwark-Lewisham
, are larger and walking from the further parts of these is no practical; otherwise, any point in the other neighbouring districts is within reach of South Bank.) The pedestrian Hungerford Bridge links Embankment to the South Bank Centre and all road bridges have pavements for pedestrians too. Additionally, the whole area can be reasonably navigated on foot or by wheelchair.
By bicycle
As above, the district borders several others and cycling from most parts of these districts to South Bank is reasonably early.
For travellers without personal bicycles, there is a London-wide
Barclays Cycle Hire
scheme run by Transport for London. These bikes can be rented for short or long periods using a credit or debit card at any docking station (if staying in London for a long term, special keys can be bought from Transport for London for use instead of a card, which can be cheaper over time).
See
Landmarks
South Bank
From west to east:
phone: +44 20 7401-8865

address: Lambeth Palace Rd, SE1 7LB

The first museum in the world dedicated to the history of gardening, based in the deconsecrated Church of St Mary-at-Lambeth. The exhibits cover everything from royal gardens to allotments.

address: Lambeth Palace, SE1 7JU

The official London residence of the Archbishop of Canterbury since the 13th century and now a Grade I listed building. Tours must be booked in advance and tickets can be purchased via Ticketmaster.

Archbishop's ParkThis park used to be the grounds of Lambeth Palace but has been a public park since 1901. In addition to the green space it provides, it contains a range of sports facilities (booking required, except for the cricket nets) and a playground.

The South Bank Lion

address: Westminster Bridge, south east side

This statue was once the mascot of the Red Lion Brewery and stood on its roof until the brewery was demolished to make way for the Royal Festival Hall. It was moved to Waterloo and then to its present position on the bridge. Keen students of biology may notice that the statue is missing certain male body parts. It used to be anatomically correct but was deemed too lewd and scandalous when placed closer to pedestrians' eye-level and was castrated so as not to cause offence.

County Hall

phone: +44 871 663 2501

address: Belvedere Rd

The former seat of regional London government, now home to attractions such as the London Aquarium, the London Dungeon, and Namco Funscape.
phone: +44 20 7967-8000

address: County Hall, Belvedere Rd

One of the largest aquariums in Europe, it boasts a collection of 350 species of fish, from sharks to stingrays.

phone: +44 871 423 2240

address: County Hall, Westminster Bridge Rd, SE1 7PB

Brings to life the gorier elements of London's past, with faithful recreations of disaster, disease, and torture. Younger children may be scared.
Queen Elizabeth HallMusic venue hosting daily performances.

Undercroft

address: Queen's Walk

London's most famous and popular skateboarding area, situated partly underneath Queen Elizabeth Hall along Queen's Walk and the Thames. Also popular with graffiti artists, BMXers and so forth.

address: Belvedere Rd

Tucked under Waterloo Bridge, BFI Southbank, formerly known as the National Film Theatre, pitches itself as the home of film and has three screens showing classic (including silent), foreign language and less mainstream films. Recently redeveloped, it now has a new entrance on Theatre Alley, a shop dedicated to film, an interactive exhibition space and an excellent bar/restaurant at the back. Visitors can also access the Mediatheque - wind your way through the BFI's extensive film and TV archive for free. Cool bar and restaurant. Tickets are generally available on the spur of the moment.

phone: +44 20 7452-3000 (M-Sa 10AM-10PM) or +44 20 7452-3400

address: Belvedere Rd

Three large auditoriums, the Olivier, the Lyttelton and the Cottesloe. The Olivier theatre is the largest with an open stage and a fan shaped auditorium around it. This ensures that all seats provide a good view. Most of the more 'popular' productions are put on here as the space provided is much larger than most theatres. The Lyttelton theatre is more traditional with a proscenium arc with good views from most seats. The Cottesloe is a small studio theatre, seating around 400. Some tickets will be available on the day, either day seats (arrive before 9:30AM and queue) or standby (arrive before 6PM and queue), or you can buy online. Popular shows, especially those around Christmas in the Olivier sell out months in advance. Tickets to The National Theatre are generally better value than most other theatres. There is also the '£10 Travelex' season in the summer that provides a large number (over 100,000 seats a year) at £10. Booking in advance is required for these. There is also an exhibition space in the Lyttelton theatre foyer that frequently holds popular photographic exhibitions. Free jazz is often played in the evening in the ground floor foyer. During summer there is a free daily outdoor festival of performance, music, comedy and cabaret known as Watch This Space. Deckchairs (and artificial grass) are provided to watch on. Free exhibitions. Backstage tours £5.
Bankside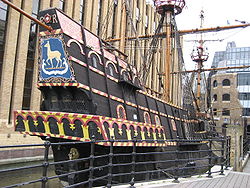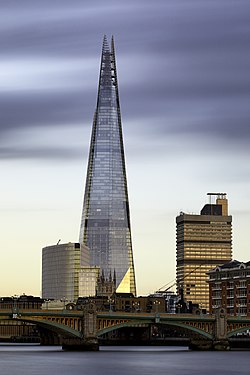 address: The Queen's Walk

Greater London Authority offices. The brand new headquarters for London's Mayor and Assembly, a radically-designed glass fronted and rounded building.

address: Morgan's Ln

A historic boat, part of the Imperial War Museum.

address: 1 Clink St, SE1 9DG

A museum that tries to recreate the conditions of the original prison that used to be on this site from the 12th century until 1780, which was notorious the name of it has since become slang as a generic term for prison.

Winchester Palace

address: Corner of Clink St and Storey St

Ruins of the 12th-century palace which was the London residence of the Bishops of Winchester.

The Golden HindFull-size replica of Francis Drake's ship sits in a small closed dock to the west of Southwark Cathedral.

address: London Bridge

Off the traditional tourist path, Southwark Cathedral has been the site of worship since the year 852. Literally in the shadow of London Bridge, the Cathedral is a shelter from the noise of the city. Next to the Cathedral is the Borough Market open Th-Sa with a wide range of speciality food to buy, a good area for lunch.

phone: +44 84 4499-7111

address: 32 London Bridge Street, SE1 9SG

Go up the tallest building in the European Union to see the farthest panoramic view of London ever to have a (rather hefty) price tag stuck on it.
Museums and galleries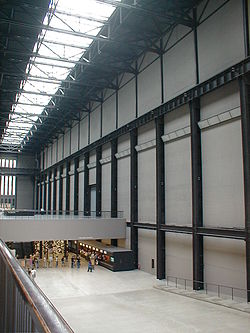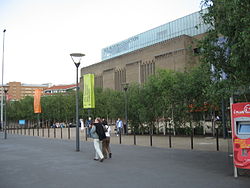 From west to east:
Do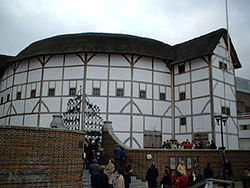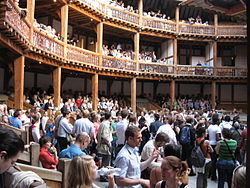 Theatres
Tours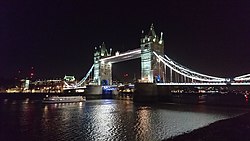 Itineraries
Buy
Borough MarketOne of London's favourite wholesale working food markets, on Fridays and Saturdays offering a general retail market with specialties sold directly from the producers, organic products, delicatessen, cheese, wines, fish and imported continental fare. Around the market are other excellent food shops, for a total food experience! Pick up some food and enjoy it under Southwark Cathedral. For market shopping, it's best to go in the morning, or after 2PM, since it starts to get very crowded by around 11:30AM when the lunch crowd comes in.

Gabriel's WharfAn eclectic mix of shops and restaurants, the design shops at Gabriel's Wharf are exclusively run by small businesses who design and manufacture their own products, the majority of work available will have been made by the person selling it to you. If you can't find exactly what you are looking for it is possible to commission many of the designers directly. Shops to look out for include Bicha, Game of Graces and Anne Kyyro Quinn.

Hay's GalleriaA beautiful converted wharf on the Jubilee Walk which, since 1987, has been home to cafés, shops and traditional barrows. Originally a warehouse and associated wharf (Hay's Wharf) for the port of London, it was redeveloped as a visitor attraction in the 1950s and has lots of boutique shops.

address: Queen's Walk

Second-hand book sale near the bank of the Thames. A nice place to just browse for books (classic and modern), maps and prints.

address: Barges House St

Huge galleria.
Eat
There is a great selection of cafes, bars and restaurants for all budgets, so make sure you take time to watch the world go by. Have a light lunch at the cool
Concrete day/night bar
in The Hayward, a try crepe in
Gabriel's Wharf
, or treat yourself to cocktails-with-a-view at the upmarket
Skylon
or
Oxo Tower Restaurant
. There's also 'Japanese tapas' at
Bincho
and Japanese favourite
Wagamama
, dim sum at
Ping Pong
, contemporary English at
Canteen
, modern oriental at
Ozu
and
Chino Latino
, and a brasserie-style menu at
Tamesa
.
Budget
phone: +44 20 7939 1490

address: 5-7 Marshals Road, Borough, London SE1 1EP

Taking inspiration from Borough Market, London, Joe's offers great tasting fresh food perfect for breakfast and lunch There are a host of classics to kick start your day, from freshly made pancakes to Joe's Café Breakfast, and eggs cooked just how you like them.

Marie's Cafe

phone: +44 20 7928-1050

address: 90 Lower Marsh, SE1 7AB

A favourite with locals, don't be put off by the shabby exterior of this greasy spoon/Thai cafe hybrid. The Thai menu is authentic and very tasty and service is quick. Very close to the Old Vic and around 10 minutes walk from the Southbank Centre: a great alternative to Southbank's uninspiring chain restaurants whether you are on a strict budget or not.

My Tea Shop

phone: +44 20 7407-1110

address: 23 Duke Street Hill

A miniscule (there's just four tables) greasy spoon café with lots of charm that serves up traditional English breakfast all day.

address: Southbank Centre Square

Dozens of market stalls selling fresh food. Each trader at this market is required to produce both ethical and sustainable products.

phone: +44 20 7654 0100

address: 171 Union Street, SE1 0LN

Menu of the day. Comforting home-made hot meals, soups, sandwiches and cold snacks, as well as cake and desserts. A very pleasant and relaxed environment in a large space including an indoor terrace.
Mid-range
phone: +44 20 72072701

address: 243 Union St, SE1 0LR

Small but unique burger restaurant and bar. Good student discounts. Good selection of burgers, and tastes great for the price. The restaurant has a lot of character, hosting memorabilia and knicknacks from the 50s-modern.
Splurge
OXO Tower Restaurant Bar & Brasserie

phone: +44 20 7803-3888

address: 8F, OXO Tower Wharf, Barge House St

Offers spectacular views and the complete dining experience with mouthwatering dishes and indulgent wines to match.

phone: +44 20 7089-9355

address: 99-101 Bermondsey St

Gastro-pub with fine-dining and cinema downstairs. Mains come in between £10-25.
Drink
Pubs and bars
South Bank
The cultural centre on the western side of the district includes several notable drinking establishments.
phone: +44 20 7633-9081

address: 1 Blackfriars Bridge, SE1 9UD

A four-floored pub overlooking the Thames near Blackfriars Bridge.

phone: +44 20 7928-1899

address: 52 Hopton St, SE1 9JH

Riverside Youngs' pub with an excellent view looking straight across the Thames at St. Paul's Cathedral and the rest of The City's iconic skyline.

The Hole In The Wall

phone: +44 20 7928-6196

address: 5 Mepham St, SE1 8SQ

With a homey and comfortable decor, the appeal of the Hole in the Wall lies in its close proximity to the station and the excellent range of beers on the hand. Use to have a rep for being a spooks hangout due to it being close to MI6 at Vauxhall and is subsequently featured in several spy novels. The rattling of trains above the arches can be heard inside.
Southwark
The non-riverside core of the district doesn't have quite as many drinking establishments as the other areas but there are places worth visiting.
phone: +44 20 7407-4057

Bar-cinema hybrid. Shows films every night except Friday and Saturday, when it is a normal bar. The back room is fitted with a high-definition projector and screens a range of films, acting as second-run cinema and a bar. Listings can include major sports events as well as mainstream and niche movies.

phone: +44 20 7207-3984

address: 86 The Cut, SE1 8LW

Friendly bar staff pouring chilled beers from a wide selection. Great pub food.
Bankside
The area around Borough Market, directly opposite
The City
, attracts as many pubs as it does restaurants.
phone: +44 20 7403-5415

address: 6–8 Borough High St, SE1 9QQ

This used to be the first branch of NatWest bank in the UK and it maintains a lot of the old bank fittings, from pillars to marble floors.

phone: +44 20 7378-6601

address: 14–16 Stoney St, SE1 9AD

This gastropub is part of Vinopolis but it is definitely beer-focussed—it even has its own microbrewery—with a large selection from around the world.

phone: +44 20 7407-2056

address: 77 Borough High St, SE1 1NH

This inn was built in 1676 after the original establishment was burned down in the Great London fire of 1666. The George is London's only surviving galleried coaching inn, and is one of the oldest pubs south of the Thames.

The Hop Exchange building

address: 24 Southwark St, SE1 1TY

It used to supply hops to the many breweries that were based in the area in the past. Two different sister pubs now occupy the site:
phone: +44 20 3417-0196

German theme pub sharing a building with its sister The Wheatsheaf in the basement of the Hop Exchange. Stocks Schnapps and German beer, some of which can be hard to find in London, as well as serving Bavarian cuisine.

phone: +44 20 7407-9934

Sharing a building with its sister Katzenjammers in the basement of the Hop Exchange. Several, constantly rotating guest beers are regularly on offer. (The original Wheatsheaf had to be moved due the Thameslink railway passing directly over it.)
phone: +44 20 7407-2495

address: 9 Stoney St, SE1 9AA

A real ale pub that offers "a beer festival every day of the week". It puts new and different casks on as the previous one sell out and can can have several new beers become available within a single day. Uses it early morning market licence to open with the dawn on weekdays. No bar food served on Saturdays but the restaurant upstairs is still open (M–Th noon–3PM, F–Su noon–5PM).
phone: +44 20 7407-0557

address: 14 Winchester Walk, SE1 9AG

Tiny pub that used to be a cafe, attached to Borough Market (it shares the gents' toilets) and owned by the market beer shop, Utobeer. Specialises in bottled beer, especially local and international craft beers.
phone: +44 20 7403-0257
address: 22 Southwark St, SE1 1TU
Shad Thames
The area by Tower Bridge contains some of the best pubs in the city.
Clubs
address: Belvedere Rd, SE1 8XX

Free nightly music events. The best place to sample underground electro, indie, dub-step and more.
Sleep
Budget
phone: +44 20 7939-9710

address: 161–165 Borough High St, SE1 1HR

Youth hostel with late night bar.
Mid-range
Splurge
phone: +44 20 7855-2200

address: 8–18 London Bridge St, SE1 9SG

Four-star boutique hotel popular with business travellers with its sleek and contemporary design and furnishings.

phone: +44 20 7928-5200

address: Westminster Bridge Rd

With Big Ben checking on you across the street, it's home to the largest pool in any London hotel. Provides first class service, luxurious spa treatment on site and trendy bar downstairs.

phone: +44 20 7021-1800

address: 1 Addington St, SE1 7RY

Stylish and reputable.
Connect
The Southbank Centre, the National Theatre, the Royal Festival Hall, the BFI Southbank and the BFI IMAX all have free Wi-Fi available.
The London Eye's ticket office, and the area immediately surrounding it, also has free Wi-Fi.
Waterloo Station offers fifteen minutes of free Wi-Fi (per 24-hours) after which you will have to register and buy additional access.
The Cloud provides pay-only Wi-Fi along the Festival Riverside (by the Thames, in front of the Southbank Centre).
London Marriott Hotel County Hall and the local Park Plaza hotels offer free Wi-Fi, with connection details available at their receptions.