Louvain-la-Neuve
Louvain-la-Neuve
is a modern town in the province of
Walloon Brabant
in the French-speaking part of
Belgium
. It was created in 1969 in order to host the
Catholic University of Louvain
, which had just separated from the Catholic University of Leuven, and had to move from
Flanders
to
Wallonia
. It has about 20,000 inhabitants, with approximately the same number of students attending the university and colleges in town. Be careful not to confuse between
Leuven
which is a town in Flanders, and is also spelled
Louvain
in French, and Louvain-la-Neuve. You can also find the abbreviation LLN.
Get in
By car
Louvain-la-Neuve is situated at the crosspoint of many important roads:
Brussels-Luxembourg E411 motorway: exit number 8a from Brussels, 9 from Namur-Luxembourg.
The N4 Arlon-Brussels drives its way round Louvain-la-Neuve, follow the signs.
Other important roads from Charleroi, Nivelles, Wavre...
By train
Louvain-la-Neuve is connected in about 7 minutes to the station of Ottignies which is on the important Brussels-Luxembourg line. There are direct connections to
Brussels
, but it is generally quicker if you change in Ottignies. Ottignies station also provides connections to
Namur
,
Liège
,
Charleroi
,
Dinant
, Wavre,
Leuven
, and
Brussels Airport
. All the trains are operated by the Belgian railways company
(NMBS-SNCB)
.
Louvain-la-Neuve railway station
By bus
Local buses
(TEC company)
link Louvain-la-Neuve to the main neighbouring towns. A special bus connects LLN to the other university Campus in the
Brussels
' district of Woluwe. It is the quickest and most comfortable way to reach Brussels from LLN, but it arrives quite far from the center of Brussels.
Get around

Louvain-la-Neuve was designed as a pedestrian city, and so it is. You won't have to walk more than 20 min in order to get to any place in the city. Moreover, there are lots of covered paths in the center in case of rain.
Motorized traffic in the center is entirely underground, so it's pretty enjoyable for the pedestrian. The city is also very accessible for wheelchair, bikes, rollerblades...
Be careful, nearly everybody gets lost the first time they get around the town, as everything looks pretty much the same from an outsider point of view, and Louvain-la-Neuve's layout is not very logical to new visitors.

See
Since it's a fairly new town (created in 1969), Louvain-la-Neuve does not have any historical buildings or similar monuments. Nevertheless, it was designed in a radically different way from older towns. The urbanistic development of the town brings tourists, interested in the way the town evolved from scratch to what it is nowadays. You can find particularly interesting the following buildings/places:
phone: +32 10 47 48 41

address: place des Sciences

Opened in 2017, it is the biggest university museum in Belgium. The museum presents classic, modern and contemporary artworks (including Dürer, Picasso, Van Dyck, Goya, and Rodin) and scientific objects (specimens of natural history, archaeological and ethnographic objects or scientific inventions) among a collection of 32.000 pieces and is situated at the place des sciences, upper town, inside the former Bibliothèque des Sciences (Science library) and presents an interesting concrete architectural style.

Aula Magna

address: place Raymond Lemaire 1

The main auditorium in the city, good panorama on the lake. It also serves as theatre.

The TowerNearby the Place des Wallons, the Tower is the only building in Louvain-la-Neuve with more than 5 storeys

Some gigantic frescos are disseminated around the city center.

phone: +32 10 48 84 21

address: Rue du Labrador 26

Offers an innovative architecture to host the official Belgian comics writer's legacy.
Do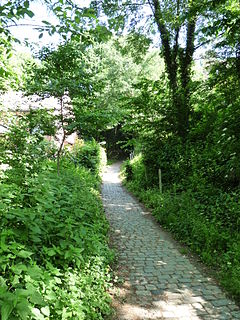 Since Louvain-la-Neuve was made with the sole purpose of hosting the university, it is full of students all year round, but when they leave for holidays, the town can look quite empty. There are still plenty of things to do:
The biggest event in town is the student-organised 24h bike, which is the biggest student party in Belgium, with more than 50,000 students. There are three different categories in the race - humanitarian, competition and folkloric bikes. This event takes place the third Wednesday of October.
The University has created a special type of accommodation, called a Kot-à-Projet, which houses between 8 and 12 students around a specific project, such as organising a job fair, or circus activities. Thus, a lot of different kind of events are available during the course period.
A well-known theater is present in Louvain-la-Neuve since the very beginning of the city. The Atelier Théâtre Jean Vilar will provide you with a wide variety of plays, but only in French. It's situated near the Grand-rue.
The Ferme du Blocry and Ferme du Biéreau situated in respective districts offer a wide variety of concerts.
Have a walk around the lake and many pedestrian pathways that crisscross the city and its surroundings.
Learn
As the host to the Catholic University of Louvain,
Louvain-la-Neuve
provides anybody eager to learn with anything they may wish to be taught. Besides the University, which provides academic courses in Sciences, Applied Sciences, Law, Sports, Economics, Theology, Philology, Psychology and Agronomy, you can find a wide range of colleges. Moreover, a lot of languages are taught by the
Language Center
.
Buy
A mall, l'Esplanade, opened in October 2005 and can provide you with anything you need. You can find it right beside the station.
Most shops are concentrated around the city center, in the Grand-rue and Charlemagne streets. There is also a gallery in front of the station.
Eat
Most of the restaurants are situated on or in between the main square and the university square next to the train station. However, some more specific places can be found elsewhere in town:
Very good Belgian fries and a true fritkot up in Lauzelle district, near the sport hall, Chez Jean-Lou.
University restaurant are quite cheap. The main one, Le Sablon is in the center, next to the Main Street. A smaller one called Le Galilée is situated at Place des sciences.
A more stylish place, the French) is to be found in the Biereau district, next to the Ferme du Biéreau.
Along with the mall, Louvain-la-Neuve was provided with a brand new fast food, which allows you to find well-known food, if you're afraid of tasting the Belgian cooking. Quick, Charlemagne street.
Drink
Louvain-la-Neuve's beverage is beer, either light or strong ale, either Belgian or foreign, it can be found in a wide variety of colours, flavours and price ranges.
Night Life
Students are organising a lot of parties, which take place in Student Union pubs, every faculty has one, and even some regions. Beer is usually served in 25cl plastic glasses for 0.9€. The custom is to drink it in one shot with some friends.
Erasmus students usually hang out at the Beckett's Irish pub next to the multiplex, and the Guinch Bar(French) on the Traverse d'Esope. Prices are more expensive than in Student Unions.
Snooker and karaoke are available in the center underground club, next to the station.
Sleep
Louvain-la-Neuve's accommodation problem is nearly as old as the town itself.
Exchange students
If you are going to stay in town for several months, start looking for a place early. Students usually look for flats (
kots
in Belgian French/Dutch) during the months of April and May. Leases usually go from September to September, but shorter deals are possible, especially with Erasmus students. You should normally get help from the university in order to get a room. The center is quite noisy, but close to everything. For students in Sciences and Engineering,
Bièreau
is the closest district,
Bruyères
is nice too. For other students,
Bruyères
,
Lauzelle
and
Hocaille
are nice, with lots of students. Some streets are very noisy due to student activity but calm down during exams and holidays. Most noisy months in LLN are September-October and February-March.
Here is a short summary of every district:
Baraque: At the eastern outskirts of the city, this district is mostly residential. Close to the science faculty.
Biéreau: Oldest district of the city, close to the faculty of Sciences and Applied Sciences, lots of students, some residents.
Bruyères: A district built in two parts. The older one is mostly inhabited with students, the newer one is mainly residential. Close to every faculty. Very close to Economics and Political sciences faculties.
Centre: City center, a lot of university and administration buildings, also some student flats, and since 2005, a new range of flats forbidden to students. Close to every faculty, can be very noisy in some part of the year.
Hocaille: On the northwestern slopes leading to the Blocry, this district is a mix between students and inhabitants. Closer to Psychology, Human Sciences and Thelogy faculties. Very close to the sports hall.
Lauzelle: This modern district bordering the Bois de Lauzelle is mostly residential. Far from everything, if something can be far in Louvain-la-Neuve.
Go next
The rollercoaster park of Walibi , the biggest in Belgium, is situated 10 minutes away from Louvain-la-Neuve by car, a little bit more by train.
The former battleground of Waterloo is less than one half hour away from town.