Lozère
Lozère
is a department in
Occitanie
,
France
.
Cities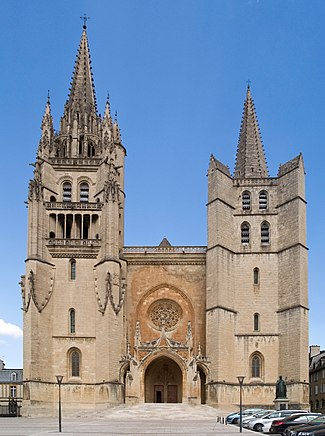 Other destinations

The commune of Sainte-Enimie in the Gorges du Tarn, called one of the "Most Beautiful Villages of France".
, the highest mountain in the region at 1,699m.
Understand
Lozère is mainly used for farming, with tourism as another economic activity in the area. The region has one of the lowest rates of unemployment in France, which may be attributed to the enforced long-standing tradition whereby young people emigrate to cities such as 
Lyon
, 
Marseille
, 
Montpellier
 when they reach working age.
The geography of Lozère is complicated, covering four mountain ranges. In the north-west, the basalt plateau of Aubrac rises between 1,000 and 1,450 m (3,280 and 4,760 ft), with a cold humid climate influenced by the Atlantic. The north and north-east of the department contains the Margeride mountains, which are formed of granite, and have peaks between 1,000 and 1,550 m (3,280 and 5,090 ft). The climate here is also cold, but dryer than in Aubrac, with less snow.
Talk
As this region is in France,
French
is spoken; so learning a few words at least would be useful.
Get in
By plane
There aren't any airports in Lozère itself. But some nearby airports are:
By train
The nearest TGV train stations are at Lyon or Montpellier. Trains from
Paris
to
Mende
change once; from Paris-Gare de Lyon, you change at
Nimes
and the journey takes roughly 7 and a quarter hours. From Paris Bercy, you change at Clermond Ferrand and it takes about 6 hours and 40 minutes.
By car
From Paris, take the A71, then the A75 which roughly takes 5 hours.
From Toulouse, head north east along the N88 (Route Nationale) towards Lyon, taking roughly 3 hours.
From Marseille, head north west towards Nimes, then take the N106 northbound, this takes about 3 hours.
From Turin, head west towards the French border, then take the E70 towards Lyon then the N88 south west towards Mende.
By foot
Using the GR footpath system (
Grande Randonée
in French, a set of long distance footpaths in Europe):
The GR65 (Chemin de Saint-Jacques) from Geneva in Switzerland to Roncevalles in Spain, it passes through Nasbinals in Lozère.
The GR44 (Des gorges de l'Ardèche à la Margeride) from Champerboux in Sainte-Enimie to Les Vans.
The GR700 (Chemin de Régordane) from Le Puy en Valey to St Gilles du Gard.
See
Do
Caving
Skiing
Kayaking
Trout fishing
Eat
The area is praised for its cheese (eat when fresh)
Go next