Ludhiana
Ludhiana
is in
Punjab
in
India
.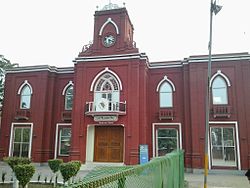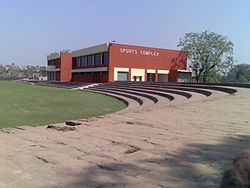 Understand
Ludhiana is Punjab's most populated city. It's also an important industrial town. For its production of hosiery, Ludhiana is known as the Manchester of India. Its district is also one of the largest agricultural producers in India, particularly of grains. Established in 1960s, the Punjab Agricultural University is considered as one of the best agricultural universities in India. The city stands on the south bank of the Sutlej river. It was a major town on the Grand Trunk Road, one of Asia's oldest roads.

Climate
The best time to visit Ludhiana is from February to April. Nights can get quite cold during the winter (from November to January), falling to as low as 0 °C. May and June are very hot; summer temperatures in Ludhiana can reach 50 °C

Get in
By train
There are heaps of trains connecting from all parts of country to Ludhiana through Delhi. The fares are very reasonable starting from ₹100 to go up to ₹1150 per person.
The best option for getting to Ludhiana from Delhi is to take the superfast
Shatabdhi Express
, which departs in the morning and evening. It takes about 4 hours and one meal and tea are served on the way.
By car
Ludhiana is 320 km from
Delhi
and the drive takes 5 hours.
By bus
There is regular bus service to Ludhiana all day from ISBT Delhi. Deluxe bus service is also available day and night.
By plane
The airport at
Sahnewal
, about 10 km away from Ludhiana, has been made functional. Flights of Kingfisher Airlines operate daily from Delhi. The other nearest international airport is Amritsar's Raja Sansi Airport. An international airport is being planned in Ludhiana. Flights are also available from
Delhi
,
Mumbai
and
Jammu
from
Chandigarh
airport about 95 km away.
Get around

Getting around could be quite a task in Ludhiana because of excessive traffic in Chaura bazaar and the recent construction of the NH-1 bypass ramp. But a lot rickshaws and auto-rickshaws are constantly taking people from Point A to Point B. A bus transportation has been operating which has routes between the Ludhiana Bus Depot, old courts, Different Bye passes around the city and the Chaura Bazaar.
Ludhiana is also famous for Punjabi food that you will not get anywhere in Punjab.

See
Ludhiana is not much of a tourist spot but is more an upcoming cosmopolitan city of India. With numerous malls and multiplexes under construction, these modern state-of-the art buildings are what tourists from nearby places come here to see and check out. The main malls of the city are
Westend, Silver Arc and MBD
. But if you want to see Ludhiana heritage, then the Punjabi Heritage Museum in Punjab Agriculture University Campus is a not to be missed tourist spot. Other places of Tourist interest around Ludhiana are the Tiger Safari on GT road, Hardy's world near Phillaur and The rose Garden and The Rakh Bagh.
The sprawling Punjab Agriculture University Campus is one of the best and well maintained educational campus in India.
There are very beautiful gurudwara like Alamgeer sahib, Rara sahib, Fly sahib, Dukh niwaran sahib, Manji sahib in the vicinity of Ludhiana. Mata Mandir near Jagraon Bridge, Krishna Mandir in Model Town, Dandi Swami Mandir, Ved Mandir near Daresi Ground and Sheetala mandir near Municipal Corporation Office are worth seeing.
Museum of Rural History of Punjab
Do
Mall Road, Model town, Kipps Market are famous destinations of most of people to get around, shopping, street food. One can watch the latest movies in the PVR cinemas in Silver Arc or Waves at the Westend. Incidentally, Silver Arc also has the largest PVR cinemas in North India with a two-level six-screen multiplex.
There are many other beautiful places like Rose Garden, DreamLand, Rakh Baug.
The Guru Nanak Sports stadium is famous for its good infrastructure for sports activities. many national level tournaments are being held here for both indoor and outdoor sports, it is the finest city and modern city in the state.
New malls In the list of malls in Ludhiana include Omaxe, Silver Arc and MBD.
Cinema
There are several stand-alone cinema halls in Ludhiana. These include:
PVR Cinemas
Wave Cinemas
SRS Cinemas
Orient Cinema
Aarti Cinema
Buy
Ludhiana is known for its newly-constructed shopping malls and other complexes. The Mall road has various shopping complexes such as the
Elite's Arcade

Kunal tower

Casio Mall
Bharti Mall
One can go and shop at international stores in
Silver Arc Mall

Westend mall
or
MBD

address: Kailash Cinema Rd, Civil Lines

the biggest shopping mall in Ludhiana. The 7 screens multiplex comprising of 1016 seats and fitted with latest sound and projection system is the largest in Ludhiana.
Ludhiana is the hub for hosiery goods in India. It makes woolens for the entire country which are also exported to America, Australia, Canada, Singapore, the UK, France, and many other European countries. Wholesale and countrywide famous hosiery markets are
Kalyan Nagar

Bajwa Nagar
Ghara Bhan
Dal Bazaar

Akal Market

AC Market

K P Aggarwal Trading Co

Ashish
Kaaxo

Garneris very famous for all women cardigans, T-shirts and bawa suits at reasonable prices

K.P.Knitter's Zorin and Miss Annieis famous for its woolen kurtis, leggings, bawa suits, etc.
Ludhiana is also famous for traditional jewellery. Most of reputed jewellers are situated on Rani Jhansi Road, like
Eat
You can find Famous food chains like Mc Donalds, KFC and Pizza Hut in the malls or around.
The Sarabha Nagar marketis one of the most popular hangout places with many eating joints such as the noodle bar, yo china, hot breads.
Ludhiana is also famous for its chicken: -all possible tastes and varieties. Chawla's cream Chicken (Various locations), Babas chicken are only a few.
Friends Dhaba and Shekhupuria's Dhabaa are famous for its parathas, Dal and Shahi Paneer. Just walk along the road opposite the railway station.
Fountain chowkis another open place to enjoy all sorts of spicey eateries from Stuffed naans, Cholley Bhuture, Chaat, Tikki etc.
While in Ludhiana don't forget to try Basant's Kulfi and ice cream and Punnu Pakoras on Gill Road and if anyone want to eat even at 2AM then go to pandit paranthe wala near chaura bazaar.
If you feel like having sweets then go to Dhodha Sweet House, Civil Lines. It is famous for its unique & world famous Dhodha.
Aman Chicken

address: Shastri Nagar, Railway Crossing

one of the oldest chicken eateries in the town

Baba Chicken

address: Ishmeet Singh Road, Model Town

Bakes and beans

address: Pakhowal Rd, Gurdev Nagar

one of the most popular eatery joints

Baristawhere you can sit, relax and have coffee with a great ambience

phone: +91 161 244 0000

address: Fountain Chowk

Cafe Coffee Day

phone: +91 1800 102 5093

Chawla's Chicken

phone: +91 161 240 0015

address: Dugri Road,Atam Nagar

Costa Coffee
Dhoda Sweets

address: Ghumar Mandi

famous sweet shop

Dominos

Friends Dhaba

phone: +91 161 272 0911

address: Raikhy Cinema Rd, Old Ludhiana

Small restaurant with ordinary ambiance but very popular with locals. It serves authentic Punjabi food from last 30 years. It' s always overcrowded but service is quick

Jhandu Di Hattiis a famous poorie shop in chaura bazar
Khushi Ram & SonsOne of the best and oldest eatery which is the most popular in the entire state. It has opened a new branch on the NH-95 which attracts many food lovers.
Drink
Lassi is the most authentic Punjabi drink which can be sweet or salted. Roadside Alcohol Shops are located all over the city and most of them have A/c drinking halls called Ahatas alongside where you can get basic snacks. Some are attached to dhabas like pradhanz dhaba near Aarti Cinema.

Sleep
Many hotels ranging from low budget to high budget can be found near railway station.
City Heart
and
Taksonz
Hotels are good places to drink, dine and sleep.
Imperial Plaza Hotel, on NH-95 near the Imperial Plaza shopping center.

Maharaja Regency

phone: +91-161-4688222

address: Ferozpur Road

A 3 star hotel on main Ferozpur Road. Major malls are located for a few minutes walk.
Budget
Hotel Taksonz

phone: +91 161 273 1851

address: Lakkar Bazar

Often fully booked
Mid-range
phone: +91 161 437 7000

address: Badhor House

Hotel Imperial Executive

phone: +91 98766 20057

address: Pakhowal Road

Hotel Park Plaza

phone: +91 161 277 3000

address: Ferozepur Road

The only five star hotel in Ludhiana
Go next
There are a lot of choices to get out of Ludhiana. You can take trains heading to
Delhi
or
Amritsar
and continue on an international journey (if any) through their international airports. Or you can also take taxis or buses available by State Transport and go by road. Overnight deluxe air conditioned buses also operate to Delhi and
Jaipur
.