Lund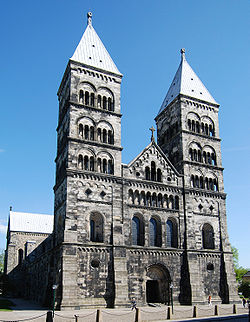 Lund
is a university city in
Scania
, the southern part of
Sweden
. Lund is one of the oldest cities in Sweden and has also played an important part in
Danish
history. It has a population of about 90,000 people, and is only a few minutes away from the larger cities
Malmö
and
Copenhagen
. The University of Lund is second oldest and one of the largest in all of Sweden. The city also has many high-tech companies.
Understand
Unlike most Swedish cities Lund has preserved its medieval non-regular street pattern. Even though it is very charming it also makes it rather difficult to navigate through the city. Unlike many other cities Lund also lacks major natural boundaries like rivers to navigate by. One of the few boundaries to orient by is the railway which runs in a north-south direction west of the city. The cathedral can also be used as a landmark in order to find your way through Lund.
The first major settlement in the area was a
Viking-era
village known as Uppåkra, 4 km south of present day Lund. This area was supposedly a cultural and religious centre with a pagan temple. Unlike other comparable sites, like Old
Uppsala
and Hedeby, it is not mentioned in written sources.
Around 990 Uppåkra is abandoned and Lund is established. The founding of Lund is often considered to be an important step in the founding of a unified Danish state. It soon became a Christian centre and in 1103 the Archdiocese of Lund became its own ecclesiastical province, including all of the Scandinavian countries. At the same time Lund Cathedral was built; according to local legend by "the giant Finn".
Malmö
was founded as a port city for the Archbishop of Lund, but came to eclipse its mother city as a commercial centre during the 15th century.
In 1658 Scania and Lund was conquered by Sweden. As a step in the "Swedification" of Scania the University of Lund was founded in 1666. Although it is the second oldest university in present day Sweden, it was the fifth Swedish university. (Universities were founded in Uppsala 1477,
Tartu
1632,
Åbo
1640 and in 1648 Vorpommern with the already existing University of
Greifswald
was incorporated into Sweden.) In an attempt to re-conquer the Scanian provinces Denmark launched the Scanian war against Sweden in 1675. In December 1676 Sweden won a decisive victory at the Battle of Lund - one of the bloodiest in Nordic history - and Scania stayed Swedish.
Tourist office
phone: +46 46-359 50 40

address: Botulfsgatan 1A
Get in
Copenhagen Airport
CPH
is the largest Airport in the Nordic countries and the major point of entry to the Öresund-region. Lund is connected to Copenhagen and its airport by direct trains. Malmö Airport MMX serves 20 international flight operators and is 25 km from Lund. The airport shuttle "Flygbussarna" carry passengers from the airport to central Lund for about 100 kr.

is 10 minutes and 50 kr by train from Malmö, and 50 minutes and 140 kr from Copenhagen and its airport. All trains (pågatåg, öresundståg) stop at Lund, including the X-2000 expresses from Gothenburg and Stockholm. There are also buses from Malmö.

Lund is between the highways E6 and E20, which continue towards Malmö in the south. In the other direction the E6 carries traffic to Karlskrona and then follows the Swedish coast north. The E6 continues to Helsingborg and then follow the Scandinavian Western coast to Gothenburg, Oslo, and across Norway. In Helsingborg it connects with the E4, which is the fastest way towards Stockholm and Svealand or Norrland.

Get around
Lund is small enough to see most of it in an afternoon's walk. You can pick up a city map at the
tourist office
at Stortorget square (adjacent to the Town Hall).
The local
Skånetrafiken
buses can get you to most areas of town. The hubs are around the train station, Botulfsplatsen, and the University Hospital (
Universitetssjukhuset
). Tickets are 25 kr for as far as you want to go, if you're under 19 it's 15 kr. If you are traveling as a pair or family, ask for a Duo ticket (45 kr) to save a few kroner. The Duo ticket is valid for a maximum of 5 people where max 2 of those are over 19. Two children under 7 can
travel for free
with an adult.
As in the rest of Skåne, the buses do not take cash, so you have to buy your ticket in advance. You can do this with an sms (if you have a Swedish sim card) or at the Pressbyrån stores, there are three by the station and one by Botulfsplatsen. The yellow, regional, busses take credit cards.
The best places to catch a cab is by the train station or by Botulfplatsen.
See
address: Kyrkogatan 4

Built in 1103, it is the second-largest cathedral of the Nordic countries. There's a free organ concert every Saturday morning at 10:00, and the elaborate astronomical clock (on your left after entering) puts on its show twice a day (12:00 and 15:00). This clock show is highly recommended even if you're not interested in the church, due to its nostalgic value.

address: Sölvegatan 26

Part of the Lund University LTH and home of the Industrial Design program; the building was funded by Ingvar Kamprad, founder of IKEA.

University Hall

address: Paradisgatan 2

A grand classicist building inaugurated in 1882.
Museums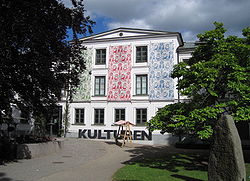 Parks
phone: +46 46-222 73 20

address: Östra Vallgatan 20

It's very nice for walks, and there are greenhouses which house many exotic plants. Good place to take kids.

address: Svanegatan

On Walpurgis Night (April 30), it's the place where people gather (about 20 000 people) to light a gigantic bonfire and revel through the night.
Do
Being a university town, Lund has good arts and entertainment for its size.
Buy
Eat
Budget
Cyrus

phone: +46 46-15 07 70

address: Allhelgona kyrkogata 4

This Persian restaurant is a little run-down, but their marinated grilled chicken pieces ("Juje kebab") are simple and delicious.

Govindas

phone: +46 46-12 04 13

address: Bredgatan 28

Hare krishna vegetarian lunch restaurant. Unusual and often tasty food.

Lundafalafel

phone: +46 46-32 33 16

address: Stora Södergatan 5

A hole in the wall.

Mondo

phone: +46 46-14 81 58

address: Kyrkogatan 23

This cafe serves great sandwiches, soups, and pie for reasonable prices. Crowded during lunch hours, although takeaway is available.

Pizzeria Portofino

phone: +46 46-14 92 10

address: Sofiavägen 3

Friendly neighborhood pizzeria with delivery.

phone: +46 46-15 91 49

address: Bangatan 1

Without doubt the best and biggest burgers in town. You can even supersize them. Also offer beers.
Mid-range
Splurge
address: Bantorget 1

Serving good Swedish food in a classic atmosphere.

Klostergatans Vin och Delikatess

address: Klostergatan 3

Great Swedish and French food with bread from the next door bakery, Patisseriet.
Drink
The Student Nations
Ever since its founding the students of Lund University have organized themselves by geographical origin into
Nations
. Initially they worked as an extra family for the student, but today the 13 Nations are more oriented towards social activities such as bars and clubbing. They push alcohol prices to around half that of non-nation bars, but keep their activities exclusive to members and guests. As the Nations tend to crowd out non-nation nightlife, buying a nation card will greatly increase your bar options .
Anyone who has a valid student ID can buy a guest card. They cost 60 kr for a duration of 7 days, and can be bought at any nation during their office hours. It doesn't matter where you buy your guest card, as a guest card bought at any nation is valid at every nation.
Bars
Cafés
Sleep
Budget
phone: +46 46-31 36 30

address: Förhandlingsvägen 4
Mid-range
Splurge
phone: +46 46-280 61 00

address: Bantorget 1

The oldest hotel in town, dating to 1899. Old fashioned European style, overlooking a small park.
Stay safe
Crime/violence:
Low
Drunk people on weekend nights, bouncers in clubs and student nations, bicycle theft
Authorities/corruption:
Very Low
Security guards and nightclub/student nation bouncers might be rude and/or violent.
Transportation:
Low
Occasional delays in rail traffic
Health:
Very Low
No infectious diseases
Nature:
Very Low
Risks of natural disasters are virtually nonexistent
Lund is an extremely safe town by international standards and there is no need to avoid certain areas. Even late-night walks through the darkest and most desolate back streets are relatively safe and most local residents walk home at night without any second thought.
On weekend nights, you may encounter rowdy groups of drunk people (mostly students). However, they are seldom violent to third persons unless you engage them.
Other than rampant bicycle theft, crime is virtually non-existent.
The only violence you are likely to encounter is from night club/student nation bouncers, which are notoriously rough.
Connect
By web
The 7-Eleven on Lilla Fiskaregatan 5 has three workplaces for Sidewalk Express, an internet-point chain. You can pay with a credit card (30kr for 2h of surfing) and use your code in other towns too.

phone: +46 46-35 59 90

address: Sankt Petri Kyrkogata 6

Tourist Information

phone: +46 46-35 50 00

address: Botulfsgatan 1A on Stortorget

has computers to use for 15 minutes.
By mail
There's no more main post office, but most major convenience stores have post office branches inside where you can buy and send everything from postcards to bigger parcels.
Go next