Macclesfield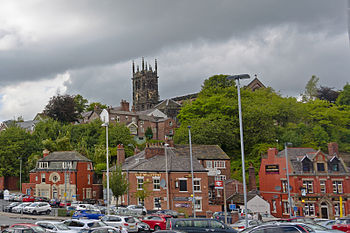 Macclesfield
is a market town in
Cheshire
.
Understand
Macclesfield is located where the Cheshire plain gives way to the
Peak District
. It was first recorded under the name "Maclesfeld" in the
Domesday Book
of 1086. Its name is probably from a local landowner of the time. Two centuries later it was granted a charter. The Church of All Saints was built shortly afterwards, where St Michael's Church now stands in the centre of town.
The Earls of Chester established the nearby Forest of Macclesfield, much larger than its present-day counterpart, as their private hunting preserve. Most of it was cut down after population increased in the mid-14th century. Throughout the Middle Ages it was fortified, probably by some sort of ditch and palisade. The names of streets such as Chestergate and Jordangate, contrary to popular belief, are unlikely to refer to the former presence of gates or portals in now-vanished walls; the term 'gate' is derived from 'gata', Scandinavian for road, which became gate in Middle English, and thus the term simply means to the road to Chester, or to the river Jordan, which was once a name for the Bollin.
During the Civil War, in 1642 the town was occupied for the King by Sir Thomas Aston, a Royalist. A century later, during the Jacobite Uprising, Bonnie Prince Charlie marched through on his effort to reach London.
Later in the 18th century Macclesfield, like much of that region of the country, began developing as a centre for textile manufacture. By the 1830s it was the world's biggest producer of finished silks; some of the 71 mills that were in operation are scattered around today's Macclesfield. Fashions changed, however, increasingly preferring French silk and the cottons coming out of
Manchester
to the north, and many of those mills closed down. So little industry was left in town that it was the only English mill town not bombed by the Germans during World War II.
During the 19th century many Macclesfield silk-workers followed the lead of John Ryle in emigrating to the USA. Ryle settled in Paterson, New Jersey, establishing a silk industry there. Hundreds of workers followed him across the Atlantic, and the two towns were very closely linked for many years, with the Macclesfield press reporting news from Paterson and vice versa. A section of the Macclesfield Silk Museum is devoted to Paterson and silk items produced there. Macclesfield is also the original home of Hovis flour and bread, established in 1886 and produced by Thomas Fitton in a mill near Buxton Road next to the Macclesfield canal, which still stands today, now converted into apartments.
The pharmaceuticals conglomerate Astra-Zeneca has a large manufacturing site in Macclesfield, though its research centre at nearby Alderley Edge was closed in 2014. The biotech and pharmaceutical industry is a significant source of local employment.
Macclesfield regained some measure of international fame in the late 20th century as the home of members of the late 1970s rock band
Joy Division
, which evolved into popular 1980s dance band
New Order
after lead singer Ian Curtis hanged himself in his Barton Street home in 1980. Fans of Joy Division come to Macclesfield from all over the world, especially every 18 May, the anniversary of his death, to pay their respects at his grave marker in Macclesfield Cemetery.
Control
(2007), a film about Curtis's life and death based on his widow's memoirs, was filmed using many of the same Macclesfield locations in which he lived.
This association with the depressing songs of a suicidal musician has not been the only thing Macclesfield has had to live down. In 2004
The Times
called the town England's least cultured, due to its lack of theatres and other cultural institutions. That led the town to establish the Barnaby Festival in 2010, a modern take on ancient customs of celebrating St Barnabas's Day. (By local custom, "Barnaby Week" in June was when the mills closed and many of the townspeople went to the seaside in North Wales.) The performance-centred Winterfest in November and December has brought even more people to Macclesfield.
So, if you come listening to Joy Division on your headphones and expect a correspondingly grim Northern town to match, you're in for a pleasant surprise. Pay your respects to Ian, of course, but if you take the time to see more of Macclesfield you'll probably understand why it's a popular home for many top earners in Liverpool and Manchester, including some of City's and United's finest.
Layout
The town centre is mostly built around Mill Street and has very little architectural merit. As with many towns it has declined, but redevelopment is continuing. To the south of the centre is the High Street conservation area. To the south, west and north are mostly residential areas, with an industrial estate and more residential housing east of the Silk Road (A523), the main north-south route through Macclesfield. This runs in a valley alongside the River Bollin and the railway line. To the east the land rises steeply as you leave Macclesfield and enter the Peak District.
There is a visitor information office in part of the new Town Hall facing Market Place.
Get in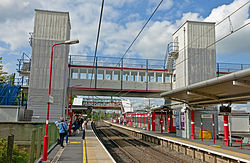 By train
Macclesfield station
is on the main train line between
London Euston
and
Manchester
and is easily accessed from by high-speed trains (Manchester 20 minutes, London 1 hour 45 minutes). Some Cross Country services between Manchester and
Birmingham
also call at Macclesfield. Local stopping services are available to Manchester and
Stoke-on-Trent
. The train station is just to the east of the town centre and the main shopping area.
By road
The nearest motorway is the M6. From the north, take Junction 19, and travel through
Knutsford
. From the south, use Junction 17 and follow the signs for
Congleton
until Macclesfield is signposted. In either direction, the distance from the motorway is about 15 miles (25 km). From the east, the main road into the town is the A537 from
Buxton
, known as the
Cat and Fiddle
road after the pub at its summit. It is a scenic route, but in winter it is occasionally impassable.
By air
Manchester Airport
is 12 miles (20 km) away. By taxi the fare is typically about £25 if pre-booked.
There is no direct train or bus service from the airport but there are frequent trains into Manchester Piccadilly with connections to Macclesfield. Alternatively the 199 bus connects with Stockport from where you can take a 392/3 bus or train.
Get around

The town centre is easily traversable by foot. Buses to suburbs and nearby towns depart from the bus station on Queen Victoria Street. From the train station, cross the road to Waters Green and follow this up the hill and round to the left.
Nowhere in Macclesfield is completely flat and some parts are rather steep, but every so often you'll see a view of the hills that makes it all worth while. Be aware that cobbled streets can be slippery when wet.

See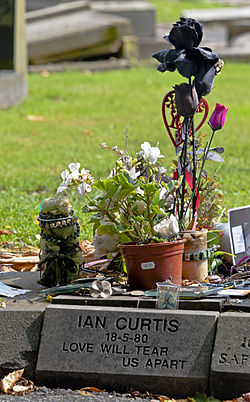 The 108 StepsStairs between Waters Green and the town centre that are a beloved local landmark.

phone: +44 1625 383946

address: Prestbury Road

The grounds are pretty; the ornate stone gates, lodge and chapel are all listed, and there are many veterans of World Wars I and II buried or interred here, including Victoria Cross recipient George Harold Eardley. But the main attraction for visitors is the grave of Joy Division lead singer Ian Curtis, on the walkway next to the trees a short distance from the crematorium and car park. It's very simple, marked with his name, date of death and "Love Will Tear Us Apart", the single that became a hit after his suicide. There's often memorabilia left there, but not so much that it detracts from the experience of contemplating his final resting place whilst listening to 'The Eternal' or another of Joy Division's darker songs.

St Michael and All Angels Church

phone: +44 1625 421984

address: Market Place

Its dark stone tower visible from much of the town, and looming over the rail station car park, St Michael's is the building most identified with Macclesfield. A grade II
* listed building, the current edifice was built in Victorian Gothic style between 1898 and 1901, replacing the Georgian-style 1740s church (which itself was built on the site of a 13th-century church) but retaining two late mediaeval chapels. Some gravestones from the 1700s remain but have been relocated, and there are great views to the east from Churchside, the road that runs around the church, and neighbouring Sparrow Park.
phone: +44 1625 612045

address: Park Lane, SK11 6TJ

The museum tells the story of silk and its association with Macclesfield. The mill contains 26 original Jacquard looms, some of which are still usable, and other machinery used for silk working. Entrance to the mill is by tour only, booking is advised. There are some limitations for visitors with mobility restrictions. There is a tea room and museum shop.

phone: +44 1625 613210

address: Roe Street, SK11 6UT

Built in 1814 to provide a purpose-built school for over 2 000 local children, most of whom worked in the mills from the age of 6 onwards. It now serves as a community hub, including Cinemac (see below), and is host to the Northern Chamber Orchestra on occasion.

Unitarian ChapelA Grade II
* listed building dating from the 17th century. Still in regular use.
phone: +44 1625 612045

address: Prestbury Road, SK10 3BJ

A small and personal collection of Egyptian artefacts and fine art. Highlights include a child's mummy case and a stuffed panda.

Barracks Square

address: Off Crompton Road, SK11 8HF

A former military installation, long since in other use. Privately owned, but accessible (externally).

High Street conservation areaThe small network of roads to the south of Park Lane is an example of early industrial planned housing and is a conservation area.

Weavers' cottagesThese are generally terraced houses with the top floor or loft used for loom-weaving. They have distinctive large windows on this floor to maximize the light.

Street artMacclesfield has acquired several pieces of gable-end art, particularly in the Sunderland Street area (the nearest you'll get to an edgy cultural quarter).
Do
Watch football ie soccer at

phone: +44 1625 264686

address: Moss Rose Stadium, London Road SK11 7SP

"The Silkmen" play in League Two, the fourth tier of English football.

Middlewood WayThis former railway line has been reclaimed to provide 7 miles (11km) of greenway for walkers, cyclists and horse riders. Stretching from Macclesfield to Marple it connects with many other footways and is reasonably well surfaced for accessible use.

Macclesfield CanalMacclesfield Canal runs between Marple to the north, and Scholar Green to the south, passing through the eastern edge of the town. It forms part of the Cheshire Ring (125 miles/200 km, 110 locks) which passes through some spectacular scenery. Freedom Boats on Brook Street offers canal boat hire. The canal is also popular with walkers and the occasional cyclist as it runs in parallel with the Middlewood Way – ideal for round trips.

Barnaby FestivalTakes place every two years in June, in and around town. Typically consists of art displays, community events and a parade.

Bluedot FestivalAt nearby Jodrell Bank, every July. Science and music festival.

Rewind NorthMusic festival, every August, usually held near to the town.

address: Sunderland Street, SK11 6HN

Live music most weeks and occasional community events. Check the colourful notices in front of the bar for more information.

address: Sunderland Street, SK11 6JL

Hosts a number of groups (books, photography, stitching and others).

address: Lord Street, SK11 6SY

A small but well-attended theatre offering several shows each year.

CinemacMacclesfield's answer to the lack of a "proper" cinema. Housed on the second floor of the Old Sunday School, it's essentially a converted hall with a single screen, 230 cinema seats and digital projection equipment, to allow the latest films and live events (e.g. from the National Theatre, Royal Opera House, ballet, etc) to be shown. Access is by stairs or lift, and a hearing loop is available. Refreshments may be purchased, including tea, coffee, prosecco, wine, beer and spirits, and may be taken into the auditorium. Ticket prices are very reasonable, especially on Sundays and Mondays when all tickets are £3.50 (March 2019). The nearest alternative cinema is 10 miles (15 km) away in Stockport.

ParksWest Park (next to Sainsburys superstore) has a large children's play area, a skateboard circuit and a bowling green. South Park has a small lake, a bandstand, skate/BMX bowl plaza, bowling green, 18-hole pitch & putt course, tennis and netball courts. Victoria Park (east of the Silk Road) has an aviary, bowling green, bandstand and small football pitch. Riverside Park, a Local Nature Reserve, follows the Bollin Valley to the west of Tytherington (main entrance via Beechwood Mews, off Manchester Road, near Tytherington School).
Buy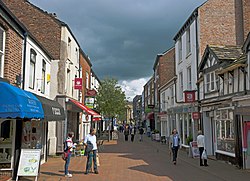 phone: +44 1625 613333

address: The Silk Road

The best-known shopping destination in Macclesfield is this furniture maker's shop, started by two Italian immigrants in the mid-19th century. Even if you're not in the market, consider going by just to see out the shop itself, a listed building with a cast-iron and glass front inspired by London's Crystal Palace. The furniture is pretty expensive but there's a nice café.
Mill Street. The town's main shopping street, primarily home to chain stores, running from Market Place, past the Grosvenor indoor shopping centre and market, down to Park Green.
Chestergate. The town's second shopping street, running west from Market Place, with many local boutiques and independent shops.
Treacle Market. Street vendors pour into the centre of Macclesfield on the last Sunday of every month (or the Sunday before Christmas) for this event, named for an incident in the town's past when an overturned load of treacle was eagerly scooped up by the local poor – hence the nickname "Treacle Town". Many interesting goods for sale and idiosyncratic foods for consumption. Local restaurants that are otherwise closed Sundays maintain limited hours for this event, as well.
Eat
Drink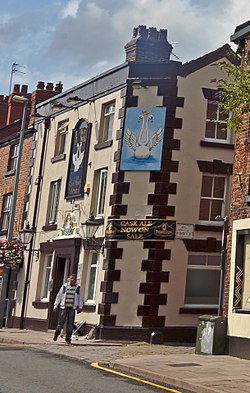 phone: +44 1625 611445

address: 39 Chestergate

The city's oldest pub serves a menu with many burger, steak and curry options plus desert.

phone: +44 1625 402040

address: 63 Sunderland St

Traditional 1830s pub with jazz and blues music, fire downstairs; plasma and Space Invaders upstairs.

address: 65 Chestergate

A warm and welcoming pub with drinks at decent prices (cheaper than the other pubs in Macclesfield but have a much wider range of drinks). Live bands play nearly every weekend and the music ranges from Indie to Metal to Tribute bands.

phone: +44 1625 619299

address: 52/54 Sunderland Street, SK11 6HN

A quirky place with lots of interesting stuff in several rooms. Local art and craft, live music and other events, as well as a bar and a limited selection of food.

phone: +44 1625 615 938

address: 43 Sunderland Street, SK11 6JL

A small modern place serving local and craft beers and food. Also hosts a number of local clubs and events.

phone: +44 1625 503253

address: 32a Park Green, SK11 7NA

Pizzas and locally brewed beer.

Leather's Smithy

phone: +44 1260 252313

address: Clarke Lane, Langley, SK11 0NE

Country pub on the edge of Macclesfield Forest and next to the Ridgegate Reservoir. Popular with walkers and cyclists. Large selection of whiskies.
Sleep
Nearby
Bollington A large village adjoining Macclesfield, locally nicknamed "Happy Valley". The sights include several 19th century mills (factory style, not windmills) built for cotton spinning and related uses, now converted mainly for accommodation. White Nancy is a small monument commemorating the Battle of Waterloo on top of Kerridge Hill. As the name suggests it is painted white, though occasionally redecorated (officially or unofficially).
Prestbury A village adjoining Macclesfield. One of the UK's most expensive areas to live outside central London. The village centre is picturesque and you can glimpse the mansions of the rich and famous, if you so choose.
Alderley Edge A large village west of Macclesfield, home to numerous wealthy residents including at one time the Beckhams. The village sits at the bottom of an escarpment ("The Edge") which was first mined for copper in the Bronze Age, some 5000 years ago, with occupation going back twice as far. The area is popular for walking in the woods and there are far-reaching views from the sandstone ridge.
Poynton A large village north of Macclesfield, home to coal workings from the 16th century onwards, The "inclines" (tramways lines for moving the coal) are still evident in places. The Anson Engine Museum has over 250 gas, oil and steam engines, many still working.
Macclesfield Forest A working, mostly coniferous forest with reservoirs supplying water to Macclesfield. Stunning views and many good walks, including to Shutlingsloe, the local peak.
Teggs Nose A local country park with great views over the surrounding countryside. The site was formerly used as a quarry, and much of old Macclesfield is paved with its stone. The remnants of quarry equipment are still lying around.
Hare Hill A walled garden owned by the National Trust.
Jodrell Bank Discovery Centre Home to one of the world's largest steerable radio telescopes, built in1957 (using gun turret mechanisms from scrapped battleships to drive it). There are three discovery pavilions of especial appeal to children. Jodrell Bank also hosts festivals such as Bluedot.
Gawsworth Hall A nearby hall and gardens. Open air theatre and concert venue.
Capesthorne Hall A nearby hall and gardens. Hosts various events and is a popular wedding venue.
Lyme Park The largest house in Cheshire, now owned by the National Trust. Set in extensive grounds (free access from surrounding footpaths). Famously used as the exterior of Pemberley in "Pride and Prejudice", though the scene with Mr Darcy emerging from the lake in a wet shirt wasn't really filmed there.
Go next
If you haven't come from there,
Manchester
, England's second largest city, is a short distance to the north. Perceived by those who've not visited as a dismal post-industrial wasteland, whereas the reasons to visit—clubs, restaurants, shopping, museums—are too numerous for even a short list here to do the place justice.
Off to the east is the
Peak District
. After taking in the splendid scenery and trekking to your heart's content, either camping out overnight or staying in
Buxton
, you might want to continue on to
Sheffield
, another post-industrial Northern city with more to offer than that description suggests.
West of Macclesfield one eventually gets to
Chester
, with its quaint medieval architecture and walls. It's an excellent stopover for travellers heading into
Wales
, a short distance away.
Almost as close to Macclesfield to the south as Manchester is to the north is
Stoke-on-Trent
. Once home to a thriving pottery industry it is now a destination with museums and gardens and a thick streak of local pride.
Smaller towns in the area include Congleton ("Bear Town"),
Leek
,
Wilmslow
and
Knutsford
.