Madeira
Madeira
is a sub-tropical archipelago in the Atlantic Ocean and is an autonomous region of
Portugal
. The archipelago is made up of two populated islands, Madeira and Porto Santo, and two groups of unpopulated islands called the Desertas and Selvagens Islands. Geographically in
Africa
, it is an ultra-peripheral region of the European Union. It is perhaps best known as the birthplace of the Portuguese football (soccer) player Cristiano Ronaldo.
Known worldwide as the Islands of eternal spring, Madeira, "Ilha Jardim" (Garden Island) or "Pearl of the Atlantic", has a mild climate throughout the entire year.
Madeira island is 500 km from the African coast and 1,000 km from the European continent, only 1.5 hr flight from mainland Portugal and about 3 hr from all the main countries in Europe.
Cities
Listed around the island, counterclockwise from Funchal:
Funchal – Island capital and largest city in Madeira, home to tourist resorts, gorgeous panoramas, and local color.
— city and home of the Madeira airport
Machico — second biggest city on Madeira
— beach village in the northeastern corner of the island
— scenic village on the west end of the island
Calheta — town, home to one of the only working sugarcane mills / rum distilleries on Madeira
— town
Câmara de Lobos — The "chamber of the sealions" is a town near Funchal.
Other destinations
The nearby island of .
. The Savage Islands make up an archipelago near the Canary Islands, part of the Madeira autonomous region. The islands are a natural reserve populated only by scientists, and normally off limits for visitors.
Understand
Madeira Islands are just a short trip from Europe (more or less 4 hours from UK), to a destination where you can combine holidays by the sea, in the mountains or in the city.
Discovered early in the 15th century by the Portuguese navigators João Gonçalves Zarco, Tristão Vaz Teixeira and Bartolomeu Perestrelo, Madeira was an important waypoint on the
Cape Route
, and is today an autonomous region of
Portugal
.
Madeira is a popular destination for tourists of all ages. Its constant mild climate (temperatures between 20 and 27°C) keeps the spring on Madeira all year round. The levadas, an ingenious system of stone- and concrete-lined watercourses distributing water from the rainy north to the dry south, help flowers and crops flourish all year. That's why this island is called the
Garden in the Atlantic
. The maintenance pathways for these water canals provide wonderful level trails for hiking in the mountains (up to 1861 m) and through the tremendous landscape.
Get in
Madeira has the same immigration laws as the rest of Portugal, and is thereby part of the
Schengen Area
.
By plane
Cristiano Ronaldo Madeira International Airport

phone: +35 1 291 52 07 00

The following airlines fly regularly to Madeira International Airport: TAP Portugal, Portugália, SATA, British Airways, Norwegian Airlines, Lufthansa, Austrian Airlines, Air France, easyJet, Finnair, First Choice Airways, Thomson, LTU, Condor, SAS, Sterling, Transavia, My Travel, Binter Canarias and Jet2.com.
The neighbouring island is
Porto Santo
.
Porto Santo Airport
(
PXO
) is a 15-minute flight from Madeira.
There is boat/ship service between the two islands.
If you go to/from the airport by (rental) car, ask for directions to the parking area you need; there are 7, and they are badly signposted. Note that some smaller rental companies operate from sites near but not at the airport, and provide transport between terminal and depot.

By boat
Get around
By bus
Bus timetables are very confusing as they do not include clear route details. Pay special attention to any footnotes for your route listed on the schedule, as holidays or school days can change the presence of the route.
Tickets can be bought from the driver, who can provide change. For extra-urban buses, fare varies by distance traveled so tell the driver your destination and he'll give you a transfer if necessary. If you'll be taking the bus often, multi-day bus passes are available from most bus companies, but they are limited to one operator, so only useful if you'll by staying in the same general part of Madeira.
There are three bus companies on Madeira.
This external page gives a more complete overview.
Within the city of Funchal, Horarios do Funchal (yellow buses) operates lines no 20/21 Funchal - Monte, line no 29 Funchal - Camacha, no 56 Funchal - Santana (via Ribeiro Frio), no 77 Funchal - Santo Antonio da Serra (via Camacha and Sitio Quarto Estradas), no 81 Funchal - Curral de Freiras and no 103 (Funchal - Arco de Sao Jorge (via Faial, Santana and Sao Horge).
Connecting the west side of Madeira, Rodoeste (grey/white with red stripe) operates lines no 3 Funchal - Estreito de Camara de Lobos, no 6 Funchal - Arco de Sao Jorge (via Encumeada), no 7 Funchal - Ribeira Brava, no 80 Funchal - Porto Montiz (via Calheta and Prazeres), no 96 Funchal - Jadrim da Serra (Corticeirias), no 139 Funchal - Porto Moniz, no 142 Funchal - Ponta da Pago (via Prazeres) and no 148 Funchal - Boa Morte.
Connecting the east side of Madeira, S.A.M. (green or white buses) operates lines no 23 Funchal - Machico (Espressbus), no 53 Funchal - Faial (via Airport), no 113 Funchal - Canical (via Airport) and no 156 Funchal - Marocos (via Machico, changes bus at Machico).
All Rodoeste and S.A.M. buses converge in the center of
Funchal
.
By car
Driving in Madeira is not for the faint-hearted. A small number of main routes marked "Via Expresso" or "Via Rapida" (VE and VR on maps) are well-maintained, reasonably straight and level - thanks to a large number of tunnels, bridges and viaducts. All other roads are narrow and often steep. If a member of your group really enjoys the challenge of driving up ceaseless-seeming hairpin bends up mountains against oncoming traffic and usually with a sheer cliff face on one (or both) sides, then you may wish to consider hiring a car. Otherwise, it is best not to attempt driving on most of the island and instead to use buses and taxis. Of course a holiday based on public transport is less flexible, but for a driver with less than 100% confidence many of the roads are tiring, stressful and even dangerous. No-one should feel ashamed relying on the local bus, taxi and tour drivers (who after all are much better used to this kind of road). If you do decide to drive, then renting via the Internet is usually cheaper than walking-in.
Talk
English is as common as in
mainland Portugal
, although people will always appreciate it if you try and learn a few words of
Portuguese
. Note that the Portuguese spoken in Madeira tends to be heavily accented.
See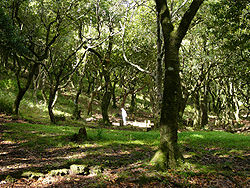 Levadas An impressive system of aquaducts built between 1461 and 1966 to bring water from the mountains to farmland.

Cabo GirãoOne of the world's highest ocean cliffs (590m/1,935 ft. above sea level).

Jardim BotânicoFunchal Botanical garden.

São Vicente CavesVolcanic caves (grutas) where you can visit lava tubes.

Jardim do Monte Palace Magnificent gardens of the former Monte Palace hotel.
Jardim Orquídea Orchid garden.
Fireworks on New Year's Eve The biggest fireworks in the world (Guinness world record 2007). Best places to see the fireworks include the tip of the marina of Funchal, on a cruise ship and Pico dos Barcelos (on the side where you can see the Funchal's marina).
Miradouro means viewpoint. Splendid views of the island can be seen from various viewpoints, including Pico dos Barcelos, Pico do Arieiro, Pico de Facho, Curral das Freiras, Monte.
The — a special kind of subtropical forest found only on Madeira, inscribed on the UNESCO World Heritage List.
Do
Hiking at , the eastern part of Madeira is a nature reserve with wonderful panoramic views of the Atlantic and spectacular volcanic rock formations. Many unusual species of plants are found here and are best seen from the footpath, such as the Ice Plant, Everlasting, Cardoon and many more. The hiking trail, which in recent years has been upgraded with stone steps and safety railings, can be walked comfortably with a pair of good hiking boots. The full walk, including a circuit of the reserve at the far end, will take several hours, so carry food and drink. Down the cliff from the road before reaching the trailhead is a secluded beach called Prainha, the island's only natural black sandy beach. Very popular with the locals, it's great for swimming.
Fishing
Sailing.
Snorkelling.
Scuba diving

Surfing The Atlantic offers waves for moderate to experienced surfers. Jardim do Mar and Paul do Mar are the most popular surfing places.
Birdwatching
Canyoning in Madeira is great for beginners and pro's alike. Abseiling down high watersfalls and jumping into crystal clear pools of fresh water is something you shouldn't miss.
Horse riding.
Buy
Madeira wine, of course. Available in many varieties in all supermarkets and specialist shops.
Eat
Cuisine
EspetadaMadeiran barbecue.

Bolo de melA Christmas cake.
Restaurants
Adega da Quinta

phone: +351 291 910 530

Traditional restaurant where you can eat "espetada" in an old winery uphill from Câmara de Lobos.

Coral Restaurante

phone: +351 291 098 284

Fresh fish and shell fish.

Espada Preta

phone: +351 291 948 439

address: Caminho Trincheira, 9300-159 Câmara de Lobos

Fresh fish and shell fish, also try their specialty "bread soup" (main course).

Restaurante O TunelNear the tunnel of Caniçal. Seafood starters and espetada as main course. Convenient if you do the levada walk or drive around the area of Caniçal, Machico, and Pico de Facho.
Drink
Madeira wine is a fortified wine prized equally for drinking and cooking. There are four major types of Madeira: Malvasia (also known as Malmsey or Malvazia), Bual (or Boal), Verdelho, and Sercial, the latter two being drier.
Poncha is the most traditional drink of Madeira.

Sleep
See individual city articles for listings. Those below are mostly outside towns.
Budget
Mid-range
phone: +35 129 182 0400

address: Lombo dos Moinhos Acima, 9370-912 Estreito da Calheta

A small family run hotel. Each room is individually styled.

Estalagem do MarRooms with private bathroom and tub and view to the Atlantic. Indoor and outdoor pool, Jacuzzi and a sauna, lots of parking space.

Quinta da QuebradaThe place has pleasant weather, with sun all year round. Very warm and dry in summer, gentle temperature and very few rainy days in winter. The unit has 7 bungalows all with a beautiful view over the Atlantic Ocean, TV, and telephone. Each one is made up of a double room, a private bath-room, and a kitchenette/living-room.

phone: +35 1 291 529 000

address: Rua de São Fernando 9100-157

5 minutes away from Funchal International Airport, top-quality hotel where you only have the sea for a vista. Only a few kilometers away from the tourism centre of Funchal.

Villa KoalaSmall hotel.
Splurge
phone: +35 129 192 2174

address: Estrada Regional 102, n.161, 9135-060 Camacha, Santa Cruz

Nine mountain cottages and a main house scattered around a beautiful large sloping garden. Quiet surroundings, yet only a 20 minute drive from Funchal.

Pestana Hotels & ResortsThe Pestana Group has 10 hotels in Madeira, 9 hotels in Funchal and 1 hotel in Porto Santo.

phone: +35 129 174 1515

address: Caminho do Poiso, Casais Proximos, Santo Antonio da Serra

Two holiday homes. The main house sleeps 8 and the Cottage sleeps 6. Both share a common swimming pool. A few minutes drive from Santo da Serra Golf Course and Horse Riding Centre. 32° 43' 08,83, 016° 48' 49,33
Stay safe

Emergency Service telephone number is 112. Some police in Funchal have red armbands, this signifies that they speak another language other than Portuguese, mainly English and German. Crime figures for Madeira are very low.

Connect
Internet - In some of the larger towns and cities on Madeira there is public free Wi-Fi Internet access sponsored by the Madeiran government. You'll find a 2m tall white and blue board telling you that Wi-Fi is available. There is also free access in the airport terminal. In addition, some bars and cafés offer Internet access too.