Madrid/Arganzuela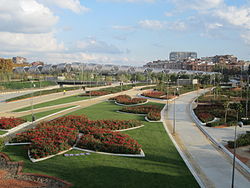 Arganzuela
is a district in southern
Madrid
on the banks of river Manzanares. In addition to that, this article covers all southern districts of the Spanish capital, most of which are little frequented by international travellers.
Get in

Madrid's main station, , is located at the northern edge of Arganzuela. Cercanías (suburban trains) also stop at Embajadores, Pirámides, Delicias and Estación Sur de Autobuses stations. Metro stations that serve this district are Embajadores, Palos de la Frontera, Delicias and Legazpi of line 3, Puerta de Toledo, Acacias, Pirámides and Marqués de Vadillo of line 5, Méndez Alvaro, Arganzuela-Planetario, Legazpi and Usera of line 6.

See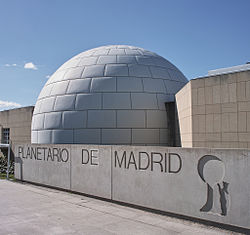 Parque Madrid RíoThe motorway that used to carve into the city and blight the banks of Río Manzanares, was banished into a tunnel, in a superlative urban landscaping project that cost some 4 billion euros. Nowadays, a unique 6-km long landscape garden accompanies the river on both banks. For this project, 33 bridges were dedicated, that allow you to cross from one side to another whenever you want, as well as 5500 benches installed and 33,000 trees planted. The park is multifaceted, including flowerbeds, Baroque-style boxwood broderies, pine, cypress or bamboo groves, playgrounds, climbing garden, skatepark etc. Asphalted paths are ideal for cyclists and roller skaters, while pedestrians enjoy priority rights. Cafés, "beach bars" and kiosks provide sustenance.

phone: +34 914 673 461

address: Avda del Planetario, 16

Features several exhibits related to space exploration, two screens playing documentaries, an interactive area and, of course, the planetarium. Projections last 45 minutes each. Different ones play on different days so check their website. All the exhibits are explained in Spanish only and the projections in the planetarium are also in Spanish.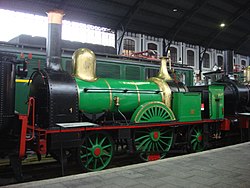 Museo de Ferrocarril de Madrid

phone: +34 902 228 822

address: Paseo de las Delicias, 61

Museum with four railway tracks, exhibiting a large number of steam, diesel and electric locomotives used in Spain in the 19th and 20th century. Also on display are several model railways. Exhibits are described in Spanish only.
Do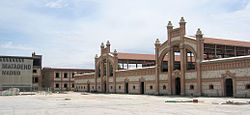 address: Plaza de Legazpi, 8

Madrid's former main abattoir (matadero), an early 20th-century industrial brick compound in Arganzuela district, has been converted to an arts and cultural centre since the 2000s. It is intended to serve as a cross-disciplinary laboratory of contemporary arts, including studios, exhibition spaces, a theatre, an arthouse cinema, and a library, as well as a café. One of the preferred spots of the city's "artsy" crowd to meet. There are performances and other events almost every day.

phone: +34 913 652 415

address: Paseo Bajo de la Virgen del Puerto, s/n

Another large venue for touring rock and pop bands.

phone: +34 914 712 370

address: C/ Cuclillo, 6

Concerts everyday – pop, rock, and punk.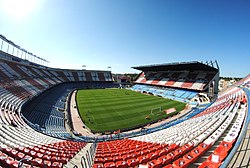 Atlético de MadridPlays games in the Vicente Calderón stadium. The club is one of the most successful in Spanish League history, having won both La Liga and the Copa del Rey on ten occasions, including a double in 1996. They also won the European Cup Winners Cup in 1962, were European Cup runners-up in 1974 and 2014, Intercontinental Cup winners in 1975 and more recently won the UEFA Europa League both in 2010 and 2012.

address: Camino de Perales

Held in mid-May at La Caja Mágica.
Eat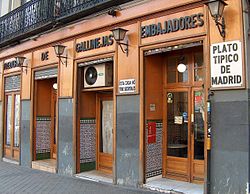 Freiduría de Gallinejas Embajadores

phone: +34 915 175 933

address: C/ Embajadores, 84

Another classic tapas bar in Madrid, not for conservative stomachs. Their most popular tapas are two of the most typical and traditional dishes in Madrid: gallinejas and entresijos. A treat for adventurous palates and lamb-lovers.
Drink
phone: +4 618103803

address: Paseo de la Esperanza 17

A Flamenco venue with daily shows at 9:30 by first line artists, in an intimate ambiance. Kind staff, nice drinks and tapas, personalized attention and the artists right in front of you.

La Esquina de Eusebio

phone: +34 34 914 642 181

address: C/ Caramuel 16

Trays of tapas are passed from one person to another in this typical bar of Madrid, absolutely not touristy but really worth it. And it's not so far from the centre.
Sleep
phone: +34 91 4686876

address: Calle Bernardino Obregon 25

Rooms from 4 to 14 people, plus breakfast and internet (WIFI).