Madrid/Chamberí-Castellana
Chamberí
is a middle-class residential district in
Madrid
.
Paseo de la Castellana
is an important northbound boulevard. Moreover this article includes listings in other, lesser-known
northern districts
of the city.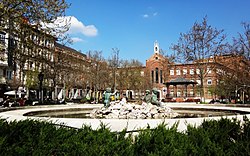 Understand
Chamberí is just north of the city centre. It is mostly residential and little frequented by tourists, but has nice intact neighbourhoods with well-preserved 19th century urban architecture. Neither overcrowded nor too quiet, this area may be a reasonable choice for lodging, with shops, restaurants and cafés that are mostly frequented by Madrilenians rather than catering to foreign guests.
Paseo de la Castellana is Madrid's most prominent northbound arterial road. Its section that is closer to the centre was created in the 19th century, but it was significantly extended in the mid-20th century during the rule of fascist dictator Francisco Franco, when it was named Avenida del Generalísimo. The more outlying section is still developing in the 21st century. The boulevard is lined by important business and financial institutions, e.g. in the highrise buildings of the AZCA, Gate of Europe and Cuatro Torres zones, as well as government offices, namely in the Nuevos Ministerios complex.

Get in

, one of the city's two main stations, is located in the northern part of the city, near La Castellana. Cercanías (suburban rail) also stop at in the central section of La Castellana.
The Chamberí district is served by metro lines 1, 2, 5, 5, 7 and 10. Conveniently located stations are Quevedo, Iglesia, Alonso Cano, Canal, Islas Filipinas and Bilbao. Line 10 accompanies the course of La Castellana from Gregorio Marañón to Begoña. Lines that cross the boulevard are 5 (at Ruben Darío), 7 (Gregorio Marañón), 6 and 8 (Nuevos Ministerios), 1 and 9 (Plaza de Castilla).

See
Landmarks and architecture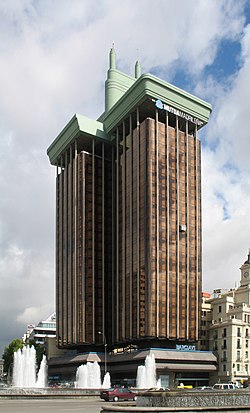 Torres de Colón

address: Plaza de Colón

Eye-catching twin towers, constructed 1967–74. With 116 metres and height and 23 floors, they are among the highest buildings in Madrid.

Plaza de OlavideCircular place and nice green space (thanks to the motorised traffic being directed through a tunnel), surrounded by an ensemble of colourful 19th-century residential buildings.

Nuevos Ministerios

address: Paseo de la Castellana 63

The modern government complex had already been planned by the republican government before the Civil War, but it was only completed in 1942 under the Francoist rule. Its architectural style is Neoclassical. The ministries of public works and labour are seated here.

Hospital de MaudesFormer hospital complex, built in 1916 in an eclecticist style (similar to Palacio de Cibeles, that was designed by the same architects). It includes a church, Santa María del Silencio. The hospital was intended to serve the poorer classes, therefore nicknamed Hospital de Jornaleros ("hospital of day labourers"). After the Civil War it became a military hospital, before falling out of use in 1970. In the 1980s, it was aquired by the autonomous Community of Madrid, refurbished and has since then housed the council of public works as well as a library.

Constitutional TribunalModern circular building from the early 1980s, designed by architects Bonet and Valdés.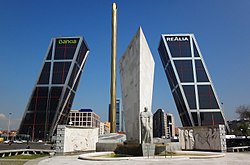 Plaza de CastillaOn the north side of the city and bisected by Paseo de la Castellana, this plaza is in the center of Madrid's skyscraper district. A tall obelisk sits in the center of the plaza while the Gate of Europe (Puerta de Europa) towers, two slanted towers which frame the boulevard, are on the north side of the plaza. Taking the #27 bus, which runs along Paseo del Prado and Paseo de la Castellana and ends at Plaza de Castilla, will take you pass several Madrid highrises.

Cuatro Torres

address: Paseo de la Castellana, 259A-D

Four sleek skyscrapers, constructed between 2004 and 2009. Standing 224 to 249 metres tall, they are the highest in Spain. From south to north, they are named Torre Cepsa, Torre PwC, Torre de Cristal, and Torre Espacio. In the latter, the embassies of Great Britain, Australia and Canada are seated.
Churches
address: Calle de García de Paredes, 45

Church from the 1900s in Neo-Mudéjar and Gothic revival style, dedicated to Our Lady of Miracles.
Museums
phone: +34 91 3101584

address: C/ General Martínez Campos, 37

This museum is in what was the impressionist painter's house and features fine furniture and porcelain as well as his paintings.

Anden Cero – Estación de Chamberí

address: Plaza de Chamberí

Former metro station designed by architect Antonio Palacios (creator of the Palacio de Cibeles, Círculo de Bellas Artes and Hospital de Maudes). It was inaugurated in 1919, but closed in 1966, thereby becoming a "ghost station". Since 2008 it has been converted to a museum, exhibiting original counters, signs, maps and advertising posters from earlier ages.

Museo Nacional de Ciencias Naturales

phone: +34 914 111 328

address: C/ José Gutiérrez Abascal, 2

Contains a large collection of fossils and minerals, plus educational exhibits (some are described in English but many are in Spanish only). Has two parts open to visitors with separate entrances. The ticket is purchased at the main entrance and to visit the other part you need to exit from the main entrance, turn left and follow the building until you reach the second entrance. Your ticket will be checked again there so don't lose it.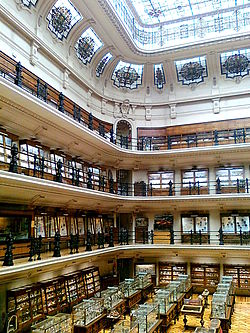 phone: +34 913 495 759

address: C/ Ríos Rosas, 23

Part of the Spanish Institute of Geology and Mining, this museum is dedicated to Geology (with a focus on Mineralogy) and Paleontology, containing an impressive collection of fossils and minerals discovered on the territory of Spain and abroad. Also contains educational exhibits, although all are described in Spanish only. The interior of the building is just as impressive and may be worth a quick tour even if you are not particularly interested in Paleontology and Mineralogy.

Museo Nacional de Ciencia y Tecnología

phone: +34 914 250 919

address: Pintor Velazquez s/n, Alcobendas

This is a museum dedicated to the history of science and technology, exhibiting scientific instruments and consumer products from the last few centuries. It also contains a large educational hall, explaining natural phenomena with practical hands-on exhibits (fun for children). Many exhibits are described in English and Spanish, although some sections have only a summary in English.
Do
phone: +34 913 370 140, +34 913 370 139

address: C/ Príncipe de Vergara, 146

The main concert venue for the Spanish National Orchestra and the Madrid Symphony Orchestra, as well as the main venue for touring classical artists and orchestras.
phone: +34 902 224 949 (tickets)

Tickets are sold at ticket offices in the Auditorio Nacional de Música, Teatro María Guerrero, Teatro de la Zarzuela, Teatro de la Comedia, and Teatro Valle-Inclán.

phone: +34 915 321 503

address: C/ Barquillo, 8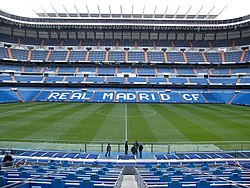 Real MadridFor football fanatics, a trip to the Santiago Bernabeu, the home of local club Real Madrid is not to be missed. Real Madrid is the most successful football club in Spain and Europe, having been crowned Spanish champions a record 32 times and European champions a record 11 times. Their biggest rivals by far are FC Barcelona, with which it contests matches known popularly as El Clásico at least twice a year. The rivalry between the two sides is by far the biggest in Spain and one of the most intense in the world, and stems from the longstanding traditional rivalry between the Spanish and Catalan speaking parts of Spain. As such, tickets for such matches often sell out very quickly. In case you arrive in Madrid on non-match periods, you can take a self-guided tour of the Santiago Bernabeu Stadium. It includes tours around the field, the dressing rooms, the Press Room and the Real Madrid Museum where the trophies and other memorabilia are kept. Without a loyalty card, the typical fees for adults is €16. However, a few days before a match, the chances are you will not be able to take the full tour, but only a part of it, with at least the Real Madrid Museum, at a reduced price.

phone: +34 91 4061785

address: C/ de Silvano, 77

This cinema is located in a shopping mall know for its ice-skating ring. It is a great place where teenagers can hang out since the mall also has restaurants, bars, and shops.
Buy
El Corte Inglés Nuevos Ministerios

phone: +34 914 188 800

address: C/ Raimundo Fernández Villaverde, 65

If for some reason you will end up in the concrete jungle of Nuevos Ministerios with time to kill, there is an 8-storey sprawling El Corte Inglés for your delight just over the station.
Learn
phone: +34 931 761 536

address: C/ Raimundo Lulio, 7

Offers Spanish courses for foreigners all year round. Students with previous knowledge can start any Monday. For absolute beginners there are fixed start dates.

phone: +34 91 838 0082

address: c/ Covarrubias 22

Language school that prepares you to obtain a TEFL certificate and also offers work as an English teacher in Madrid.
Eat
Budget
Home Burger Bar

phone: +34 912 195 658

address: Paseo de la Castellana, 210

The place for serious hamburgers. Americans will feel at home!
Mid-range
phone: +34 913 453 074, +34 913 506 071

address: C/ Carlos Caamaño, 3B

Best paella in Madrid, but only if you bring more than two people by order of the proprietor. Frequented mainly by locals, prepare to be stared at by the wait staff if you are from out of town.
Splurge
phone: +34 913 238 410

address: Paseo de la Castellana, 260

Seafood.

phone: +34 913 597 083, +34 913 506 119

address: C/ Padre Damián, 44

Arguably the best seafood in Madrid.
Sleep
Mid-range
address: Pinos Alta, 14

3 star hotel with modern features, clean rooms and helpful staff. Just over 1.5km walk from the Bernabeu Stadium.

phone: +34 91 739 3831

address: Calle Lacoma 5

Family-run.
Splurge
phone: +34 917 277 900

address: C/ de Alfredo Marqueríe, 43

A modern luxury hotel located in prestigious residential district Mirasierra, overlooking the Sierra de Guadarama. Facilities include a fitness centre, free parking, and free Wi-Fi. The hotel is also home to the Restaurante Verdil.