Madrid/Malasaña-Chueca
Malasaña
,
Chueca
,
Conde Duque
and
Salesas
are neighbourhoods in northern central
Madrid
.
Understand
Malasaña
used to be a not-so-privileged residential neighbourhood. Starting from the 1980s
Movida madrileña
period, however, it has been populated by the city's young, creative, hip and artsy crowds. By day, it is a paradise for those shopping for second-hand or street fashion, artisan craftwork and young designers' stuff. At night, the pavements are occupied by tables of bars and restaurants as well as people just spending time with friends.
Conde Duque
is a smaller neighbourhood directly to the west of Malasaña. Its character is pretty similar, perhaps a little quieter. Located near the university campus, its population is quite young and studentish, too. It is named after the
Conde-Duque
(i.e. "Count-Duke") barracks, an 18th-century former military compound-turned-cultural centre.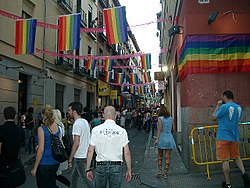 Chueca
has a similar background like Malasaña (maybe a tad more bourgeois), but has built its reputation as Madrid's gay district. Of course, that does not mean that straight people were not welcome. Indeed, most restaurants, hostels and nightlife venues cater to a general public, not a specifically gay one. Apart from that, this area has a high concentration of antique shops.
Salesas
is the small neighbourhood inbetween Chueca and the posh
Salamanca
district.
The official name of the admistrative
barrio
that contains Chueca and Salesas neighbourhoods, is
Justicia
as the Supreme Court of Spain and the Court of Accounts are seated here. The Spanish Ministry of Justice is in nearby Calle de San Bernardo.
Get in

Chueca and Malasaña are just 1–2 km north of the central Puerta del Sol square and 3 km north of Atocha (Madrid's main station for intercity trains). They can be reached with several metro lines. Stations Gran Vía (lines 1, 5), Tribunal (1, 10) and Bilbao (1, 4) are located along Calle Fuencarral that is right inbetween both districts. Noviciado (2) is between Malasaña and Conde Duque, and Chueca (5) of course in the middle of the eponymous district. San Bernardo (2, 4) and Alonso Martínez (4, 5, 10) are near the northern tip of Malasaña and Chueca, respectively. Plaza de España (3, 10) and Ventura Rodriguez (3) are on the western rim of Conde Duque, Colón (4) at the northeastern corner of Salesas.

See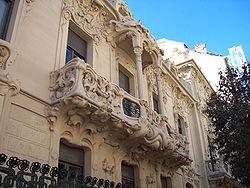 phone: +34 917 011 863

address: C. Fuencarral, 78

This museum is dedicated to the history of Madrid from 1561 to present. Much of the history is explained by referencing exhibited paintings depicting people or events from the time, so it is also an art museum. Several maps and models (including two large ones in the basement) show how Madrid grew since the 16th century. All exhibits are explained in both English and Spanish.

Plaza del Dos de MayoCentral square of the Malasaña neighbourhood. It was named after the 2 May uprising of 1808 against the Napoleonic occupation of Spain. A monument in its centre honours the leaders of the uprising who were executed. The monument is Malasaña's symbolic landmark that is pictured on Malasaña postcards, on the label of Malasaña beer and other local merchandise.

Palacio Longoria

address: Calle Fernando VI, 6 / Calle Pelayo

Exceptionally ornamental art nouveau building, erected 1902–03 for the banker and politician Javier González Longoria. It was designed by the Catalan architect Jose Grasses Riera and is considered to be one of the most important and beautiful examples of Spanish modernismo. Today, it houses the Spanish society of authors and editors. It can only be visited from the outside, but you may cast a glance at the entrance hall and staircase.
Do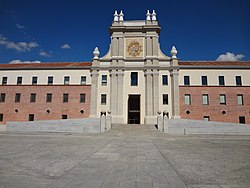 phone: +34 913 184 450 (performances), +34 914 800 401 (exhibits)

address: C/ Conde Duque, 11

This former military building now not only serves as a venue for musical, dance, and theatrical performances but also hosts contemporary art exhibits. Tickets for performances are also sold online.
Buy
Calle FuencarralThe high street that is right inbetween Malasaña and Chueca, is the main shopping and promenading route in this part of Madrid. The 500-metre long strip between Gran Vía and Calle Hernán Cortés is closed to motorised traffic which makes it ideal to stroll along. Fuencarral itself is mostly lined by branches of well-known international fashion, cosmetics and accessory chains. Have a look into the side streets on either side if you are looking for something more individual.

Mercado de Fuencarral

address: C/ Fuencarral, 45

Centrally located shopping centre.

address: C/ Belén, 7

Tiny, high-quality antique shop. The friendly owner is well aware of the worth of her hand-picked gems, so do not expect a bargain! Current offers are published on the shop's website and instagram.

phone: +34 915 048 313

address: C/ Espíritu Santo, 1

Great assortment of vintage fashion that is sold by weight.
Learn
phone: +34 913 604 133

address: C/ Duque de Liria, 6

A great school where you can take 4-6 hours of courses a day. All courses including beginner courses are taught entirely in Spanish.
Eat
address: Calle de Fuencarral, 57

Streetfood market on Fuencarral street, right in the middle of the Malasaña-Chueca area. 15 different stalls offer arepas (cornmeal griddlecake), brochetas (skewer), tacos, tapas, ham, meats, wine, beer etc. Between late-May and early-June an international street food festival is celebrated.
Budget
phone: +34 915 312 882

address: C/ San Vicente Ferrer, 32

The very best huevos rotos ('broken eggs') and croquetas. Cheap, beautiful and delicious! The chicken-adorned tiled front dates from the 19th century.

address: multiple locations

Popular nationwide chain that offers 100 different types of montaditos (small sandwiches). Great place to go for a cheap drink and bite to eat.

Home Burger Bar

phone: +34 915 229 728

address: C/ Espíritu Santo, 12

THE place for serious hamburgers. Americans will feel at home!

Home Burger Bar

phone: +34 911 151 279

address: C/ Silva, 25

A second branch of the same concept.

Tapería de Malasaña

phone: +34 915 22 54 74

address: Calle Corredera Alta de San Pablo 8

Taperia with lunch room out the back. Reviews mixed about the tapas but great place for lunch; they do a great Cocido Madrileño and the house wine is more than acceptable (although served somewhat cold).
Mid-range
La Cocina del Desierto

phone: +34 915 231 142

address: C/ Barbieri, 1

This dark, cave-like Moroccan restaurant has some of the best North African food in the city. The seating is at low Moroccan-style tables and the calm, mellow atmosphere makes you feel like you're far from the bustling center of Chueca.

phone: +34 915 210 000

address: Plaza de Carlos Cambronero, 4

Nice designer restaurant popular within the 20s-30s crowd. Good music, cool people, even better food and cocktails. The kitchen opens in the afternoon.

phone: +34 915 217 640

address: C/ Libertad, 33

This is a small, usually crowded, friendly Mexican restaurant with good food and drinks at reasonable prices. Sample some of their tacos and super-cheesy chilaquiles.

phone: +34 915 327 154, +34 664 215 103

address: C/ Reina, 29

Recommended for paella if a more authentic experience is sought.

Restaurante Siam

phone: +34 91 559 8315

address: C/ San Bernardino, 6

Beautifully-decorated with a tranquil atmosphere, the food is reasonable and offers a pleasant departure from Spanish fare, if so desired.
Drink
As becomes a real hipster quarter, Malasaña boasts its own, eponymous brand of craft beer that can be bought in local delis.
Tapas bars
El Tigre

phone: +34 915 320 072

address: Calle de las Infantas, 30

Probably the most well-known tapas bar in Madrid, a must do. Don't get frightened by how crowded the bar is and go in anyway. This is one of the most lively places in the city! Get beers, big glasses of wine or un mini de mojito and get free big plates of tapas every time you order. Very affordable.
Cafés
address: Glorieta de Bilbao, 7

Opened in the 1880s, this is the oldest cafe in Madrid, and has been run by the same family since the early 1900s. There's a modern internet café upstairs, but the downstairs remains traditional.

phone: +34 91 308 02 31

address: Calle Fernando VI, 2

Long-standing confectionery (established 1914), offering excellent tartlets that are not only delicious but also look picture-perfect. They are also sold to take away.

address: Paseo Recoletos, 21

A historic literary cafe. The outdoor terraza is nice in the summer.

Café Restaurant El Espejo

phone: +34 913 191 122 (café), +34 913 082 347 (restaurant)

address: Paseo de Recoletos, 31

Opened in 1978, but looks much older. Has two divisions: a more casual café and a restaurant. Good food and very crowded during lunchtime.

Libertad 8Libertad 8 is an iconic coffee shop and bar located on Libertad del barrio de Chueca, in Madrid. Opened as a coffee shop in 1975, ever since then it's served as a stage for artists and singer-songwriters (known as cantautores). It's become one of the most important spaces for songwriters, with frequent concerts by Pedro Guerra, Rosana, Ismael Serrano, Luis Pastor, Tontxu, Andrés Suárez, Lichis, Carlos Chaouen, or Kiko Tovar.

phone: +34 910 42 10 52

address: Calle de San Joaquín, 14

Café, crêperie (place making crepes), sweets & very friendly staff – a good place for lovers of deserts & the sweet
Bars
phone: +34 913 100 307

address: C/ Horteleza, 96

Very cool chill out bar decorated with deep colours in a Moroccan style. Dark and inviting. The seating includes cushions on the floor, traditional tables and chairs, or if you're lucky, grab the four poster bed at the back.

phone: +34 91 446 75 81

address: C/ Velarde 18

A swingin' bar where you can twist the night away with local hipsters.
Clubs
Demode

address: Calle Ballesta

Cool electronic sounds for 20s-30s.

address: Pza. Santa Bárbara 10

Smallish venue, starts the night with live jazz, later on morphs into relaxed night club. Not cheap (once inside, beer still €5.50, mixed drink €8.50), so attracts older crowd than others nearby.
Sleep
Budget
phone: +34915327011

address: Calle de la Palma 61

Breakfast (coffee + pastry + juice) is included in price and it's served in a cafe near hostel. The nearest metro station is Noviciado. The room includes own bathroom and TV. Quiet and clean basic hostel.

phone: +34 915 319176

address: Calle Concepción Arenal 4

Small, clean guest-house on the 4th floor. Ideally located just meters from Gran Via, with great staff and free wi-fi. All rooms have sink & shower, but most share bathrooms.

phone: +34 91 5220585

address: Calle Fuencarral 10 3º

Centrally located, all rooms include bathroom, TV, free wi-fi, air conditioning, central heating, laundry and baggage storage facilities. Rooms with kitchen, washing machine and fridge are also available.

Hostal Visa

phone: +34 915 310 987

address: C/ Pérez Galdós, 7

Simple, clean and secure. Central location close to Gran Via. Friendly staff.

phone: +34 913082348

address: Plaza Santa Bárbara, 8, 2º D

Simple but clean, on 2nd floor of building. Staff speak excellent English, very friendly. Reception open 6:00 to 00:00, but no curfew, guests get access code to front door. Good free WiFi.