Madrid/Northern Suburbs
For the purposes of this guide, districts of
Chamartín
,
Tetuán
,
Fuencarral
,
Moncloa-Aravaca
,
Ciudad Lineal
,
Hortaleza
,
San Blas
and
Barajas
are considered as the Northern Suburbs of
Madrid
.
Get in



Most of the metro lines visit also the this area, including .

See
Museo Nacional de Ciencias Naturales

phone: +34 914 111 328

address: C/ José Gutiérrez Abascal, 2

Contains a large collection of fossils and minerals, plus educational exhibits (some are described in English but many are in Spanish only). Has two parts open to visitors with separate entrances. The ticket is purchased at the main entrance and to visit the other part you need to exit from the main entrance, turn left and follow the building until you reach the second entrance. Your ticket will be checked again there so don't lose it.

Plaza de CastillaOn the north side of the city and bisected by Paseo de la Castellana, this plaza is in the center of Madrid's skyscraper district. A tall obelisk sits in the center of the plaza while the Gate of Europe (Puerta de Europa) towers, two slanted towers which frame the boulevard, are situated on the north side of the plaza. Taking the #27 bus, which runs along Paseo del Prado and Paseo de la Castellana and ends at Plaza de Castilla, will take you pass several Madrid highrises. North of the Plaza is the Four Towers (Cuatro Torres), four sleek new skyscrapers which are the tallest in Spain.

Parque de El CaprichoOne of the most beautiful parks in Madrid. Built in 1797-1839, it has a strong Romanticism influence. Declared as an Historic Garden, its lakes with swans and ducks, labyrinths, palaces, squares and fountains makes this a lovely place.

Museo Nacional de Ciencia y Tecnología

phone: +34 914 250 919

address: Pintor Velazquez s/n, Alcobendas

This is a museum dedicated to the history of science and technology, exhibiting scientific instruments and consumer products from the last few centuries. It also contains a large educational hall, explaining natural phenomena with practical hands-on exhibits (fun for children). Many exhibits are described in English and Spanish, although some sections have only a summary in English.

Spanish National Research Council HeadquartersHeadquarters of the largest public institution dedicated to research in Spain and the third largest in Europe. Not a real touristic place, and they would probably not let you in to take a photo of the building, but this is the main filming location of the Royal Mint of Spain in the spanish Emmy winner TV show, Money Heist (La Casa De Papel).
Do
Buy
El Corte Inglés Nuevos Ministerios

phone: +34 914 188 800

address: C/ Raimundo Fernández Villaverde, 65

If for some reason you will end up in the concrete jungle of Nuevos Ministerios with time to kill, there is an 8-storey sprawling El Corte Inglés for your delight just over the station.
Eat
Budget
Home Burger Bar

phone: +34 912 195 658

address: Paseo de la Castellana, 210

Other burger bars of this brand can be found in Malasaña-Chueca.
Mid-range
Bar Jaén III

phone: +34 630 036 987

address: Calle de Poitiers, 3

An excellent tapas bar and restaurant. A nice place to enjoy Spanish food and lifestyle without spending too much. Being located just outside central Madrid, it's far from being a tourist trap and you can enjoy good food and true raciónes (portions). The pleasant owners are very willing to share stories about Madrid and Spain more generally. In summer time it has a superb terrace, within a stone's throw of the Olympic Stadium.

phone: +34 913 453 074, +34 913 506 071

address: C/ Carlos Caamaño, 3B

Best paella in Madrid, but only if you bring more than two people by order of the proprietor. Frequented mainly by locals, prepare to be stared at by the wait staff if you are from out of town.
Splurge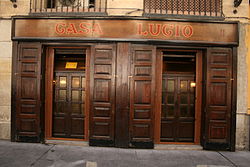 phone: +34 913 238 410

address: Paseo de la Castellana, 260

Seafood.

phone: +34 913 597 083, +34 913 506 119

address: C/ Padre Damián, 44

Arguably the best seafood in Madrid.
Sleep
phone: +34 915 67 50 00

address: Calle del Poeta Joan Maragall, 43,