Madrid/Sol-Letras-Lavapiés
Sol, Letras
and
Lavapiés
are neighborhoods in central
Madrid
, the capital of
Spain
.
Understand
The
Puerta del Sol
square is Madrid's centre of the centre and therefore the symbolic omphalos of the whole kingdom. Here is milestone zero of Spain's road network from which all distances are measured. At least once a year, the whole nation looks here, when national TV stations broadcast the New Year's celebrations on Puerta del Sol and Spaniards swallow their twelve grapes to the chimes of the post office's belfry. North of Puerta del Sol, around Calle de Preciados and Calle del Carmen, is the main shopping district of central Madrid.
The northern limit of this district,
Gran Vía
, is the Spanish capital's most splendid avenue. It is lined by tall, lavishly ornated banking, insurance and shopping palaces from the early 1900s.
The neighbourhood around the Spanish parliament
(Cortes)
and calle de las
Huertas
is commonly known as the
barrio de las Letras
, literally the "quarter of letters", given that the most important writers of classical Spanish literature—Miguel de Cervantes, Lope de Vega, Francisco de Quevedo, Luis de Góngora—lived here. Around the Plaza Santa Ana is one of Madrid's favourite areas for casual dining and drinking with friends at night.
Lavapiés
is Madrid's most multicultural and multiethnic neighbourhood. About half of its population have their roots in Latin America, Africa or Asia. This is the place to go to encounter folk and dance music from around the world, unconventional cafés and individual shops.
The "museum strip" or
Paseo del Arte
, to the east of Letras and Lavapiés, including the world-famous Prado, the Thyssen-Bornemisza Foundation,
Caixaforum
and the National Museum of Modern Art "Reina Sofía", is covered in a
separate article
.
Get in

Madrid's main station, , is near the southeastern corner of Lavapiés.
Suburban trains (Cercanías lines C3 and C4) stop at an underground station directly below Puerta del Sol.
Most metro lines pass through this district. Apart from the central , there are , , , , , along Gran Vía, near Letras, and in the eponymous neighbourhood.

See
Landmarks and architecture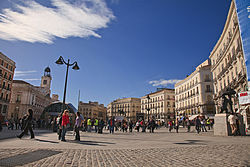 Puerta del SolThis plaza is the heart of Madrid and one of the busiest places in the city - a hub for the local transit system, a favorite meeting spot for locals, a visible area for festivals or political demonstrations, and an opportune location for tour guides, street performers, pickpockets and anyone else looking to take advantage of all the tourists on-hand. In the center of the plaza sits the Statue of King Charles III on horseback, facing the Royal Post Office (Real Casa de Correos), the red-and-white building adorned with a clock tower on the plaza's south side. The building served as Madrid's first post office, then the police headquarters under Franco before being transformed into its current use as the office of the President of Madrid, the head of the regional government. The clock tower is noteworthy for being the center focus of New Year's celebrations every year, which are broadcast across Spain and mark the traditional eating of the Twelve Grapes (one for each ring of the bell) and the beginning of a new year. In front of the building is Kilometer Zero (Kilómetro Cero), a plaque showing the point where the measuring of national highway system begins. On the east side of the plaza is the famous Bear and the Madroño Tree Statue, a bear climbing a madroño tree, which is the symbol of Madrid, and on the west side of the plaza is the Mariblanca statue, a white marble goddess of at least the 17th century. Nearby the giant neon Tío Pepe sign sits above the plaza and is a famous fixture of this area.

Gran VíaLiterally 'Great Way' (better translated as 'Broadway'), Gran Vía is one of the busiest avenues in Madrid. Running from Plaza de España to Plaza de Cibeles, it is the location of the cinema district and a number of shopping malls and is lined with large billboards and lights. There's a constant buzz of traffic and life – 03:00-04:00 early morning traffic jams are not unusual.
Museums
Real Academia de Bellas Artes de San Fernando

phone: +34 915 240 864

address: C/ Alcalá, 13

Highly impressive art collection with paintings, sculptures, drawings and prints. Several Goya masterpieces.

address: C/ Embajadores, 53

An abandoned tobacco factory turned into a huge Berlin-like alternative art space driven by the diverse locals of Lavapies district. Also Tens of free workshops daily. Nice big cheap outdoors terrace.
Do
Teatro Monumental
phone: +34 914 291 281 (box office)
address: C/ de Atoche, 65
phone: +34 914 298 119

Performs every Thu and Fri at the Teatro Monumental on Calle Atocha.
phone: +34 913 692 518

address: C/ Doctor Cortezo, 6

Probably the best known V.O. (versión original, or original language) theater in Madrid, it offers the largest selection of movies and is only a short walk from Sol.
phone: +34 913 691 125

address: C/ Santa Isabel, 3

This is a wonderful old Spanish theater dating from the 1920s. It has three screens and shows mainly art-house and critically acclaimed films in the original language. In the summertime, they screen movies on the roof.
Learn
Buy
phone: +34 913 798 000

address: C/ Preciados 1-9

Occupying the full first few blocks of the pedestrian boulevard Calle Preciados, El Corte Inglés serves as a gateway to the shopping paradise from Puerta de Sol.

El Corte Inglés Plaza de Callao

phone: +34 913 798 000

address: Plaza de Callao, 2

A much smaller store is to be found at the other end of Calle Preciados. Not quite a looker from the outside, it holds a top-floor restaurant with brilliant views over the Gran Vía.
Eat
Many of the restaurants and
cervecerías
in the Sol area have generic poster board advertisements on the sidewalks with pictures advertising various paella dishes. These paellas are usually of bad quality and should be avoided. If you are looking for good, authentic Spanish paella, it is usually best to find a more expensive, 'sit-down' type of restaurant that offers a variety of paella dishes. There are also a number of deli-like shops along Calle Arenal that offer food
para llevar
(for take away).
Budget
address: Calle del Príncipe, 18

Branch of the popular nationwide chain that offers 100 different types of montaditos (small sandwiches). Great place to go for a cheap drink and bite to eat. Further branches are at Calle de la Montera, 34 (near metro Gran Vía) and Plaza de las Cortes, 3.

address: Carrera de San Jerónimo, 6

One of several branches of this chain. Offers deli takeout service as well as tapas and raciónes at reasonable prices. They offer €1 ham sandwiches and a 'picnic' lunch consisting of a said ham sandwich, fresh fruit and a drink for €2. Another branch is at Calle de Atocha, 54 (metro Antón Martín).
Mid-range
Alhambra

phone: +34 915 210 708

address: C/ Victoria, 9

This is a good place to drop by on a hot afternoon to enjoy a cold beer and some Andalusian tapas. Sample the sausages and cheeses.

phone: +34 910 000 133

address: C/ Victoria, 12

A Madrid landmark in operation for over 100 years, this bar attracts a standing room only crowd on the weekends. They mainly serve shrimp-based tapas dishes so if you're not into shellfish it may be advisable to steer clear. Order a plate of their garlic shrimp and accompany with their house wine.
phone: +34 910 000 133

address: C/ Núñez de Arce, 5

A second branch, just around the corner from the original.
phone: +34 914 296 703

address: C/ Ventura de la Vega, 12

For something different, try this great Peruvian restaurant a short walk from Sol. Be sure to order some of their ceviche and try the Pisco Sour cocktail.
phone: +34 917 016 000

address: Plaza de Santa Ana, 14

Located on the roof of the ME Madrid hotel, this terrace-style restaurant serves tapas and traditional cuisine. At night they serve great mojitos in a youthful, club-like atmosphere.
phone: +34 911 395 118

address: C/ Victoria, 8

Great potato dishes that come mixed with chorizo or other ingredients. Also try the pincho moruno (pork skewers) or something else displayed on ice in the front window. The Ribeiro on tap (sparkling white wine from Galicia) is not to be missed.
Drink
Cafés
phone: +34 913 694 143

address: Plaza del Ángel 10

Café by day, live jazz music at night.

La Mallorquina

address: Puerta del Sol 8, Mayor, 2

Famous for its pastries. Peaceful upstairs room where you can linger undisturbed over your café con leche and napolitana de chocolate (chocolate croissant).

phone: +34 915 273 658

address: C/ Ave María, 45

Slightly scruffy cafe draws an avante garde crowd at night.

La Pecera del Círculo de Bellas Artes

phone: +34 913 605 400

address: C/ Alcalá, 42

A soaring hall on the ground floor of Madrid's art center combines atmosphere, excellent food and good coffee at reasonable prices. A wonderful place for lunch not far from Madrid's shopping or museums.
Bars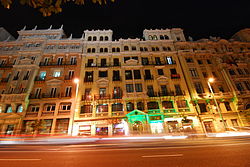 phone: +34 915 326 737

address: Gran Vía, 12

Voted the Best European Bar 2004 by MTV-Campari. Extensive cocktail list. Claims to have served drinks to many famous celebrities, including, Ava Gardner, Frank Sinatra, Lana Turner, Gary Cooper, Orson Wells, Yul Brynner and Ernest Hemingway, Catherine Zeta Jones, Hugh Grant and Tim Robbins. They only serve drinks.

phone: +34 915 227 509

address: C/ Espoz y Mina, 7

An Irish bar in the centre of Madrid near Puerta del Sol. The bar has televisions and is one of the places where sport can be seen.

phone: +34602433967

address: C/ Huertas, 41, Las Letras

Discopub in the core of Barrio de las Letras. Great place with excellent prices but a good quality. The bar includes nice music, a DJ, and a moderately large dance floor.
Clubs
address: Calle Jardines, 3

Popular with the 20-30 age group. Plays a mix of 70s, funk, and bossanova sounds. No dress code, but people do tend to look cool.

Ohm

address: Plaza de Callao, 1 (in Gran Via street)

Popular Commercial House club with a mixed young straight/gay crowd.

address: C/ Isabel la Católica, 6

Powerful Techno/House club popular within the younger crowd.
Sleep
Budget
Mid-range
Splurge
phone: +34 917 610 906

address: Gran Vía, 11

Old building with tasteful modern interior. Well sound-proofed against the busy Gran Via outside. Very comfortable beds. Rooms with TV, hi-fi, mini bar, bath/shower. Optional breakfast buffet with wide choice of good quality food and drinks. Pleasant, comfortable bar.

phone: +34 913 604 930

address: C/ Aduana 19

The Hotel María Elena Palace is located just 200 metres away from the Puerta del Sol. Renowned for its magnificent glass dome in the lobby.

phone: +34 915 329 049

address: C/ Sevilla 4

The turn-of-the-century grandeur with modern conveniences and amenities. Hotel Quo Puerta del Sol is housed in a emblematic building from the beginning of the 20th century with unique views of the city. It was totally restored in 2003.