Mae Sot
Mae Sot
(แม่สอด) is in
Tak Province
,
Thailand
at an elevation of around 210 m.
Understand
It will become the main gateway by land between Thailand and Myanmar due to the Trilateral Highway aka Asian Superhighway between
Moreh, India
and Mae Sot, passing by
Mandalay
(still under construction as of 2016).
Get in
By car
Be aware that there are two bus stations in Mae Sot, right south of the market with lower frequency and , the main hub. From the western bus station there are motor bikes and tuk tuk taxis. It is best to have a map and your destination on it. The typical fare for a shared ride into town and guest houses is not more than 20 baht - negotiate prior to embarking. For direct taxis the fare can be between 50 and 100 baht. Or you can just walk the 2.5 km.
Access from Tak is 86 km along Hwy 105 via Doi Musoe (870 m) and Doi Son (784 m). Tak is on the regular bus route between Chiang Mai and Bangkok.
Frequent mini buses connect Mae Sot directly with Tak bus station, starting at 05:30 and ending around 19:00, and should depart every 30 minutes from the southern end of Burmese market. However those that are already full can be expected to leave early, and those that are not will probably go late. The journey takes about 90 minutes and costs approximately 78 baht/person. The surcharge for putting a bicycle on the roof rack is 50 baht.
The travel time between Mae Sot and Bangkok is about 7-8 hr. There are buses in the early morning and late evening (8/9/10 p.m.) from Mo Chit Bus Station in Bangkok - but arrive at least 2 hr before your intended journey if have not booked ahead. A single ticket for the VIP buses cost approximately 613 baht per person. Try to get a spot on the top level of the VIP bus away from the toilets at the bottom level. There are also cheaper 1st and 2nd class buses, 382 baht and 306 baht respectively. Towards Bangkok the buses leave Mae Sot early in the morning and throughout the evening (6/7/8/9 p.m.).
From Bangkok you will most likely arrive at the western bus station, but you can try to get off when the bus passes the city center. Most buses from the city bus station towards Bangkok will also stop at the western bus station.
Green Buses from Chiang Mai to Mae Sot depart daily at 08:30 and 13:10 (1st class).
You can walk across the directly from
Myawaddy
to Mae Sot. The bridge is 700 m long and the walk takes 10 min or so, but is completely exposed to the elements (no shelter/shade). You pass through immigration on the Burmese side, then again to enter Thailand where free visa-on-arrival (valid for 30 days) is available for many nationalities. Both sides of the bridge have "foreigner" booths which generally provide a fast service versus the crowds of locals crossing back and forth. Remember to have an address of your destined stay promptly available, as the Thai immigration staff may be a bit less nicer than the Burmese one demanding this information.
Buses leave twice daily from
Yangon
to
Myawaddy
directly, morning and evening, with several different companies to choose from. 9,000-15,000 kyat, often including transfer from Yangon city to the appropriate bus terminal. Depending on the departure they may be arrive to late to cross the border in time, so check ahead.
Buses (5,000 kyat) and various shared taxis (10,000 kyat) also go directly from
Hpa-An
and
Mawlamyine
throughout the day. Nobody wants to buy Myanmar kyat in Thailand, so best to exchange or spend all of it before you cross the border into Thailand.
Once arriving on the Thai side, you can catch a Songthaew to town for 20 baht, motorcycle taxi for 60 baht or attempt to hitchhike, which is generally fairly easy as all traffic is passing alongside Mae Sot, and often includes large pickups and trucks.
However, you may even cross back to Burma on the same day.
By air
Mae Sot Airport (MAQ)Nok Air operates flights from Bangkok and Yangon.
Get around
Getting around town is best achieved by foot. If you are planning to explore the surrounding area, bicycles and motorbikes can be rented at many guest houses for approximately 50 and 150 baht per day respectively. A helmet is supplied as the police fine people not wearing one. You have to leave your passport for bond and fill up with petrol when you return it. Cars and 4 wheel drives can be hired from several places around town (e.g., Well Driving, close to Casa Mia).
Taxis come in the form of motorbike or tuk-tuk, usually found near the Burmese market and outside Tesco. The drivers have special licence number jackets. Prices depend on distance, number of passengers and your negotiation skills, but as a rough guide, 50-100 baht for most places around the town.

See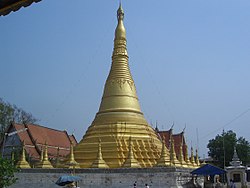 In the city
Wat Mani Herbal SaunaThis is a must do when in Mae Sot. Bring your own towel and water bottle. Women should wear a sarong or loose wrap. There are separate sections for men and women. The steam room is just 3x2 m but gives a good opportunity to mix with the locals. Don't be fooled by the shady surrounding, there is fresh water in the back near the fire and some workout equipment.

Town marketsThe vibrant Burmese market in the centre of town represents an amazing cultural mix. There are Indo-Burmese textiles, food and teak; as well as Karen, Mon, Hmong, and other Burmese minority shops of all kinds. Turtles, eels, and frogs all available at food stalls while pork, chicken, beef, and lamb are also sold. There are numerous gem and jade shops - but they are not for amateurs. (You better be able to tell the difference between real and fake gems if you plan to buy here.) Open morning and evening is a small indoor Thai market at Baan Nua, on the way to Mae Sot Villas with lovely fresh vegetables, meat and cooked take-away meals.
Around the city (sorted by distance)
Reclining Buddha and Buddha Foot at Wat Thai WattanaramThere is a beautiful Buddhist temple which contains a giant reclining Buddha. Continue straight on and find the Buddha's footprint.

Rim Moei Border MarketA whole range of locally made and Chinese and Burmese imports, including bootleg Viagra, cigarettes, whiskey and designer goods, plus gems and plants. Rating at Tripadvisorː 3.5 of 5 stars.

Mae Kasa Hot SpringsLegend has it that the Mae Kasa Hot Springs are hot enough to boil an egg. There's a nice walk around the area and it's a great place to have a picnic.

Gibbon SanctuaryWhile many other animals reside here, the gibbon sanctuary houses dozens of rescued gibbon, of the great ape group, who are often adopted as pets and then neglected by their owners when they reach adulthood. These fascinating creatures speak to you as you walk among their pens and hand feed them ripe fruit.

Tararak WaterfallTararak is part of the Ti Lor Su waterfall group and like its cousin Phra Charoen contains a nice walking trail and plenty of places to picnic.

Phra Charoen WaterfallThere is a well-beaten trail alongside its 97 steps, providing a beautiful stroll through the jungle. Bring a picnic with you and be prepared to get wet. There is a Burmese refugee camp at Umpiam further south of the Waterfall, in case you are into local politics and society.
Songthaews travel frequently north (Hwy 105) and south (Hwy 1090) in case you don't wanna rent a scooter or bicycle. They leave from the market or you can flag them down on route, but beware they are bone shakers and sometimes very full.
Do
phone: +66 87 7324019

Yoga in a peaceful setting. Mat provided. Regular classes on Monday, Wednesday & Friday. Advanced classes on Tuesday & Thursday.

phone: +66 8 3163 7537

address: 35 Intharakiri Road, Mae Sot, Tak 63110

The Puzzlebox offers courses in batik, ceramics, sandblasting and basic art. Professionals teach basic techniques, and you create your own original work. The course culminates in a product you can take home. Participate individually or schedule a group course.
The most recommended Thai massages are the one on the grounds of Mae Sot Hospital, rear entrance, and the one on the Asian Highway on the left towards the river, just past the traffic lights to Mae Ramat.

phone: +66 87 200 1495

address: 10/24 Samaksapphakarn, Ban Mae Sot, Tak, Thailand 63110

Explore the scenic surroundings of Mae Sot on bicycle. Fully-loaded Trek 3900 with disc brakes. 216, 218 and 220 inch available.

phone: +66 88 278 1834

address: 10/24 Samaksapphakarn Road, Mae Sot, Tak 63110

The number of migrant labourers has grown over the past twenty years. This increase of long term migrant laborers has resulted in a rapidly growing youth population. In response to the population growth over 75 different migrant schools have been established in the Mae Sot area alone. All together Youth Connect Foundation works with apprentices for a minimum of 10 months. During this time the apprentices will go through three stages: In-School Training Program, Intensive Training Program and Apprenticeship Placement and Career Centre.

Volunteering in an orphanageThe Center for Children in Need needs short- or long-term volunteers in their grass-roots project for abandoned Burmese children. Volunteers participate in the daily activities and there are often small construction and renovation projects. The director also takes the volunteers to the market and shows them around.
Buy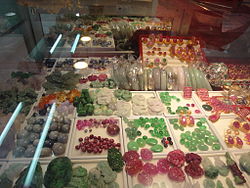 The weekend marketThis market is famous for its countless local food stalls to the north with a great variety. To the south cloths and local handicraft can be found.

The main market is a great place to purchase some Burmese goods. Wandering around it is easy to see the ethnic diversity in Mae Sot. It is also a fantastic place to buy great fresh, often live, food.
There are many gem stone and jewellery shops offering good bargains. Most of the trade is for wholesale however. As with anywhere in Thailand, although many sellers are reputable, be wary that if you look European, low quality stones might be sold for high prices. Do some research before you buy.
For locally made ethnic handicrafts, Fair Trade / Social Enterprise, goods try the WEAVE & Borderline shops, which are almost opposite each other on Inthrakiree Road heading into town from the west. Borderline also has an artist's gallery, a coffee shop, and free WiFi out the back.
There are a couple of trekking/tour companies operating out of Mae Sot, with jungle trips, elephant rides and white water rafting. SP Kitchen on Asia Highway is one option, Bai Fern in the centre on Inthrakiree Road is another. Some routes are seasonal and cannot be accessed at the height of the rainy season, May-Oct.
Eat
Your best bid would be to walk around and choose the place that looks most promising.
Aiya

address: Intharakiree Rd.

Thai-Burmese restaurant with an expansive menu in English. Friendly, but very slow service.

Cafe de MoeiGood Thai fusion cuisine.

Casa MiaThai, Burmese, and Western food. Friendly, English-speaking staff, with homemade bread, pasta and cakes.

Coffee CornerThai, Burmese and Western food. Comfortable with friendly staff and Bu, the owner, speaks English. The food is reasonably priced with good service. They make excellent coffee.

Hazel CafeSleek décor with delicious cakes and chocolates. Air conditioning and free WiFi.

Krua Canadian CafeEuropean, Mexican, and Thai menu. The owner always offers help to foreigners. Reasonable prices with good quality food. Sells take-away bread, wine, and Thai coffee in gift bags. Free WiFi.

Mai ThaiLovely place to eat and drink. The Thai owner and chef cooks each dish to order according to her northern Thai roots. Open early for "after-work" drinks and on until late. Food is tasty, but standards of hygiene are not perfect.

Opposite T CornerGood Thai food. Don't be put off by the décor and TV soaps as the food is all freshly cooked in front of you by a chef recently returned from a top Bangkok hotel.

The Passport @ HCTC

phone: +66 83 2147716

Vocational restaurant run by the Hospitality & Catering Training Centre, a charity offering a hospitality programme to under-privileged children of the Tak-Myanmar border. As part of their studies for the Certificate of Hospitality and Tourism, students are required to master basic cooking and service techniques. In order to enable this, they have opened a casual dining venue opened to the public 3 nights per week. Great cocktails and the most extensive wine list in Mae Sot. Thai specialities: sum tam spring rolls, tom yam gung, curries, dessert tray. All reasonably priced.

Peace CafeSupports The Best Friend Libraries and education projects. Sunday night at 19:00 is the Burma Film Series, admission free. European and Burmese food. Many vegetarian dishes. Bicycles for rent and guided tours.

SP KitchenDelicious Burmese, Thai, and Western food.

Wadee RestaurantDelicious Burmese food, also some Thai dishes. Very friendly service.

Yellow Green Coffee Shop

address: 599/1 Inthrakiree Rd

Owned by a husband & wife, who bake daily. Free Wi-Fi and has a nice balcony on the 2nd floor.
A bit past the mosque the road splits, and on the right fork at the end of the 1st block is a wonderful fried chicken take-away.
Two steak houses are on Asia Hwy. One is named "Cowboy & Indian" (note "Cowboy & Indian" burned down in January 2015 but is being rebuilt). The other is a bit further east and has a bright yellow sign.
The Night Market is terrific for late diners as the open air shops stay open quite late. All Thai food with English menus.
Drink
address: 206 Intarakhiri Rd

Run by Burmese former political prisoners. ExPPACT is now defunct, but the club continues. Set in a nice garden, this laid back place mainly attracts longer-term residents. Cocktails, Burmese snacks and weekly film screenings.

Sweet Harmony Coffee Shop and Bakery

phone: +66 55 544810, +66 81 9711731

address: 2/3 Sripanich Rd

Pleasant atmosphere in a bustling central location with good snacks and drinks.

Y2KA Thai nightclub. The interior is "table style" where everyone has their own group and table. On Friday and Saturday nights host a large number of ladyboys with live music.
Sleep
Budget
Centre For Children In NeedHomestay in grass roots project. 3 rooms available with fan, shared bathroom. Village has WiFi, taxi, restaurants and shops. 25 min by bike to town centre. Supports the orphanage.

Smile Guest House

phone: +66 85 1299293, +66 95 7656576

address: 738 Intharakeeree Rd

Clean and simple. Staff speaks good English. Free WiFi.

Lusy's Home Guest HouseTV, hot shower, fan and a bottle of water.

Green Guest HouseAn attractive and quiet collection of small rooms run by a friendly local family. Warm showers, towel provided, fan or air-con rooms with decent WiFi.

Zee Guest House

phone: +66 55-546700

Convenient location.

DK Guest House

address: 298 Intarakeeree Rd, Mae Sot 63110, Thailand

A well-used tourist hang out with mostly older NGO people, missionaries, and the like. Tiled BIG double rooms with air, Western toilet (hot water), cable TV, and a balcony; fan double rooms are cheaper. Don't get the rooms at either end as the noise can be a bit much from chickens and cars very early in the morning. The staff are nice; Internet is available in the lobby, as well as free WiFi throughout the hotel. Cable TV includes BBC, Al Jazeera, MTV, Thai, Burmese, and Chinese channels. Rating at Tripadvisorː 3 of 5 stars

Krissana Guesthouse (ehemals Baan Tung Guesthouse)

phone: +66 55 533277, +66 8 8158 7877

address: 63/4 Baan Tung Road, Mae Sot 63110, Thailand

A boutique style mid-range place to stay. Quiet location, close to the town, markets, eating places and en route from the bus station. Large, clean and very comfortable en suite bath, double rooms with locally crafted furniture and seating area. Have a fridge, cable TV, and free WiFi. Enjoy fresh coffee on the balcony or terrace and obtain excellent information from the Thai owner, Kung, or his friendly staff who speak Thai, English, and Burmese. High ratings on Booking.com and TripAdvisor.

The Charm

phone: +66 90 6956100, +66 83 4220854

address: 11/41 Intharakiri Rd, Soi 3

A boutique hotel with style and atmosphere. Offers clean, quiet, affordable accommodations. All rooms are en suite with air-con, cable TV, hot showers, towels, complimentary water, free unlimited WiFi. Free bikes for guests. Services include pick-up and drop-off, massage, laundry, room service, English classes, cooking classes and photo/video. Native English-speaking staff can provide excellent information regarding the area and assist in organizing local sightseeing trips. Long-term rates available. Has a full-service restaurant on the ground floor. Good views of Mae Sot are from the penthouse. Conference room available. Smoking is permitted on balconies and the outside eating area of the restaurant.

phone: +66 90 4596990

address: 125/4-6, Soi 19, Intharakiri Rd, Mae Sot Amphoe, Mae Sot, Tak, 63110

A non-profit guest house run by a local organization that works in vocational training. Its design is unique and detailed and the rooms clean and comfortable. Described on their website as "boutique on a budget", it contains a secluded garden with a horseshoe recreation area and a beer-drinking table. Breakfast, air-con, hot water showers in all rooms.

Maesod Guesthouse

phone: +66 55-542-634, +66 89-811-6945

address: 208/4 Intharakhiri Rd.

Here is only spoken Thai. Six bungalows with private covered parking. Reasonable rooms with hot water bath, TV, free fast Wi-Fi and cold drinking water. Close to the tourist police for information and city map.
Mid-range
phone: +66 55-531368

address: Intharakiri Rd, Mae Sot, Thailand 63110

A tiny, friendly, and comfortable bed & breakfast that will make you feel like home when staying here. They also have a good selection on their menu with a big breakfast, excellent coffee, a selection of teas and delicious yogurt smoothies. Beautiful Garden, clean nice rooms, air/fan & hot shower, towels & shampoo at premium quality, free WiFi, free coffee and tea available 24 hr at main living room, free bicycles for guests.

First Hotel

phone: +66 55 531 233

address: 444 Intharakiri Road, 63110, Thailand

Has invested its time and energy on its interior with wood carvings covering ceilings and bedposts, leaving the exterior to be remarkable only by their omission. Air-con rooms with double beds are available, as are other variations.
Upmarket
phone: +66 55 535 430, +66 80 771 0938

address: 758 / 1-2 Intrarakiree Road, Mae Sot, 63110, Thailand

Hotel décor is of old classic Thai-Myanmar style. Clean and well-maintained rooms making you feel like you're staying in a real hotel, not only overnight sleep room. Free WiFi and breakfast included in the room rate. Opposite and surrounding it are several restaurants and coffee shops: Bor-Kung Phao, dinner only with seafood caught in Myanmar; Krua Kon Wan, lunch & dinner Thai-style food; Som Tam shop; Chansuda Shop, Thai traditional desserts and snacks; Yellow Green Coffee Shop, coffee, tea and baked goods; T Corner, coffee and some food.

phone: +66 5553 2601-8

address: 100 Asia Road, Mae Sot, 63110, Thailand
Go next
Remember, there are
two bus stations
in Mae Sot, so be sure you know which station your bus departs from.
Around Mae Sot
Another way to leave Mae Sot is to catch the minibus to Tak to connect to onward buses. These leave throughout the day around every 40 min from the old market area which is over the bridge from Green Guesthouse. The trip to Tak takes around 1.5 hr and costs 78 baht.
Songthaews travel frequently to Mae Sariang (north) and Umphang (south). They leave from the market or you can flag them down on route, but beware they are bone shakers and sometimes very full.
Further east of Umphang lies
Khlong Lan National Park
. The park covers around 300 sq km with its highest point at 1440-m-high Khun Klong Lan. Wildlife includes sambar deer, wild pig and macaques. There are also a number of waterfalls, including the Khlong Lan Waterfall
which cascades over a 100-m-high rock face. The Khlong Nam Lai Waterfall is good for swimming.
North
In addition to the Mae Sot to Mo Chit (Bangkok) route, buses also travel directly to
Chiang Mai
and
Chiang Rai
. Departure times from Mae Sot are 06:00 and 08:00 from the main bus terminal. Tickets can usually be purchased without problems at the station on the morning of departure and are 250-350 baht or 350-500 baht, respectively, depending on the service class. Ask your guesthouse to arrange an early morning tuk-tuk to the station. The ticket booth opens at 05:30. The Green Bus, direct to Chiang Mai, has moved its ticket office to a building on the Asia Hwy just to the west of Hwy 105 North. Total travel time to Chiang Mai is about 6 hr and Chiang Rai about 9 hr.
Along the Myanmar border
Mae Hong Son
is another destination north of Mae Sot.
South
One bus line serves
Laem Ngop
, (
Ko Chang
), and
Mukdahan
daily. The company that runs this service is Phetprasert. The Laem Ngop bus travels south towards Bangkok, veering east before entering the city, and then travelling along the coast via
Chonburi
and
Rayong
. The travel time from Mae Sot to the ferry departure point for Ko Chang is around 16 hr and the ticket costs 750 baht. The Mukdahan bus makes station-only stops, including
Sukhothai
,
Phitsanulok
and
Khon Kaen
. The company claims that total journey time is 12-14 hr.
East
Famous for its ruins is the ancient city
Sukhothai
, a UNESCO World Heritage Site. It is about 170 km away from Mae Sot. As of June 2019 there's no direct connection to Sukhothai. However, you can take a minivan / minibus from the small bus station south of the market to Tak (78 baht). From Tak there are frequent bus connections to Sukhothai (56 Baht). Both journeys combined take around 3 hr.
Songthaews to the friendship bridge leave frequently from the far side of the Burmese market. Locals should be able to point you in the right direction. They depart throughout the day, but only when full, so wait times may be up to an hour. Best to go fairly early morning, when the locals do. THB20 per person, and be prepared to squeeze in. Motorcycle taxis cost THB60.
Be aware that there is no visa on arrival available in Myanmar, so you will need to have obtained a visa previously. Since 2016, the E-Visa is now also accepted at this land border. After passing through customs in Thailand, you can walk across the bridge (10-15 mins) and stroll into customs on the Myanmar side. Both customs offices have booths for foreigners, speeding up the process. From
Myawaddy
it is easy to catch onward transport into Myanmar (
Hpa-An
and
Mawlamyine
), although generally easier earlier in the morning before the border opens at 06:00 Thai expats; remember to obtain your Thai re-entry visa before crossing.