Malacca
Malacca City
(Malay:
Bandaraya Melaka
, and officially
Melaka City
) is a city and the capital of the
state of Malacca
,
Malaysia
.
Understand
Modern-day Malacca is a vibrant old city with a unique historical and cultural background from being the capital of a powerful Malay kingdom before the colonial era, as well as subsequent Portuguese, Dutch and British rule. The city centre was
listed by UNESCO
as a
World Heritage Site
in July 2008, along with
Georgetown
,
Penang
.
History
Before the arrival of the first Sultan, Malacca was a simple fishing village inhabited by local Malays. The Malacca Sultanate was founded by Parameswara, also called Iskandar Shah or Sri Majara, the last Raja of Singapura (the Malay name of Singapore) following a Majapahit attack in 1377. Parameswara found his way to Malacca in 1400 where he found a port, accessible in all seasons and on the strategically located narrowest point of the Malacca Strait. This later became Malacca.
There are some interesting legends surrounding the foundation and naming of Malacca. According to the 16th century Malay Annals, the city was founded by Parameswara. Some believe it more likely that he was a Hindu prince and political fugitive from nearby
Java
. The legend goes that Parameswara was out on a hunt in the region and had stopped to refresh himself near what is now the Malacca River. Standing near a
melaka
(Indian gooseberry) tree he was surprised to witness one of his hunting dogs so startled by a mouse deer that it fell into the river. Parameswara took this as a propitious sign of the weak overcoming the powerful and decided to build the capital of his new kingdom where he stood, naming it for the tree under which he had been resting. Another account says Malacca is derived from the Arabic word
Malakat
, meaning market. Malacca had a navigable harbor sheltered by nearby
Sumatra
across the narrow straits. The location was supplied with an ample quantity of fresh water, enjoyed a prime location relative to the shifting monsoon winds, and had a central location in regional trade patterns, all of which soon made it a prosperous trading town. Its fortunes increased with its official adoption of Islam in the 14th century. The Sultans of Malacca were soon attracting Arab traders from far afield. However, Malacca continued to trade with merchants of all races and religions.
After the visit of the Chinese Muslim Admiral Cheng Ho in the mid-15th century, contact between China and Malacca intensified. In exchange for protection against
Siam
, Malacca became a vassal state to Ming China. To ensure Malacca's safety, a new and powerful kingdom was founded by the Sultan of Samudra-Pasai.
The power of the Malays began to rise through the 15th century. In the Malay Annals, Sultan Mansur Shah was mentioned as having six wives, and the fifth was stated to be a daughter of the Ming Emperor. However, in the Chinese chronicles, no such event was recorded.
Things started to change with the arrival of the Portuguese in 1509. They were at first welcomed, but Indian traders soon turned the sultan against the Portuguese and they had to flee. In 1511 the Portuguese returned, and at their second attempt seized the city. This marked the start of the formation of a large Eurasian community. The Portuguese turned the city into a massive walled fortress complete with a tower bristling with cannon. It was believed that such fortifications could withstand the encroachments of other European powers eager for a slice of the Asian luxury goods trade.
An alliance between the Dutch and the Sultan of
Johor
saw the loss much of Malacca's power. In 1641 the Dutch navy put a blockade on Malacca and they seized the city after six months. During the siege much of the Portuguese city was destroyed.
Only after 150 years did the Dutch lose their hold on Malacca. In 1795 The
Netherlands
was conquered by the French, and the British were keen to take over the Dutch holdings in Malacca. By that time, Malacca had lost most of its former importance, although it remained an important part of Asian trade routes.
The A Famosa gate is all that remains of the old Portuguese and Dutch forts. As the Napoleonic Wars wound down the British knew Malacca would be returned to Dutch control. In order to make the city indefensible the city walls were blown down. A last minute intervention by a British officer, the young Sir Stamford Raffles (founder of British Singapore) saved the gate. Shortly after its return to Dutch rule, the Dutch and British governments swapped colonies - British
Bencoolen
in
Sumatra
for Dutch Malacca.
Malacca is a centre of
Peranakan
culture. When Chinese settlers came to Malacca as miners, traders and coolies, they took local brides (of Javanese, Batak, Achenese, etc. descent) and adopted many local customs. The result of this is an interesting fusion of local and Chinese cultures. The men are addressed as
Babas
and the women
Nonyas
by their servants meaning Master and Mistress.
A small group of Eurasians of Portuguese descent continue to speak their unique creole, known as
Cristão
or
Kristang
.
Talk
Malacca is a culturally diverse city, and this is reflected in the number of languages in use in daily life. As in other parts of Malaysia,
Malay
is the
lingua franca
, and English is widely spoken in tourist areas and among upper-class locals. The ethnic Chinese community mainly speaks
Hokkien
, though many are able to speak
Cantonese
and
Mandarin
as well. The ethnic Indian community mainly consists of
Tamil
speakers, though there is also a significant
Sikh
minority that mainly speaks
Punjabi
. The Peranakan community speaks a distinctive Malay-based creole with strong Hokkien influnces known as
Baba Malay
, while the Portuguese-Eurasian community speaks a
Portuguese
-based creole known as
Kristang
.
Get in
By plane
Ground transportation:
Batang Bus
(yellow, cream and red) from Melaka Sentral will go past the airport. Buses stop by the main road about 200 m from the airport building.
Tuahbas No. 65
(blue and white) to Taman Merdeka also goes from Melaka Sentral past the airport via Bachang.
Kuala Lumpur International Airport
KLIA, (
KUL
) is the nearest major airport and is 1½-2 hr away by car. Transnasional bus company runs 4 direct buses daily at 09:15, 11:45, 16:15 & 20:15 (RM22/16 adult/child), travelling time 2½ hours, but if you miss them, you'll have to detour via KL or take a taxi with travelling time about 1½ hours (fixed "budget" fare RM159, 1 way, counter inside Domestic Arrivals, the guard will happily let you and your trolley of luggage back into this area from outside).
Malaysia Airlines

phone: +60 6 282 9597

address: Lot 1&2, Block A, Ground floor, Century Mahkota Hotel, J. Merdeka, Melaka

It does not fly to Malacca, but it maintains an office here.
By bus
Many long-distance express buses connect Malacca with both Kuala Lumpur, Seremban, Johor Bahru, Singapore and other parts of Peninsular Malaysia. All long-distance and local buses now operate from the , a good 4.5 km from the historic core of the city.
To reach the main historical district take bus number 17 which departs from the domestic bus terminal of Melaka Sentral at the bus bay '17'. This bus goes to Chinatown and Taming Sari. The closest stop to Chinatown is Dutch Square, which you will easily identify from the brick red Christ Church and Stadthuys. Price is RM2/person (July 2017). Bus 17 is a loop line, so when you need to go back to Melaka Sentral you can take it at the same place where you got off, but using bus 17 back to Melaka Sentral does take much longer than the inbound journey (about 40 min). A much faster (and cheaper) way is to walk to the end of Jonker Walk until Jalan Kabu. You will see a Tamil Methodist Church on your right and a bus stop (Perhentian Jalan Kabu) across the street (named Jalan Kabu). From there, the bus costs RM1.5 (July 2017) and takes 15 min to reach Melaka Sentral. Buses 17 run about every 20-40 min depending on the traffic.
From Sentral, if you wish to take a taxi to the center instead then head towards the rear of the building. There's an official taxi stand that will appoint a driver to you. These are typically dirty with rude and aggressive drivers out to cheat both locals and foreigners. They would refuse to use the meter and charge exorbitant prices for short distances (a ride from Melaka Sentral to the main tourist area at Jonker Street would be about RM 25 and above). Locals would typically refer to taxi drivers as "samseng" (Malay for gangsters) and recommend using ride-sharing/e-hailing options such as Uber or the local Malaysian company called Grab as cheaper and more professional alternatives. A ride to Jonker would be about RM8 for a comfortable clean car and friendly local driver. If arriving by bus at Melaka Sentral, head to the main entrance to request a pick up. Do not go to the back entrance where the overpriced taxis wait. You would need to download the apps on your smart phone prior to arriving.

From Kuala Lumpur
Southbound buses now leave from new bus terminal Bersepadu Selatan (TBS), which is located just next to LRT station and KTM Komuter station Bandar Tasik Selatan. Easiest way to get there from Chinatown is walk to Kuala Lumpur old railway station (just opposite side of canal from LRT Pasar Seni station, use overpass) and take KTM Komuter train for RM1.10 or take LRT from Masjid Jamek station. Buses are leaving every half hour, price ticket to Melaka Sentral is between RM10 and RM15, and the ride takes 2 hr 15 min.
Besides, there are also several daily buses from Kuala Lumpur Internation Airport (for details see couple of paragraphs above).

From Singapore
Many bus companies operate from Lavender St. bus terminal directly to Melaka Sentral. Bus schedules vary between companies but some operates have hourly buses. Best show up and buy tickets in advance if you want to travel on Saturday morning and return Sunday afternoon as many Singaporean tourists have the same idea. The fares can vary starting from around SGD14-50 one way depending on class of the bus.
Bus rides often take 3½–5 hours depending on how long it takes to cross the Singapore-Malaysia borders, which during peak periods can cause massive delay. You will have to get your passport stamped at each end of the border and you must bring all your luggage with you when you are making an entrance into each country. Generally, the bus will wait for you at the border but sometimes they will expect you to catch the next bus if you take too long going through customs. Make sure you remember what you bus looks like (the number plate is quite a handy thing to remember). The buses will also have a 20-30 min rest stop along the way where you can purchase food and use the toilet facilities (whose cleanliness can be questionable). The Singapore customs area has decent toilet facilities, if required.
Some of the companies operating to/from Malacca are:

Transnasional, is the largest long-distance bus operator in Malaysia. It links the state with a host of destinations in Peninsular Malaysia like Kuala Lumpur, Seremban, Singapore and further afield. Transnasional buses depart from Malacca City (Melaka Sentral), Alor Gajah, A'Famosa Resort and Masjid Tanah.
Malacca-Kuala Lumpur Express: Hourly buses between Malacca City and Kuala Lumpur from 05:30-19:00. Tickets cost RM12.50.
Jebat Ekspres: Buses to Kuala Lumpur via Masjid Tanah and Alor Gajah.
Malacca-Singapore Express: Hourly buses between Malacca City and Johor Bahru and Singapore 08:00-19:00. Tickets cost RM19.00 to/from Johor Baru, and RM22.00 to Singapore. The route from Singapore to Malacca is SGD20
Delima Express: Buses from Singapore to Malacca/ Malacca to Singapore. Tickets cost SGD20.80/RM22 (RM/26 in July 2017). The boarding location at Singapore is City Plaza @ Payar Lebar. Online bookings are available.
Mayang Sari Express: Buses to/from Johor Baru. Tickets cost RM19..
MCW Express: Frequent express services to Muar, Johor
707 Travel: Favourite bus company of Chinese-Singaporeans going to Malacca. Departs 4-5 times to/from Malacca (Melaka Sentral) and Singapore (Queen Street). Does not stop at Yong Peng, so the trip can be as short as 3.5 hours. SGD25 from Singapore; RM25 from Malacca. In monsoon season around New Year's prices are SGD20 from Singapore. There are horror stories coming out of this company but don't be put off. Their communication may be a bit poor but if you take too long to get through customs, you just need to show the next 707 bus your ticket and you will be on your way. However, it is not fun hanging out on the Malaysian border as there is no air conditioning.
By train
Malacca Town is not served by any railway lines. The nearest railway station is at Pulau Sebang/Tampin, , in the Alor Gajah district about away. The station is on the main Kuala Lumpur-Johor Bahru line and served by all trains.
Getting there:
By bus:The "Tai Lye" bus goes from the Tampin townsite to Malacca. You'll be looking for bus #26. When you get off the train, walk down the road to the right about 400 m until you reach the main road. You now have two options. 1) Cross the road and wait until bus 26 comes toward you, wave madly at it, and it will stop to pick you up. 2) When you reach the main road, turn left and walk about 600 m into town. You'll come to an intersection that T's the main road, with a road branching left up a hill. Walk up that road about 200m and the bus station is on your left. This is a less risk but more walk option. If you've got lots of luggage, you can also take a taxi from the train station to the bus station. If you get lost walking, just ask locals for the "bus station". Few speak English here, but they'll understand where you want to get to. The bus fare is RM4.30, and you'll need ringit cash to pay it with. The trip takes about an hour and a half.
"Salira" bus (light blue and yellow) also goes from Melaka Sentral to Tampin via Ayer Keroh and Durian Tunggal. Get off bus at same spot as Tai Lye.
By taxi: There should be a taxi or two at the train station waiting for someone like you to come along. If there isn't, walk into town with the above directions. You'll see one soon enough. The cost will be somewhere around RM50, but you can try haggling a bit. Either way, get them to take you to your hotel, or if they can only take you to Malacca Sentral, get a cheaper fare (don't wait to discuss this in the taxi!) If you have the cash, and more than just a briefcase, this is the easier option. The cars are air conditioned (another bargaining chip if they aren't), and have trunk space for your gear. Plus, you could share the cost with up to three other people. Or if you are alone, maybe there is a local who's also trying to get to Malacca and would appreciate a free ride? Remember to be safe though. Don't get into your taxi until the driver has, always pay at the destination, and watch your stuff! The trip by taxi takes about 40 minutes.

By car
Malacca can be accessed from the North South Expressway. When coming from the south, drive along E2 and leave the expressway at the Ayer Keroh exit. Alternatively, one can leave the highway at the Simpang Empat exit and proceed through normal road to Malacca. This route will pass through the town of Alor Gajah and now with the new highway (ring road) completed, the trip from Simpang Empat to Malacca will take approximately 20-30 min by car.
Malacca city is on the Coastal Trunk Road (Federal Route 5), and can be accessed from the Main Trunk Road (Federal Route 1) by turning off at Simpang Kendong or Tampin, Negeri Sembilan.
Malacca is 150 km (93 mi) from Kuala Lumpur, 216 km (134 mi) from Johor Bahru, and 90 km (56 mi) from Port Dickson.

Rent a car
For those who want an easy and direct way out from either Kuala Lumpur's LCCT or KLIA airport to Malacca, an easy way is to rent or hire a car or van. It will take you 1-1½ hr to get there. Prices range from RM150-RM400 depending upon the vehicle type and rental duration.

By taxi
Chartered taxi services are available from the end of Jalan Kee Ann. They travel within Malacca state and outside Malacca such as to KLIA International Airport and Kuala Lumpur and carry up to 4 passengers at a time. Many taxis will use a set fare rather than a meter for such trips, so you should agree on a price before getting in. If you rather avoid the negotiations, most hotels are able to book these trips for you (although some may take a rather large commission, so check the fare), or you can book online through a range of companies. Typical fares to KLIA are RM150-200, depending also on the car model. Family-taxis are available from some companies.

By boat
Daily ferries run to and from Bengkalis, Dumai and Pekanbaru in Sumatra, Indonesia. All ferries arrive and depart from the (Jeti Shahbandar) at Taman Melaka Raya near the Maritime Museum.
Getting there:: Malacca Town Bus No. 17 (Green) goes near the Harbour Master's jetty which is just down the road from the Red Square.

Malacca ticketing booth

phone: +60 6 281 6766 (office), +60 6 283 2506, +60 6 283 2516

address: Jln PM10 Melaka Raya

Dumai agent (PT Pelayaran Nasional Malindo Bahari)

phone: +62 765 31398

address: Jl. Jend. Sudirman 4
Malacca ticketing booth

phone: +60 6-2816766, +60 6 2832506 (office), +60 6 2832516

address: Jln PM10 Melaka Raya

Pekanbaru agent

phone: +62 761 858777

address: Jl. Tanjung Datuk No 153, Pekanbaru
NNH Ferry Services

phone: +60 6 288 1334

address: Malacca ticketing booth G-15, Jln PM10, Plaza Mahkota Melaka Raya

Runs the Pelita Jaya ferry from Malacca to Pekanbaru on Mondays, Wednesdays and Fridays at 09:00.
From Bengkalis
Laksamana GroupHas ferries from Malacca to Bengkalis in Riau Province, Sumatra, on Tuesdays, Thursdays and Saturdays departing at 11:00. Ferries connect to Selat Panjang where there are onward ferries to Batam and the other Riau Islands. From Bengkalis, ferries depart on Mondays, Wednesdays and Fridays at 09:30.

Mulia Kencana'

phone: +60 13 373 3545 (mobile), +60 16 682 6896, +60 12 339 8428

Operates three ferries a week from Malacca to Bengkalis. Ferries connect to the town of Pakning. From Malacca, ferries depart on Tuesdays, Fridays and Sundays at 13:00. Tickets cost RM50/80 1-way/return. Tickets from Bengkalis to Pakning cost a further Rp 10,000.
Bengkalis are not listed as a visa-free or visa-on-arrival point of entry into Indonesia. However, those entitled to visa-free entry, or at least Malaysian passport holders, do not seem to face any problems.

Get around
Malacca is by no means a small city, but most of the main sites are within easy walking distance from each other and are best explored on foot.
Be mindful not to hold up traffic while taking pictures of buildings. The locals have generally good driving sense and adhere to traffic laws.
By monorail
A 1.6-km monorail system connects Taman Rempah Station to Hang Tuah Station.
Thee is a monorail track along the river, but as of December 2018 it is out of business.
By car
Streets in the older/historical part of the city are very narrow, so they quickly become clogged during peak hours. This is especially so during the weekends, when cars from other parts of Malaysia and from Singapore flood to the city. Finding a car park lot is also extremely difficult during weekends. Most of the roads are also one-way, so plan your route properly.
By taxi
Avoid taxis if possible and use e-hailing Uber or Grab rides. Taxis are known to be rude and aggressive, and refuse to use meters and overcharge passengers. Chartered taxis would cost about RM20 to go anywhere in the city whereas an e-hailing ride may be lower than half the price for a much safer and cleaner car and driver.
By bus
Malacca Town Bus No 17: Melaka Sentral Terminal to the historic core, Mahkota Parade, Melaka Raya and the Portuguese Settlement. The fare from Melaka Sentral to Makhota Parade is RM1.50 to 2.00 (August 2018). The last bus from Melaka Sentral leaves at 20:30, after which you would have to take a taxi which costs RM25 to Mahkota Parade, or Uber/Grab for RM8. To find bus No 17 at Melaka Sentral, either look for a blue sign saying "Domestic Buses" or ask someone where it is. The domestic bus area is located to the rear of the Sentral Terminal. The domestic terminal section is a semi-circle arrangement, with parking bays for buses numbered 1 to 18. For the No 17 buses to the historic core, you need to go the No 17 bus bay. Also just inside the doors where the public buses depart, is a small desk for information. On the way back from Makhota Parade, bus 17 goes along the main road (Jalan Syed Abdul Aziz or Lebuhraya Coastal) to the south of the Makhota Parade shopping centre, across the big bridge over the harbour and then its turns north on the road with the same name and right again to Jalan Kubu before stopping next to the Tamil Church next to Jonkers Walk. From this stop, it takes 10-15 min back to the bus station rather than 1 hour if you take it going the other way. To get to Melaka Sentral from Jonker Street, walk to the north end of Jonkier St, to a bus-stop opposite the Tamil Methodist Church (Perhentian Julan Kubu) or outside the Universiti Teknikal Malaysia Melaka (UTM) City Campus on Jalan Hang Tuah and take Bus No 17 (RM1, 10 minutes).
Malacca Town Bus No 8: Melaka Sentral to Town Square for RM1.
Malacca Town Bus No 18: Melaka Sentral Terminal to Tengkera and onwards to Pokok Mangga
Malacca Town Bus No 19: Melaka Sentral Terminal to Ayer Keroh (Melaka Zoo and Taman Asean/Malaysia). The fare from Melaka Sentral to Ayer Keroh (Melaka Zoo and Taman Asean/Malaysia) is around RM3
Malacca Town Bus No. 50: Melaka Sentral Terminal to the Mahkota Parade shopping centre and nearby seafood restaurants
Kenderaan Aziz (red and white): Buses from Melaka Sentral to Muar via Padang Temu also go past the historic core, Mahkota Parade and Melaka Raya
Generally the bus system in Malacca is worse than chaotic: there doesn't seem to be a schedule (one can wait for more than an hour for a bus on the coast just north of Malacca), and information about where and what buses to catch at Sentral is non-existent (you may get lucky looking at the printed paper displays near the front of the busses).
Others
Trishaws, complete with blaring pop music and fake flowers, are available for short trips between tourist spots or circular tours. The drivers are very cheerful and friendly. The going rate is RM40 per hour, but settle any price in advance.
Bicycle, hire a bicycle or join a cycling tour group, see the Do section for cycling hire and groups. Some of the hostels, homestays and hotels either provide loan or rental bicycles to their guests for local sightseeing. Major local attractions have an extensive internal road or track system often have bicycles available.
River boat : Melaka River Cruise offers a 'hop-on hop-off' service (RM30/day), but during busy times (esp. weekend evenings) don't expect to get a seat anywhere other than near the ticket office landing.
See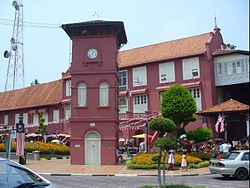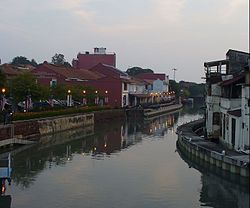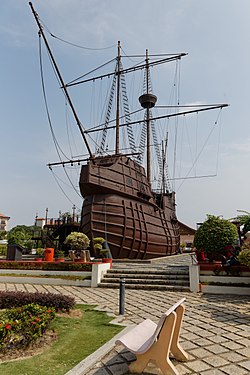 The older part of the city proper has, in addition to the old palace and the large buildings left by the Europeans, many private houses and shops from nearly a century or more ago, put up by Chinese traders. Many of these have beautiful details such as moulded porcelain tiles and painted plaster reliefs on the front. Unfortunately, they tend to be not well preserved and the city government decided to paint all the buildings in the historical district a bright brick red some years ago, as the constant spitting by passers-by was proving a nuisance, which detracts from their aesthetic value.
On Tuesdays, many museums, shops and restaurants are closed, especially in the Jonker Street area. If you have only one day to spend in Malacca, do not go on a Tuesday!
Heritage area
phone: +60 6 282 9343

address: 25, Jalan Tokong

Oldest Chinese temple in Malaysia and has an inscription dating 1685 commemorating the deeds of by Kapitan China Li Wei King.

Christ Churchhis church was built between 1741 and 1753. It replaced a Portuguese church, which was shattered. Bricks were shipped from Zeeland in the Netherlands. On the floor of the church you will find Dutch tombstones. It is the oldest Protestant church in Malaysia. On the altar you will see sacramental silverware, still bearing the Dutch coat of arms. Photography is forbidden.

Dutch SquareBeautiful square around Christ Church and the Stadhuys. On this square you will find the Tang Beng Swee Clock Tower, it looks Dutch, but it is not. It was built in 1886.

Jonker, Heeren and adjacent streetsThis is the residential heart of Old Malacca just west of the Malacca River, with its narrow winding streets, beautifully decorated houses, tiny shops, temples and mosques. The whole area is undergoing a renaissance with new shops, restaurants and hotels catering to tourists mushrooming everywhere. However, the area still has a lot of atmosphere and is worth having a look around. One of the streets in this area is Harmony Street (officially Temple street or Jalan Tokong), so called because it contains the prayer houses of Malaysia's three main faiths — the Cheng Hoon Teng Chinese temple, the Sri Poyatha Vinayagar Moorthi Hindu Temple, and the Kampung Kling Mosque.

Masjid Kampung Hulu

address: Jalan Hang Lekiu

Built in 1728, it's one of the oldest functioning mosques in Melaka together with Masjid Kampung Kling and Masjid Tengkera (Tranquerah), Jln Tengkera see the mixed architecture of Chinese, Javanese and Arab on the minarets and the roofs.

Porta de Santiago

address: Jalan Parameswara

The remains of the old Portuguese fort A Famosa, what you can see nowadays is a mostly Dutch reconstruction, bearing the VOC coat of arms.

Saint Paul's Church

address: Jalan Kota

It was built in 1521, by the Portuguese. It became a fortress in 1567, until 1596. After the Dutch siege it became St Paul's, before it was known as Nossa Senhora da Annunciada (Our Lady of Annunciation). It has been used as a burial ground for the Dutch. You can still see the tombstones, along the walls of ruins of the church.
Museums
phone: +60 6 283 1233

address: 48-50 Jalan Tun Tan Cheng Lock

Step back in time with a visit to this museum which is an actual Peranakan heritage town house and is a great example of Peranakan culture. Mandatory guide-led tour. Photography is forbidden.

Malay and Islamic World Museum

phone: +60 6-2826526, +60 6-2811289

address: Jalan Kota

The ground floor hosts temporary exhibits, the first floor showcases Malay history (particularly before the sultanate), the second floor has exhibits on Indonesia. Only a few panels are translated in English.

phone: +60 6-284 7090

address: Jalan Merdeka

The main historical exhibits are hosted inside a replica of the Flora de la Mar, a 16th-Century Portuguese ship. A building includes additional exhibits on modern maritime activity and sea life.

Melaka Islamic Museum

address: Jalan Kota

A general introduction to Islam and the Islamic world, with a section on Islam in Malaysia and local scholars.

Melaka Sultanate Palace Museum

phone: +60 6-282 6526

address: Jalan Kota

Below the hill you will find this museum (Melaka Cultural Museum). It is a reconstruction of the istana of the sultan Mansur Shah. It was built in 1985.

address: Jalan Gereja

Completed in 1660. It is a reproduction of the former Stadhuis (town hall) of the Frisian town of Hoorn in the Netherlands which existed from 1420 until 1796. Nowadays, it houses the Museums of History and Ethnography. This is one of the oldest Dutch buildings in the east.

Melaka Stamp Museum

phone: +60 6-2834698

address: Jalan Kota

Melaka UMNO Museum

address: Jalan Kota

Museum about the United Malays National Organisation

Youth Museum/Melaka Art Gallery

address: 430 Jalan Laksamana

The Youth Museum is on the ground floor, the Art Gallery on the second level. You can have a bird's eye view of Dutch Square from a window on the second level.
Other parts of the city
Bukit ChinaBukit China is the one of the largest Chinese cemetery outside of mainland China. Graves can be found here that go back to the late Ming dynasty (mid 17th century). The earliest grave found so far dates to 1622, but unfortunately many graves were exhumed during the British occupation of Malaysia. Bukit China is a famous jogging spot for the locals and jogging tracks are available all over the hill. When you climb on top of the hill, you will have a nice view of the town.

Malacca Straits Mosque

address: 8 Jalan Pulau Melaka

A newly-built mosque on the man-made island, Pulau Melaka, just off the coast the city. Spectacular at evening and night.

Poh San Teng TempleThis temple is at the foot of Bukit China and next to the King's Well, was founded in 1795 by Kapitan China Chua Su Cheong as a graveyard temple. The main deity is Fu-te Zhen Shen. the temple was built to allow the descendants of those buried on Bukit China to conduct prayers to their ancestors away from the heavy rain and strong winds. Next to it, the King's Well. Legends have it that Hang Liu was a Chinese princess from the Ming dynasty who was sent to Malacca to wed Sultan Mansor Shah in the 15th century when the Malacca Sultanate was at its zenith. She had 500 followers who were all settled on Bukit China, which means Chinese Hill, and this well, at the foot of the hill, was where they got their water.

Portuguese SettlementHere is where the descendants of the Portuguese who conquered Malacca in 1511 live today. The settlement, just southeast of the city centre, consists of tidy rows of mostly wooden houses leading up to the Portuguese Square (Malay: Medan Portugis) and Hotel Lisboa (sorry, unlike its Macau namesake, there is no casino here) on the waterfront. The people here may look Malay, but if you peer into their houses, you'll see the characteristic altar with statues of Jesus and Mary perched high on their walls. Quite a few still speak Cristao (or Cristang), a Portuguese patois. There are also many restaurants for you to sample Portuguese fare. The most interesting times to visit are during Intrudu - usually in February - when the you'll get a Songkran-like drenching with buckets of water thrown at you; Festa San Pedro to commemorate the Feast of Saint Peter in June, when there are processions, cultural shows and general merry-making; and Christmas, when the whole settlement is decked in decorative lights.

St John's Hill and FortMalacca's other fortress located on top of St John's Hill in Bandar Hilir, south of the city. Pretty views of the surroundings from the top. Malacca Town Bus (green) No. 17 passes by this fort.

Kampung MortenA village of traditional houses, it is on the west bank of the Malacca River.

phone: +60 6-282 9966

address: Jalan Persisiran

Not a very big aquarium with a quiz program for kids.
Simpang Empat town
Simpang Empat — a small town 30 km further away from
Ayer Keroh
.
phone: +60 6-552 8333

address: Jalan Kemus, Alor Gajah
Along the coastal line
phone: +60 19-644 3925

Information center is located at the Padang Kemunting beach (28 km away from Melaka Sentral), where they have a few information boards and dozen of the hawksbill turtles living in an aquarium. For a more pristine experience one can opt to go to , this trip should be organised via the Upeh island's resort. Hatching season is from March to September. In order to get to the island one needs to book a ferry ride from the Shahbandar jetty, next the tourist information centre at Jalan Kota.

Geok Hu Keng Temple

address: Jalan Pokok Mangga

This temple has a history of 130 years. Managed by local communities, the temple was incorporated under the management of Cheng Hoon Teng in 2000. Major celebrations - 3rd day of Chinese New Year, Hien Tian Siong Teh's birthday on 3rd day of 3rd lunar month and the birthday of Geok Hu Tai Chong on 29th day of 6th Lunar Month.

Pulau BesarBig Island off the coast of Malacca, about 13 km from the mainland. A few resorts located there as well as Tomb of Syarifah Rodziah and Pulau Besar Museum.

Tanjung KelingThe nearest beach from Malacca just 10 km away. Tanjong Keling Mosque and the grave of Hang Tuah, the legendary Malay warrior, are both located close-by to the beach. Getting there: take a bus from Jalan Tun Ali bus terminal in Malacca.

Pantai KundurA small fishing village with a nice beach 2 km away from Tanjung Keling.

Tanjung BidaraOne of the Malacca's most popular white sandy beaches. It has facilities for canoeing, water-skiing and jet-skiing.
Do
Fly a kite - Go to Klebang Beach and buy a cheap kite (fighter-style, but nowhere near that well-constructed) with Japanese cartoon characters on it for RM1.50, or a styrofoam airplane for RM5 if you don't have the necessary kite-flying mad skills.

phone: +60 19 652 5029

address: 117 Jalan Tiang Dua

Malacca Duck Tour

address: Malacca Duck Tour, Jalan Merdeka

This is an old military amphibious vehicle that has been adapted for amphibious tourist trips around Melaka city and moving towards the sea and come back up. Very interesting, like a joyride.
Melaka River Cruise - a 45-min cruise along Melaka river where once it was a main trade area of Malacca during its Golden Era. It takes passengers from the jetty beside the Maritime Museum to just beyond Kampung Morten and then back. The night cruise is more interesting, as you can see the lights on the riverbank's buildings, a water fountain show and bridges. You will pass through many boardwalk cafes along the way. Wave "hi" as you cruise along happily. The Honky Tonk Cafe is on this river bank. Tickets: adult RM30. Hourly cruise 10:00-23:00 daily.
Pirates of Melaka - beside the Eye on Melaka, this consists of a pirate ship that you can ride on.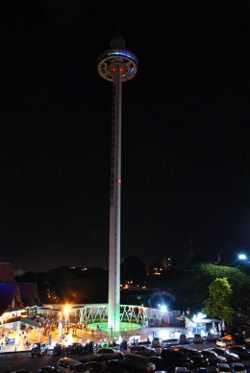 phone: +60 6-2881100

address: Jalan Merdeka

The 110 m-tower seats 66 people at a time, taking them on a 7-min ride for a view of Malacca. The ascent takes 1 min, you have 5 min on the top and 1 min for the descent. Offers breathtaking 360-degree views of the historic city and the coastline. Do it after taking a stroll of the town, and it will give you a whole new perspective of Malacca. Admission fees for MyKad holders: RM10 for adults, RM5 for children below 12 years old, and RM7 for senior citizens above 55 years old.
Events and festivals
varies, but always in January - Malaka Kite Festival: International festival of kites, affiliated with the local Chinese community and run by the Melaka Kite Flyers Association (Persatuan Rakan Layang-Layang Melaka / 马六甲风筝之友 / ), who since the 1990s have also run the now well-established Kite Museum.
13th-15th - Thai Pongal: Tamil (South Indian) harvest festival celebrated by the local Chitty (Tamil/Malay) community. The festival corresponds to the winter solstice, and is traditionally dedicated to the Sun God Surya. It marks the beginning of the northward journey of the Sun from its southernmost-limit, a movement traditionally referred to as uttarayana. The festival coincides with that known as Makara Sankranthi which is celebrated throughout all of India as the winter harvest. Celebrated at the Chitty Cultural Village, and organized by the Melaka Chitty Cultural Organization. The day preceding Pongal is known as Bhogi (often celebrated on the 14th), and is marked by discarding old things (sometimes in bonfires!), focusing on new belongings, and cleaning, painting or decorating houses. It is similar to Holika in northern India.
January/February
Varies by lunar calendar - Chinese New Year: Local celebrations center on Melaka Chinatown and Jonker Street, and include a giant lion dance.
February
Thaipusam: Hindu festival honouring Lord Muruga including a parade concluding at Sri Subramaniam Deasthanan Temple, Batu Berendam (Batu Caves). Festivities include trances and ritual piercing.
March
Second week - Malacca's Tourism Week: Various tourism-oriented promotions.
Holy Week: Christian celebrations between Good Friday and Easter/Palm Sunday, mostly at St. Peter's Church. Sunday celebrations include a procession starting early in the morning with palm fronds following a life-sized statue of Jesus. Maundy Thursday also features an evening mass where the priest symbolically washes 12 boys' feet with wine in commemoration of Jesus washing those of the 12 disciples.
April
Tomb Sweeping Festival: Chinese traditional festival where the local Chinese community head to the cemetery at Bukit China or other burial grounds to tidy up burial plots, light candles, burn incense and make offerings of food to the deceased.
Ramadan - Nuzul Quran: Islamic festival that commemorates the revelation of the Quran to Mohammad.
Mid April - Gendang Nusantara: Malay traditional dancing and percussion.
End of April - Hari Raya Puasa: The end of the Ramadan fast and includes prayers at the mosque followed by large family visitations.
May
Vesak: Celebrating the birth, enlightenment and death of Gautama, the historical Buddha.
Last weekend of May - Sikh Commemoration of Sant Baba Sohan Singh Ji: The many Sikhs residing in Malacca and Sikhs from abroad congregate in the gurdwara (Sikh temple) in Jalan Temenggong for three days to commemorate the death of its former priest, Sant Baba Sohan Singh Ji, who was elevated to a saint upon passing away. Visitors are welcome but are advised to follow rules and common practices within the premises. Typical vegetarian Punjabi cuisine will be served to everyone visiting the gurdwara.
June
5th - King's Birthday: The birthday of Yang di Pertuan Agong, the King of Malaysia.
23rd - Feast of St. John the Baptist: Catholic festival featuring candles and banquets.
28th or 29th - Fiesta de San Pedro: Portuguese festival for St. Peter, the patron saint of fisherman featuring a boat decoration competition, a mass for blessing the vessels, Portuguese cooking and fishing competitions.
July
mid July - Hari Raya Aidil Fitri: Islamic festival commemorating Mohammad's journey from Mecca to Medina. Discussions and lectures are held in local mosques.
end of Ramadan - Awal Muharram: Islamic New Year celebrations featuring open hospitality and prayer.
August
Malacca Carnival: this celebration lasts for a month and showcases traditional dances and a variety of expositions covering local tourism, industry and art.
Theemithi: Hindu festival featuring walks over hot coals at Sri Subramaniam Temple, Jalan Gajah Berang.
mid August - Governor's Birthday: A parade at Warrior's Field.
National Day and Malaka Sea Carnival: Celebrating independence day, the Sea Carnival takes place at Klebang Besar Beach and includes boating and windsurfing competitions.
September
Malaysia Fest: Two weeks of promotions from local businesses.
Feast of Santa Cruz: Catholic festival at which thousands of local Christians participate in the Feast of the Holy Cross at 07:00 at Malim, followed by a procession and mass.
Melaka Festival (melakafestival.com): A free international arts and film festival held annually since 2009.
October
varies by Lunar calendar - Mid-Autumn Festival: The Chinese community celebrates their victory over the Mongol Yuan Dynasty, ushering in the Ming Dynasty that would lead Chinese 15th century seafaring as far west as the east coast of Africa. This basically boils down to eating lots of moon cakes!
November
Deepavali or The Hindu Festival of Lights: Hindu celebration of the triumph over good over evil.
December
Sunday closest to 3 December - Feast of St Francis Xavier: Christian celebration in which the Church of Saint Paul honours Saint Francis Xavier with a mass.
25th - Christmas Day: Celebrations include street decorations and carols that center on the Portuguese Square, and a midnight mass.
Buy
Malacca is famed for its antiques, with many a beautiful shophouse interior now filled to the brim with artefacts from all around the Asia Pacific region. Your chances of finding a bargain here are minimal though; prices in many of the tourist-oriented places are absurdly high by any standard, and although many items are touted as being 'more than a hundred years old', most is brand new but 'aged' at the back of the shops.
Shops
Beyond Treasures

phone: +60 62 81 94 66

address: 57 Jalan Hang Jebat

Woodcrafts, including Asian masks, antiques and souvenirs.

Jusco Store

address: Lebuh Ayer Keroh

Very popular during the weekend where even the Singaporeans come to shop.

phone: +60 6 282 6872

address: 59 Lorong Hang Jebat

Has cool T-shirts, and paintings for sale.

Jonker Gallery

address: 4 Jalan Tokong

A lovely art gallery of contemporary art work by Titi Kwok, the work is beautiful and the prices even better.
J. Manik Sdn. Bhd

address: 23 Jalan Hang Lekir

A shop where they sell authentic Nyonya kebaya and kasut manik-manik (beaded shoes for the ladies). Nyonya kebaya and kasut manik-manik are the tradisional attires of the Baba Nyonya and the Peranakan Heritage. J. Manik is many Singaporean tourists' favourite because they are famous for their quality and services. Not cheap, but definitely value for money.

Martin Wood Art Gallery

address: 60 Heeren St

Art gallery of deco and fine art by artist Martin Wood who used to paint up on St. Paul's Hill, nice colours and great prices too.

phone: +60 14 928 3817

address: 92, Lorong hang Jebat

A design studio run by Stanley Chin. Good contemporary Melaka/Malaysia designs on t-shirts. 100% local design and local made. Good quality at reasonable price.

phone: +60 14 328 3131

address: No. 12 Jalan Tukang Emas and No. 47 Lorong Hang Jebat Melaka and Lot 75A Mukim 17 Jalan Batu Ferringhi (opposite Batu Ferringhi Police Station).

Specialises in Kashmiri, Indian and Nepali crafts. Handmade textiles where no two items are the same. Good quality items. Worth a visit just to say hello to the owner and have a cup of tea.

Yee's Tea House

phone: +60 1 66 46 25 89

address: 22 Jalan Laksamana

Famous local tea shop selling a range of tea from China and Taiwan as well as offering tea ceremony classes.
Markets and street market
Jonkers WalkA night market held every weekend evening to late night from 18:00-00:00. Have a leisure stroll along the street, observing the locals' life, catching a free performance and shop for some for antiques and some local souvenirs, make sure you bargain with the vendors. Try some unique stuff to eat, like grapes-dipped in chocolate or caramel encrusted kiwis. Kaya(a spread made from coconut) filled waffles is a must-try. Cheap Chinese electronic playthings are available too if you have an appetite for them.

Night Market/Pasar Malam - Night Market or more known as Pasar Malam is a market that is held from evening to around 21:00 at night everyday (though at different locations. Tuesday in Kampung Lapan and Friday in Malim). This is a good way to observe the life of locals. Pasar Malam sells basically almost anything, from food to clothing, small electronics to medicine.
Shopping malls
phone: +60 6 282 6151

Over 200 shops. Anchor tenants are Parkson Grand Departmental Store and Giant Supermarket. Shops include The Body Shop, World of Cartoons, Royal Selangor, FOS, Reject Shop, Nokia, MPH Bookstores, Sony Centre, SenQ Digital Station, Starbucks, McDonalds, KFC and Pizza Hut. The biggest food court in Melaka is also located here. Has several bureau de change including Maybank and CIMB Bank which are open 7 days a week.

Dataran Pahlawan Melaka Megamall

address: Jalan Parameswara

The latest landmarks in Melaka, it is also the largest mall in Southern Malaysia.
Food and local delicacies
For restaurants, cafes and dining see the Eat section below.
Bee Bee (Lian Choo) Homemade Pineapple Tarts

phone: +60 6-286 9735

address: 307-A Jalan Parameswara, Bandar Hilir

When it's mentioned 'homemade' here,they really mean it literally. There's no other homemade delicacies in Malacca that can beat this place as both it's production and location are authentically traditional. Oven fresh, this is undoubtedly the best local Melaka Nyonya Pineapple Tarts available (there are other more touristic ones scattered in Jonker Street).

phone: +60 19-666 2907

address: 72 Jalan Tengkera Pantai 2, Melaka 75200, Malaysia

Another hidden gem where you can buy all kinds of authentic Nyonya kuihs you can ever imagined under one roof. Too many to choose from, you wish you could camp there and try it all. All are freshly made on the spot. Highly recommended is the ondeh-ondeh (green glutinous rice flour ball with coconut sugar (Gula Melaka) stuffing).

phone: +60 12 248 8975

address: G-12,Jalan PM4 Plaza Mahkota Banda Hilir

A wide variety of fine quality locally manufactured chocolates and other products which are certified halal.
Tan Kim Hock Product Center 85-89 Jalan Bendahara. Sells famous food specialties from Malacca, like Dodol, Cincalok, Belacan, dried fruits, durian cake, etc. Might be a good idea as souvenirs for friends back home. Mr Tan Kim Hock, the founder of the company, occasionally still walks around with his famous white suit giving out free items.
Eat
Besides the usual Malaysian fare, you'll be able to sample some rather peculiar Malaccan food. On top of the list is of course Peranakan or Baba-Nyonya food, which until recently was totally uncommercialised and confined to the kitchens of old grandmothers. Now, there is a string of restaurants claiming to serve Peranakan food, but most unfortunately seem to be on the tour bus circuit. The dishes are slightly different from those of the Penang Peranakan. Usual ones include
ayam pongteh
(chicken in bean sauce, originally cooked with pork),
ayam buah keluak
(chicken cooked with a bitter fruit) and a whole array of desserts. Another famous Malacca dish is what is commonly called "chicken rice ball". Although it is called Hainanese chicken rice, it is not from Hainan, China, but invented by the Hainanese immigrants to Malaysia a long time ago. The chicken for this dish is very much the same as the boiled chicken offered throughout Malaysia; what is unique is the rice - it comes in ping-pong sized balls. Yet another Malaccan speciality is
satay celup
. It is like
lok-lok
found in other parts of the country but instead of dipping your skewered foodstuff (fishballs, crabsticks, meat, prawns etc.) into boiling water, you dip them into a boiling vat of satay sauce. The sight of boiling satay sauce may not appeal to you but the crowds at the satay celup outlets seem to suggest that many have overcome their phobias.
Of course, Malacca is where you'll find Portuguese-Eurasian food. The greatest concentration of outlets is at the Portuguese Settlement. Seafood is popular, as are the fiery "devil curries".
For local Malay delicacies, worth trying:
Asam Pedas ("sour hot"), the signature dish of the state. A very hot and mildly sour fish curry accompanied by white rice. Normally eaten during lunch and dinner. From RM4.50.
Sambal Belacan, very spicy local chilli prawn paste.
Cencaluk, can be found sold along the roads near Klebang Beach. Made of fermented krills. A bit weird tasting for those who are not used to it.
Lemang, glutinous rice cooked in bamboo, sold on the side of the road to Teluk Mas.
Ikan Bakar (baked fish), head to Umbai, Pernu or Serkam for a dinner of fresh caught grilled fish and crustaceans.
Kuih Udang (shrimp cakes), you can find this popular tea time dish in Alor Gajah town. The sauce is nice too.
Kuih-muih, traditional cakes and deserts like dodol, wajik, lempok, inang-inang, gula melaka and many more are sold in shopping malls at Bandar Hilir, Klebang Beach and kampung areas throughout the state.
Other local but not typically Malay food:
Roti John, an invented omelette sandwich, very popular among the Malays. For a good one, look for the restaurant in Tanjung Kling.
Local burger, the street stall vendors, generally local Malay men serve quite tasty and satisfying burgers and hotdogs and it's cheaper than ordinary fast food restaurants too.
The recent tourism boom has seen many new food and beverage outlets open in Malacca, and especially in the heritage area of Jonker and Heeren Street. However, competition is great and some outlets fail to survive. Places you discover on your first visit may not be around anymore on your second.
Budget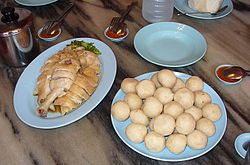 Chicken rice balls (Chinese)
address: Kedai Kopi Chung Wah 18, Jl Hang Jebat

An early purveyor of Hainanese chicken rice balls in Melaka. The building dates from the early 1900s, and the restaurant is family run. You might have to wait in a line for at least minimum up to an hour if you turn up after 10AM

Famosa Chicken Rice Ball

address: 28 and 30, Jl Hang Kasturi

A huge restaurant serving the dish in an alluringly bright red building. It also has branches in Jl Bendahara, Mahkota Parade Shopping Mall, Tesco Malacca and Jaya Jusco Malacca in Ayer Keroh. Very slow service, but food is prepared very quickly so freshness is in question. Some hardcore connoisseur of the dish regard this as a tourist trap and its quality not up to mark. Chicken (better said bones without meat) with rice balls costs RM4.60.

Hoe Kee Chicken Rice

address: 4, Jl Hang Jebat

You should get here early or you'll end up in a queue to get a table. This is an original chicken rice ball shop, and for most, the taste here is simply incomparable to the newer competitors. This outlet has been operating in this small corner for decades, but still attracts lots of customers.
Jalan Kee Ann-night opening eating stalls
Jalan Kee AnnOpen-air eating stalls for locals and visitors. It is a good place to eat and see the world go by while eating in the open air. Local cuisines include won ton mee, popiah, yew keow, sugar cane water, sup kambing, MN and satay.
Noodles
Hing Loong Taiwanese Noodle

address: 11-J, Jalan Bachang

Located out of the town center but have been discovered by many non-Malaccans. Tasty beef, fried pork chop or pig trotter noodles in soup or in sauce.
Satay celup (satay sauce 'steamboat')
Capitol Satay Celup

address: 41, Lorong Bukit Cina

You pay for what you eat and at the end of the meal, the skewers are counted.
Western
Portuguese SettlementPopular for its fried squid, Portuguese baked fish. Local favorite stalls are numbered 1 and 7.
Halal food
Tengkera Mee Soup

address: Jl Tengkera

Many varieties of noodles are served Chinese style by a Malay/Muslim vendor and are Halal.
Indian food
Pak Putra Tandoori

phone: +60 12-601 5876

address: Jalan Laksmana 4

Very popular (touristic) north indian food restaurant. Food tastes very good. Famous for their naan and tandoori.

Restoran Selvam

phone: +60 6-281 9223

address: No 2 Jalan Temenggong

Popular for their vegetable banana leaf rice. Extra vegetable sauces and papadum are free. Service can be almost rude sometimes but the food tastes great.
Mid-range
Peranakan style
Original Malay 'fusion' cooking blending Chinese ingredients and wok cooking techniques with spices used by the Malaysian community. The food is tangy, aromatic, spicy and herbal.
phone: +60 6 315 2693

1516, Batang Tiga, Tanjung Kling (Nearby Klebang Beach). Enjoy a variety of Peranakan, Chinese, Western and Seafood cuisines encompanied by gentle sea breeze ambience. Opens daily with nightly live music. Dance floor,big screen projector & bar with virtual golf simulation are available. Watersports activities such as waterski, jet skis, banana boat rides, kayak and sunset cruise are available upon bookings.

Cafe 1511Serves local specialities at attactive prices in the same beautifully restored building as the Baba Nonya heritage museum

phone: +60 6 281 6813

address: 83 Jalan Hang Jebat

The restaurant/bar occupies a renovated old Malacca shophouse. Comfortable, lively and noisy restaurant/bar serving Malaccan standards. Occasional live music.

Kapitan House

phone: +60 6 282 6525

No. 71 & 73, Jalan Merdeka, Tmn Melaka Raya, Melaka. (Between Eon Bank and Classic Bridal Studio). The main chef of this restaurant is Kenny Chan, the celebrity chef also known for his stint on RTM, Nyonya Baba. He also has his own line of sauces known as Kenny's Delights. The food here is truly authentic dishes cooked by Nyonya families. On weekends, they serve an array of homemade 'nyonya kueh' for lunch, amongst them are very traditional apam berkuah and kueh bongkong.
Restoran Ole Sayang. 198, Jalan Melaka Raya. One of the original Peranakan restaurants in town.
Restoran Makko. 123, Jalan Melaka Raya. A few doors down from Ole Sayang. Closed on Tuesdays.
Restoran Peranakan. 107, Jalan Tun Tan Cheng Lock (Heeren Street). Enjoy the experience of eating good Peranakan food in the airy courtyard of a huge Peranakan house. Standard dishes available. Count on about RM10-15 per person.
Restoran Nancy's Kitchen. 7 Jalan Hang Lekir (off Jalan Tun Tan Cheng Lock). Closed on Tuesdays. Unpretentious, affordable Nonya food. Try specialties like sambal sotong petai (squid with a spicy tangy sauce with bitter beans) and their smooth-skinned popiah (spring roll) in an old Peranakan house. Counter doubles as a shop selling all sorts of kueh and kaya. (The restaurant is non-halal.)

Riverine Coffeehouse

phone: +60 17 755 6767

No 108 Lorong Hang Jebat (1st Cross Street). Opens daily from 11:00-00:00 offers river view dining in the evening. Home cooked style Peranakan dishes also offers Nyonya pastries and Colonial Western food.
Japanese and Chinese
Sibaraku

phone: +60 6 282 4869

Level 2, Mahkota Parade, no. 1 Jalan Merdeka.; 2 branches of the same restaurant side by side; one branch serves only Japanese cuisine à la carte; the other branch serves eat-as much-as-you-like Chinese and Japanese cuisine (mostly sushi - about a dozen types to choose from, okonomiyaki, etc.); some of the dishes are buffet style (they are already cooked; you help yourself with them), other dishes the cook will cook them in front of you; soups, salads, cakes, other desserts (custard, mousse, etc) free flow cold and hot drinks also available; unlimited buffet dinner RM25.90 plus 10% on weekdays; limited buffet dinner (12:00-22:00 only, choose only from about 15 dishes, only one serving per dish but free flow cold and hot drinks) RM15.80 plus 10% on weekdays.
Seafood
Sajian Ummie Seafood Restaurant

phone: +60 13 340 0664, +60 13 365 1970

It's the special place to eat fresh seafood with your own choice from grilled, sweet and sour, steam, 3 rasa, special Malay sauce, asam pedas and many others. Fresh seafood from fish, crab, prawn, cuttle fish even a variety of shell ready for you.

Man jing Yuan Seafood Restaurant

phone: +60 12 603 3888, +60 16 660 0222 (Mr. Lim)

They serve fresh-from-water seafood, include famous Soon Hock fish(marbled sleeper), unbeatable freshness taste with various cooking style, specially prepared by 'Ah-Liang', the head chef.
Western
Coconut House Studio, 128, Jalan Tun Tan Cheng Lock (Heeren Street). Popular for its wood-fired, thin-crust pizzas, which you can eat in a renovated Peranakan house complete with a courtyard. Service may be a bit slow when there are crowds. The same people run a similar outlet in Kuala Lumpur.
Wok and Pan:East Meets West Cuisine, 22G PM4, Plaza Makhota. Popular for its pork ribs and pork chop. It also serve Chinese and local cuisines. The boss is the former head chef for Renaissance Hotel.
Splurge
Drink
When in Malacca, don't miss the
cendol
("chen-dul"), a sweet dessert of coconut milk, lurid green noodles and
gula Melaka
(Malacca sugar), made from palm sap.
Jonker Walk has many food and drinks outlets which serve Nyonya laksa (laksa with coconut milk) and desserts like cendol, including the sinful durian cendol.

Limau Limau Cafe

address: 49 Jonker St

Wide selections of fresh juices, milkshakes and lassi, with no water or sugar added. They sell Lavazza coffee.
Clocktower cendol, Jalan Laksamana. Located by the Malacca River opposite the Red Square clock tower. Another Malacca legend, the cendol served by this Indian-Muslim hawker is superb. You can have it plain or with red bean and is a wonderful thirst-quencher when doing the historical sights circuit.
Indian rojak It used to operate out of a mangosteen-shaped stall (hence he's also known as "Mangosteen cendol") but now has a more conventional-looking stall.
Night clubs and bars
Melaka Raya
is where most of Malacca's relatively limited nightlife is to be found, with many of the city's pubs, discos and KTV located in that area.
Arena Club, R&B Club in Town behind Holiday Inn at the pier which is known as "The Jetty". Nightly live music including 'R&B', 'reggaeton' and 'house' music. This is the place for those who like to go past midnight.
Movida, the new hotspot for younger generation of club/pub-goers. Located centrally on the ground floor of the latest hotel and mall landmark,the Hatten Square (across the famous Dataran Pahlawan Megamall), it's music and deejay is at par with those in Kuala Lumpur and some say even in Europe.
Mixx, is yet another new location for some upscale clubbing experience. It's slightly distant from the main road,just behind Mahkota Parade facing the flyover (opposite to Mahkota Hotel), but a gem is always a hidden one. However worth to note that due to its popularity among the youngsters, it could be crowded at its peak.

Exodus Lounge (Formerly Known As Krabau Rock Cafe)

phone: +60 19-6663322

address: No.4, Jalan Hang Lekir, 75200 Melaka, Malaysia.

Exodus Lounge, formerly known as Krabau Cafe is now one of the latest best chill out place at Jonker Walk, Melaka. Malaysia. Best Services and comes with old antique look will surprise you with the best music ranging from Reggae Roots, Ska, Soul all the way to the night with retro house. Perfect cocktails for all and cheapest draught beers...
Café, bars and bistro
Far East Café

phone: +60 6 286 3853, +60 12 696 6277

address: 19, Jl Hang Lekir

Reasonable selection of drinks, quiet and unpretentious. Good for a quiet drink. More a restaurant than a bar. On the expensive side by local standards, small portions and meat is more bones than anything else. Inside it's quiet, but the outside part is very noisy because you can hear the music from all the bars on the street, plus cars and trishaws going past.

Honky Tonk Haven Cafe

phone: +60 12 6050446

68, Jl Lorong Hang Jebat (1st cross street, turn left off Jonker Walk). Small pub/cafe with view onto the Melaka River at the back. Run by a husband and wife team. (Gunabalan. Chilled beers and stout are sold. Sit at the riverside walkway at the back after a hot sultry malaccan evening and enjoy the view. Live entertainment on week-ends. Weekdays music is piped country and jazz music selections. Open Tu-Su 18:30-00:30.

Libra Restaurant and Cocktail House

phone: +60 12 222 7718, +60 16 617 1777

address: 15 Jl Hang Lekir

Wide selection of beers and cocktails.

Ringo Cafe

phone: +60 16 354 2223

address: 11 Jl Hang Lekir

Drink beer through the night with an awesome one man show live music. Ringo entertains with his singing, guitar and harmonica skills.

Visioners Mode Karaoke and Bar

phone: +60 17 455 5818

address: G-21, PM4, Plaza Mahkota

phone: +60 6 281 6813

address: 83, Jalan Hang Jebat

A great crowd fusion of westerners and locals, a best chill out place with some cold beer on a warm night with live music and a small open dance floor. Great place to mingle away.
Sleep
Budget
Heritage area
Please use ONLY the
listing format for accommodation listings and keep the description brief and WITHOUT any embellishment or TOUTING by use of either images or description.
Please DO NOT delete any unused fields or add any non-standard definitions to the standard listing format.
-->


Melaka Raya
Other areas
Mid-range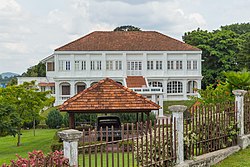 Heritage area
Melaka Raya
Kota Laksamana
Others
Splurge
Heritage area and Melaka Raya
Other areas
Stay safe
Malacca is a very safe place with a low crime rate. However, do watch out for pickpockets in crowded areas and bags snatching on the roadside by motorbikes. Carry your identification papers (passport) with you always because there are random checks by the police for illegal immigrants.

Go next