Mallorca
Mallorca
or
Majorca
is the largest of the
Balearic Islands
, and a classic among European travel destinations, with
beaches
,
nightlife
and spectacular mountains.
Regions
Cities
- Mallorca's main and largest city
- just perfect for combining beach and cycling
- located in the far north-east corner of the island this resort is popular with German Tour operators, who almost exclusively supply the many hotels with guests. The resort is characterised by its large horeshoe shaped beach, although there are two other beaches to choose from. The resort offers a wide variety of shops and the local market takes place on a Saturday, where as well as fruit & vegetables there is a large selection of leather goods, shoes and clothes, as well as locally made table cloths and honey. During the winter months the resort practically closes, with only a handful of hotels and restaurants remaining open.
- south eastern coastal town, linked by a long promenade to the adjacent resort of Cala Bona.
- small village in the Tramuntana mountains, beloved by artists, intriguing cemetery.
- charming little city in the north-east, and home to a good Sunday market.
- pretty town set in fantastic mountainous scenery.
- the charming village in the Tramuntana mountains is a must see, Chopin spent here a winter with George Sand.
Other destinations
- a monastery in the Tramuntana mountains
+ - Mallorca's "Grand Canyon"
- Monastery on top of a mountain with no name near Porto Colom and Felanitx
Understand
Mallorca (3640 km 2 ) is known as an easy-to-reach mecca for friends of sunny beaches, amazing landscapes, wonderful mountains and affordable mediterranean food. With a coastline of more than 550 km. In high season the island receives about 8 million tourists from around the world. This is both a blessing and a curse for the inhabitants, and they are well prepared for it and provide a very well-organized tourist infrastructure.
Nevertheless, Mallorca can show another face when you leave the coastline and take a look at the inner country. Prices fall with each kilometer you move away from the coast, and reach the usual Spanish standards in the center of the island or even some parts of the mountain area.
Geographically the island can be divided into three parts. The
Serra de Tramuntana
rocks extend from south-west to north-east, while the Serra de Llevant stretches along the eastern coast. Between them lies the central plain (Es pla).
Talk
The natives speak so-called
Mallorquin
, a sub-dialect of "Balear", a regional dialect of the Catalan. Schools teach
Catalan
and
Spanish
; both are official languages in this region. Most people can speak both languages.
In tourist areas, you will frequently come across people speaking English,
German
,
French
and other common European languages.
Get in
By plane
There are frequent flights from many European cities to
Palma de Mallorca Airport
(
PMI
). In particular, many of the discount airlines have daily flights.
There are also flights from Menorca and Ibiza, but these are about double the price of the ferries from these islands, and save only about an hour.
From the airport (Palma de Mallorca Airport ) public buses run frequently to central Palma. Many car rental agencies have their offices at the airport.

By boat

You can catch a ferry to Palma de Mallorca from the other Balearic Islands or from several points on the Spanish coast, including Barcelona and Valencia and a super-fast ferry service from Denia Alicante. You can catch a ferry to Alcudia from Menorca.

Get around
By bus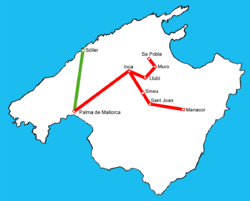 Many spots are reachable by bus; while transportation between the major holiday resorts is no problem, especially medium- and long-distance services may be as sparse as one bus per week; many bus routes are not served at all on Sundays, in the lower season and during the night.
Schedules
are available online.
By train
There is inland train transportation, but mainly limited to Puerto de Sóller, Manacor, Inca, Sa Pobla and Sineu. Rural halts tend to be far away from town centres, but there are usually bus shuttles available. If you would like a private direct transfer to your resort on the island you could also book a private transfer from one of the many online suppliers.
By car
Cars can be rented in many tourist towns, especially along the coast. Unless in high season, when you should book your rental in advance if you want to ensure getting one, hiring a car directly at the airport without reservation shouldn't be any problem at all. However, as "at desk" rental prices are often far higher than booking in advance it may be prudent to organise it from home before you arrive (and to avoid disappointment during peak periods).
By bicycle
Long cycles lanes exist on the east coast.
See
Caves - several caves are open to the public, the (Coves del Drach in mallorquin) being the most visited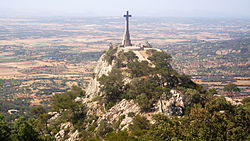 Beaches
This is what the most people come for. The main tourist areas are on the southern and eastern coast but places may be crowded in high season. Mallorca has beautiful white sand and crystal water beaches, so most are base for package tourists nowadays. In more remote areas you might find very rarely visited beaches. More secluded and quiet beaches can be found on the island but expect a difficult route (e.g. cliffs) and minimal parking. A must visit is
Es Trenc
, near the
Colonia de Sant Jordi
, but there are also many beaches not that popular worth a visit.
Note
- If you find yourself in Palma, looking for a quieter beach than the 5 km
strand
(Platja de Palma), take the line 3 of the town's public bus company "EMT" (blue and white buses) all the way to its Western terminus "Illetes", which is simply called
Playa
. It is a wonderful little cove set about by rocks, with a local restaurant right on the beach. There are other coves in either direction, but this is the most welcoming.
Cala Figuera Beach

address: Formentor peninsula

Located deep within a cove with high mountains on both sides of the water. Spectacular view.

Cala Murta Beach

address: Formentor peninsula

Small secluded beach with fine white sand. Transparent water.

Cala Sant Vicenc

address: Sant Vicenc city

Beautiful beach on the north west coast of Mallorca. Fine grained white sand and very clear water.

Magaluf Beach

address: in Megaluf city

A beautiful 900 meters long beach with fine sand and clear water. New and stylish promenade is close.

Es Trenc BeachA large, not developed, beach with fine white sand and crystal clear water. Protected area now.

Es Carbo BeachA quiet, hardly developed beach. An alternative to overcrowded beaches. Finest sand, turquoise water.

Son Serra De Marina BeachA very long, little known, virgin beach without facilities on the north east coast of Mallorca.
Do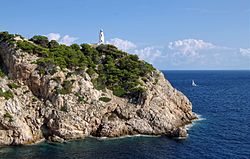 Hiking - The Serra de Tramuntana offers some fine trails.
Cycling - In spring the island's roads are popular with several professional teams in preparation for the next season.
Palma - the island's capital offers the famous cathedral as well as a nice city centre to stroll around. Cultural visits, shore excursions and trips to the Jewish quarter and other sites and villages around the Island.
Golf - There are eighteen, 18 hole golf courses on the island that are open to the general public. These are Andratx, Alcanada, Bendinat, Canyamel, Capdepera, Poniente, Pula, Golf Park Puntiró Mallorca, Golf Maioris, Santa Ponsa 1, Son Antem East, Son Antem West, Son Termens, Son Vida, Son Muntaner, Son Quint, Son Gual & Vall d'Or. There are two 9 holes courses open to the general public; Son Servera & Pollença. The courses Santa Ponsa 2 & 3 are 'members only' and finally there is a 9 hole golf course in the grounds of La Reserve Rotana, a boutique hotel located in the North-East of the island, just outside of Manacor. Balearic Golf in one of the companies that manage and offer courses in the Balearic Islands.
Nature
S'Abulfera is a large salt marsh near the town of Alcudia. Large numbers of bird species can be seen, including many species of heron, waders, ducks and warblers.
The cliffs of Formentor are good for sea birdwatching and are among the best places for a chance to see the rare Elenora's Falcon.
One-day boat tours are available from Colonia de Sant Jordi to the Cabrera Island National Park which is located about 11 miles south of Mallorca. The Cueva Azul (Blue Cave) on Cabrera is spectacular.
Free Classical Music Concerts - during the summer, free open-air classical music concerts are usually organised on Saturday evenings on the Bendinat Golf Course.
Deep Water Solo / Psicobloc - the island's unique geography has helped it become the premier destination for rock climbers wishing to experience deep water soloing or psicobloc, rock climbing above deep water.
Sailing and yachting
One of the best ways to discover Mallorca and the stunning Balearic islands is by boat. When it comes to yachting in the Mediterranean, you have several options: chartering, sailing aboard you own vessel, or fractional yacht ownership.
Yacht charter and sailing
Shared yacht ownership is a sound alternative to chartering a yacht in Spain. Yacht fractional ownership allows you to own a yacht at a fraction of a cost and avoid many maintenance hassles and costs.
Hire a luxury car in Mallorca
One of the best ways to discover Mallorca and its most hidden places is by renting a car. When it comes to driving on Mallorca's roads, you have several options: rent a typical car or rent a sports car and enjoy it to the fullest.
Luxury car rental Mallorca
is an island of luxury and therefore a great experience is to rent a luxury car and mix with your jet set.
Eat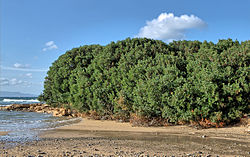 Local dishes
Majorcan cuisine, like that of similar zones in the Mediterranean, is based on bread, vegetables and meat (specially pork), and uses olive oil throughout. A simple popular dinner, especially during the summer, is the
Pa amb Oli
: Bread with olive oil, tomato, and any available condiments such as cheese, tunafish, etc. Another one is
Trampó
, the same but with various vegetables instead of bread.
Other local dishes include
Frit Mallorquí
(meat and vegetables cut up in small pieces) and
Sopes Mallorquines
(a simple, healthy dish made of bread and vegetables, optionally with meat, eggs, wild mushrooms, etc.). The seafood version of
Paella
is very recommended while in Mallorca.
Sobrassada
, a rather spicy sausage made of pork, paprika, condiments, etc. is eaten plain or toasted, on a slice of bread, and it's also used in preparing other dishes.
For breakfast, instead of croissant, try the typical
Ensaïmada
(a spiral-shaped bun made of dough with pork fat), and for dessert the
Gató
(a cake made with almond) with almond ice cream.
Finding a restaurant
Palma
is most known place for dining, having probably more restaurants than the rest of the island.
For out-of-cities dining, head to
Algaida
: there are several great restaurants around the village.
In restaurants with average bill under €30, waiters and clients are tolerant to children even of 2–3 years old.
Drink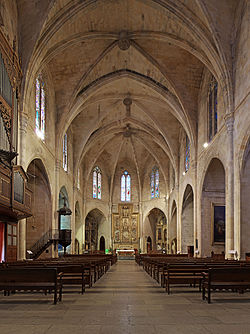 Drinking is allowed if you are 18 or older the same as in the rest of Spain. While alcohol is widely sold, pursuant to local laws only bars, restaurants, discothèques and the like are allowed to serve it after midnight.
Spanish people go out quite late and, while in the main tourist resorts you can find people drinking and chatting from early hours, you will not see many locals before 24:00.
The main nighttime areas are:
Magaluf: well known to be the British capital in the island, this is the place for clubbing. Bananas Disco and BCM Empire Disco are a must.
Paseo Maritimo: A profusion of bars can be found at Paseo Maritime in Palma, the main road by the sea. Abraxas (former Pacha) and Tito's are the main discos, catered mostly to a young party crowd. Gay oriented bars can be found around Plaza Gomila (must visit: Hotel Aries Pub and the Black Cat Disco).
Also, you must know that while drinking in the street is allowed, big groups drinkings are not tolerated and the police will fine you if you leave any rubbish in the street. In any case, is better to carry a plastic bag for any rubbish you could have.
Wines
You should consider trying the Sangria, a mix of wine, fruit juice and brandy. Another option are the excellent local wines. Many bodegas offer tours with free tastings.
Ses Nines "Negre, Binissalem D.O.", a real bargain, this pleasant red wine will accompany your barbecues. €5.
José L. Ferrer "Blanc de blancs, Binissalem D.O.", a light and tasty white wine to drink with a fish soup or grilled sardines. €7.

Mont Ferrutx"Pla i Llevant D.O.", a solid red wine bottled by Miquel Oliver, to accompany a grilled pork chop. €7.

Macia Batle crianza, "Binissalem D.O.", a fine, tasty and elegant red wine, bottled by Macia Batle in Santa Maria del Cami. €10.

Mortitx"Vi negre, Vi de la Serra de Tramuntana", a deep red wine with red fruit taste. €10.

Moli de Vent "Blanc, Pla i Llevant D.O.", a fine white wine with a subtle citrus fruit parfum, bottled by Jaume Mesquida . €10.
GVIVM "Merlot-Callet, Pla i Llevant D.O.", a strong red wine with character, bottled by Pere Seda. €15.
Negre de sa Colonia "Pla i Llevant D.O.", a fine red wine with a deep oak taste, bottled by Toni Gelabert. €20.

Son Puig"Vi de la Terra Mallorca", red and white wine bottled by Raimundo Alabern at Bodega Son Puig. €12.
Sleep
Accommodation is mainly for the package-tour tourist who wants a room near the beach. Most of these hotels are cheaper if booked by a travel agent. But over the past few years, the number of alternative accommodations for more experienced, individual travellers has steadily been growing: designer hotels, fully equipped apartments, aparthotels and fincas to name a few.
Fincas
Rural tourism
: Also known as "Agroturismo". Refers to farmhouses and country estates built before 1960, still being used for agriculture but, of course, fully refurbished and modernized. Just perfect for families with children.
"Rural Hotel", "Turisme d'Interior" and "Petit Hotel" on the other hand are generally former mansions and manor-houses located in smaller towns such as Sòller, Lloseta, Deià or Campanet. They offer a limited number of rooms for guests, mostly 4 star service with an excellent cuisine, Spa services, etc.
Hotels
Although the vast majority are 3 and 4 star hotels, the island does offer excellent 5 star hotels and resorts, small and trendy Designer Hotels next to Palma's shopping district as well as charming city hotels in the old city centre of
Palma de Mallorca
.
If you prefer to stay in your own apartment, but don't want to miss the hotel's daily entertainment programme, sports and shows in the evening, then consider staying in an aparthotel. Most of them are located in the north (
Alcudia
, Playa de Muro) or on the east coast of the island (Cala Millor, Cala d'Or) and offer a wide range of services.
Camping
There are no commercial camp grounds in Mallorca, but there are some recreation areas with toilets and sometimes with showers where camping is allowed.
Villa rentals
Renting a villa is an excellent, often inexpensive way of enjoying Mallorca's more secluded locations. These are generally found on the western and northern sides of the island. There are several choices, from "casitas" that are small and offer no additional services, to those which are classed as "luxury", and offer a wide range of additional features such as a maid service, breakfast and hire cars.