Malmö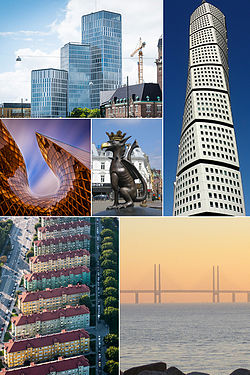 Malmö
is
Sweden
's third largest city with a population of over 300,000, and the capital of the province of
Skåne
(Scania) on the southern tip of the country. Malmö is a port city on the Öresund strait, facing
Copenhagen
on its other bank, with which it is connected by the Öresund bridge. Together, the two cities form a duopolis and a core of a larger Oresund region spanning parts of Denmark and Sweden.
Malmö used to be an industrial city, with a port and a shipyard, but the shipyard was dismantled in the late 20th century. The city has managed to recover and reinvent itself as a modern metropolis, a poster example of sustainable development and a thriving multicultural centre, even though it lacks the recognition as a major tourist destination like
Copenhagen
or
Stockholm
.
Understand
History
Founded in 1272 as a fortified port 20 km from
Lund
, Malmö was for centuries the second-largest city of Denmark, while the Scanian lands were under Danish rule. It served as a
Hanseatic port
and a very lucrative trade area. Malmö dominated Skåne as the largest market hub, until Copenhagen grew larger during the 16th century. In 1658, as a result of many years of war in the Great Northern War, Denmark ceded the Scanian lands, including the city of Malmö, to Sweden in the Second Treaty of Roskilde. As Copenhagen experienced a series of devastating fires and bombardments, in particular through the 1700s, Malmö is surprisingly the best place in the world to see Danish Renaissance architecture.
After an industrial revolution, Malmö grew rapidly and served as one of the earliest and most industrialized cities of Scandinavia. Until the turn of the millennium it was regarded more as a dull worker's city in the backdrop of Lund (a university and cathedral town) and Copenhagen. The opening of the Oresund Bridge-tunnel in 2000 reignited the soul of a bustling Hanseatic port that had lain dormant for so many centuries. Since 2011, this new landmark is featured in the acclaimed Swedish-Danish crime series
The Bridge
.
Today about a third of the Malmö population are from various other countries, making the city the most cosmopolitan in Sweden. This has contributed to a rich cultural life and many exotic and fine food opportunities. The ship building Kockums company used to be the city's biggest employer, but today the industrial city of old has been replaced by vast areas of middle-class suburban housing and modern eco-friendly neighbourhoods.
Get in
By plane
Malmö Airport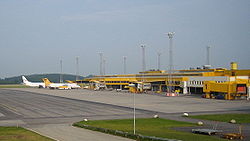 Malmö Airport is mostly served by low-fare, charter and regional carriers. There are three connections to
Stockholm
– with SAS (
Arlanda
), Norwegian (Arlanda) and BRA (Bromma) - and regional airlines fly to other destinations within Sweden. International flights is covered by many charter and scheduled flights to vacation destinations in Southern Europe, North Africa and the Middle East.
The only carrier operating scheduled international flights from Malmö Airport is
WizzAir
, connecting Malmö to the largest cities in Central, Eastern and Southeastern Europe.
Getting there:
From Malmö Airport you can take the
Flygbussarna coach
to downtown Malmö, it takes 40 minutes. On Saturdays, however, there are only a limited number of buses, so please check the bus-schedule at Flygbussarna's homepage. Another option is taking a taxi, but this is far more expensive.
Copenhagen Airport
Copenhagen Airport
in Kastrup is one of the major aviation hubs in Europe and offers a multitude of European and intercontinental connections by most European flag carriers, as well as other major international airlines.
Getting there:
Kastrup is right at the other end of the Oresund bridge from Malmö. There are frequent
Oresund trains
departing from a station inside the airport terminal that stop in stations inside of Malmö (Centralstation, Triangeln and Hyllie). The journey from the airport across the bridge to Malmö takes about twenty minutes. You can also take a bus across the Oresund, which is often cheaper than the trains. You can also take a taxi across the bridge. Signs in the arrivals hall of Kastrup Terminal 3 direct you outside to two separate queues of Danish and Swedish taxis. Taxi fare to Malmö city center should be about 650-750 SEK. As always with Swedish taxis, check the window sticker on the taxi to check the fare before boarding to avoid inadvertently selecting an overly expensive option (there is no limitation of taxi fares in Sweden and all taxis can charge anything they want as long as it is clearly indicated), or better yet, discuss the fare to Malmö with the driver before deciding - you can expect them to speak good English.
By train
Malmö is well served by trains, including frequent regional and commuter services within
Scania
as well as long-distance trains from
Gothenburg
and
Stockholm
. There are trains running across the Øresund bridge from
Copenhagen
at least every 30 minutes. In Copenhagen, there are further connections from most Danish cities as well as from
Hamburg
.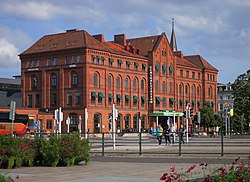 Regional
Øresundståg
leave all day from
Helsingør
, traversing the east coast of Sjælland, before crossing through
Copenhagen
and then across the Øresund bridge to Malmö, also connecting Kastrup airport to the city. In the opposite direction trains run from
Gothenburg
(with connections from
Oslo
) via
Varberg
,
Halmstad
,
Helsingborg
and
Lund
. Trains from
Copenhagen
's central station to Malmö Central take approximately 40 minutes (including border checks at Hyllie), costing 120 SEK (as of December 2018). However, using the Skanetrafiken app to purchase tickets will provide passengers a 24-hour ticket option for unlimited use in Malmo's public transport system (including Oresundstag stations covered in the zone which the ticket is valid) from 240 SEK (the cost of two one-way tickets between Copenhagen H and Malmo Central). Additionally, frequent and regular commuter trains, called
Pågatåg
and operated by
Skånetrafiken
, runs from destinations throughout the province of
Scania
such as
Lund
,
Helsingborg
,
Höör
and
Ystad
among others.
From
Stockholm
, there are hourly high-speed trains taking 4½ hours, operated by
SJ
. A low cost alternative on the same route is the twice daily
Snälltåget
, taking just under five hours.
Limited night train services are available too. During summer,
Snälltåget
runs a train from
Berlin
three times per week. In winter season, the same company runs a service to and from the ski resort
Åre
.
The main stations on the line running through Malmö are: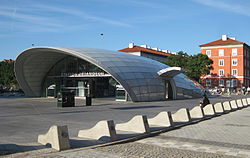 TriangelnTriangeln is an entirely underground station in the middle of the City Tunnel, in the southern part of Malmö's centre. It is also a very convenient option to those visiting Malmö, especially those who would like to explore the shopping options and the gastronomic variety of Möllevångstorget.

HyllieHyllie Station is in the middle of the namesake new part of Malmö, developed from scratch over the southern end of City Tunnel. This part of Malmö is quite removed from the city centre, but includes many important destinations, such as the Malmö Arena, the Malmömässan fairgrounds and the Emporia shopping centre, all right next to the train station. All Swedish-bound trains from Denmark will stop here as border police need to conduct passport checks (no such checks happen on the opposite direction).


The above three stations are served by regional trains to and from Copenhagen, direct trains from Stockholm and Gothenburg, as well as regional trains. Other train stations in Malmö include Persborg, Svågertorp, Oxie, and Burlöv, which are only served by a limited number of regional trains and are of not much interest to tourists, as they are in residential locations far from major points of interest.


By car

Another way of crossing the Øresund Bridge (both bridge and tunnel) is to drive for yourself. It is a toll bridge, with tolls charged in both directions (entering and leaving Sweden). Since the road is a motorway (one-way passage only), it is not possible to change direction after passing the last exit in Denmark. The prices for an ordinary car shorter than 6 m begin at €48 per single trip. With a BroPas subscription it is possible to reduce the cost substantionally. easyGo customers qualifies for a 5% discount on cash payments. Credit cards are also accepted.
The view is much less obstructed if you choose to go by car as compared to train. Keep in mind, though, that the road over the Øresund Bridge is a motorway, hence it is prohibited to stop for other reasons than if your car should break down. There is no public access to Peberholm Island, where the tunnel and the bridge connect.


By bus

Gråhundbus, Swebus, NettBuss, FlixBus and Eurolines have routes from Copenhagen and other places. From Copenhagen the buses take longer (about an hour) but are cheaper than the train, from 60 SEK (as of 2017).
Autoprevoz, +387 51 317 333, has buses to Banja Luka, Bosnia and Herzegovina, 25 hrs, twice weekly, ~ €150. Whereas Toptourist, +45 48 25 38 37, offers connection to Sarajevo via Salzburg, twice weekly, €140 return, tickets can be paid on the bus, but advance booking and payment is recommended.


By boat

Finnlines runs a ferry line between Travemünde in northern Germany and Malmö. The ferry line is mostly directed towards trucks and car drivers, but it is possible to book tickets for pedestrians. Departures that does not need a compulsory cabin booking are tuesdays to fridays at 10:00, saturdays at 11:00 from Travemünde. The trip takes nine hours, an adult passenger fare one-way trip begin at €30. A car shorter than 6 m begin at €49 in the low season, €67 in the high season. Motorcycles can be taken on board for free during the low season, bicycles can be taken on board for free all year round. A booked return trip will grant a 20% discount on the return part of the trip.
As an alternative, Trelleborg and Ystad offers ferry connections to other ports in Germany and Poland. The travel time of these ferries are usually between five to ten hours, and Trelleborg can be reached from Malmö Central Station by regional bus #146 in approximately 50 minutes, or by Pågatåg train line #9 in 32 minutes.

Get around
Bicycle
Malmö is best experienced by bicycle, the city is interlaced with lots of bicycle roads. Malmö is known as a very bike-friendly city (and indeed, biking is the preferred method of transportation here).
The official bike map
can be found on bike rentals and the tourist office. There are guided bike tours in Malmö during the summer. Most tourists rent their bikes from the well-known company
Bromans Cykel
where you get offered modern bikes for a low price.
Public transport
Skånetrafiken
is responsible for public transport in Malmö and all of Scania. The green buses (
stadsbuss
) all have
routes within Malmö city
, the yellow buses are regional buses to other cities in Scania.
VISA, VISA Electron, MasterCard and Maestro payment cards can be used as payment for tickets in both yellow and green buses. It is not possible to use cash as payment in buses and trains. Tickets or cards can also be purchased in advance, either in vending machines, at Skånetrafiken customer centers (
kundcenter
), at service partners (
serviceombud
or
ombud
) or via a smartphone app called
Stadsbiljetten
. Pre-paid JoJo-cards in denominations of 50 and 200 kr, in form of a contactless non personalized smart card, can be purchased at Pressbyrån, 7-Eleven and Coop. JoJo-cards can be topped-up at the previous mentioned vendors, but also online at the Skånetrafiken website, where you need to register the JoJo-card. The smartphone app also supports an English language version. The JoJo-card is the least expensive option.
Both the physical ticket (from vending machines) and the electronic ticket (JoJo-card and smartphone app) is valid for one hour as single fare (
enkelbiljett
), which begins immediately when the ticket is printed, scanned or activated. Transfer between rides is unlimited within this one hour. Public transport fares in Malmö also include train rides between the three stations: Malmö Central, Triangeln and Hyllie Station. The violet-colored Pågatågen and the silver-colored Øresundstågen normally stops at all three stations.
Taxi
Taxi is also an option, fixed rates begin at 49/59/79 kr for trips within Malmö city.
The taxi market is unregulated, and some independent drivers charge high prices. Check the price tag in the window, prefer well known companies such as
171717
,
232323
,
Taxi Skåne
,
Taxi Kurir
etc, and always ask for the price of your trip before getting in.
See
Main squares and streets
The historic central parts of Malmö is called
Gamla Staden
(Old Town), and this area has three squares;
Gustav Adolfs torg
(
Gustav Adolf's Square
), the
Stortoget
(Big Square) and the
Lilla torg
(Little Square). Stortorget and Lilla Torg are directly connected at one corner, and a pedestrians only shopping street connects them with Gustav Adolfs torg.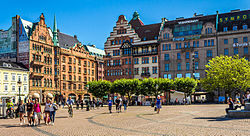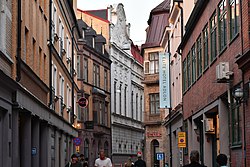 DavidshallstorgA square with design shops, clothes stores and restaurants. The atmosphere here is posh, so the vibe is very different from Möllevångstorget's. There are similar shops on the nearby parts of Davidshallsgatan.

Gamla VästerBetween Lilla Torget and Malmöhus, is a quiet and sophisticated part of town with lots of galleries, design shops and restaurants.

Gustav Adolfs torgSurrounded on three sides by buildings containing shops and a McDonald's. At the center of the square is a bus platform. A cemetery lies at the south side of the square, through which one can reach Slottsparken, a beautiful park that surrounds Malmöhus.

Lilla torgThe place for socializing and dining, with various restaurants having outdoor tables around the edge of the square.

Möllevångstorget squareSouth of the city center, has a bustling open-air market on weekends. The surrounding neighborhood is full of inexpensive Asian and Middle Eastern shops, restaurants and grocery stores catering to the alternative side of the city, the immigrant population and people who are tired of mainstream commerce.

StortorgetThe central plaza of Malmö. At the center of Stortorget (The Big Square) is a statue of King Karl X Gustav of Sweden, who took the city from Danish dominion. The ornate Malmö City Hall (built in 1546) is on the east side, and in the northwest corner is Kockska Huset, the house of Jörgen Kock, a German immigrant who became mayor of the city and achieved wealth simply and directly: by taking control of the city mint. In the winter, the square is used as a skating rink.
Historic buildings and modern architecture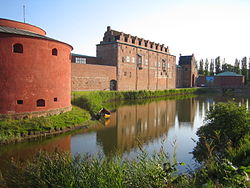 Katrinetorp

address: katrinetorps Alle 1

Country manor with beautiful garden. Nice cafe and antique store.

Malmöhus Castle

S:t Petri kyrkaThe city's oldest church (from the 14th century)

Turning TorsoCompleted in 2005, it is at 190 m the tallest building in Scandinavia. Mostly apartments with some offices, it's located in a new zone near the waterfront and has no observation tower or other sightseeing facilities, so it's probably best to admire it from afar (visible from almost anywhere in the city). If you are visiting in the summer there is a nice waterfront promenade and an open-sea bath nearby the Turning Torso. There is also a state of the art skateboarding park in the area.
Museums and cultural institutions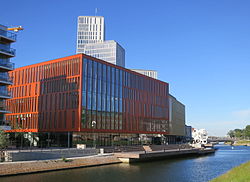 Do
Guided tours and sightseeing
Bike tour with a guide at Malmö Bike Tours. About 2 hour tour with some 7 stops. Runs one or several days a week during summer.
Open boat sightseeing Rundan. About 40-50 people per boat. 50 min. Runs several times per day from spring to fall.

address: Banérskajen
Parks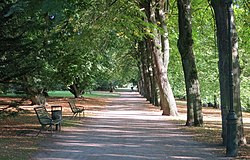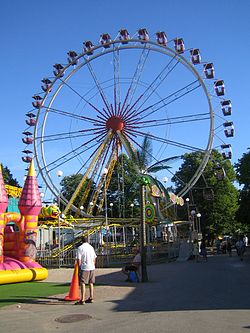 PildammsparkenCentral park with woodlands, a lake, gardens, sculptures, and playgrounds. The park was part of the Baltic exhibition in 1914, and several of the buildings from this exhibition is still around, including an outdoor theatre. In the south, Pildammsparken connects to Stadionparken and The Stadium Area, filled with sports facilities.

KungsparkenHistoric central park, connecting to the smaller Slottsrädgården park and Malmöhus Castle to the north. The park was constructed around 1870, on former castle grounds. It is named after the Swedish King Oscar 2 who inaugurated a park restaurant here in 1881. The building housing the restaurant is now used for a casino. Kungsparken was designed by the Danish landscape architect Ove Høegh Hansen, inspired by the English garden culture.

SlottsträdgårdenLocated north of Kungsparken and south of Malmöhus Castle. This is one of the city's newest amenities and is an organic community garden, open throughout the year. There are eight themed gardens and a potager. Freshly picked flowers and vegetables are available for purchase in the summer months. There is also a small cafe, run entirely by volunteers.

Folkets parkPark and entertainment venue in the central parts of Malmö. See the terrarium. Ride a pony. Sunbathe. Eat and drink.

BulltoftaparkenRelatively large park in the eastern outskirts of Malmö. Bulltoftsparken is from the late 70's, built on a former airfield, and includes a park zone, a sports zone, and a nature zone. The sports zone offers playing fields, tennis courts, a fitness center, a mini golf facility, and a disc golf field.

RibersborgsstrandenThere are several options for outdoor swimming in Malmö. This includes beachparks and seabath facilities with small piers. The largest and most popular venue is Ribersborgstranden beachpark, right in the central parts. Swim, sunbathe or promenade at the 2-km sandy beach in Ribersborgstranden. The beach is child-friendly with sandy stretches, just a short walk from the inner city. In the winter you can enjoy ice swimming. Be sure to visit the Ribersborgs Kallbadshus, an old seabath structure from 1902.
Sports
The Stadium Area
(
Stadion området
) is a landmark area in Malmö in the central parts of the city next to Pilldammsparken. With a total of four stadiums, a stadium park, including a Walk of Fame, as well as other sports facilities, this is a must see for sport fanatics.
Malmö stadionOutdoor stadium used for athletics, soccer and occasional stadium concerts, with room for more than 25.000 people.

Baltiska HallenCovered stadium hosting large sports and cultural events, and occasional concerts with room for about 4.000 people.

Baltiska BowlinghallenA bowlinghall with room for up to 450 guests.

Swedbank StadionAnother half-covered stadium. Mostly soccer matches.

Malmö isstadionIndoor ice rink with room for up to 6.000 people.
The flat landscape of Skåne is ideal for golf. Around Malmö there are quite a few good courses.
Malmö Burlöv GolfklubbLarge golf course with 27 holes, just outside the central city. There is a restaurant on site.

Malmö Golfhall

address: Fosievägen 4

Indoor golf arena in the southern parts of town.
Malmö boasts a total of
six skateboarding venues
. The first dedicated venue Bryggeriet Malmö Skatepark was built in 1998 as an indoor venue, and it is still the largest skatepark in the city. The other five parks are outdoor spots in concrete, all of world-class quality. The last addition to the Malmö skateboarding scene came in 2016, when Kroksbäck Skatepark was inaugurated.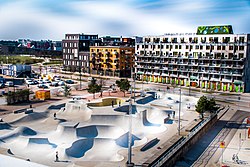 Bryggeriet Malmö SkateparkThe largest and first skatepark in Malmö, opened in 1998. This park is an indoor venue with wooden bowls and ramps, but also facilities for street skating.

StapelbäddsparkenSkatepark in the harbour district of Västre Hamnan, north of the inner city.
Swim in the sea or in one of Malmö's bathhouses. There is also a total of three
outdoor pools
around town, open for the public in the summer months of June through August. Four city parks offer
paddling pools
for the public, and they can be great fun if you are with small kids. The water quality is regularly surveyed.
In the winter, outdoor ice skating is a popular pastime. Skating rinks can be found at Storatorget, and when the lake in Pildammsparken freeze over, it is also a popular venue.
Music, theatre and film
phone: +46 40 97 66 02

address: Södra Förstadsgatan 18

This fine art nouveau building was erected in 1912 as a movie theatre, but is now used for theatre and occasional concerts and operas.

Malmö OperaOpera house from 1944, clad in grey marble. Nowadays the cultural palette has broadened, and includes concerts, musicals and dance performances. Enjoy the architecture and specially designed interior, it is considered an icon for the Nordic Funkis style. Dine and drink in the associated opera restaurant.

Malmö StadsteaterMalmö City Theatre.
Festivals
Don't miss Malmöfestivalen - a free festival that takes place for eight days every year in August, with lots of cultural and culinary experiences.

Malmö PrideA pride parade held every summer by Malmö's active LGBT community.
Buy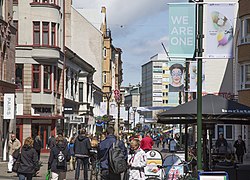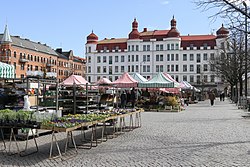 Street shopping
The main shopping streets are
Södergatan
and
Södra Förstadsgatan
, where you can find all kinds of shops. Look out for
Village
, well designed homeware, at reasonable prices.
Experience the multicultural area around
Möllevångstorget
. Here you can find exotic shops selling Asian and Middle Eastern foods and a wide selection of pubs and bars. In the mornings there is also an open market where you can buy fresh fruit and vegetables.
Les Trois Roses
(Gustav Adolfs torg, Davidshallstorg) is a great chocolaterie.
Shopping centres
Malmö has five shopping plazas in the centre:
StorgatanStorgatan mostly has clothes for young people and coffee shops. The others offer the usual mixture of town shopping with clothes, cameras, jewelry, electronics, books, movies etc. blended with eateries, both international fast food chains and local ones. World famous Swedish glassware can also be bought there.
There are also some shopping plazas outside the city centre, like
address: Hyllie Boulevard 19

A huge, very modern shopping centre with over 200 shops plus restaurants, in a quite unusually pleasing setting. The centre is right across the entrance to the Hyllie train station and even features a roof terrace with some nice views in good weather.
Eat
Look out for pepparkakor, literally pepper cookies, but flavoured with cinnamon, ginger, molasses and cloves. Traditional accompaniment to glögg (mulled wine).
Budget
Fruits and vegetables are normally quite expensive, unless the store is running a campaign on certain products. Fruits and vegetables are normally sold by weight, so you do not have to buy a package too large for your needs.
Özen Allfrukt
(Lantmannagatan 59) has always low prices on fruits and vegetables, and might be a good place to begin in case your budget is very tight and you have to cook for yourself. Özen Allfrukt's customer base consist mainly of immigrants with large families, hence the low prices.
Many kitchen venues around
Möllevångstorget
cater to the budget option. Get a falafel (15-25 kr), Indian, Thai, Middle Eastern or Chinese meal from 35 kr. Plenty to choose from.
Råå Bar & Restaurang
and
Krua Thai
on Möllevångstorget are two great, inexpensive Thai places. On Södra Förstadsgatan near Möllevångstorget are a number of good places -
Ganesha
does tasty and cheap Indian fast food for 45 kr and up, and restaurant
Middle East
has good shawarmas for 30 kr. Just off Möllevångstorget on Ystadsgatan is an unpretentious Persian restaurant which does good food.
If you visit Özen Allfrukt (Lantmannagatan 59) you might want to try the
Balkan
fast food dishes. Burek, Ćevapčići and Pljeskavica in the range from 25 to 40 kr for a serving. The Pljeskavica will satiate you for the rest of the day.
Mid-range
There are a lot of restaurants in the
Little Square
with outdoor seating (with heating year-round).
There are also lots of mid-range restaurants in other parts of town.
Splurge
Drink
Malmö has a vibrant night life, but prices are for the most part substantially higher than they are across the bridge in
Copenhagen
.
Lilla Torg
is the epicentre but prices are high, you could also try
Möllevångstorget
where any of the many bars, cafés and restaurants in this bustling part of town is good value. Like in Copenhagen, and indeed most of Scandinavia, expect most of the drinking to be limited to Friday and Saturday except at the height of summer where many Swedes have vacation. You can pick up the free
Nöjesguiden
and
Dygnet Runt
magazines in various stores to read more about Malmö's nightlife. They are only available in Swedish though.
Sleep
While prices in Malmö may seem high, especially in the summer, and there is little variance in prices across properties, staying in the city may be your best option in the region, as hotels are generally expensive in Sweden (and even more so across the bridge in Copenhagen), while Malmö boasts a wide selection of properties unusual for other Swedish city.
As in the rest of Sweden, breakfast is generally included in room price, as is Wi-Fi. Do make sure to double-check the rates at different dates, as they may vary greatly depending on local events and time of year. The highest season is around the end of May and in June, when the days are the longest and the weather the best.
Budget
Mid-range
Splurge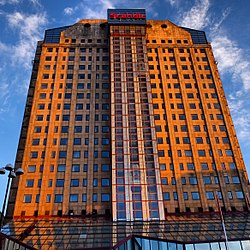 Connect
Internet cafés
Sidewalk Express, Railway station. 19 kr per hour.
Gameness, Mäster Nilsgatan 20. 20 kr per hour.
Twilight Zone, Stora Nygatan 15. 15 kr per hour.
Stay safe
Malmö has had a bad reputation for gang crime and ethnic tension for the last years. While some districts (such as Rosengård) might be avoided after dark, crime rate is moderate compared to other European cities of similar size. Visitors who do not seek trouble are unlikely to be confronted by gangs.
Anti-Semitic hate crimes have been an issue in Malmö.
As in other Swedish cities, bar brawls, bicycle thefts and pickpocketing are among the major risk factors for visitors.
If traveling on foot or by car, keep an eye out for bicycles, which expect others to yield.

Cope
Consulates
Czech Republic

phone: +46 40-97 36 98

address: Västerg. 22

Denmark

phone: +46 752-48 25 93

address: Neptunigatan 1

Estonia

phone: +46 40-23 60 10

address: S. Promenaden 53

Finland

phone: +46 40-35 25 77

address: Jörgen Kocksg. 1 B

France

phone: +46 40-98 41 04

address: Ribersborgsv. 14 B

Germany

phone: +46 40-611 85 95

address: N. Vallg. 70

Greece

phone: +46 40 975024

address: Frihamnsallen 5

Iceland

phone: +46 40-30 04 34

address: Brädgårdsv. 28

Norway

phone: +46 40-12 35 00

address: Jungmansg. 12

Peru

phone: +46 73-423 27 37

address: Gustav Adolfs Torg 47

Sierra Leone

phone: +46 40-40 26 10

address: Verkstadsg. 4, Svedala (note: outside Malmö)

United Kingdom

phone: +46 40-793 79

address: Stortorget 21
Copenhagen, with many embassies, is a short train trip away.
Go next
Skånetrafiken's Around the Sound (Öresund Rundt) ticket is a great way to see the surrounding region of Scania as well as North Zealand, Denmark (including Copenhagen). For 249 kr, you get unlimited train travel and one ferry trip, for two days.

Foteviken MuseumIn Höllviken, Vellinge municipality. A reconstruction of a Viking or early medieval village. This is a living museum, which means a number of people live as Vikings on site throughout the summer.

Catch a ferry and head to Travemünde, Germany.