Manchester Airport
Manchester Airport
(
MAN
) is one of the busiest and largest airports in Europe. The airport is located in the south of Manchester, in the North West of England and is an excellent gateway to the north of the United Kingdom. It is a hub for low-cost airline Flybe.

Understand
Manchester Airport is a busy place, with some 28 million passengers per year, and dozens of operators (hence good competition) flying to almost 200 cities. There are 3 passenger terminals and two runways. There are excellent direct connections from across UK and Ireland, Europe, North America and the Caribbean, though flights from Asia and sub-Saharan Africa are normally via the Gulf carriers. Frequent trains take less than 20 mins to city centre, and there are direct train services across the north of England and central Scotland.
The airport opened in 1938, almost immediately becoming a wartime RAF base, reverting to civilian use post-war. It was originally known as "Ringway" and is sometimes still called that. It was close to the city's southern ring-route but it's named for the village of Ringway, which in Anglo-Saxon was Hringhæg meaning a circular hedge around an enclosure. In the 1950s and 60s expansion was gradual: Britons didn't go abroad much, or took the ferry when they did. It was the height of sophistication if you flew from Manchester to the Isle of Man in a Silver City Airways Douglas Dakota. But then flights and passenger numbers boomed just as at other airports: first the Med and the Alps came within easy flying range, then Florida and the Caribbean. East Europe opened up as communism retreated and the stag parties marched in, and budget travel blossomed aided by the internet. The city itself became a destination, and attracted many overseas students. And Manchester Airport grew and grew and grew. Even those who still think of it as Ringway will struggle to recall a time when there wasn't some major expansion in hand, with mud and diversions on the approaches, and passenger corridors zigzagging round temporary partitions to a soundtrack of hammering and drilling.
The airport is owned by MAG (an Australian holding company) plus the ten local councils of Greater Manchester; MAG also owns East Midlands and Stansted airports. The main project in 2019 is to upgrade Terminal 2 by spring 2020. There are no plans to extend the runways, but an extra taxi-way might be built to ease ground movements.

Orientation

Manchester Airport has three terminals, linked by an overhead covered walkway ("Skyway") to the transport hub of "The Station". T1 and T3 are adjacent 200 yards / 5 mins walk south of The Station while T2 is 400 yards / 10 mins walk northwest. There are travelators in the Skyway, but they're often out of action.
has most flights and the best facilities. Charter, budget and full-service airlines fly across Europe and the rest of the world, including Aer Lingus, EasyJet, Emirates, Etihad, Jet2, Lufthansa, Scandinavian, TAP Air Portugal, Swiss and Turkish Airlines. There are two check-in halls: the smaller Hall B, by the ground floor entrance, is only for Jet2 and Etihad. All other airlines use Hall A on the 5th floor (with Lufthansa hidden in a back lobby) - take the bank of lifts to your left immediately you enter T1. If you walk past them, you'll stray into the large arrivals area - lots of cafes here, plus arrivals boards to check your turnaround flight. After check-in, there are two security routes, used flexibly. Security A is sometimes congested while Security B is quiet, but staff will direct you to the one with the shorter queue (at quiet times they often reserve A for fast-track). Just after clearing security are cold water faucets, your best chance to refill a bottle as all the other outlets (eg in toilets) are scalding to make you buy overpriced bottled water. You now enter a series of 3 retail malls: straight then winding then straight, uncannily like the digestive tract of a monster squeezing every drop of life-blood from its prey. You emerge into a concourse with gates 1-15 to the left, 20-32 to the right, and the missing gates have become the main eating and drinking area on two levels. The two wings towards the gates have complimentary newspaper racks (Times and Sun) and more seating, but no retail / eating except a few vending machines. Gates 20, 24 and 26 are downstairs saloons for bus transfer to the aircraft: they're often the quietest areas for sitting.
has mainly intercontinental flights in wide-body jets, plus holiday charters whose passengers are unlikely to be connecting to another flight so the extra distance to reach T1/T3 is unimportant. Airlines include Air Canada, Air Malta, Cathay Pacific, Eurowings, Pakistan International Airlines, Qatar Airways, Singapore, TUI, United and Virgin Atlantic. A revamped Terminal 2 will open in summer 2020, and until then the facilities are small for the passenger numbers. There's a ground-floor satellite check-in area (Desks 201-212 next to Arrivals) for Air Canada, Brussels Airlines and Eurowings. All others check-in on Floor D. From there you go upstairs to security, past a cold water refill, a duty-free mall then the food hall-cum-airside lounge. The corridors to the gates have complimentary newspaper racks and more seating, but no retail / eating.
has short-hop domestic and European flights by British Airways, Flybe, Iberia, KLM and Ryanair. The smaller the aircraft, the likelier it is to be here, eg Flybe and KLM Cityhopper turboprop routes. T3 is adjacent to T1 with a ground-level covered walkway between.
calls itself a VIP terminal, but it's more like an extended fast track. For £100 per person, you check in just an hour before departure at a peaceful off-airport lounge along Old Wilmslow Road, they take your luggage and transfer you to the terminal for your flight, and you fast-track through security. There are similar packages for arrivals and round trips. It's available for any airline signed up to PremiAir, some two dozen of them. It doesn't include the airside VIP lounges, since the point is to glide straight to the gate and bypass the usual tedious processes. PremiAir was launched with grand designs to serve luxury private aviation, but that market has withered, so now they're a sort of Meet & Greet with porterage. It's owned and run by the airport just like the standard terminals; in Nov 2019 the facility was upgraded.

Ground transportation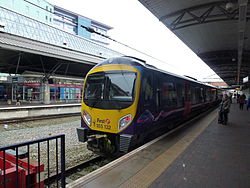 Manchester Airport has excellent transport links to the city itself, and across the north of England and lowland / central Scotland. is the public transport hub, with trains, trams, local buses and long-distance coaches. Not much here while you're waiting apart from ticket offices and toilets, there are better facilities in Terminal 1 Arrivals, 5 mins walk by the "Skyway". For hotels within the airport complex, use the Skyway towards T2 for the Radisson Blu, for all the others exit at street level.
By train
Wikivoyage has a guide to Rail travel in the United Kingdom.
Trains run from the Station to
Manchester Piccadilly
every 15 mins or less between 04:15 and 01:15, taking 15-20 mins. Walk-up single fare is £4.70. Trains that are continuing to other northern cities may also stop at Manchester Oxford Road (for south city centre, eg Bridgewater Hall) and Victoria (for north city centre). Between 01:15 and 04:00 take the bus.
The trains to Piccadilly are usually nonstop, though a few stop at Healds Green or Gatley. For districts south of the centre it's often better to take the bus or tram, see below.
Transpennine Express
trains run from the Station direct to:
Northern
trains run direct to:
-
Warrington
and
Liverpool
Lime Street hourly, but it's usually quicker to change at Oxford Road.
Transport for Wales
trains run direct hourly to
Chester
(1 hr 20 min),
Prestatyn
,
Rhyl
,
Colwyn Bay
and
Llandudno
(2 hr 30 min). Change at Chester for
Wrexham
.
There are no direct trains to London Euston, Birmingham, Bristol and the south: change at Piccadilly or Crewe or Stockport. There are connections at Piccadilly for many other destinations, but it's a large station: transferring between the upper-level platforms (trains via Oxford Road) and the main terminus platforms will take ten minutes.
By tram
The
Metrolink tram
runs between the airport and city centre via Wythenshawe, Roundthorn, St Werburgh's Rd, Chorlton, Trafford Bar, Deansgate / Castlefield, St Peter's Square (and a dozen or so other stops), terminating at Victoria Station. It takes an hour and an adult single costs £4.60, so it's much slower than the train for no saving, and you'd only use it for southern burbs such as Wythenshawe. It runs 06:00-00:00 every 12 mins; 03:00-06:00 it runs every 20 mins as far as Deansgate / Castlefield. See
Metrolink
section for tram connections to East Didsbury, Stretford & Altrincham, Salford Quays & Eccles, Prestwich & Bury, Newton Heath, Oldham & Rochdale, and Ashton-under-Lyne.
By bus
Local buses
are the only public transport at night. Stagecoach Bus 43 runs at least every 30 mins round the clock from the Station to Wythenshawe, Sharston, Northenden, West Didsbury, Rusholme, Manchester University and Manchester Piccadilly Gardens, taking just over an hour. Daytime it's at least every 10 mins.
Other local buses (from Station Stands D-K, all operated by Stagecoach) also run (as of mid-2019) approx 06:00-23:00 to:
# 102 / 103 Wythenshawe, Sharston, Northenden, Southern Cemetery, Moss Side, Hulme and Manchester Piccadilly Gardens.
# 199 Stockport, Stepping Hill, Disley, New Mills, Furness Vale, Whaley Bridge, Chapel-en-le-Frith, Peak Dale and Buxton.
# 288 Hale, Altrincham, Timperley, Baguley, Northenden and Didsbury (E&W).
# 330 Stockport, Bredbury, Woodley, Hyde, Dukinfield and Ashton-under-Lyne.
# 368 Wythenshawe, Heald Green, Cheadle Hulme, Adswood, Edgeley and Stockport.
Coaches
by
National Express
run from Station Stands A, B & C to Manchester coach station on Chorlton Street every 30 mins. They take 20 mins and an adult fare is about £5. Through the night they run at 00:55, 01:40, 03:20, 03:50 then 05:35 when daytime service resumes. Most inter-city services involve a connection at Chorlton Street, but there are some direct coaches from the airport to Liverpool, Wolverhampton, Birmingham, Leeds, Sheffield, London Victoria and Belfast.
By car
The airport is a 20-minute drive from Manchester city centre and is reached by the M56 motorway, with an approach spur from M56 junction 5. Minor local roads serve the airport from the north (Wythenshawe) and the east (Heald Green). Don't use these as short cuts to get out of town, it's always quicker to join the motorway.
Drop-off charges
at the terminals or Station are £3 for 5 mins or £4 for 10 mins. Drop-off is free at Jetparks 1, half a mile north of the Station with a shuttle to all terminals.
Pick-up
costs £4.50 for 30 mins at any of the terminals; you may not pick up at the Station.
Taxis
are available from outside each terminal, costing about £15 and taking 30-45 minutes to reach city centre.
Official car parks
, ie those featured on the
airport website
, all have CCTV and entry / exit barriers using ANPR. They need to be pre-booked: no-notice parking is very expensive and may not be available. Vehicles must fit a standard car space, max height is typically 2 metres. As of mid-2019 these are:
Meet & Greet (all Terminals) - hand over car and keys at the drop-off point within one minute's walk to Departures.
T1/T3 Mid-stay: three mins walk to T3 and ten to T1.
Multi-storey: two parks for T2 and one next to T1/T3. Maybe 5-10 mins walk, but only two if you pay extra for a premium slot.
Jetparks 1 & 2 are half a mile north of T1/T3 and T2. The bus when it comes only takes 5-10 mins but there's often a long wait, factor that in or consider walking.
Jetparks 3 and Ringway are a mile east off Styal Road, next to the runway but too far to walk, await the shuttle bus.
Independent car parks
are dotted around the area. As of mid-2019 they include
APH
in Sharston M22 4TE,
Peter Ashley
in Heald Green M22 5LS,
Castle Hill Farm
in Ashley WA15 0RE, and
H&P
in Styal SK9 4LH. Nearby hotels may also offer deals on stay-plus-parking.
Get around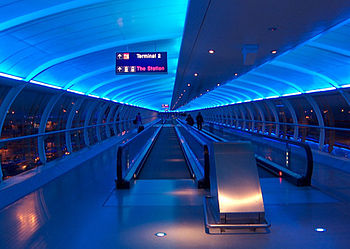 This is a large airport, but by no means on the same scale as London Heathrow. The distance from check-in to gate is never more than 15 mins walk, with no tram transfers.
All terminals are connected by 'skylinks', and 'travellators' are used across much of the airport to expedite your journey. Buses connect the airport's car parks with the terminal buildings.
Flight connections
are via dedicated channels and you don't need to reclaim your baggage before boarding your next flight.
Wait
The vast majority of shops and eateries are beyond the security check in all of the terminals at Manchester Airport so, in comparison with other airports, there is little point loitering in the check-in hall.
Lounges
Manchester has passenger lounges in all terminals, some of which are available for a fee:
phone: +44 871 200 4450

Lounge with free drinks and snacks, but extra charge for hot main dishes.
Terminal 1
Terminal 2
Terminal 3
British Airways
Flybe

1903The lounge has a complimentary buffet food and drink (including alcoholic beverages), printing and scanning facilities and unlimited Wi-Fi. Also a fast track security pass is included in the price. People under 16 years of age and groups larger than four are not allowed.
Eat and drink
All the terminals at Manchester Airport are well-equipped to suit all tastes and provide a range of culinary 'experiences'.

Terminal 1
Terminal 1 is home to a variety of eateries, including fast food vendors such as Burger King, table-service restaurants like Giraffe, the Grain Loft pub and coffee shops like Starbucks.
There is a drinking water fountain in Terminal 1 right after the security check before you enter the duty free shopping area, where you can refill your empty water bottles.

Terminal 2
Terminal 2 provides a great number of different places to seek refreshment and sate even the largest of appetites: from fast food at yet another Burger King to Italian-American fare at Frankie and Benny's and pub fare at the Spinning Jenny via the caffeine dispensary Caffè Nero for those of you taking early morning flights.

Terminal 3
Terminal 3 also caters to a great variety of tastes. Costa Coffee provides the normal range of hot beverages and snacks, whilst The Food Village offers quick food for those in a hurry. If you have a little more time on your hands Terminal 3 is also home to Trattoria Milano — an Italian restaurant, and the Lion and Antelope a pub with hot food. The pub serves drinks from the first flight, and caters well to the stags and hens prior to boarding their holiday flights.

Buy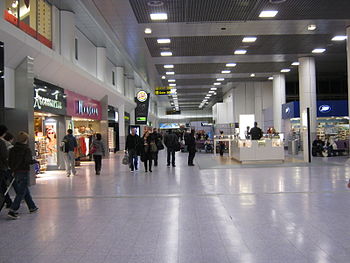 Money:
only if you're otherwise stuck. Holders of UK debit cards can withdraw £ from ATMs at no extra charge but anything else is costly. The currency exchange provider is ICE, whose rates are 25% either side of bank rate for major currencies. So if you changed 100 US$ to £ then back again, you'd get 56$. Rates for minor currencies are far worse; and believe it or not, the rates at some other airports are worse still. Use your bank card to pay for transport into city centre and exchange there.
Duty-free
(so-called) - the franchiser is
Biza
, and they'd rather you didn't make realistic price comparisons, so they compare with a mythical entity called "the High Street". But in Nov 2019, a litre of Tanqueray Gin was £14 for non-EU destinations and £18 for EU, while UK supermarkets were asking £20-25 but maybe only £15 for own-label gin.
Familiar
retailers
found in all terminals are:
- Dixons for small electricals eg travel adapters - who on earth buys their 52" plasma screen TVs then flies them to Santorini in the overhead locker??
- Boots the Chemist for aspirin, travel adapters, overpriced sunblock but fairly-priced sandwiches;
- WHSmith for newspapers, magazines, books or drinks. Sure you've got enough travel adapters?
- Plus fashion chains such as Monsoon and Next.
Connect
Telephones
Signal on UK mobile networks is normally good within the airport area and payphones are available in each of the airport's terminals.

Wi-Fi
Wi-Fi is free throughout the airport for up to 60 minutes every 24 hours. A 'premium' service is also available which offers service beyond that, as well as faster download speeds, and allows for heavier usage — perfect for watching industrial quantities of YouTube videos before your flight. Prices are £5 for an hour, £10 per day and £30 per month.

Cope
Shower facilities are located in Terminal 2, and cost £6.50 per person. Two multi-faith prayer rooms are situated in Terminals 2 and 3. Terminals 1 and 2 offer outdoor air-side smoking areas to comply with the United Kingdom's smoking ban.

Sleep
There are four hotels within the airport complex: the Radisson Blu, Crowne Plaza, Clayton and Hilton. (Google Map also shows Voyager House, but this is just offices.) Others listed here are so close that you might travel via the airport to reach them, even if you weren't flying. Several more that may be convenient but a little further out are listed under
Manchester/South
,
Wilmslow
and
Altrincham
.
Nearby
Manchester Airport is a gateway not just to the city of
Manchester
, a post-industrial gem, but the entire
British Isles
. The airport is centrally located for the
Greater Manchester
area, as well as the entirety of
Northern England
. There are good rail connections from
Scotland
and a gruesome coach service.
The
Manchester Airport Visitor Park
is located on the south-western side of the airport and is well worth a visit for any aviation enthusiast. It's home to the flagship of the British Airways Concorde fleet, and offers excellent views over the airport apron, taxiways and runways.
The Airport Hotel
is a pub on Ringway Road about 0.5 mi (800 m) from the airport. Its beer garden overlooks the east end of Taxiway J and the eastern threshold of runway 23R which are only 50 ft (15 m) away and provides good views of east-west landing approaches and some take-off rolls.