Manhattan/East Village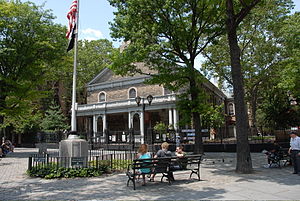 The
East Village
, east of the
Village
on
Manhattan
, was traditionally considered part of the
Lower East Side
, and constitutes the portion north of Houston St., south of 14th St., and east of Broadway. Although increasingly gentrified, with former crack dens that are now modern apartments so hip you can't afford them, it remains an ethnically diverse area of students, young professionals, immigrants, and older longtime residents. This colorful neighborhood is full of good values in food as diverse as its population, and there's always something happening on St. Marks Place, 24/7.
East of 1st Av., encompassing the area from Av. A to the East River, is a sub-neighborhood often called
Alphabet City
or
Loisaida
(Spanglish for "Lower East Side"); Av. C's alternate name is "Loisaida Avenue." Parts of Alphabet City still have a Hispano-Caribbean feel, especially on Avs. D and C, but since most of Alphabet City is similar to the rest of the East Village now (diverse, somewhat gentrified, stylish), the separate designations are less used than was the case 2-3 decades ago. The area between Broadway and 3rd Av./Bowery, on the other hand, is sometimes called
NoHo
, for "North of Houston St." by analogy to
SoHo
to its south.
Understand
Early days
The neighborhood now called the East Village was part of the hunting and gathering lands of local Native American tribes for thousands of years before the white man arrived. What's probably the oldest street in the neighborhood is now called
Stuyvesant Street
(with a listing in "See" below). Before it was a path during the time when Peter Stuyvesant, the only governor of New Netherland, owned a farm there (starting in 1651), it was a Native American trail. Stuyvesant continued to live in the area after New Netherland was ceded to the British, and his body was buried at
St. Mark's Church in-the-Bowery
(q.v.).
In the 18th and early 19th centuries, some lovely multi-story buildings were built for wealthy pillars of New York society in the neighborhood. Many such buildings still stand, including the 1804
Hamilton Fish House
at 21 Stuyvesant St.
Waves of immigration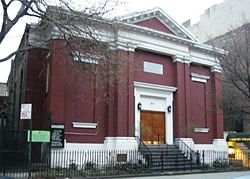 Following the failure of the 1848 democratic revolution in
Germany
, thousands of Germans immigrated to New York City and set up shop in what's now the East Village, the Lower East Side and Chinatown, and the entire area was known as Kleindeutschland ("Little Germany") until the early 20th century, when disaster struck. In the incident that caused the worst lost of life in New York of any single disaster prior to 2001, a ship called the General Slocum, which was ferrying Lutheran parishioners including most of the leading local German-American citizens to Long Island for a picnic in 1904, caught fire in the East River, killing over 1,000 people and essentially decapitating the community, many of whose remnants went uptown to
Yorkville
. If you look carefully, especially on St Marks Place, you can see relics of those days, including the
Deutsch-Amerikanische Schützengesellschaft
(German-American Shooting Club) near 3rd Av. and the
German
(now Korean)
Evangelical Lutheran Church
just east of 2nd Av., as well as the
Ottendorfer Library
on 2nd Av. between St Marks Place and 9th St. — and the
Sixth Street Community Synagogue
on 6th St. between 1st and 2nd Avs., which was once the St. Mark's Evangelical Lutheran Church that had rented the ill-fated ship. In the same period, refugees from the Irish Potato Famine arrived in the U.S., and some of them set up shop in the East Village as well, including John McSorley, who is said to have opened
McSorley's Old Ale House
in 1854.
Starting around the 1880s and continuing apace until the immigration laws were tightened in the 1920s, the neighborhood, as part of the Lower East Side, hosted a large number of Eastern European immigrants, including Polish Catholics, Ukrainian adherents of Eastern Rite Catholic and Eastern Orthodox churches, and Yiddish-speaking Jews, and also many Italians. Second Avenue on the Lower East Side — as it was then universally known — became synonymous with Yiddish theater, with Jews streaming into the area from other parts of Manhattan, Brooklyn and beyond to hear the biggest stars from the U.S., Poland, Romania and other areas with active Yiddish theaters sing musicals in their language. Many of those theaters still exist, though they've been repurposed as movie theaters (as on 12th St. and 2nd Av.), English-language theaters (as in the case of the
Orpheum Theatre
on 2nd Av. between 7th and St Marks Place) or for other more prosaic functions. Unfortunately, Yiddish theater died an unnatural death in the Nazi extermination camps, combined with younger generations of American Jews ceasing to speak the language. However, there are still a large number of very active Polish and Ukrainian Christians in the neighborhood, replenished by new immigration in more recent decades, and their churches can be seen, though most of the inexpensive Polish and Ukrainian restaurants and shops that used to be a mainstay have been forced to close their doors one after the other, due to gentrification.
From bohemia to riches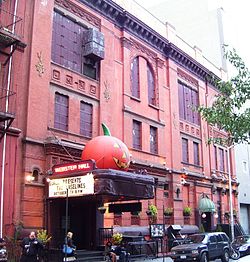 Starting in the 1950s, the East Village was a very bohemian neighborhood that bebop saxophonist and composer Charlie Parker (his residence, on Av. B across from Tompkins Square Park, is memorialized with a plaque), Beat poet Allen Ginsberg and many other members of the counterculture called home. It was also, starting in the 1960s, a focus of alternative rock, electronic music, and multimedia and performance art. Sadly, during and since the 1990s, an increasing number of venues for live music were forced to stop the performances or close their doors outright, including the world-famous CBGB; however, there is still quite a lot of live performance in the neighborhood, including at the grand 1880s-vintage
Webster Hall
, now host to many rock performances; a strip of theaters on E. 4 St. between the Bowery and 2nd Av.; and the
Bowery Electric
and other venues on the Bowery.
Another important change for the neighborhood was a wave of immigration by Puerto Ricans and Dominicans, starting around the 1960s, which was felt particularly strongly in Alphabet City/Loisaida. Like the rest of the neighborhood, that area of the East Village has gentrified considerably in the last couple of decades, but it still has some Latin feel, especially further east.
The neighborhood fell on hard times along with the rest of the city in the 1970s and 80s, when the East Village was a very gritty high-crime area, full of crumbling buildings, empty lots and homeless people, plagued by crack and heroin, and ravaged by the AIDS epidemic. Many abandoned buildings were occupied by squatters, Tompkins Square Park was the site of encampments of homeless people, and empty lots were cleared of rubble and turned into community gardens, some of which still exist, but the crime remained a problem for a long time. The year 1988 marks a turning point for the neighborhood. The police surrounded and attacked the homeless people camped out in Tompkins Square Park, their supporters and some people who were simply watching. Many people in the neighborhood believed this was due to pressure from the first wave of gentrifiers — wealthy people who moved into a poor neighborhood and then found it inconvenient to have to witness the poor conditions that predated their arrival.
Fast forward to 2018, and you'll find some homeless people on the street, but the neighborhood, like the rest of New York, is way lower in crime — but it is also too expensive for many people to live in. Although quite a lot of relatively high-rise luxury construction is taking place, much of the area is now part of one or another "historic district", thus preserving at least a good chunk of its substantial remaining architectural heritage from the wrecking ball. However, the vaunted edginess of the neighborhood is now mostly a memory, and especially on weekends, the East Village is instead overrun by well-to-do, slow-moving young people, many of whom drink to excess and can't hold their liquor. If you'd like a quieter experience of a neighborhood that for better and worse is no longer very edgy but still has charm, a visit on a weekday and walks on side streets other than St Marks between 2nd and 3rd Avs. may appeal to you more than barhopping on a Saturday night.
Get in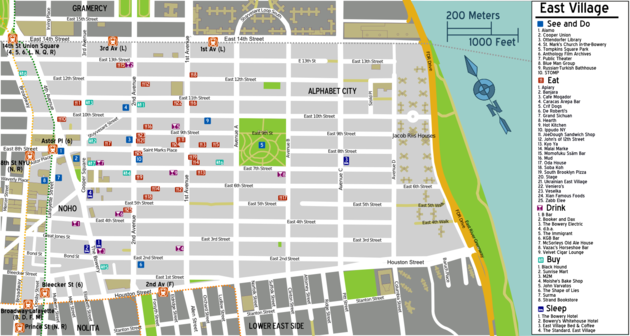 By subway
The best
subway
line for getting into the heart of the East Village is the
6
train, which stops at Astor Place, just one short block from St. Marks Place. You can also get out at Bleecker Street for more southerly East Village locations between Houston and 4th Streets.
The and
R
and
W
trains run under Broadway along the western edge of the neighborhood, stopping at 8th Street NYU station near Astor Place.
The
L
train is a rare crosstown train that runs along 14th Street, the northern edge of the East Village. The
3rd Avenue
and especially the
1st Avenue
stations can save you some steps if you're headed for more northerly or easterly destinations. The L can also take you to Greenwich Village or Brooklyn's Williamsburg, for a tour of bohemias of the recent and more distant past.
There are also trains that run along the southern edge of the neighborhood, under Houston Street - take the
B
,
D
,
F
, or
M
to the Broadway-Lafayette station. The F also runs to the 2nd Avenue station.
There are many trains that stop at Union Square, which is just past the northwest corner of the East Village - but it's something of a hike to the center of the neighborhood. Take the
4
,
5
,
6
,
N
,
Q
,
R
,
W
or the
L
.
By bus
Numerous
MTA bus
routes serve the neighborhood. Of particular note, however, are the crosstown buses. The M8 travels east on 8th St., then turns north on Av. A and travels on 10th St. the rest of the way. The M8 travels west on 10th St. and then starting on Av. A, on 9th St. The M14 14th St. crosstown is also notable because after going crosstown on 14th St. from the west side, the M14A bus turns down Av. A, whereas the M14D turns down Av. C and travels down Av. D starting at 10th St. You can also try your luck with the M21 Houston St. crosstown, though it doesn't run very frequently most of the time and like the 14th St. crosstown and most other crosstown buses in Manhattan, it can also get caught in slow traffic.
By bicycle
This is absolutely the best way to catch all of the East Village action. If you are coming from uptown on the West Side, take the West Side Green Path down to 14th Street. Cross east on 12th, or any street with a bike lane that runs east! If you are coming down from the East Side, there is an East Side bike path that is interrupted by the United Nations. Simply cross over to Second Ave. and ride south until you cross 14th St.
If you don't have your own bike, one option is the very popular CitiBike bike sharing service ($6/half hour), which has numerous locations throughout the neighborhood.
By car
Parking in the East Village can be difficult. If you plan to park on the street, be patient and opportunistic, and take care to observe posted parking regulations and avoid parking in front of houses of worship and funeral homes, lest your car should be ticketed or towed. There are also some parking garages in the neighborhood, if you don't mind paying.
On foot
If you are within walking distance of the East Village in decent weather, walking to the neighborhood is the most interesting way to go, and certainly the best way to get around.
By taxi
There are usually many taxis in the East Village. It is easiest to flag down a cab on avenues, rather than side streets, but if you are on a side street, look for cabs, anyway, while you walk toward an avenue. Be warned that at peak times and in bad weather, it can be hard to find empty cabs.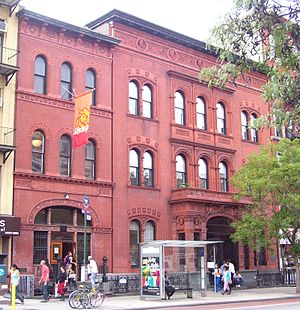 See
AlamoA sculpture at the center of Astor Place. This steel cube actually rotates as you push on any side, though you may need the strength of two or three people for a complete rotation. One of its sister cubes resides on the University of Michigan campus in Ann Arbor, Michigan. This sculpture was removed in 2015 but returned to an enlarged pedestrian area in the fall of 2016.

address: Cooper Square

Cooper Union was until recently the only private, full-scholarship college in the United States dedicated exclusively to preparing students for the professions of art, architecture and engineering. They recently started charging tuition for regular classes but still give free extension courses. The college, established in 1859, occupies several buildings, but the most recognizable and famous is the Foundation Building, which is situated on the block to the south of Astor Place between the two branches of Cooper Square (one being the southward extension of 3rd Av. and the other, an avenue that connects the Bowery with 4th Av. at Astor Place). The college, the legacy of Peter Cooper, occupies a special place in the history of American education.

address: Montgomery St. To E. 12 St., FDR Drive

Most of this park is on the Lower East Side (and indeed the part of the East Village this far east is often also still called the Lower East Side or Loisaida), but the portion of it in the extreme East Village contains one or two baseball diamonds, some basketball courts, a playground or two and a well-tended path along the river that provides very worthwhile views in good weather. Popular with joggers, roller bladers, picknickers, ball players, kids, and people taking a stroll.

phone: +1 212-254-2000

address: 802 Broadway

A lovely neo-Gothic Episcopal church, seemingly inspired by the Sainte-Chapelle in Paris. Free guided tours every Sunday at 1PM, or just walk past and look. Of course, there are also masses, and a concert series is given, too.

Museum of Reclaimed Urban Space

address: 155 Avenue C

A very small museum, that illustrates the history of activism in the neighborhood. Tours of legendary historic neighborhood sites and of community gardens are proposed every Saturday and Sunday at 3 p.m.

phone: +1 212 674-0947

address: 135 Second Ave

The oldest continuously existing free lending library in New York, it was originally designed in 1884 as a "Freie Bibliothek u. Lesehalle" (free library and reading hall) when this neighborhood was part of Kleindeutschland (Little Germany) and now serves as a branch of the New York Public Library. Another part of this lovely red brick building, constructed as a "Deutsches Dispensary," features reliefs of heroes of German culture such as Goethe but stopped functioning as a clinic several years ago and now functions as the offices for an innovation consulting company called ?What If!.

St. Marks PlaceThe eastward extension of 8th St./Astor Place past 3rd Ave. There are many bars, restaurants, and shops (many with a street vending presence) on the block between 2nd and 3rd Aves. There's always quite a mixture of folk walking up and down the street and within the area not to mention the slew of students from Cooper Union and NYU, which has plenty of dormitories and facilities nearby. Be warned that it can be unpleasantly crowded with slow-moving tipsy people at times, but it is a good place for people-watching.

Stuyvesant StreetThe only street in Manhattan that actually runs due east to the compass. There are several 18th- and early 19th-century buildings along this street, which runs from a bit south of 9th St. and 3rd Ave. to 10th St and 2nd Ave. At the corner of 10th St. and 2nd Ave. is , a historic landmark and a very active church today, with an old and lush graveyard to the north, on and near the corner of 11th St. and 2nd Ave. Peter Stuyvesant, the last Dutch governor of the colony of New Netherland before the British took possession and renamed it New York, is buried in a crypt in the east wall of the church. On the other end of Stuyvesant St., at the triangle between 9th St., Stuyvesant St., and 3rd Ave., a small garden and a compass fountain were constructed a few years ago for beautification and in order to show that Stuyvesant St. does go due east to the compass.

Tompkins Square Park

address: btwn 7th St., 10th St., Avenue A, and Avenue B

Not much to see, but a nice park nonetheless and historically significant for its long reputation of political demonstrations and radical thought. The Grateful Dead played their first East Coast show here in 1967, and the first Hare Krishna gathering outside of India took place here in 1965. The park has a curfew — it closes at midnight.
Do
Buy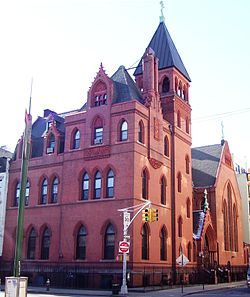 Many souvenirs, articles of clothing, and new and used records are on sale on St. Marks Place between 2nd and 3rd Avs. in storefronts that open onto the street and indoor stores.
Food
phone: +1 212-598-3040

address: 29 3rd Av.

Japanese grocery store extensively patronized by Japanese residents of New York.

phone: +1 212-505-8555

address: 115 Second Ave

Temporarily closed for renovations. This is an old-fashioned kosher bakery. Among their excellent offerings are their strudels, mandel bread, rugelach, black & whites, danishes, almond horns, cinnamon sticks and kichlach (big crispy sugar cookies), and their challahs are also very popular. Their hamantashen are also good, though sometimes a bit salty. The Chinese almond cookies are good, but some of the smaller cookies are not too consistent in quality. The counterwomen are always willing to help you select items that were baked that day. Items that are in individual portion size, like black & whites, danishes, and almond horns, cost around $2.50-$3 apiece, but rugelach and mandel bread are quite a lot more expensive and must be bought by the quarter pound (minimum) or as an entire large piece, respectively. The staff will be happy to cut you a piece of strudel, and they will also slice challah for you without extra charge. Wednesdays and Thursdays are particularly good days to visit, as they have fresh chocolate and sometimes also cinnamon babka those days, and with any luck, you can get some that's still warm (unfortunately, they no longer sell it by the slice; you'll have to get half a babka or an entire one). There is no place to sit, so all business is for takeout, and they do not have napkins or utensils to give you.
Other products
phone: +1 212 358-0315

address: 315 Bowery

A rather vivid example of the gentrification of the Bowery, this store is noteworthy for being the former home of CBGB, an underground nightclub that was famous for being the center of the New Wave and hardcore punk scenes in the 1970s and 80s. Today, it's a high-end men's fashion store popular for the many rock stars among its clients. Though the punk crowd is gone, the flyer-covered walls from CBGB have been preserved and rock memorabilia sits beside the store's designer jackets and shoes.

phone: +1 212 533-5920

address: 127 East 7th St

One of the last live/work artist store fronts in the East Village. Morphing from window art dioramas in the 80s they now showcase only local jewelry designers and artists along with their own museum replica jewelry and paintings. Screen door and original tin ceiling complete the authentic East Village look.

phone: +1 212 473-1452

address: 828 Broadway

One of the foremost used bookstores in New York, reportedly housing over 18 miles of shelf space, all of it crammed to capacity. A recent renovation has opened up the space tremendously, though that will be a surprise to any newcomer, who will marvel at the wall-to-wall crowds.
Eat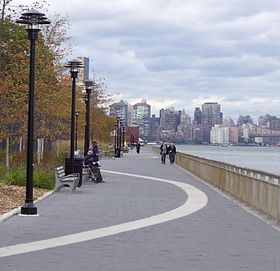 There are hundreds of eateries in the East Village, which is among the best neighborhoods in Manhattan for sampling a variety of different cuisines and has lots of good values at a wide spectrum of price points. That said, with the rise in real estate prices, there has been a proliferation of upscale restaurants, with several budget restaurants having closed in the last couple of years, and prices have gone up palpably almost everywhere. In this neighborhood, nowadays, a meal that costs $30-65 or so per person before tip is mid-range. The "splurge" category starts no lower than the $70s.
Budget
phone: +1 (212-505-8065

address: 127 2nd Ave

This unassuming place is one of the few remaining old-time inexpensive restaurants in the neighborhood. It serves kosher dairy and pareve (non-meat but including fish) food. Since the soup costs only 50 cents more for a bowl than for a cup, always order a bowl. Good challah and good honest food - nothing fancy, but a very fair value. You can view the menu at their Facebook page.

phone: +1 212 614-2728

address: 113 St Marks Pl #2

Widely renowned by hot dog lovers for their pork and beef, deep fried frankfurters. Perennial favorites include the Spicy Redneck and any of the bacon-wrapped dogs.

phone: +1 212 228-9074

address: 307 E. 9th St.

A real neighborhood hangout that offers terrific coffee and light meals.

phone: +1 212-260-8570

address: 85 Ave A

This is a branch of an Isaan restaurant headquartered in Bangkok. Expect spicy food unless you request for it to be made milder, and also be aware that items marked on the menu as including fermented fish have a very strong rotten-fish taste, which is authentic but may or may not meet with your approval. Among their best items are the gaeng om kai (Isaan-style chicken soup in a large bowl with cabbage and herbs, though you may want to ask for it with "less salt"), sa poak kai tod der (Der-styled deep fried chicken thigh), moo ping kati sod (grilled coconut milk-marinated pork skewers) and tum mangsavirat (vegetarian papaya salad). The restaurant is mellower at lunch, when the lights are on and Quincy Jones Band albums from the 1960s play on their sound system. At night, the low lights, techno music and crowds of young customers may make you think you should be dancing at a club. The restaurant is more crowded now that Michelin gave it a locally-controversial star, but if you are a small party, you are unlikely to have a long wait except perhaps at peak hours on Saturday night.

Tim Ho Wan

phone: +1 212-228-2800

address: 85 4th Ave (corner of 10th St)

This is a branch of a Hong Kong-based dim sum chain. It serves dim sum all day, and it's very popular, so you are best off going close to opening time, or at least for weekday lunch, and figure on the possibility of having a drink at a nearby bar while you wait for them to text you. They do dim sum right, with thin wrappers and excellent ingredients, and it's very tasty.

phone: +1 212 614-3283

address: 140 2nd Ave

This big dining room has a pleasant, somewhat faded Old World elegance, with parquet floors and chandeliers, and unlike most other restaurants in New York, it has high ceilings and somewhat of a sense of spaciousness. Tango classes are offered in an adjoining room in back of the restaurant twice a week.

phone: +1 212 674-7070

address: 342 E. 11th St

A fun little Italian pastry shop. You can eat in the dining room or purchase items to go at the counter.

phone: +1 212 228-9682

address: 144 2nd Ave

Half-century-old Ukrainian diner now has a snazzier decor and hipper clientele but still offers traditional Eastern European fare like pierogi, blintzes, stuffed cabbage, etc.

address: 81 St. Marks Pl

At peak times, this place is absolutely thronged with people who enjoy the unique cuisine of Xi'an and want their noodles spicy and inexpensive (although since there's been a falloff on the spice, some patrons ask for "extra spicy"). If there's room, you can sit down, but this is not really a restaurant: you wait on line, tell the person at the counter the number(s) of the dish(es) you want against a menu of pictures and descriptions on the wall, pay, and then collect your food when your number is called. There are counters lined with seats. Hip hop plays on the sound system. You can order to eat in or take out, but they do not deliver and no-one will take your order over the phone.

Yakitori Taisho

phone: +1 212-228-5086

address: 5 St Marks Place

This restaurant specializes in yakitori - Japanese-style grilled items on skewers. They sell other food items, but in general, it is best to stick to yakitori and similar items, and definitely do not get things like ramen there, because the further away it is from being grilled, the worse it is likely to be. Most of their yakitori is dependably good, and it's definitely a great value. They also sell pretty good sake for about $8 for a large carafe, and the servers are knowledgeable about the sakes. Because the restaurant is cheap and open late, it gets all kinds of freaky, drunk customers, and the aisles and seating are definitely at close quarters. Just consider it an experience and enjoy. Oh! Taisho at 9 St Marks Place, their sister restaurant, serves the same menu and is more spacious and equally good, but you may find the atmosphere different. Of note: Oh! Taisho has different hours, 4 PM-midnight Sunday-Thursday and 4 PM-2 AM, Friday-Saturday.
Mid-range
Splurge
phone: +1 646 602-1300

address: 403 E. 12th St.

An upscale American restaurant strongly influenced by Italian cuisine. Hearth is open for dinner only. Expect to pay roughly $80/person, including wine. Reservations recommended.

Kyo Ya

phone: +1 212 982-4140

address: 94 E 7th St

This restaurant is easy to miss; the only sign you will see from the street, if you look for it on the downtown side of 7th St., is an "Open" sign at the top of a set of stairs. Nor does Kyo Ya have a website. Before their New York Times 3-star review, they were content to have a reputation by word of mouth, as a very civilized, artisanal restaurant with the gracious service you'd expect at an upscale Japanese restaurant. This is a kaiseki restaurant, which specializes in meals of many courses. You can order a la carte, but if you have the money, you really are best off letting the restaurant shine by doing what it does best. Reservations are more or less essential, especially if you want kaiseki, which requires a couple of days' advance notice. Excellent sake list, too.
Drink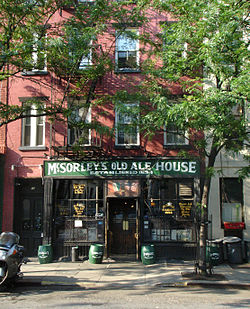 phone: +1 212 475-2220

address: 40 E 4th St

Restaurant and bar, this place caters mostly to the bar and club crowd.

address: 41 1st Ave

Has a good selection of beers including many from microbreweries, as well as a bunch of single malt whiskeys, and prices are slightly high for the neighborhood but not outrageous. It can get crazy on Saturday nights, but it's a pleasant, relaxing place on weeknights.

phone: +1 212-777-9637

address: 75 St. Marks Place

Old-timers to the neighborhood may remember this as a no-frills bar that had booths with torn upholstery and was presided over by a friendly old Ukrainian bartender/owner. After he died, the bar remained shut and vacant for several years. The new owners had it renovated and somewhat redesigned, but it still has the feel of an old-time room. To afford today's expensive rents and follow the new trends, they now specialize in excellent cocktails and also have a menu of small plates. However, one thing hasn't changed: The bartenders are still personable.

phone: +1 212 677-2545

address: 341 E 9th St

Wine bar with great list and some microbrews. Cozy, elegant without being pretentious. Great place to meet with friends or bring a date.

address: 120½ 1st Ave

This might be one of the few bars left in the East Village that isn't overrun by frat boys, sorority girls and loud drunken youths from New Jersey. It usually isn't crazy even on weekends. They are not whiskey specialists but have a pretty good and relatively well-priced selection of whiskeys and ryes (though prices have started to creep up, and Sophie's, listed below, is cheaper), among the rest of their drinks. The sound track tends toward country and classic rock, the bartenders are personable and helpful, and the clientele tends to be a quirky, friendly motley crew of various ages.

address: 84 E 4th St

A hard-drinking literary bar.

phone: +1 212 473-9148

address: 15 E 7th St

The oldest pub in continuous operation in New York, this small pub packs up fast. Sawdust on the floors, McSorleys beer (light or dark) only that comes in pairs, this place is a favorite with tourists and locals alike. The ancient chandelier above the bar has turkey wishbones dating from WW1 when a turkey dinner was thrown for the departing soldier and the wishbone was hung up till he returned. Abraham Lincoln drank there and Teddy Roosevelt's signature graces the walls. Boisterous atmosphere and cheap food too!

phone: +1 212 228-2240

address: 538 E 14th St

A fun, boozy reimagining of the once popular post-war American tiki bar. Yeah it's pretty tacky, that's the idea. Grab a sickly sweet Hawaiian-styled cocktail, or just get a basic beer. Sometimes hosts live bands with more of like a Punk/Country/Rockabilly vibe. No cover.

Sophie's

phone: +1 212-228-5680

address: 509 E 5th St

This is one of the few authentic East Village dive bars remaining. Their drinks are probably the least expensive in the neighborhood, and the selection is good. Lots of interesting decor including a large papier mache model of a blimp. Pool table and jukebox in the back. Their sister bar, Josie's, which is a block to the north at 520 E 6th St, tends to be more quiet but is otherwise quite similar.

phone: +1 646-906-6859

address: 300 E 5th St

This spacious, bright, well-designed and somewhat upscale tea and tea drink specialist is part of a very small chain (the other locations are in Richmond, British Columbia and Irvine, California). Especially popular with young Chinese people and other 20-something folks, it nevertheless hosts a variety of customers. The tea is not cheap — a large cold le oolong for about $5.30 is one of the less expensive ones — but it is very good. Also, not only is free Wi-Fi provided, but there are also plentiful outlets in the seating area.

Vazac's Horseshoe Bar

phone: +1 212 473-8840

address: 108 Ave B

A rock 'n' roll hangout that dates back to Prohibition, 7B has been featured in numerous movies for its classic Manhattan atmosphere.
Performance venues
phone: +1 212 228-0228

address: 327 Bowery

Good local music club (the music room is in the basement). There is usually a cover charge of at least $8 to get in, and drinks are marked up (e.g., $9 for Stoli and soda). Good acoustics. You might get lucky and get a seat (if that's what you want to do), but most of the crowd stands for the entire performance. Bring earplugs in case the volume is pumped out louder than you like.

phone: +1 212 353-1600

address: 125 E 11th St

This large, beautiful, landmarked dance and event hall with three performance venues dates from 1886. It has been closed for renovations since 2017 but will reopen on April 26, 2019 with a concert by Jay-Z.
Sleep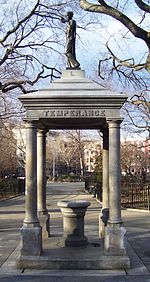 phone: +1 212 505-9100

address: 335 Bowery

Fabulously dark and moody, this newish old-school hotel is cool and charming in a low-key way. Rooms are spacious with plenty of light and dark hardwood floors, and the more expensive ones come with fantastic bathtubs. The bar and lobby are popular hangouts.

phone: +1 212-475-5700

address: 25 Cooper Square

Pet-friendly boutique hotel.
Respect
The East Village is a residential neighborhood. Visitors are of course welcome. But please do not block the sidewalk, entrances to residences, or intersections where people may want to cross the street on green or red lights, and do not make a lot of noise outside at 3 in the morning. Remember that local residents have places to get to quickly day and night, and though New York is called the "City That Never Sleeps" (a name that's particularly apt in the East Village), most residents above a certain age do need some shut-eye before 5AM, even on St Marks Place.

Connect
Spiritea, listed in "Drink", has free Wi-Fi for customers (though their teas are a bit pricey) and provides outlets for your devices as well. There is a
Starbucks
on Astor Place right near the exit from the downtown 6 subway (closes at 11 PM), with other East Village locations at 3rd St. and 1st Av. (closes at 7:30 PM) and 13th St. and 1st Av. (closes at 8 PM). Starbucks gives customers free Wi-Fi, and many people spend hours working or surfing there.
Van Leeuwen
ice cream shop, 48 1/2 E. 7th St. (just east of 2nd Av.), which also serves coffee, et al., provides free Wi-Fi, too. There are also some New York Public Library branches, such as the Ottendorfer Branch (see "See" above) and the Tompkins Square branch on 10th St. between Aves. A and B, where patrons can use the library's terminals to surf the web for 30 minutes, free.
Go next