Manhattan/SoHo
SoHo
, short for "
So
uth of
Ho
uston" and a reference to its supposed similarities to the
London Soho
, is a diverse and increasingly upscale neighborhood of
Manhattan
. SoHo used to be a bohemian quarter of artists who subsisted in lofts, which at first weren't recognized as legal housing, and teeming art galleries. By now, the neighborhood has become so expensive that the art galleries have been generally priced out and have moved to the far west of
Chelsea
, while the struggling artists have had to move further and further into the other boroughs to find affordable places to rent. Now it is a neighborhood of expensive boutiques, but its narrow cobblestone side streets retain their charm, and even if the crowding on Broadway between Canal and Houston Streets can be draining, it is still a good neighborhood to walk through.
Get in
There are numerous
subway
lines that serve the neighborhood, and which one you use depends on which part of the neighborhood you wish to access. The
1
line runs under Varick Street in the quieter western part of the neighborhood, stopping at Houston and Canal Streets. The
A
,
C
, and
E
run under Sixth Avenue, also fairly far to the west, and stop at Canal Street, with the C and E also stopping at Spring Street. The
N
,
Q
,
R
, and
W
run under Broadway; the R and W stop at Prince and Canal Streets, while the N and Q express trains skips Prince and stops at Canal. The
B
,
D
,
F
, and
M
serve the Broadway-Lafayette station at Houston Street in the northern reaches of SoHo, with a free transfer available to and from the downtown 6 train at Bleecker St. The
6
runs under Lafayette Street, roughly the boundary between SoHo and the
Lower East Side
, stopping at Spring and Canal Streets, and the
J
(and during rush hours, the
Z
) stop at Canal Street under Lafayette.
There are also several
city bus
lines that serve the neighborhood. Take the M1, M6, or M20 bus for uptown/downtown (north/south) service. The M21 runs crosstown, but traffic on Houston Street often makes for slow service.
If you are coming from a nearby neighborhood, walking is the best way to get into SoHo.
See
It's best just to walk around, look at the pretty old buildings on Broadway and the cobblestoned side streets, and if you like, shop at clothing stores and such on Broadway. West Broadway is another interesting and very upscale shopping avenue in the neighborhood.
The Wall

address: 599 Broadway

A 1973 piece of minimalist artwork - actually, ranging for 8 stories, quite large rather than minimal - by Forrest Myers graces the blind wall of the building at 599 Broadway. It has actually been removed and rebuilt in the 2000s because of its impact on the wall it is placed on, placed higher to allow for street-level advertising below it. Because of its prominent location at the intersection of Broadway and Houston Street, it is often referred to as marking the Gateway to Soho.

E. V. Haughwout Building

address: 488-492 Broadway

One of the finest examples of the cast-iron-facade buildings that SoHo is famous for. Built in 1857, it is considered as one of the first buildings where the cast-iron structure was left uncovered and rather shaped into the ornamental form replacing a traditional brick, stone or plaster facade. Mr Haughwout ran a tableware emporium sprawling over the building's five stories, famous far beyond the city to the extent that it was there where Mary Todd Lincoln purchased new china for the White House. The emporium also provided customers with a convenience that was a world first - a passenger elevator by Elisha Otis, soon to become a de rigeur amenity of all new buildings in New York.

phone: +1 212 274-0986

address: 103 Charlton St

Art and interactive exhibits geared towards children.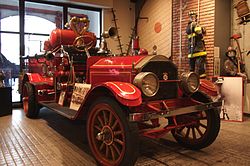 phone: +1 212 691-1303

address: 278 Spring St

Housed in a restored 1904 firehouse, the NYC Fire Museum covers the history of fire fighting in the United States from the 18th century to the present. Displays include antique aparatus, uniforms and equipment, as well as an apartment fire simulator.

phone: +1 212-627-1018

address: 420 W Broadway

Specializes in contemporary art including paintings, sculptures, and photography by American and European artists. Past artists have included: Lawrence Beck, Robert Feintuch, Jeff Koons, Grazia Toderi, Philip Haas, Barry Le Va, Anne and Patrick Poirier, and more.

address: 141 Wooster St

Designed by Walter De Maria for the Dia Art Foundation, the Earth Room is a whole floor filled with 250 cubic yards of dirt.
Do
phone: +1 212 727-8110

address: 209 W Houston St

A stylish theater that runs two programs—contemporary independent releases and classic repertory films. While the current releases are almost always interesting and worth seeing, it's the repertory programming schedule that filmlovers anticipate eagerly.

phone: +1 212 647-0202

address: 145 6th Ave

Performing arts venue.

phone: +1 212 966-9796

address: 33 Wooster St

Off-Broadway theater that is the permanent home of experimental theater company the Wooster Group.
Buy
SoHo is a prime shopping destination, especially on the weekends, when the sidewalks of West Broadway, Prince Street, and Broadway become almost impassible. Be warned though that the boutique stores have mostly been replaced by high-end chain stores.
Eat
phone: +1 212 965-1414

address: 80 Spring St

Balthazar has the feel and quality of a good Parisian brasserie. Though informal and relaxed in feel, it is not inexpensive; however, many New Yorkers and visitors alike find it a worthwhile experience. Brunch is especially popular there, so unless you plan to show up for an early breakfast, make sure you make reservations; you don't want to be one of the people waiting on line for an hour or more, just to get in.

phone: +1 212 277-4300

address: 475 West Broadway

One of four up-market Mexican restaurants in Manhattan by the same name and under the same ownership (the other's are in Gramercy, Chelsea, Midtown East) Sticky, saucy ribs and guacamole.

phone: +1 212 966-4494

address: 177 Spring St

Famous Ben's Pizza is one of the oldest and best pizza places in SoHo. Some people get taken on a pizza tour here. It is a small place with few tables, but the environment fits New York perfectly. You can watch as they make the pizza, and lines are usually out the door. Their pizza doesn't cost a lot. If you are just looking for a quick and simple meal while you are out shopping, Famous Ben's is a great place to consider. They deliver, too.
Drink
phone: +1 212 431-9750

address: 326 Spring St

Located on the ground floor of the James Brown House, the Ear Inn is one of the oldest bars in New York.
Sleep
phone: +1 212 965-3000

address: 310 West Broadway

The Soho Grand Hotel is a pet-friendly boutique hotel, featuring 353 guest rooms, ten suites, and two sprawling penthouses.