Manila/Binondo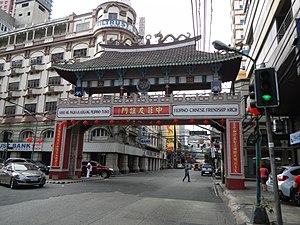 Binondo
is the "Chinatown" district of
Manila
. It is the oldest Chinatown in the world and was the country's center of commerce during the American occupation. Many of Binondo's commercial establishments were destroyed after World War II, with companies moving to
Makati
, the financial capital of the Philippines.
Understand
History
Binondo was created by Spanish Governor Luis Pérez Dasmariñas on 1584 for a settlement for the Chinese Immigrants (called Sangleys), with the intentions of converting the Chinese to Catholicism at the initiative of the Spanish Dominican Fathers. Spanish officials forced the Chinese to convert into Catholicism and if not they'd be executed. Luis Pérez Dasmariñas played a prominent role in the massacre of 24,000 Chinese after the Chinese revolt in 1603. The reason for the massacre was that he wanted to avenge his father's death under the hand of the Sangleys. Binondo's population grew rapidly with many Chinese Mestizos, products of intermarriage between the now-Catholic Chinese and local Filipinos. The district is therefore known as the birthplace of the Chinese Mestizos, including St. Lorenzo Ruiz, who became the first Filipino saint, and Mother Ignacia del Espiritu Santo, a Mestiza de Sangley who was the founder of the congregation of the Religious of the Virgin Mary.

Talk
Locals predominantly speak
Tagalog
and, as most of their ancestors are from Fujian province,
Minnan
or Hokkien is widely spoken too.
Mandarin
is also known by some as it is a subject in Chinese schools. English is widely understood as well. Besides Chinese dialects and Tagalog, other Filipino dialects are spoken too.
Get in
By Taxi Taxis are abundant in Manila and constitute the fastest mode of transport of getting to Binondo from other places in the area.
By LRT-1, take a ride from Baclaran station to Carriedo station.
By water bus, The Pasig River Ferry stops at Escolta station, not far from the Jones Bridge.
Get around

Chinatown is best explored with Calesas or horse driven carriage. Taxis and jeepneys are also available.

See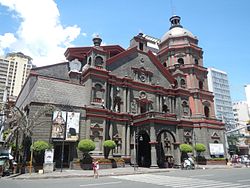 Binondo Churchbuilt in 1596, it is one of the oldest places of Christian Worship. The Church is home to the Our Lady of China and in-front of the church, Plaza San Lorenzo Ruiz lies; it is named after a Filipino-Chinese saint, St. Lorenzo Ruiz. Next to the side entrance is the Santo Cristo de Longos, an image of the Crucified Christ, known to be found by one deaf and mute Chinese in an old well in the barrio of Longos, the image now is displayed in a niche with a glass cover.

Kuang KongBuddhist temple open to the public and is worth visiting as it shows the roots of the Chinese-Filipino, you can burn incense sticks and utter your prayers. There is also these red wooden half moons you can use to have your fortunes told. Couch your questions in such a way that they're answerable by "YES" or "NO" Swirl a pair of these wooden half disks over your incense sticks so they catch the smoke and then throw them to the floor. Identical faces means "NO" while opposing figures means "YES". Kuang Kong is the patron of Scholars and Martial arts as well as the God of War; it is known as the protector of Quan Yin; the Goddess of Mercy.

Seng Guan TempleAnother Chinese temple worth seeing, located along Narra Street, it is usually jam-packed with people burning incense and offering food and fruits to Buddha during celebrations of the lunar calendar.

Ongpin Street - is a home to many Chinese herbal stores, restaurants and groceries.
See the old art deco style buildings in Escolta Street, this used to be the home of many luxurious fashion brands and slowly declined in the 70's after the growth of malls.
Along Caravajal Street vendors selling fruits and Chinese delicacies can be seen from Black Chicken and Sea Cucumber, along it is also Chinese groceries, Noodle Houses and Snack houses.
Visit the wet market of Arranque Market, here fresh seafood and exotic food such as snakes, pigeons, rabbits, frogs etc. is found, it is often seen crowded like most wet markets are.
Do

Annually the Chinese New Year is celebrated on January/February, people commemorate this celebration through lighting up firecrackers and dragon dances are also done. People rush to temples and churches to pray and give thanks for the blessings of the past year, the celebration lasts for about two weeks with Lantern Festival commemorating its end. After Hungry Ghost Festival, Mid-Autumn Festival is celebrated, which is also known as Moon Festival or Mooncake Festival, in this occasion people eat moon cakes, offer moon cakes and round fruits to the Moon Goddess Chang'e and the God of Agriculture Shen Nong. During this celebration try Hopia (mooncake also called as Unity Cake).

Buy
Pastries and Sweet Meats like hopia are the best buys. Exotic ingredients are also found in Binondo such as ginseng, shark fin cartilage, deer horn, dried snake, bird's nest as well as animal testicles may be found at apothecaries, but beware: it is illegal under endangered species protection laws. Apothecaries cater to visitors and are willing to help by asking their symptoms and they'll provide you remedies for it. Teas, brews and powders are also found in apothecaries. Tableas; Chocolate tablets and Cocoa used for making hot chocolate during Spanish times are also popular, they are found at La Ressurection. Lucky charms and talismans are also found in various shops in Binondo, along Ongpin Street, stalls selling gold, silver and jewelry can be found as well sugarcane and chestnut vendors are sold by carts along the street, the streets are usually crowded because of them.

Eat
Hokkien Cuisine is prominent in the district as most of the people are of Hokkien ancestry.
Tikoy
; sticky rice cakes,
Hopia
; mooncake,
Kiampong
; a variant of fried rice,
Siomai
; a variant of dim sum,
Siopao
; Hokkien version of
Baozi
or steamed buns with meat filling,
Machang
; glutinous rice with a meat filling wrapped in banana leaf a kind of dim sum in a way,
Mami
; Noodle Soups,
Hakaw
;Also a variant of dim sum, are just some delicacies worth trying.
Royal Garden

phone: +63 2 733 1122

address: Ongpin St. corner Padilla St

Serves authentic chinese cuisine like Dim Sum as well as Exotic Chinese Cuisine such as Shark's Fin, this Restaurant is usually filled with Chinese people speaking Chinese, in a way you might feel that you are in China.

Wai Ying Fastfood

phone: +63 2 242 0310

address: 810 Benavidez St

Taste their Mami, Dumplings and Hakaw and many other Chinese dishes.

phone: +63 2-2442270, +63 2 4877313

address: 215 Juan Luna corner Dasmarinas St

Try their Crepes and Pastas

Dong Bei Dumplings

address: 642 Yuchengco St

Try their dumplings as well as fried dumplings.
Drink
Tea
President's Teahouse

phone: +63 2-2469802

address: 809 Salazar St

This teahouse is a smaller version of President's Restaurant however it is affordable and the food is OK. They serve food from Dumplings and authentic Chinese Cuisine.

Ying Ying Teahouse

phone: +63 2-3872797

address: 233-235 Dasmarinas Street corner Yuchengco St
Sleep
Connect
Various English newspapers are scattered around Binondo such as Business World, Daily Tribune, Malaya, Manila Bulletin, People's Tonight, Philippine Daily Inquirer, Philippine Star and Sun Star Manila. Tagalog newspapers include Abante, Kabayan, Pilipino Star Ngayon. Other newspapers in other languages include Manila Shimbum in Japanese and Siong Po - Chinese Commercial News in Chinese. If you need internet services you can visit Netopia Internet Cafe which is located in Juan Luna street.

Go next
Across the River Pasig from the Binondo area is Manila's oldest district, the walled city of
Intramuros
. Visit
Quiapo
, home of the
Black Nazarene
which is in
Quiapo Church
, devotees flock here during January for the annual festival of the Black Nazarene, believed to give miracles and blessings.