Manila/University Belt
The
University Belt
, or the "
U-Belt
" in short, contains a large cluster of universities and colleges in
Manila
. The universities in this district draws locals, other Filipinos, and some foreign students. This guide only deals with the districts traditionally associated with the area, including
Sampaloc
,
San Miguel
,
Santa Mesa
, and the eastern fringe of
Quiapo
.
Understand
Locals of Manila understand the University Belt in Manila as the cluster of universities around Sampaloc and San Miguel. It is not an official district of Manila, but it rather includes the districts of Sampaloc, San Miguel, and also, Santa Mesa. Other locals include the university cluster along Taft Avenue in
Ermita
and
Malate
and another cluster inside
Intramuros
to the area. Our guide only cover the districts traditionally associated with the area.
The center of most activity in the University Belt is the
University of Santo Tomas
(UST), one of the oldest universities in the Philippines, dating back to 1611. It's easy to assume the present university existed in the present location, but it's first established inside Intramuros.
España Boulevard
, a six to eight-lane avenue, is the main thoroughfare of the district. Towering condominiums rising along the boulevard area, and the rise of mid-range restaurants and beer houses indicates the fast gentrification of the area and growing nightlife. Going further east, the University Belt gives way to a worker-class residential area, with some signs of gentrification due to skyrocketing land prices, but the all too common residential fires and crimes do continue to happen because of its seedy background. The U-Belt still remains a concrete jungle though, so it is easy to get lost into all the nastiness of ordinary Manileño life.
Get in
Getting into the U-Belt is not without hassle. The Manila Line 2 and PNR Metro Commuter Line serves the area, but stations are found near inconvenient areas near rough areas with the obvious threat of crime from lurking thieves and thugs (and Line 2's Legarda station is near the Mendiola Bridge, a hotspot for public demonstrations). Car travel is clearly not for the inexperienced; traffic jams and aggressive drivers are just all around, and parking is hard to find, even for students with a personal car.
By jeepney
Most likely, you will hop onto a jeepney to get into the University Belt. Jeepneys are perhaps the best way to get into the U-Belt from nearby
Quiapo
or
Santa Mesa Heights
(
Quezon City
), but traffic on España Boulevard and connecting streets can vary from time to time. Rush hour is the worst time to take a jeepney; traffic slows to a halt, and pickpockets take advantage of the congestion to hop onto a jeepney and sit beside an unwary passenger, mostly women, especially students in their school's uniform, stealthily steal money or cell phones from their pockets, and hop off even without paying the base fare.
By bus
There are regular bus service through the University Belt, running from Quiapo to
Fairview
and
Taytay
(
Rizal
). There are no buses from southern Metro Manila into the University Belt because of Manila's ordinance that prohibit bus service passing through the city. If you come from the southern parts of the metro, you must get down at
Plaza Santa Cruz
or
Park N' Ride
and transfer into a jeepney. A transfer from Santa Cruz is longer as you must walk through the bustling crowds of Quiapo into Quezon Boulevard.
By train
Philippine National Railways Metro Commuter Line trains stop at three stations at this district,
Laong Laan
,
España
and
Santa Mesa
. The elevated Line 2 runs to the south east to west through Ramon Magsaysay Avenue, Legarda Street and Recto Avenue; it has three stations in the district, namely
Legarda
,
Pureza
and
V. Mapa
. The stations are found near rough residential areas, so keep your wits on.
See
San Miguel
Malacañan Palace

address: Arlegui St

Make way for the most important person in the Philippines....the President. The official residence of the President, the etymology of the name Malacañan is from the Tagalog phrase "may lakan diyan" meaning "there's a nobleman there". The mansion was first used as a residence for the Spanish governor generals as well as the Americans. It was then the official residence of the president when President Manuel L. Quezon took his term and he was the first Filipino resident of the mansion. Visitors must go through security checks at the complex entrance and follow a strict dress code, and picture taking inside the presidential mansion without the necessary permits, rarely granted for non-media people, is prohibited.

Old Executive Building

address: J.P. Laurel St

Built during the American colonial era, the emblems of the United States of America are still seen. It was used as official use of the administration of President Manuel L. Quezon until the Marcos' administration. Today it showcases Filipino history

Legarda Ancestral MansionShowcases Juan Luna's and Felix Ressurecion Hidalgo's paintings. It has a library, clinic and a room for photography equipment.

Goldenberg Mansion

Teus MansionPurchased and converted into a guesthouse in the 1970s, it showcases European silver ware including notable 18th and 19th century silversmiths Paul de Lamerie and Paul Storr. It has been given as a gift to the Marcoses during their Silver wedding anniversary.

San Miguel de Manila Church
Buy
Dangwa Flower MarketManila's flower market, heavily flocked during Valentine's and All Saint's day and All Soul's Day, it is flocked by people.

Flowers: Sampaloc is known for its Flower market, during
Eat
Sampaloc is famous for its open air lechon (roasted pig) restaurants.

Sleep
Windsor InnFormer 4-storey classical architecture mansion of an old-rich Filipino family, which has been transformed into an affordable inn. Sampaloc area is one of the oldest residential areas of old pre-colonial Manila, and today retains much of its uniquely Filipino atmosphere.
Stay safe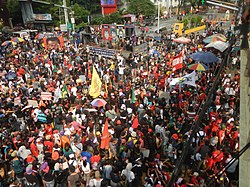 Getting around the University Belt is hassle-free if you follow common sense, whether as a student or not.
Watch out for common petty crimes
. If you are a student in any of the universities around the area, beware of all the common crimes committed against students, like pickpocketing, tricycle scams, or the dreaded
budol-budol
hypnosis theft. Criminals or scammers easily identify a student through a school ID or uniform, and changing clothes, even if it's just the top, or removing your ID may work, but keep vigilant, and if possible, walk in a group. Women need more caution when getting around; being a student, especially in uniform, is an easy way to attract thieves. Theft by stealth (
salisi
) is a threat when you are eating, even within a group; if someone distracts you by creating a small accident, watch out. Call the police or go to the nearest police outpost.
The University Belt has many beer houses and billiard halls, but
bar-hopping is prohibited for students on school days and while in school uniform
. Wearing one's uniform and drinking in a bar can mean disciplinary sanctions for indecent student behavior, even if you're just invited in a group.
The area is vulnerable to floods from its low elevation; España Boulevard can turn into a river during heavy downpours. The
esteros
(estuaries, or more specifically, creeks) can overflow, further worsening flooding. So, be warned: even a localized thunderstorm can grind all activity in the U-Belt into a screeching halt.
Fires frequently break out in the area's poorer residential areas because of illegal power connections. If you see those very cluttered electrical wires hanging on the air, it's a warning some residents are just getting their electricity from a jumper connection, that if it sparks, can ignite huge fires. Dormitories have a negative reputation for poor fire safety, but things have changed since; do research before finding where to sleep, or insist on staying in a condominium block, even where unit prices are twice as of the usual dorm.
The
Mendiola Bridge
area near Malacañang is a major hotbed of public unrest; demonstrations pointed to the national government often happen here. Always be updated with the news and avoid the area if any protest occurs or will occur. Public demonstrations can turn violent, and there is the risk of being arrested for supposed participation.
Go next
More shopping options can be found in neighboring
Quiapo
or
Divisoria
. The
Scout Area
in Quezon City, a popular weekend hangout by students, is minutes away through Quezon Avenue.
Further
If you plan to find a refuge outside the city, there are some few bus terminals to destinations in northern Luzon.
Baguio — The "City of Pines", a popular weekend getaway in northern Luzon is 4 hours away by bus.
Banaue — The breathtaking rice terraces and colorful Ifugao culture, a national cultural landmark, is 9 hours away (or longer depending on traffic). Ohayami Transport and G.V. Florida Transport offers provincial bus service, but be warned: safety is questionable after a deadly accident in 2015, so check beforehand.
Vigan — Partas and Viron Transit provides regular bus service to this heritage town, 7 and a half hours or longer by bus.